AtlanticU23 #063 - Mikayla Boucher (Nova Scotia)
Posted 9 months ago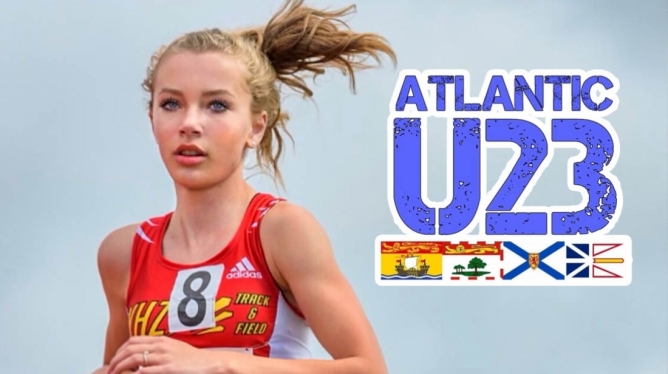 AtlanticU23 #063 - Mikayla Boucher (Nova Scotia)
Hometown: Dartmouth, NS
Birth Year: 2002 (U20 age class)
Club: YHZ Track and Field Club
Coach: Rich Lehman
Personal Bests (as of June 20th, 2020): 800m: 2:16.31, 1000m: 3:03.61, 1500m: 4:47.41, 3000m: 10:25.38
5 quick questions with Mikayla:
Favourite musical instrument? Piano
Are you a morning person or a nighthawk? A little bit of both depending on the day
What is your typical race day breakfast? I usually have yogurt and granola, a fruit smoothie and toast
Would you rather explore space or the ocean? The ocean
If you could have chosen one event to not be cancelled by COVID-19, which event would it have been? Definitely everyone's high school graduation ceremonies/events
How did you first get involved in track and field?
Like most kids, I was involved in a variety of sports before I figured out which one was right for me. Growing up, both of my parents were recreational runners, and they shared their passion for running with me. After going on some runs with them, they registered me in the Youth Running Series, and that is when I began falling in love with the sport. Shortly after my registration in the Youth Running Series, I joined the YHZ Track and Field team, where I have been training and competing for the last 12 years.
While trying out all sorts of events during your early years in the sport, you quickly gravitated towards the mid-distance and endurance events. What was the process for determining that these were the events for you?
At a young age I absolutely loved the endurance events. I think this was partly due to the positive feedback I received from my coaches, parents, and the running community (especially the Maritime Race Weekend). I felt more drawn to the longer events due to a mix of a little natural talent and the fact that my body has always been more geared for the longer events. However, I love learning and watching my friends compete in the throws, sprints, and jumps.
A four-time member of the Nova Scotia/Nunavut Legion team, how did your participation in the Canadian Legion Track & Field Championships help you develop into the athlete you are today?
Legion Nationals and track in general have had a huge impact on not only the athlete I am today, but also who I am as a person and a student. The 2015 Legion Nationals gave me a taste of the unbelievable young talent Canada has to offer and made me more determined than ever to push myself to be the best athlete I could be. After an amazing experience at my first national championships, I knew I wanted to be able to have the opportunity to compete on the national stage again, so I began setting goals and was extremely fortunate to have been able to be a four-time member of Team NS! As I began chasing these goals, I developed so many valuable life skills such as diligence, time management, and the importance of teamwork.
At the 2018 Legion Championships, you captured a bronze medal as a member of Team Nova Scotia/Nunavut's 4x400m team (alongside teammates Katie Blunden, Carley Birrell, and Maggie Smith). What was the goal headed into this race – did you know beforehand that the team would have a shot at a national medal?
I was extremely fortunate to have such amazing teammates that all lived in the same region as me. Alongside Coach Rich Lehman, we had time to train together to perfect all the technicalities of the 4x400m relay. After a few practice races, we knew we were definitely national medal contenders (which was really exciting for a group of predominantly distance runners), so that goal was definitely on our radar. At the end of the day however, our main goal was to have fun and represent Nova Scotia to the best of our abilities.
You raced your first 600m this past winter at the SMU Open, running a time of 1:45.68. Comparing to both the 400m and 800m – distances you've raced numerous times in the past – how did you find the distance? Would you say it felt more like a long 400m or a short 800m?
I have actually only raced the 400m three times, with the third time being at nationals last summer. With very little experience in the 400m, I can't say I truly figured out how to race it, so this 600m was definitely more like a short 800m. I found the 600m really fun – I did run a little bit too conservatively at the start but it was so cool to compete in an event I had never tried before. Although I doubt I have a big future in the 600m, it's always fun to try new things.
You recently announced your commitment to attend Dalhousie University in the fall, where you will join the Tigers cross country and track and field teams. Academically and athletically, what contributed to your decision to attend Dal?
I remember attending a Dalhousie track and field summer camp at the age of 10 with Head Coach Rich Lehman. His passion and dedication to the sport stood out to me immediately. I have been fortunate to have been coached by him again as a member of Team Nova Scotia in 2018. Needless to say, I am beyond excited to have the opportunity to represent Dalhousie University as a varsity cross country and track and field athlete, focusing on the 1000m and 1500m. I feel privileged to work alongside such high caliber athletes, and I am confident that we will be able to push and support each other to be the best athletes, students, and people we can be. Academically, Dalhousie has an outstanding reputation in the sciences, and is one of the few Canadian universities that offers a Bachelor of Medical Sciences, which is what I will be studying in the fall.
Like all students beginning post-secondary education this fall, your first year at Dal is expected be a strange one – all fall semester classes will be online, the AUS and USPORTS leagues have suspended all competition for the cross country season, and the fate of in-person classes and the indoor track and field season remain uncertain. What sort of approach are you taking as you enter into this unprecedented school year?
I've been applying the advice from my most recent coach, Steve Morely, onto these unprecedented times. He has told me countless times to "control the controllables" and "ride the wave," which are two things I think we should all be focusing on as we face these challenges head on. I am fortunate to be able to train on the Dal team in small groups during these times, and I am excited to get to know all of my new teammates. As for online school, I will try and stay as close to my original schedule as possible as I study independently, and I am lucky to be getting to know some of my classmates and professors virtually.
You are the first athlete from YHZ Track and Field Club to appear on AtlanticU23. What can you tell us about the training environment at YHZ – throughout both the indoor and outdoor seasons, what does a typical week of training look like for the endurance group?
I think the fact that I've been a member of YHZ for 12 years now says a lot about the athletes and coaches there. The environment is always so positive and inclusive, with athletes that range in age from the run, jump, throw series to the masters events. It doesn't take long for our new members to feel like they're a part of our little family, and I'm so excited to see the new generation of athletes compete. YHZ is where I met my best friend both on and off the track, Tanna Burke, who is going into her second year competing as a varsity cross country and track athlete at St. FX. Everyone has their own personalized training groups, so although everyone's training looks slightly different we all meet three times a week for workouts. Personally, I do three workouts a week, two easy runs, a long run, and an active recovery day on Friday. More recently, we have been very fortunate to connect over Zoom to complete strength workouts with athletes and Olympians from all over the country. YHZ is definitely going to be a hard club to leave, but I am ready and so excited to move into the next phase of my athletic career.
While predominantly a track runner, you've also achieved moderate success on the cross country trails, recording top 10 placements at the past three consecutive NSSAF Championships. Compared to the track seasons, how do you approach the cross country season, and what does your future look like in this area of the sport?
Although I definitely prefer competing on the track, I think cross country is a great way to build endurance and push myself between outdoor and indoor track. Although historically I have not performed as well during cross country races due to a mixture of mental blocks and injuries, I am very excited to train with such high caliber athletes at Dal and hopefully push past some barriers. In fact, my previous coach thinks I'm actually more of a cross country runner and I just don't know it yet.
The 2020 Legion Championships would have taken place in Sydney, NS a few weeks from today, originally scheduled for August 7th – 9th. How do you believe the cancellation of these Championships will impact young athletes from the Atlantic provinces?
My heart truly aches for everyone missing out on Legion Nationals, especially those whose last chance would have been this year. I hope the cancellation of this year's Legion Nationals motivates young athletes to keep pushing themselves and reminds them of why they compete in track and field. I hope it helps them realize that this sport is all about the journey and they're truly just beginning their athletic careers.
What is one piece of advice that you would give to fellow Atlantic athletes who will be missing out on this year's Championships, particularly those who will be missing their final year of eligibility?
My advice to them would be to not let this discourage them or deter them from their training. Although Legion Nationals is an amazing experience, there are so many opportunities awaiting them. The sport is about so much more than one meet, it's about the friends you make, lessons you learn, and memories you make along the way. This is just one lesson of resilience they're going to learn and become stronger because of it.
Back in April, you featured in an Athletics Nova Scotia video announcing the Association's new Safe Sport Policy, intended to help foster a safe and inclusive sporting environment that is free of abuse, harassment, and discrimination. What led to your role in announcing this new policy, and what does safe sport mean to you?
I am very passionate about promoting positivity and inclusivity at school, on the track, and within my community in general. As a long-time member of Athletics Nova Scotia, I appreciate everything that they have already done to support young athletes, and I wanted to give back by using my voice to help promote their new policy. I believe that sport plays a huge role in the development of youth, and everyone deserves to grow in a safe, positive, and supportive environment!
With the COVID-19 pandemic having cancelled the entirety of the outdoor season, what has training looked like in recent months, and how have you been keeping busy in day-to-day life?
I completed the International Baccalaureate Program at Prince Andrew High School which actually finished in late-April, so I had a lot of free time on my hands. I stayed involved within my community by initiating a virtual peer tutoring program to help support students struggling with the transition to online learning, and I helped create a support classroom for the year one (grade 11) International Baccalaureate students at my school. At home, we did a lot of renovations to our backyard, so I got a lot of good strength workouts as I was busy struggling to build a retaining wall. Training was definitely difficult at the start. I had to do all of my track workouts alone on the roads or trails by my house, which was a big adjustment. Thankfully, I've been able to train in small groups on the actual track for the last month or so and my training is going well. We've been doing some time trials to keep our goals in sight and I'm excited to continue this training with Dal.
Aside from running, what are some of your other hobbies?
In the summer, I spend my time participating in outdoor activities such as canoeing, white water rafting, swimming, and fishing. In the winter, I love skiing and skating. I also enjoy spending time with my friends and family, and volunteering within my community.
---
Hosted by New Brunswick-born track runner, administrator, and coach Brandon Scott LeBlanc, AtlanticU23 is an interview series with upcoming Atlantic Canada track and field athletes under the age of 23.
Facebook: @AtlanticU23
Twitter: @AtlanticU23
User

Comments
Currently, there are no comments.