AtlanticU23 #064 - Levi Moulton (Newfoundland and Labrador)
Posted 1 month ago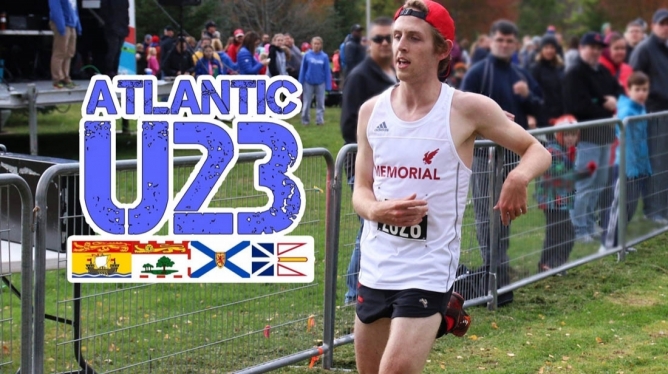 AtlanticU23 #064 - Levi Moulton (Newfoundland and Labrador)
Hometown: Paradise, NL
Birth Year: 2000 (Senior age class)
Club: Pearlgate Track and Field Club
Coach: Mark Miller
Personal Bests (as of August 3rd, 2020): 1500m: 4:10.81, 3000m: 8:55.59, 5000m: 15:43.56
5 quick questions with Levi:
Favourite podcast? The Growth Equation Podcast with Steve Magness and Brad Stulberg
Split shorts or tights? Split shorts
What is your go-to meal after a hard workout? Mom's famous Italian sausage pasta
Would you rather be able to speak with animals or speak all foreign languages? All foreign languages – language has always been an interest of mine and I love to read about etymology and the similarities in different languages
If you were the last human on Earth, what would you do with your life? I would move out to the East Coast Trails – I would be able to run and camp everyday with some of the best views in the world in my backyard
How did you first get involved in track and field?
My fifth-grade teacher, Mrs. Hutchings, signed me up for track after I won our school's sports day long distance run. She was amazing. She and my mom would take turns driving Ashley – Mrs. Hutchings' daughter – and I to the track every day of the summer.
From your early years in the sport until starting university, you trained and competed as a member of Mount Pearl-based Pearlgate Track and Field Club under Coach Mark Miller. Can you tell us about the culture and training philosophy of the club – what did a typical outdoor season look like at the club?
The club and culture has changed so much since I started running track, mostly thanks to Mark. When he first arrived at the track, there had not been a developed distance program in years. Mark was very young when he first started coaching our group, so as he has matured, so has his coaching philosophies and goals for the club. Mark has developed a culture rooted in hard work at Pearlgate. One of my favorite memories of track is of Mark imitating his high school basketball coach from when he lived in the southern United States: "If y'all don't wanna play basketball, then y'all can just get on the line!" He would say this before the last set of practice, and it would always make the other athletes and I laugh. During a typical summer at the track, the athletes help to maintain the facility and take some pressure off the usual staff. Whenever you go to the track, there will be a group of athletes there to talk to and train with. The track has a very welcoming atmosphere and most days you can find the distance runners, sprinters, throwers, and multi-event athletes all training at the same time with very little conflict. Normally, we have weekly twilight meets throughout the summer. Mark has been able to cultivate an atmosphere of healthy competitiveness at the track – most of his athletes now love to compete, and perform best when they have some pressure.
Newfoundland and Labrador possesses the lowest percentage of French speakers in all of Canada, and as a result only a handful of athletes are chosen to represent the province at the Jeux de l'Acadie and the Jeux de la Francophonie. Being from a province with such a small francophone community, what was your experience competing for Équipe Terre-Neuve-et-Labrador at the 2013 Jeux de l'Acadie?
Competing at the Games opened my eyes to the lack of linguistic diversity in our province, but it also introduced me to an entire subculture from Newfoundland and Labrador that I had never known existed or had the pleasure to be a part of. It was an amazing experience meeting so many other Francophiles from the Maritime provinces. Competing at the Jeux de l'Acadie was not only beneficial for my athletic progression, as I left the Games with an unparalleled desire to improve my French speaking ability. Unfortunately, with such a low percentage of French speakers in our province, it is a hard skill to practice.
Between 2014 and 2017, you represented Team Newfoundland and Labrador at four consecutive Canadian Legion Track & Field Championships, competing in the distance events and the long sprint relays. What were some of your favourite memories from these events, and how did your participation in the Championships help you develop into the athlete you are today?
Prior to competing at the Canadian Legion Track and Field Championships, I had never had a real racing experience. All of the races I had ran before had been either solo or against Evan and Eric Knight (who I always competed with at practice). Being able to compete on a much larger stage gave me an opportunity to run with a larger group of runners, but it also introduced me to my first experience with pre-race anxiety. Since I had never felt this way before any races in St. John's, my worries overcame my athletic ability and I ran poorly because of it. When returning to St. John's, I explained this predicament with Coach Miller and he helped me develop strategies for lessening my anxiety prior to the race. Nowadays, I am never nervous before a race as much as I am excited. I have learned to accept my nervous energy as a sign that I care about how I perform. My competitiveness is what makes me the athlete that I am. I often joke that I would do just about anything to avoid getting passed in the last hundred metres of a race – I would let my lungs collapse before letting someone jockey me for a position in the final few strides. What was once my biggest weakness (my nerves) is now my greatest athletic advantage (my passion).
Despite recording a 6th place finish in the 2000m steeplechase at the 2017 Legion Championships – your highest ever placement at a national outdoor championships – you have not run the steeplechase since. Is this an event you plan to take-up again in the future?
I have always been interested in the steeplechase – I love the fact that I have to be constantly engaged. With so much jockeying for position, the barriers, the water pit, etc., it feels like a more naturalistic form of racing. Unfortunately, I am terrible at hurdling. I wasted so much energy during that steeplechase race – which was actually the first and last of my career – as I was basically accelerating from a standstill after every barrier. Coach Miller has been working with me over the last two summers to develop my hurdling technique, and I hope to give it another shot the next chance I get. The hope is to compete in the 5000m and the 3000m steeplechase at the next Canada Games.
At only 17 years of age, you represented Team Newfoundland and Labrador at the 2017 Canada Games, placing 19th in the 1500m and 17th in the 5000m in personal best times of 4:10.81 and 16:01.47, respectively. Tell us about your experience competing at the Games – were you nervous about competing against athletes to up to five years your senior?
When I first arrived at the site of the Games and looked at the athletes I was competing against, I felt completely out of my element. Most guys had full beards while I had only a few visible armpit hairs! Luckily, I was paired with a more veteran runner from our province, Matthew Noseworthy. Matt eased a lot of my anxieties, and he helped me take a very beneficial perspective. He was like an older brother for me on that trip, and he taught me a lot about competing and how to optimize my life to prioritize my goals as a young athlete. He explained to me that I was not there to win the race, I was there to gain valuable experience racing some of the best runners in the country. He told me that it was a great chance to jump in the middle of the pack and let the older athletes drag me to some new personal bests. Finally, he assured me that the 2017 Canada Games were just a stepping stone to prepare me for the 2021 Games, where he and I both believed I would be much more competitive.
You will be age 21 for next year's Canada Games, set to take place in the Niagara Region of Ontario. Assuming that COVID-19 doesn't impact the scheduling of this event (a growing concern), what are your goals for the competition?
As I had mentioned, I hope to compete in the 5000m and the 3000m steeplechase. My goals for the events would be to stay competitive – I would like to be in the race when it starts to heat up. This is my mentality in most races, I typically try to stay with the lead pack for as long as I can to give myself the best chance to win. Sometimes this works out and I get the result I am looking for, and other times I blow up (as I did in the 5000m at the 2017 Canada Games), but I would much rather leave a race knowing I gave it my all and gave the leaders a run for their money than to leave with a new personal best but feeling like I had more in the tank.
The Avalon Peninsula – and most of Newfoundland – is known for its incredibly powerful winds and its heavy snowfall. As an endurance athlete, how has the weather impacted your training over the years, and what has been the pros and cons of training in the harsh climate?
Training in the Newfoundland climate offers very few opportunities to PB. Moreover, it offers no real physical advantage for training outside of the province. This being said, I believe it does give me a mental advantage over some of my competitors. I am so used to running in high winds that when I compete away, the better weather gives me a boost of confidence and elevates my excitement to compete. Moreover, when I compete in poor weather, I like to remind myself throughout the race that I have trained in much worse conditions. I believe this mental toughness helps me to ignore the external factors that I cannot control in order to focus on the controllables, like catching the athlete closest to me!
You are the first athlete from the Memorial Seahawks to appear on AtlanticU23. What can you tell us about the training environment at MUN – throughout both cross country and the indoor season, what does a typical week of training look like for the endurance group?
One of the greatest advantages of competing with the Sea-Hawks over the last number of years has been having lots of veteran leadership to help me develop as an athlete. During my first year with the team, we had two athletes who were in medical school and another student who was completing his PhD. Our team's average age was 27, and I was only 18 years old at the time. Since my teammates were much more mature, the atmosphere of the team was strictly business. The older athletes like Tyler Cole and Nick Snow had so much more experience under their belts and they taught me a lot about training, staying healthy, and competing. Since then, I have taken more of a leadership role with the team, and I try as best as I can to maintain the hardworking, mature, goal-oriented atmosphere that they've created. A typical week of training with the Seahawks involves 2-3 workouts. We usually had one speed workout of shorter repetitions, one tempo-style workout, and one 'turnover workout' over the weekend. On our off days, the team gets together to do most of our easy/recovery miles on the copious trails that surround our city/campus. In the past, we did much of our strength and flexibility training on our own time, but I hope to get everyone together for these sessions moving forward.
Due to their infrequent appearance at league meets throughout the regular season, the Memorial Sea-Hawks have developed a reputation of outrunning the fan-favourites to achieve impressive – and unexpected – performances at the AUS Championships. How do you and your teammates use this underdog approach in challenging other schools for podium positions?
As we go into many races overlooked, most athletes who compete for the Sea-Hawks adopt the underdog mentality. The fact that our athletes are so frequently left out of the conversation of those with podium potential leaves many of the runners with a chip on their shoulder. I always feel like I have something to prove – or someone to prove wrong – and many of my teammates express they feel the same way. Before our races, our coaches (Art Meaney and Colin Fewer) often tell us that we should not be nervous. They explain that most teams have already counted us out, so we have a great chance to upset our competitors at the highest level with very little pressure. Moreover, unlike the other universities in the Atlantic region, we have very few opportunities to compete. This makes every race special, and our athletes tend to show up most on the biggest stage.
With the AUS and USPORTS leagues having suspended all competition for this year's cross country season due to the COVID-19 pandemic, how is your training currently structured and what are the intended training outcomes?
With the upcoming cross country season being cancelled due to the COVID-19 pandemic, Mark and I have taken the extra time to build my training schedule to work on the strength I lack relative to most of my competitors. Over my first two seasons with the Sea-Hawks, I averaged roughly 65km per week. The goal as of right now is to build up a solid base to allow my body to acclimate to higher mileage weeks and to recover quicker for when my workouts have to get more intense.
Aside from running, what are some of your other hobbies?
My passion is sports and the human body. I spend most of my time outside of running watching sports highlights, reading about the human body, and playing different sports. Like many others, I am fascinated by athletic excellence, so I love to watch videos and read about the habits of the legends in my favourite sports, such as LeBron James, Usain Bolt, and Tiger Woods. What fascinates me is their obsession for their craft and their unrelenting desire to improve.
---
Hosted by New Brunswick-born track runner, administrator, and coach Brandon Scott LeBlanc, AtlanticU23 is an interview series with upcoming Atlantic Canada track and field athletes under the age of 23.
Facebook: @AtlanticU23
Twitter: @AtlanticU23
User

Comments
Currently, there are no comments.