AtlanticU23 #065 - Tyler Adams (New Brunswick)
Posted 1 month ago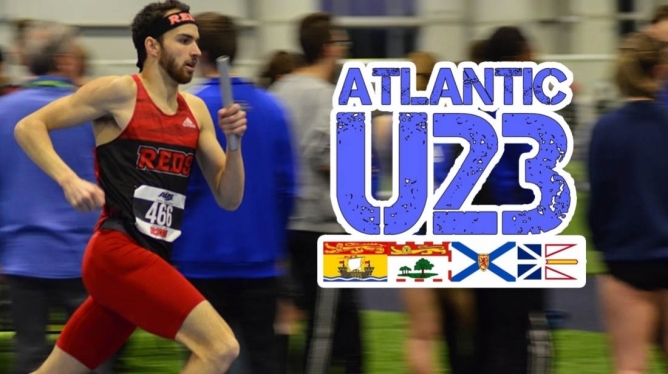 Photo Courtesy: Sharon Peabody
AtlanticU23 #065 - Tyler Adams (New Brunswick)
Hometown: Saint John
Birth Year: 1998 (Senior age class)
Club: Saint John Track Club
Coach: Chris Belof
Personal Bests (as of August 17th, 2020): 600m: 1:23.14, 800m: 1:59.45, 1000m: 2:30.08, 1500m: 4:10.23
5 quick questions with Tyler:
Favourite hangout spot? The Track Shack
Cross country or track? Track - I prefer to run fast now because I'll have the chance to run far and slow when I'm older
Which movie do you wish you could watch again for the first time? Hacksaw Ridge
Would you rather have nosy neighbors or noisy neighbors? Noisy neighbors, because they won't get me in trouble
If you could enact any single law, what would it be? Mandatory vaccines
How did you first get involved in track and field?
I remember back in middle school a classmate of mine would run and bike to school a few days of the week. I attempted to do the same and failed miserably. So, I began running around my neighborhood and in the woods near my home for practice. Eventually, a friend of mine who trained with Saint John Track Club (SJTC) invited me to try it out with her. I gave it a shot and really enjoyed running with the club.
First obtaining membership with Athletics New Brunswick in 2012, you are one of the longer-lasting athletes in the sport (among those still actively competing). What has fueled your continued interest in the sport over the years, and what are some tips and tricks that you have utilized to avoid burnout?
The competitive excitement and nerves always made this sport intriguing to me. From races to practices this sport never fails to keep me on my toes. I truly love the personal battle against myself and my own times, along with the external battles against other competitors. One large factor that has fueled my interest is my teammates. I have gained numerous close friends through various track & field teams, such as Saint John High School, SJTC, and UNB. To avoid burnout over the years, my main driving factor has been making sure I'm having fun. I love the sport of track & field and look forward to racing, improving my fitness, and socializing with other athletes. Track and field is one of the most physically demanding sports I've done, and I've found that celebrating the small wins and appreciating the rough workouts keeps me motivated for the next session.
You made headlines in 2016 when you were named a recipient of a University New Brunswick Currie Scholarship, one of the university's most prestigious scholarships, worth $65,000 over four years. Take us back to the excitement of hearing this news - beyond making it easy to choose an institution to attend, how did the scholarship impact your future in post-secondary education?
Discovering that I received the Currie Scholarship was honestly one of the most indescribable feelings. I was overrun with excitement and gratitude. That night I had my final hockey game of minor hockey, where we made it to the finals. I tipped the puck off of my own hand into our net by accident, to lose the championship in overtime. That day was very bittersweet to say the least. I recall sharing the news with a few family members that night and many of them were completely lost for words. The Currie Scholarship changed my life and allowed me to become the first member of my close family to attend university. It helped remove the financial burden many students face when attending post-secondary education. I've always been driven academically, and the scholarship paved a great path for me to fulfill my goals. Four years ago I was very excited to begin my Bachelor of Science in Kinesiology and I am now grateful to have successfully completed my degree. I truly cannot thank Dr. Currie and UNB enough for the support they provided me over the past few years
Aside from the Currie Scholarship, what made UNB stand-out as the right choice for you?
UNB was an appealing choice for me because of my love for New Brunswick. I was born and raised in Saint John, NB, which reassured my decision to study at UNB, close to home. I also found UNB to have one of the best Kinesiology programs on the east coast.
Last year, the Canada Games Council announced that the sport of athletics would alter its age restriction from U23 to U24 - born in 1998, this instantly made you eligible for the 2021 edition of the Games. Is Team New Brunswick something that you have in mind for next year?
Trying out for Team NB is definitely something I have in mind for next year. I was very thrilled when this opportunity emerged and gave me a chance to represent New Brunswick on a large stage.
In both cross country and track and field, the UNB Reds have consistently increased their competitiveness in recent years - on the trails, the team has continued to achieve podium placements with improved scores, and on the track, has inched closer to the team banner. What do you attribute to the emerging quality of the men's teams?
In my second year of University, UNB gained our new Head Coach, Chris Belof, who brought a lot of knowledge to the team. Chris has a great ability to transform mid-level athletes into strong competitors at the AUS level. Our men's mid/long distance team has built a powerful comradery through the tough workouts and intense meets. I believe our men's team's biggest strength is the support we have for each other. No matter the result of a race or workout, we are always picking each other up and setting our sights on the next session. The UNB boys always have each other's backs and are ready for a full send at any time.
As a mid-long distance athlete at UNB, you train under Head Coach Chris Belof. During the indoor season, what does training typically look like in the weeks leading up to a major championships, and how do you and your teammates prepare for peak performances?
In the weeks leading up to a major meet, Chris will drop the hammer and get some quality race specific workouts in. For the mid-distance guys and I, we do many race breakdowns such as 400/200, 300/300, and 200/400/400, all at race pace. This allows us to feel out the paces and start preparing mentally. 1-2 weeks out we will do a lot more tune-up and speed work to sharpen the blades for war. Chris is great at individually adapting to our team's needs, where some guys benefit from less mileage and some prefer cross-training to keep our bodies on point.
A member of Saint John Track Club since your first days in the sport, you have retained membership with the club while attending UNBF and competing for the Reds. How does SJTC and UNB's varsity program collaborate with one another to provide a seamless transition for athletes, and coordinate to foster a larger training community in the city?
UNB's track and field program brings younger SJTC athletes along for workouts and training camps every year. The athletes within the community seem to integrate very smoothly with our team and culture on the Reds. It's awesome to see home grown New Brunswick athletes train and develop within the community to then later contribute to the local UNB team. I think there's nothing better than seeing our province's own talent stay and nourish NB's athletics. This has proven to be an effective method of transition for many local SJTC and nearby athletes.
The Irving Oil Field House at Saint John's Exhibition Park officially opened in early-November last year, and boasts a 6-lane 200m track with an 8-lane straightaway, space for field events, a fitness centre, and various other amenities. As a lifelong resident of Saint John, what impact do you believe this facility will have on sports - particularly athletics - in the region?
The Field House has been a phenomenal addition to the city of Saint John and athletics all around the east coast. When I trained with the SJTC, during the indoor season we would train in the gymnasium of UNBSJ. Although the coaches, such as Alex Coffin and Bill MacMackin, would provide a high quality of training, without the facility it was difficult to get the most out of an indoor track season. Now with access to the Field House, we have the ability to host the AUS Championships and USPORTS nationals, expected in 2021. For UNB specifically, it has given us the space and resources we need to foster prime training conditions.
At 17 years of age, you raced the 2000m steeplechase at the 2015 Ian Hume Invitational, recording a respectable time of 6:44.10. Despite this, you have not attempted the event's senior age-class equivalent, the 3000m steeplechase. Is this an event that you have interest in trying out in the future?
This race was a great experience, where I got to race some elite steeplechasers from Quebec. It was my first steeplechase race and I learned a lot from it, like how much steeplechase hurt. I ultimately did enjoy this race and the uniqueness of the event, specifically the water pits. Since 2015, I've shifted my focus to middle distance and indoor track, most notably the 600m & 1000m. Unfortunately, my lack of flexibility may not pair up so well with the 3000m steeple, and even if I improve that aspect of my athletic ability, I would love to long jump instead.
With the AUS and USPORTS leagues having suspended all competition for this year's cross country season due to the COVID-19 pandemic, what does your training currently look like and what is it focused on?
My training has been quite different than usual because I'm currently working in Nova Scotia on a military base as a medic, and I don't have the option to train with my team back home. My training consists of many 40-50min endurance runs due to the limited training time I have allocated from work. Aside from that, I have trained at a gravel track near base, focusing mainly on speed endurance. I would like to regain my aerobic fitness and stay injury-free coming out of the summer moving into the fall.
Although the fate of the indoor track season remains unknown at this time, there is growing speculation that the pandemic may impact its format, whether that be outright cancellation, a condensed season with limited competition opportunities, the strict implementation of public health guidelines, or various other measures of the sorts. Being both optimistic and realistic, what are your hopes for the indoor season?
I am glad to live in one of the safest spots in North America and I attribute a lot of that to the effective public health guidelines and quick reaction time of the Atlantic provinces. My main priority is ensuring we remain healthy and safe. My realistic hopes for the indoor season is that the athletes in the Atlantic provinces will still be able to compete amongst each other. Given that the AUS has gained depth in many events such as the 1000m, I believe we may still have a strong chance at racing competitively.
Aside from running, what are some of your other hobbies?
I've been big into exploring local hiking trails and scenes. Lately I've had the pleasure of discovering some great lakes and views in the valley of Nova Scotia with good friends. Aside from that, I enjoy going downtown Fredericton or uptown Saint John and having an occasional brewski.
---
Hosted by New Brunswick-born track runner, administrator, and coach Brandon Scott LeBlanc, AtlanticU23 is an interview series with upcoming Atlantic Canada track and field athletes under the age of 23.
Facebook: @AtlanticU23
Twitter: @AtlanticU23
User

Comments
Currently, there are no comments.