AtlanticU23 #066 - Maddie Quinn (Nova Scotia)
Posted 7 months ago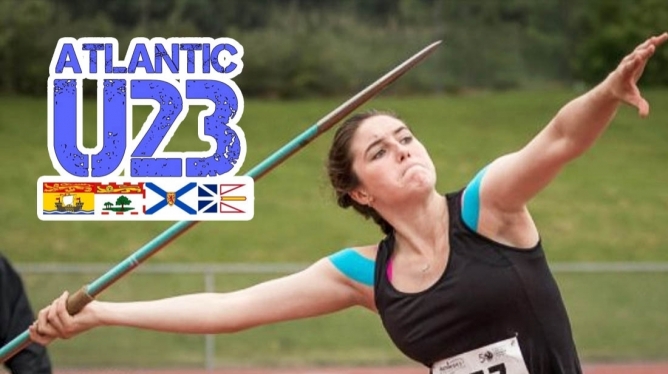 Photo Courtesy: Paul Morris
AtlanticU23 #066 - Maddie Quinn (Nova Scotia)
Hometown: Bible Hill, NS
Birth Year: 2000 (Senior age class)
Club: Truro Lions
Coach: Iain LaPointe and Joe Frye
Personal Bests (as of August 31st, 2020): Javelin Throw (500g): 45.94m, Javelin Throw (600g): 40.70m
5 quick questions with Maddie:
Favourite thing you own? My laptop, because I bought it myself for school and it makes my schoolwork a lot easier
Chocolate or vanilla? Absolutely chocolate
What accent can you best mimic? I think I am pretty good at a French accent
Would you rather always say everything on your mind or never speak again? I feel like if I spoke everything on my mind I would embarrass myself or end up in trouble
If you could be cast in a yet-to-be-released movie of your choice, which movie would it be? I have absolutely no clue, I don't watch a lot of movies
How did you first get involved in track and field?
I had Mononucleosis when I was in the 8th grade and at that time I was also playing competitive boys hockey. After my diagnosis, the doctors told me that I wasn't allowed to play any contact sports for at least 3 months. My parents and I didn't want me to stop being active during my recovery. However, I was just starting with track and javelin was the one thing I really enjoyed. That summer I hit the standard for Team Nova Scotia and had the opportunity to compete at the Legion National Championships, where my love for the sport flourished.
Alongside throwing javelin, you grew up playing hockey as a successful forward and were a member of the Northern Subway Selects. What are some of the shared skills between these sports, and how did participating in one help you succeed in the other?
As very different as these sports were, they taught me how to be a strong leader as I became one of the veterans of both my teams - it taught me how to speak and act towards my competitors and the spectators. Most importantly, I believe the most important shared skill was how to be humble and know that I have to constantly be working on myself mentally as well as physically to improve my scores on the ice and in the field.
With so much success both in the field and on the ice, what made you choose to focus exclusively on javelin following high school?
When I finished high school and it was time to look at my options for university, I took a lot of time going through the scholarship opportunities I would have if I was to continue solely with hockey or javelin on their own, and with the combination of being a dual-sport athlete. The seasons' weather conditions did play a role in my decision, but javelin was a better option for me financially and I loved Belmont as soon as I stepped on the campus.
After graduating from Cobequid Educational Centre last year, you immediately enrolled in the Bachelor of Science in Nursing program at Belmont University in Nashville, Tennessee. What contributed to your decision to attend Belmont?
I actually took a gap year after graduating and went back to high school to improve some grades I didn't feel confident in. My decision to enrol in the nursing program stems from my grandmother - she always told me that I would be a very good nurse, unfortunately she passed away a few months before I started my freshman year. She played a huge part in my desire in nursing, and I am more than blessed that she was able to be there to see me commit to Belmont University.
Throughout your four years competing at the Canadian Legion Track & Field Championships, you accomplished something extraordinary in landing a spot on the podium each and every year - bronze in 2014 and 2015, and silver in 2016 and 2017. What do you attribute to such consistency over the years?
I attribute my coach (Iain LaPointe) to the successful consistency over my career. Without the time spent at the track three days each week, along with meets on the weekend, practicing on the little aspects of my technique and footwork, I would not be where I am today.
Among your four consecutive national medal performances, which has been most memorable for you, and why?
The most memorable moment of my Legion Nationals career is absolutely my senior year (2017) on the team when we competed in Brandon, Manitoba. I threw my season's best with a 500g javelin and I was in first place for the majority of the competition until JV Patry-Smith from British Columbia threw her final throw and beat me by less than a meter. That moment taught me the most about what it means to be a great athlete, and to always respect and support your competitors.
Prior to the 2017 Canada Games, you wrote in your athlete profile that your goals were to throw a new personal best and place top-5 - you then did precisely that, placing 5th with a PB of 40.70m. Tell us about your experience representing Team Nova Scotia at the Games - beyond competition itself, what were your expectations?
My expectations going into the Canada Games was simply to enjoy every moment of it - having the opportunity just to be there, surrounded by such amazing people all there for the same reasons, was more than some athletes experience in their lifetime. Once it came time for me to compete, I knew that I had done everything that I could leading up to that moment to prepare me. The goal of coming 5th with a new personal best was not on my mind during the competition, I was more focused on the smaller goals I had set for myself during the competition, like getting in a good solid first throw, securing a spot in the top 10, and then to place top 8. It wasn't until I was top 5 that I realized I had met my overall goal for the Games.
In 2017, you went from regularly throwing the 500g javelin to suddenly throwing the senior weight of 600g at the Nova Scotia Canada Games Team Trials and the Canada Games themselves. What did you do differently in training to prepare throwing the heavier implement, and did you find this increased weight to be a difficult adjustment?
When I first started throwing javelin in grade 8, I was throwing a 600g during school and the summer I would switch to a 500g - I think it was a year or two after that the NSSAF decided to change the weights of the javelins in competition. While I was still competing with the 500g, I use to train with both the 500g and the 600g, so I had already had experience throwing both. I would practice my technique without throwing with the 600g, and would use the 500g for harder full run-up throws during practice and meets.
Having already achieved a top-5 finish at the previous Games, do you have any particular goals in mind for next year's edition of the Games?
At this point in my life, I am hoping to make the team again because there are some talented throwers that are coming up in the ranks like Heath Miller and Jenna Ried from Pictou County and they both are also gunning to go to the Games as well. I am also working towards throwing a specific distance consistently that is a few meters over the standard in preparation for a really good day at the trails and also a bad day because a thrower can tell the meet they will have after their first throw.
Unlike track events such as the 100m and 200m, or field events such as the long jump and triple jump, the javelin is not an event that necessarily pairs well with any other throw. Do you ever get bored with contesting just the one event, or wish to take-up a second event?
I love javelin because there is always room for improvement and each day is different, just like every throw is unique. I have thought about doing another event - I always wanted to try long jump - but I could never see myself loving another event the same way I do javelin.
Similarly, javelin is one of two field events - discus being the other - that does not have an indoor equivalent. While other event groups are concentrated on the indoor season, what is your training focused on?
Living in Nashville and having such beautiful weather all the time, I am able to still throw outdoors while my teammates prep for indoor season. My weightlifting phases are slightly altered during this time, meaning I am still lifting heavy while the indoor athletes have lower weights and higher reps of exercises before they compete.
Prior to moving away for university, you competed for the Truro Lions Club and trained under esteemed throws coach Iain LaPointe, who over the years has coached and provided support to numerous national medalists in the javelin. Throughout the outdoor season, what does a typical week of training look like?
I would throw roughly two times each week with Iain and the Club for an hour-and-a-half to two hours on Tuesdays and Thursdays, and on the side I was still working out in the gym for my hockey and practicing twice a week with games every weekend. Iain allowed me to practice on my own during the off days, where I would film myself without throwing, or light tosses and focus more on my technique.
Beyond week-to-week planning and technical instruction, how does Coach Iain create an environment in which athletes are supported in developing their abilities and working towards their goals?
Iain is a once in a lifetime coach, he creates an environment that welcomes any level of thrower of any age group. Iain is constantly building up his athletes' mental strength with supportive comments and tons of encouragement. The athletes that come out from Iain's coaching are humble, respectful, and just well-rounded individuals as much as good-quality throwers. I have been complimented many times on the technique that I was taught during my years with Iain, most recently from my D1 throws coach here at Belmont.
Since your move to Tennessee for university, you've trained under Coach Joe Frye, who also leads strength training for the Bruins cross country and track and field teams. Between Truro and Nashville, how would you compare and contrast your training environment?Truro has a wonderful social environment as much as an area for athletes to safely throw. However, Nashville has the facilities for further and safer training. Truro's track is very dated, with a gravel instead of rubber track, and the javelin area is a patch of grass with dangerous dips and holes, making it hazardous for athletes to throw their hardest at practices for fear that they will slip or roll an ankle.
You were at Belmont University in March when the NCAA suddenly cancelled all remaining winter and spring championships as a result of the COVID-19 pandemic. Contesting an event that is only offered during the spring season, how disappointing was it to not be able to compete during your freshman season?
I actually cried after my coach had called and told us the news. I trained extremely hard all year in the weight room, on the track, and in the classroom to prepare for my first meet, which was set to be two days after the Ohio Valley Conference and our school made the decision to shut down the season. But I am more than ready this year to be back and throw a new PB.
Around the same time, Belmont University announced that the remainder of the spring semester would be delivered exclusively online and that all students living in residence would be required to leave. How were you affected by this sudden news?
The athletes were back on campus early from spring break to gear-up for the first outdoor meet of the season, and I was actually kicked-out of my freshman dorm within 48 hours of the email being sent to all students because they made my dorm hall a quarantine zone for any staff or people affiliated with Belmont. I was lucky enough to have another place on campus where a teammate's roommate had moved out months before, and so I moved into my new dorm. Within 48 hours of moving to the new dorm, the school told all students still living on campus that we had to leave and find somewhere to live off campus. I had to find a place to live and store all of my stuff - thankfully my friend offered to help me, and once I broke the news to my parents they booked me the next available flight home and I left for Canada 48 hours later.
With the fall semester approaching and the pandemic ongoing, what do you anticipate the coming months will look like at Belmont University, in terms of both academics and athletics?
So far things are slightly different with classes online and not having my roommates and teammates here with me on campus. But things are getting better with the pandemic: Belmont delayed their move-in days and the start of in-person classes to learn from the mistakes of other colleges and universities in the USA, and set guidelines for all students to follow while on campus to secure a safe return and long-lasting semester. My athletics are on hold right now but the school has open times for athletes to lift in the weight room. We have to wear masks as soon as we leave our dorms - even during our lifts, which is hard - and we have to wipe-down every piece of equipment we use before and after we lift.
In recent months, the entire Southern United States has experienced an intense second wave of the virus, including Tennessee which has averaged well over 1,000 new cases daily since late-June. Do you have any concerns about travelling back to Tennessee for school in the coming weeks?
I am currently living in Nashville right now because I was supposed to be here by August 4th to quarantine before the school delayed the start of classes. I was permitted to move into my dorm on August 17th, and I have noticed that going out in public there are groups of people that choose not to wear masks while walking in high traffic areas. For me personally, I do not wish to put myself or anyone with family members and friends that are at high risk in that situation, therefore I wear a mask every time I am outside, other than around my bubble family of track teammates and a select few friends. Nashville has opened up a lot of their businesses and parks, but people around Belmont are very respectful of wearing their masks so I am not extremely worried, but the best I can do is make sure that I am safe and I am at low risk of further spreading.
Aside from throwing, what are some of your other hobbies?
I really enjoy drawing cartoon characters, playing video games (even though I am not as good as my little brother), and I still skate from time-to-time here in Nashville with my friends or play pick-up hockey with my dad when I am home in Truro.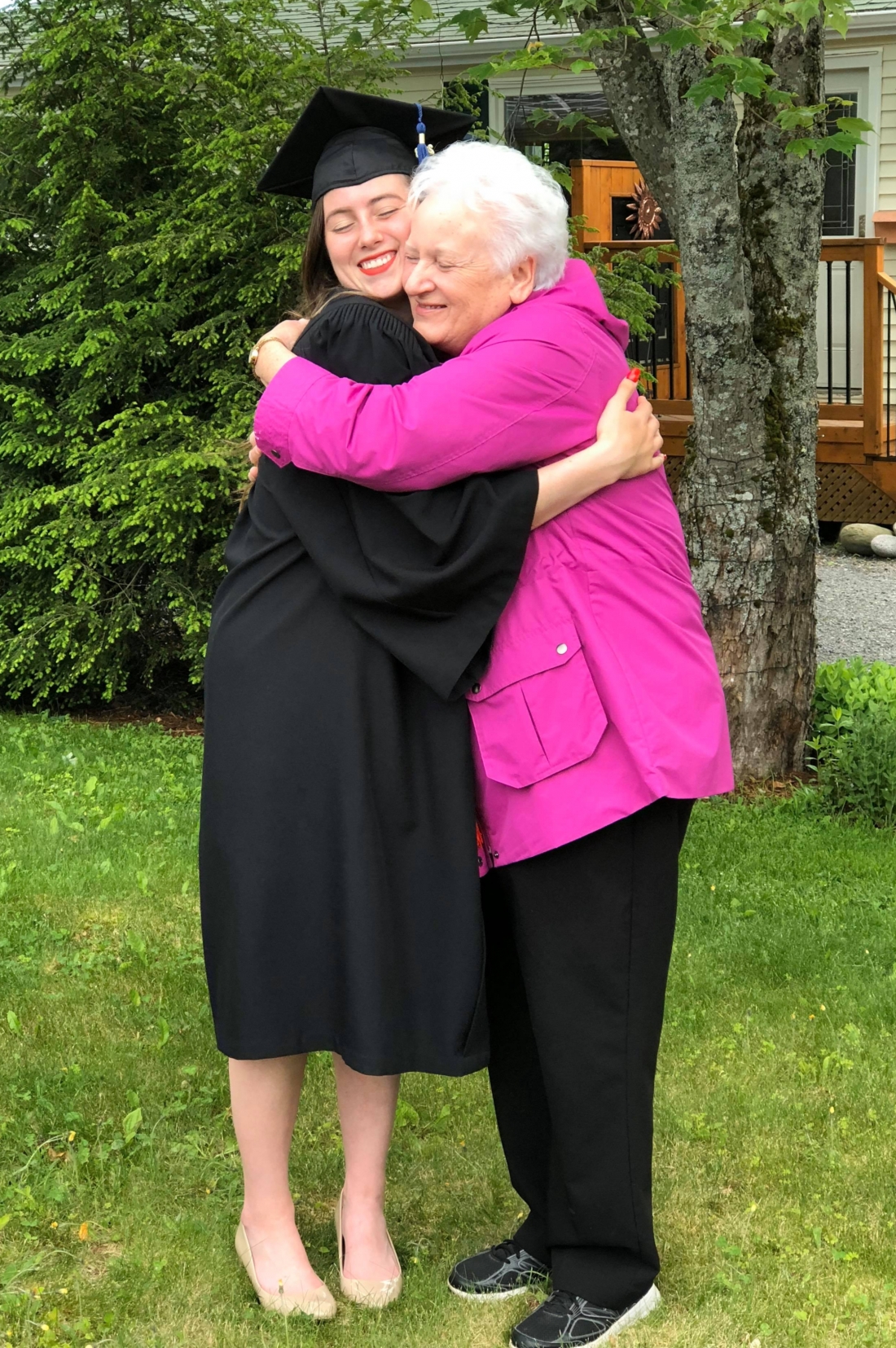 Maddie wished to dedicate this article to her late grandmother, Janet Quinn, who passed away on February 18, 2019.
"Janet Quinn is my grandmother, she was my biggest supporter my entire life. No matter how long my hockey games were in the coldest rinks or the hottest days at the track, my nan was always on the sidelines taking photos and cheering me on every time. She was there to see me off each time I left for all my national competitions and she was always waiting for me at the airport with flowers and tears of proudness in her eyes for my return. I was lucky enough to have her in my life for as long as I did and for her to see me graduate high school and commit to Belmont University to study nursing. My grandmother was a beautiful soul that touched the hearts of everyone that had the honor of meeting her. She is the reason that I am pursuing nursing, but most importantly she was my role model in my life and played a huge part in shaping me into the person and athlete that I am today. Janet will never be forgotten and the crazy shenanigans she got into on our road trips will be told for many years to come."
---
Hosted by New Brunswick-born track runner, administrator, and coach Brandon Scott LeBlanc, AtlanticU23 is an interview series with upcoming Atlantic Canada track and field athletes under the age of 23.
Facebook: @AtlanticU23
Twitter: @AtlanticU23
User

Comments
Currently, there are no comments.