AtlanticU23 #067 - Véronique Omalosanga (New Brunswick)
Posted 10 months ago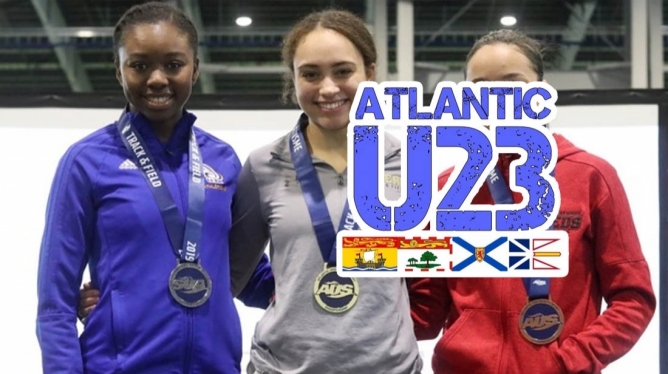 Photo Courtesy: Normand Leger
AtlanticU23 #067 - Véronique Omalosanga (New Brunswick)
Hometown: Moncton, NB
Birth Year: 1999 (Senior age class)
Club: Aetos Athletica
Coach: Steve LeBlanc
Personal Bests (as of September 14th, 2020): 60m: 7.69, 100m: 12.36, 200m: 25.18, 300m: 40.44
5 quick questions with Véronique:
Favourite dessert? Cake
Pool side or beach? Beach
What title would you give a book written about your life? The Strange Life of Omalo…maybe?
Would you rather have hiccups for the rest of your life, or always feel like you have to sneeze but never be able to?Probably hiccups for the rest of my life
If you could meet any historical figure, living or deceased, who would you choose and why? Patrice Lumumba. He is a Congolese politician who wanted the best for his country but was unfortunately mistreated - as I am of Congolese origin, I am very interested in his political career.
How did you first get involved in track and field?
It all started in grade 7, when I was on my school's basketball team before I started track and field. As I was the fastest on the team, I always had to run on the basketball court. In addition, my gym teacher saw my potential and wanted me to be a track athlete. When I was in grade 8, I finally decided to try athletics for the Jeux de l'Acadie. It took me two years before I started the sport, it was just for fun. It wasn't until grade 10 that I finally decided to get involved in track and join a club.
During your first year in the sport, you made impressive developments, dropping your 60m best from 8.25 to 7.92, and your 200m from 26.86 to 25.78. What do you attribute to such quick developments?
I could say that the practices helped a lot. I was still a beginner in the sport, so I was doing PB's at almost every competition. I'm very surprised with these results. I really see the improvement I've made.
During Montreal's years hosting the Canadian Indoor Championships, Athletics New Brunswick consistently arranged to send a full team of athletes to the event, yourself competing 2015 and 2017. How did your years competing at these Championships help you develop into the athlete that you are today?
My years competing at these Championships helped me develop a competitive spirit. The 2015 Championships were my first major competition. Prior to the Championships, I only competed in the province. I did a lot of observation at these meets - I saw how the other athletes behaved and I had to find a way to organize myself.
After graduating from École L'Odyssée in 2017, you immediately enrolled in the Biochemistry program at Université Laval. What contributed to your decision to attend Laval?
What contributed to this decision was their athletics team. I was watching the 2017 McGill Team Challenge and was intrigued by their relay teams. Before making a final decision, I took the time to learn about the biochemistry program at Laval University. I also wanted to experience university outside of New Brunswick.
After your rookie season at Laval, you transferred to Université de Moncton in your hometown, enrolling in the Diploma of Health Sciences program. What contributed to your decision to switch universities?
One of the main decisions was spending. I wanted to make things easier for my parents, so going back to Moncton was a reasonable solution. I was also interested in the Health Sciences program at that time.
You represented Team New Brunswick at the 2017 Canada Games, placing 11th in both the 100m and 200m, and 7th as a member of the province's 4x100m team. Tell us about your experience competing at the Games. Were you satisfied with your performances?
My experience at the 2017 Canada Games was memorable. I had just finished high school and could no longer participate at the Legion Nationals. Having competed in these two big meets, I observed a different environment at the Canada Games, it was new to me. I was very pleased with my performance. I ran my fastest times at this competition, although wind was illegal in the 100m B final - it's okay, I'm still proud.
Born in 1999, you are still eligible for next year's Canada Games, set to take place in the Niagara Region of Ontario. Do you have any goals in mind for next year's Games?
I'm pretty excited for next year. I'm hoping to improve my performance, as I don't compete as much outdoors. I'd like to see what the indoor season brings me to further evaluate my goals for next year's Games.
At this year's AUS Track and Field Championships, you captured bronze in the 60m, silver in the 300m, and two silvers as a member of UdeM's 4x200m and 4x400m relay teams. What were your goals heading into the Championships?
Honestly, the goals I had when I went to the Championships were the same in September. I wanted to finish my indoor season with a time in the 7.60 s in the 60m, improve my 300m, and break university records. I can guarantee that these goals have been achieved and it feels good.
Having competed in the RSEQ while at Laval, and in the AUS while at UdeM, what can you tell us about the competition of these two leagues - what are some of the main differences between competing in the RSEQ and the AUS?
The big differences observed between the two conferences are really in the organization of the championships. At the RSEQ Championships, the 60m was on the first day and the 300m on the second day. In addition, there is no preliminaries for the 300m at RSEQ, unlike the AUS. I wasn't too excited about running a 300m final in Moncton, but it was very different in Saint John - I do think the track in Moncton plays a role in that difference. I also realized that the RSEQ doesn't have a banquet at the end of their Championships.
The UdeM Aigles Bleues have seen consistent improvement in team scores over recent years (26, 57, 60, 70 points between 2017 and 2020, respectively) and have consistently challenged the University of New Brunswick Reds for a spot on the podium. What do you attribute to the team's consistent improvement on the women's side?
Having participated in the 60m, 300m, 4x200m, and 4x400m helped a lot with the scores. As well, the girls on the team improved in their field, which helped in the standings. Also, the 2019-2020 rookies helped us with the rankings.
You train and compete as a member of Moncton-based Aetos Athletica and train under coach Steve LeBlanc. As the first athlete from Aetos to appear on AtlanticU23, what can you tell us about the culture and training philosophy of the club?
There is so much harmony in the club that we are practically a family. We help each other as athletes, we want to see our teammates achieve their goals. Our coach is always there to help us, even though he may be busy at times. No matter what, he's there to correct and boost us. In general, Steve helps us set goals of different lengths, helps us know our weaknesses and strengths, and then helps us improve.
Aetos Athletica and UdeM predominantly train together as one group, sharing resources such as coaches, facilities, and equipment. What does a typical week of training look like for the integrated group of sprinters during the indoor season?
We train four times each week on the track. For the four days that we train as a group on the track, we work on endurance, technique, and speed. These three aspects are obviously different every week and they depend a lot on the competitions. Of the four days that we train in a group, three days are used for our gym training. Also, we have the option to do abdominal training or yoga on Wednesdays, and cardio on Fridays. Stretching is important at the end of each workout. Finally, Sunday is our day off.
With the vast majority of the outdoor season cancelled, you haven't competed since the AUS Championships in late-February. Since the COVID-19 pandemic began in Canada back in March, what has your training consisted of and what have been the primary training objectives?
My training was done in two phases: the isolation phase and the group training phase. The isolation phase was obviously done at home. This phase was mainly aerobic, anaerobic, strength, power, and speed trainings that lasted 4 weeks. Afterwards, I started the second phase at home, but it was possible to go on the track. I mainly did the training at home and from time-to-time at the track. My primary goals were not to get injured and to improve my flexibility and technique.
With the fate of the indoor track season unknown at this time, what sort of approach have you and your UdeM teammates adopted in starting fall training?
We don't know if there will be a season, but we will continue to train. The team will be divided into groups in order to respect the COVID-19 guidelines. Even though we will no longer train in large groups, the dynamism will still be there. It is true that this season will be strange and full of surprises, but we will always find solutions to the problems.
Back in May, the Department of Athletics & Recreation at St. Francis Xavier University abruptly announced that all track events under 600m - as well as all field events - would no longer be within the scope of the program, effective the 2020-2021 season. As someone who contests the 60m and 300m indoors, what was your reaction to hearing that one of the league's most competitive schools would no longer enter athletes in your events?
I was shocked after hearing that, because it was unexpected. I don't think everyone was expecting it. I haven't read any more about this news, but I know that St. Francis Xavier University had strong athletes in my events and also field events.
Aside from running, what are some of your other hobbies?
Other than running, I spend my time drawing, painting, or sewing. I find that these are hobbies that allow me to relax my mind. I'd like to try pottery, but the price of the machine frightens me. I also like to spend time with my friends.
---
Hosted by New Brunswick-born track runner, administrator, and coach Brandon Scott LeBlanc, AtlanticU23 is an interview series with upcoming Atlantic Canada track and field athletes under the age of 23.
Facebook: @AtlanticU23
Twitter: @AtlanticU23
User

Comments
Currently, there are no comments.