AtlanticU23 #068 - Jane Hergett (Nova Scotia)
Posted 9 months ago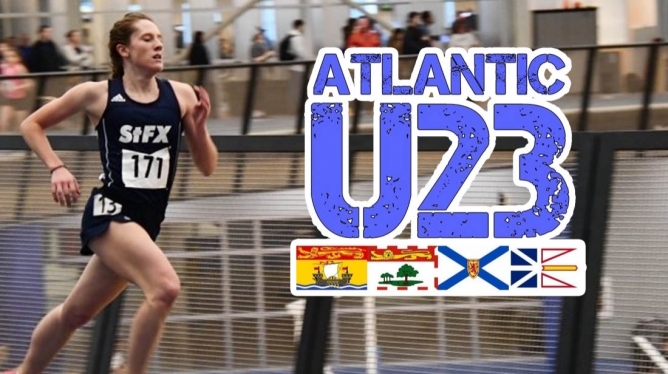 AtlanticU23 #068 - Jane Hergett (Nova Scotia)
Hometown: Port Williams, NS
Birth Year: 1999 (Senior age class)
Club: StFX Track and Field Club
Coach: Eric Gillis
Personal Bests (as of September 28th, 2020): 600m: 1:33.89, 800m: 2:12.15, 1000m: 2:48.86, 1500m: 4:30.02, 3000m: 10:05.94
5 quick questions with Jane:
Favourite sitcom? I don't think I have one, I'm not a big TV person.
Split shorts or tights? Split shorts!
How do you take your coffee? With milk.
Would you rather have a dog with a cat's personality or a cat with a dog's personality? A cat with a dog's personality sounds cute.
If you could instantly be an expert in a subject, which would it be? Maybe injury prevention and rehab for runners.
How did you first get involved in track and field?
My very first introduction to the sport was back in early elementary school: Steve Wohlmuth organized some local throwing meets and also took some of the kids in my neighbourhood to compete in a meet that was similar to Run, Jump, Throw, Wheel. I then started actually getting involved in track and field in grade 6 when I joined the track team at my middle school and started out doing the 100m, 400m, and triple jump. I continued competing for my school team every year after that but never joined a club or trained year-round for track until grade 10 or 11.
After graduating from Horton High School in 2017, you immediately enrolled in the Bachelor of Science in Nursing program at St. Francis Xavier University. What contributed to your decision to attend St. FX?
I went to visit StFX in the fall of my grade 12 year and got to tour the school and spend time with the coaches and the team. I really liked how close of friends the whole team seemed and Coach Bernie Chisholm seemed like a really knowledgeable and passionate coach. Being from the Annapolis Valley, the small town feel in Antigonish reminded me of home and felt super welcoming. When I decided I wanted to take nursing, StFX just felt even more like the right fit because of the well-known nursing program established there.
You represented Team Nova Scotia at the 2017 Canada Games, placing 13th in the 800m in a near-personal best time of 2:16.14. Tell us about your experience competing at the Games. Were you satisfied with your performances?
My goal for that whole entire year was to make the Canada Games team for the 800m, and up until I actually made the team it still seemed to me like it would be nearly impossible to achieve. I was beyond excited when I did make the team, but it was definitely a daunting experience for me as it was my first time competing at any type of national competition. I had wanted to run a personal best time at the Games, but after competing in the spring for the school track season, then trying to peak to make the Canada Games team, by the time August rolled around it would've been hard to run a personal best that late in the season. I am proud of how I did at the games considering the long season and my lack of experience.
Just two weeks ago, the Canada Games Council and the 2021 Canada Games Host Society collectively announced that the 2021 Canada Games would be postponed to 2022 as the result of concerns related to COVID-19. What were your thoughts upon hearing this news?
I am planning to run an outdoor season next summer if there is any opportunity for races so I was of course disappointed at races being cancelled, but I understand logistically wanting to cancel the event at this point in time.
There remains an outstanding question of how age categories will be impacted now that the Games have been postponed one calendar year, particularly as it relates to athletes who would have been at the top of their age category in 2021 (athletes born in 1998, in the case of athletics), but will now presumably be over-aged and ineligible in 2022. How do you believe this dilemma ought to be addressed?
I'm honestly not sure what the best answer is. It is unfortunate to have athletes that would have been able to compete again not have that opportunity, but athletics already has one of the oldest age caps for Canada Games so I'm not sure extending the age cap would be the best option either.
At this year's U SPORTS Track and Field Championships, you ran the races of your life to finish 5th in the 1500m and 7th in the 1000m with personal best times of 4:30.02 and 2:48.86, respectively. On top of this, you raced to a 12th place finish in the 4x800m relay alongside teammates Catherine Kennedy, Aidan MacDonald, and Paige Chisholm. Take us through each of your races – overall, what went right that weekend?
The 1000m was my first race of the weekend. I had goals of placing higher, but it was a strong field of women and everyone ran a great race. I let the pressure of the event get in my head a bit but I ran a personal best time for a flat track so it was still a great race for me and I was happy with it overall. Later that day I got to compete in the 4x800m with my teammates, which is always a stressful event but lots of fun. I was really worn out after my 1000m so it was hard to race again after that, and also knowing that I was racing in the 1500m the next day, but my teammates were really supportive and everyone ran really well. The 1500m was my final event of the weekend, so I really wanted to give it everything I had left. I knew based on the women I was competing against that it would be a really fast race, but my goal was to come top 5. From the gun I did not start out even close to aggressive enough and let myself get shuffled toward the back of the pack. I was stressed-out because I felt like I was getting boxed-in, but I tried to remain calm and put all my energy into racing the rest of the race well. I think I was still in 8th place going into the last lap of the race but I just ran the last 200m as fast as I could. I was super happy that I met my goal of placing top 5 while also running a personal best time, but I was definitely frustrated that I let myself fall so far back in the pack.
The year prior, you raced the 600m, 1000m, 4x400m, and 4x800m events at the U SPORTS Championships, achieving an 11th place finish in the 600m and 10th in all others. How did competing at this event better prepare you for the next year's edition of the Championships?
The year prior was a breakout year for me – all of a sudden I was running some huge personal best times. Because of that, my mindset was more focused toward making it to U SPORTS rather than competing at U SPORTS, so I think I was starting to mentally fade a bit by the time U SPORTS rolled around. It was also only my second time ever competing at the national level, so overall it was a really valuable learning experience for me. Going into the 2020 U SPORTS, I tried to set-up my season and my mindset so that I could still be sharp come U SPORTS.
Despite recording top finishes at both the Nova Scotia Provincial Championships and the Team Nova Scotia Espoir Trials in 2016, you were not named to that year's Legion U18 team nor Espoir U22 team. Looking back now, having recorded the times and achieved the national placements that you have, do you feel that you missed out on some early opportunities in the sport?
2016 was the first summer that I decided to train and compete through the summer months. The trials for the Espoir U22 team were first and I remember I ran standard in the 400m and 800m, but I was told I wasn't able to fill out an application for the team because I was still eligible for Legions. I then competed at the NS Legion trials, but as I didn't hit the standard times I wasn't named to the team. I was disappointed I wasn't able to compete for either team, but I still really enjoyed racing in the local meets that summer. I do think I had a slight disadvantage the following summer at Canada Games having never been to a national competition before, but I don't regret my slow build into the sport because I think it's helped me to continue to progress each year.
The X-Women program has a long history of success in both cross country and track and field, and in recent years has boasted a three-time Olympian in Eric Gillis as its Head Coach. Take us through a typical week of training with the X-Women cross country team.
We typically have a lighter workout day on Monday, easy run Tuesday, harder workout Wednesday, easy runs Thursday and Friday (with some strides or drills on one of those days), and a long run/workout combination Saturday with an off day on Sunday. I really enjoy the layout of the training.
While primarily a mid-distance runner specializing in distances between 800m and 1500m, you've also excelled at longer distances, running a time of 10:05.94 in your first time racing the 3000m distance, and capturing silver at your first AUS Cross Country Championships last year (an 8km course). Looking towards the future, what do you see for yourself in the endurance events?
It has definitely taken me a while to enjoy the longer events, especially cross country. I still find the races really hard, but I like the longer workouts more and more. I think I will remain a middle distance runner for now while I still have some speed, but I could see myself moving into the longer distances sometime down the road.
With the varsity cross country season cancelled and the fate of the indoor track season unknown at this time, how has your training differed from a typical year, and how have training goals been adjusted?
At the end of March, right in the middle of the pandemic, I developed a knee injury that completely prevented me from training. I couldn't run for more than 5 minutes without intense pain, so most of my summer training was going for walks and doing workouts on the bike trainer. I was able to slowly start back into running around the end of July but I still was having days with a lot of pain until just a few weeks ago. Because of this my training has been focused on slowly building-up mileage and intensity while trying to stay pain free.
Aside from running, what are some of your other hobbies?
I enjoy going on hikes with my family, reading, and relaxing with friends.
---
Hosted by New Brunswick-born track runner, administrator, and coach Brandon Scott LeBlanc, AtlanticU23 is an interview series with upcoming Atlantic Canada track and field athletes under the age of 23.
Facebook: @AtlanticU23
Twitter: @AtlanticU23
User

Comments
Currently, there are no comments.