AtlanticU23 #069 - Jonathan Goodridge (Newfoundland and Labrador)
Posted 9 months ago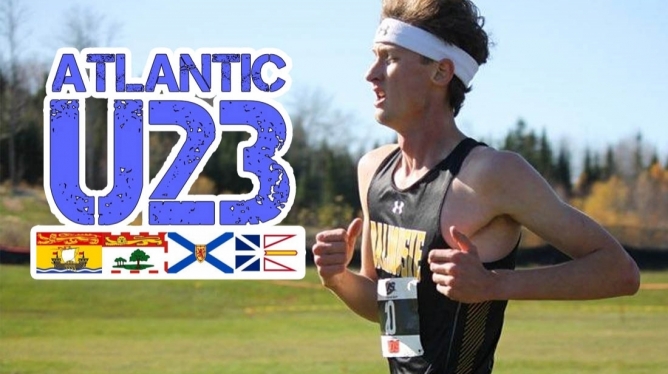 AtlanticU23 #069 - Jonathan Goodridge (Newfoundland and Labrador)
Hometown: St. John's, NL
Birth Year: 1998 (Senior age class)
Club: Halifast Athletics
Coach: Rich Lehman
Personal Bests (as of October 12th, 2020): 800m: 1:54.06, 1000m: 2:29.36, 1500m: 3:55.07
5 quick questions with Jonathan:
Favourite coffee place? Dilly Dally in Halifax is pretty good
Pizza or garlic fingers? Pizza
Aside from at home, where would you most likely be found? The Dome
Would you rather live in a big city or a small town? Big city
If you could be invisible for a day, what would you do? Probably go driving to throw people off
How did you first get involved in track and field?
In the 7th grade when I moved to Texas, I signed up for the track team. However, I had already started to form an interest in running throughout elementary school, taking part in cross country and competing in the Tely Ten each year. I think this early exposure really got me excited and confident about the sport. My first year in track I was put in the sprinting group because I was one of the faster guys on the team at the time, which was fun, but for some reason I always had an interest in running the longer races. The next year I started running cross country and after seeing my result there my coach decided to move me up to distance events in the 8th grade.
You attended and graduated from The John Cooper School in Woodlands, Texas, and represented the school in both cross country and track and field, competing in the Southwest Preparatory Conference. Tell us about your time competing in the SPC?
The SPC was a lot of fun because it was a much small conference in the state somewhat similar to the AUS, so you really got to connect with a lot of the other athletes at races, creating great friendly rivalries. The conference was not as deep as the major conferences in Texas, but we always had a few talented athletes each year making the championships exciting and something to work hard for.
After graduating from The John Cooper School in Texas in 2017, you immediately enrolled in the Bachelor of Commerce program at University of Guelph. What contributed to your decision to attend Guelph?
At the time I didn't know much about Canadian running, but one of my dad's contacts helped advise me and connect me with a few coaches around the country. I began hearing a lot about Guelph being the place to be if you wanted to run fast, which obviously sparked my interest. After taking a campus visit, I knew it was the place I wanted to be so after chatting with the coaches throughout the year, I committed.
After your two years at Guelph, you transferred to Dalhousie University's Bachelor of Commerce program. What contributed to your decision to switch universities, and to attend Dal in particular?
I really enjoyed my time training in Guelph – the workouts were hard, and the boys were always pushing one another making it a great place to train. However, in a highly competitive environment like Guelph, the coaching was intense, making it difficult to form what should be an important relationship for any athlete. While I enjoyed training with my friends in Guelph, the overall atmosphere was not sustainable for me, leading to my decision to transfer. When looking for a new school, I knew I wanted to be a bit closer to home so focused on the AUS. Dal offered a strong commerce program, which interested me, and had a great track team offering a range of training partners in each event group, creating an easy decision for me.
Between Woodlands, TX, Guelph, ON, and Halifax, NS, how would you compare and contrast your training environments – what were some of the pros and cons of each?
Each place offered a completely different experience. The Woodlands was an athletic hot spot in the country, making the environment highly competitive and results driven. I really felt the importance of picking my sport at a young age and pursing it with little distraction. This was actually something I liked and gave my life a lot of focus and purpose at a young age. My team there loved to joke around, but for the most part we were all dedicated and gave running our all in workouts. Our coach was easy going and really cared about each of us, knowing how to get results from us when it was important. Guelph had a great competitive spirit, there was a drive to be the best from every athlete on the team, and had great leaders on the team who were looking out for us and ensuring we were taking care of business and ourselves. Training there was intense and fast paced on workout days, but was much more personalized on off days. As athletes, we were trusted to decide when we want to run and how much we should run in order to prepare for the upcoming workout, knowing that those are the most important training sessions. Although Dal is a smaller team, most of the team are close in fitness, making it a great training group. When everyone is fit, we can pack-up and grind out great workouts together. Our team is really tight knit here, so it's great being able to build close relationships with the team and coach.
You placed 6th at last year's AUS Cross Country Championships, capturing the final slot on the all-star team. Individually, what was your goal heading into the Championships?
My main goal going into this race was team focused I wanted us to win the AUS securing our spot for U Sports. On an individual level I hoped to finish top 5 I fell just short of that but was ultimately happy since the team was able to come together for the Win.
As a team, the Tigers captured only their third banner on the men's side in the past decade, narrowly edging out St. FX for the win. Astonishingly, the Tigers' five team scorers crossed the line in consecutive placements (6, 7, 8, 9, 10) and all within a spacing of less than 20 seconds. Was this at all part of the team's strategy, and how did this play out during the race?
Going into the race we knew we all shared similar fitness and capabilities, but had never successful been able to create a pack in the race to push one another. We planned to pack up going into this race to help push one another, which I think played out pretty well based on our results.
Things played out a bit different at the U Sports Championships in Kingston, ON, in which you placed 72nd overall – 2nd among Tigers and 5th among AUS athletes. Tell us about running at U Sports – compared to the AUS Championships, how challenging was the course?
I had run the course a few times before while competing in Ontario, so I knew what to expect. However, the major struggle for us was learning to run with much bigger packs and not getting too excited early on. I think as a team we struggled to find the balance between going out too hard or going out too slow, which is just something we need to continue to work on with experience at larger events.
In recent years and at all levels of the sport, there has been mass discussion about the appropriate cross country distances for men and women – 2019 was the first year in which the AUS offered an equal distance for men and women, 8km. While the conversation has largely settled on men and women running equal distances, there remains debate as to what that distance should be, or if multiple distances ought to be offered. Within U Sports, what do you believe to be the appropriate race distances?
I think equal distances should be offered between men and women. I personally would prefer 8km, but can see the advantages to 10km.
Despite so much success over cross country distances, you've stuck to the mid-distance events on the track, only exceeding 1500m on a few select occasions. Do you have any interest in moving up to the longer track distances, such as the 3000m/5000m?
Not really. I am able to grind through cross country and long distance events, however my true passion in the sport is more mid-distance events on the track, so I hope to continue my focus on the 800m to 1500m distances.
Last month, the Canada Games Council and the 2021 Canada Games Host Society collectively announced that the 2021 Canada Games would be postponed to 2022 as the result of concerns related to COVID-19. There remains an outstanding question of how this will affect the eligibility of those who would have been at the top of their age category in 2021 (athletes born in 1998, in the case of athletics), but will now presumably be over-aged and ineligible in 2022. As an athlete who will be directly impacted by this decision, how do you believe this dilemma ought to be addressed?
Personally, I don't really get caught up in these events. I like to compete and run fast, so for me this isn't a big deal because I know there will be other events in the future that give me the opportunity to compete. Obviously COVID has changed a lot going on around us, so I'm sure the Canada Games Council or the athletes will be flexible and understanding, whatever the outcome is.
Although from Newfoundland, between Texas, Ontario, and Nova Scotia, you have spent most recent years off the rock. How often are you back in your hometown, and what does your training environment look like while in St. John's?
I currently don't spend a lot of time there anymore, mostly because I moved away at a young age so have lost contact with most of my school friends. I usually go back for around a month at Christmas and the summer, and during this time will typically train alone just doing workouts on the roads or the fieldhouse at MUN. It can be pretty brutal training there with the winds but it's always a good time getting back.
If deemed eligible to compete in the 2022 Canada Games, do you intend to try out for Team Newfoundland and Labrador or Team Nova Scotia?
I would try out for Team Newfoundland.
With the AUS and USPORTS leagues having suspended all competition for this year's cross country season due to the COVID-19 pandemic, what does training currently look like for the Tigers and what are the intended training outcomes?
We are currently focusing on a lot of longer tempo runs and fartleks, and once we reach our goal duration and fitness level, we will begin moving to more intense VO2 max style workouts again. We are hoping to greatly improve our aerobic system by putting in this massive base period to ensure that we can train harder than before later on.
While the Atlantic provinces remain in very good shape compared to the rest of Canada, a second wave of COVID-19 has recently emerged, setting records for total new cases daily. In terms of both training and competition, what do you believe the indoor track season will look like given current circumstances?
I do not think there will be any U Sports indoor season this year, as the risks with travel and having a large number of athletes in a small indoor space would be highly risky at this time. I think it is possible that some provinces may offer some local meets, but I do not think there will be any large sanctioned events.
Aside from running, what are some of your other hobbies?
Outside of running I like to explore new places. I love going on mini vacations, especially with lot of outdoors activities, and I love hiking and hanging out near the water with my friends.
---
Hosted by New Brunswick-born track runner, administrator, and coach Brandon Scott LeBlanc, AtlanticU23 is an interview series with upcoming Atlantic Canada track and field athletes under the age of 23.
Facebook: @AtlanticU23
Twitter: @AtlanticU23
User

Comments
Currently, there are no comments.