AtlanticU23 #070 - Michael Colford (New Brunswick)
Posted 8 months ago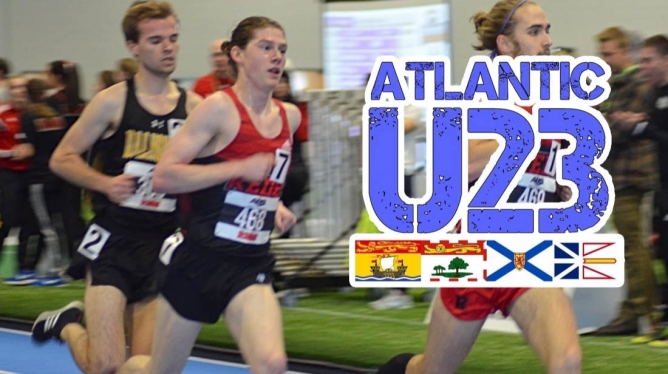 Photo Courtesy: Sharon Peabody
AtlanticU23 #070 - Michael Colford (New Brunswick)
Hometown: New Maryland, NB
Birth Year: 1998 (Senior age class)
Club: Saint John Track Club
Coach: Chris Belof
Personal Bests (as of August 17th, 2020): 1000m: 2:29.25, 1500m: 3:56.23, 3000m: 8:28.30, 5000m: 15:33.48, 10000m: 33:21.90
5 quick questions with Michael:
Favourite social media platform? Snapchat
Peanut butter or Nutella? PB!
What is a strange skill or talent you have? I can do a handstand for 30 seconds.
Would you rather work a job on-site, virtually, or a combination thereof? The combo would be cool – on-site is way more fun, but if I am just answering emails I might as well be on the couch.
If you could choose any one person to go on a long run with, who would it be and why? Malcolm Gladwell could be kind of fun. I like a lot of his books and apparently, he runs a lot!
How did you first get involved in track and field?
I think I started trying out some of the cross country races when I was in middle school and then my gym teacher would go for runs with me at lunch during the year. That sort of translated into doing track as well. In the 9th grade I started training under Greg Allan with Fast Tracks and the rest is history.
Before focusing exclusively on athletics in 2015, you were an accomplished triathlete, ranking high provincially and being selected Team New Brunswick's alternate for the 2013 Canada Games. How has your triathlon background helped you succeed in the endurance events of athletics?
I think racing triathlons set me up for some success in endurance-based events for sure. From a long-term athlete development perspective, it was very good for me. I had to always be doing something and having three sports let me use up all of my energy, but not all on one activity, so it was pretty rare that I was ever injured in high school. In terms of performance, it was also super helpful to have been exposed to a longer race effort than I would typically do. Trying to run fast when your legs are super tired is a fun mental exercise where some lessons in self-talk and grit came into play, even if I didn't have a clue what those were or that they were important for running fast at the time. I also made a ton of friends in the running and cycling communities which has been valuable.
At your final NBIAA Track and Field Championships in 2016, you (along with teammates Jack Berkshire, Matthew Butler, and Andrew LeBlanc) broke a 45 year old championship record in the 4x400m, running 3:29.74 to take almost six seconds off the former record. What was the strategy heading into the event, and how did it feel to join three of your closest friends in taking down this record?
If I remember correctly, we were not too far off the previous year, so we obviously wanted to win the race for the team points but were keeping in mind that the record was certainly within reach. That was a really neat thing for us to do at the end of our high school careers together, especially since we were all such great friends. It was pretty special.
After graduating from Fredericton High School in 2016, you immediately enrolled in the Bachelor of Science in Chemical Engineering program at the University of New Brunswick. Aside from being able to stay close to home, what contributed to your decision to attend UNB?
UNB was the only university on my list that I was considering that had a chemical engineering program, so that played a role for sure. Being at an AUS school was also attractive to me because I knew that if I kept improving, I could make a decent impact at championships and hopefully be part of growing the distance program here. I also had a lot of friends in engineering at UNB, so having that support network already there was a big factor for me.
At the 2017 AUS Cross Country Championships, you received the Student-Athlete Community Service Award. Tell us a bit about your involvement and service to the community – what are some of your passions in volunteerism?
I try to be somewhat active in my university community. I have been a peer mentor for entering students before, and occasionally will hop into a volunteer opportunity through initiatives organized through the athletes' council here at UNB. I think there's a lot of people who are much more passionate/involved than me that I am lucky enough to be friends with who I end up lending a hand to here and there (shout-out to my teammate Tyler Adams for getting people to donate blood on campus). In my second year, I had a volunteer job with the engineering society where I would basically get to campus an hour early on Monday mornings and make like 30 litres of coffee for the students to drink. That was pretty fun!
In recent years, the Reds have frequented Massachusetts to race against deeper fields across all event groups, including Battle Road Track Club twilight meets and Boston University's John Thomas Terrier Classic and David Hemery Valentine Invitational. What are some of the advantages that you have found in travelling south to compete against NCAA schools?
At some of those bigger meets with so many athletes attending, it is just really easy to end up getting into a heat with like 10 people within a few seconds of your personal best. It is an interesting style of racing; sometimes just trying to hang onto the back and get pulled along for a fast time. Not that it is that tough to get a good race around here now. The AUS is getting pretty deep these days, especially in the mid-distance events. These meets are great for scheduling the season and getting fast seed times. The Boston University track also has something special going on. It is just a really fast track with some pretty historic races that have been run on it.
The Reds men's endurance squad has seen consistent improvement and added depth in recent years – at the four most recent AUS Cross Country Championships: 126 points for 5th place (2016), 106 points for 4th (2017), 79 points for 3rd (2018), and 68 points for 3rd (2019). What do you attribute to the emerging quality of the men's endurance program?
We have had a few really good years where the program has grown through quality recruiting classes and also a nice number of walk-ons who all really buy into what we are trying to do. Our coach, Chris Belof, added a lot when he joined us in 2017 by really shifting our focus towards consistency in training, with a larger focus on some bigger aerobic sessions. But I think everyone collectively buying in to improving steadily has been the biggest thing.
It's been a similar story on the track. At this year's AUS Championships, yourself and teammate Isaac Cull captured two podium spots in the Championships' lone endurance event – the 3000m – and the Reds men had strong showings in each of the mid-distance events (600m – 1500m). How does the endurance crew manage the transition from the trails to the track so that they can be at the top of their game for both seasons?
I always joke with the boys that you just have to lean forward a bit more to run fast indoors, but that's not the actual secret. I think that we try to not stray too far away from the faster stuff, even while training for cross. We like to sprinkle in a little bit of speed work just to stay in touch, and I think that really pays off when it's time to drop back down during the indoor season and makes for a natural transition.
You've recorded impressive marks over a wide-range of distances, including a 2:29.25 1000m and a 33:21.90 10000m. Which event is your favourite, and which do you consider to be your strongest?
I love them all equally...just kidding. I think I probably race best, relative to other athletes, in the 1km-3km range. I want the 5km to be my favourite because I feel like I have the most room for improvement, but I really enjoy racing the shorter stuff.
Similarly, you've had great success in each area of the sport: cross country, track and field (indoors and out), and road running. Which area do you consider to be your favourite, and which your strongest?
I change my mind on this one sometimes, but I think that training for cross country is my favourite thing to do since the team aspect manifests itself the most strongly there for me. Racing track indoors is a close second.
Any plans to make a return to triathlon sometime down the road?
Oh yeah, for sure. An Ironman is on the bucket list, but not for quite some time.
Although U Sports recently announced the cancellation of all national championships for the winter of 2021, the AUS is still exploring the possibility of regional competition options, perhaps even to include an official AUS Championships. With so much uncertainty over when competition might resume and what it will look like at that time, what is the Reds' current training geared towards?
We have been operating as normally as possible. Our cross country season looks different without traveling to races, but the focus is still definitely focused on getting aerobically strong over the 8km type of race effort and continuing that into the winter with some shorter, faster type training, in the event that we do have some race opportunities. Thankfully, we are able to train as a team mostly uninhibited, so a time trial will be in order here in the near future.
The 2021 U Sports Track and Field Championships were set to be hosted by the UNB Reds, a particularly historic occasion for reason that it would have been the first time that an AUS school hosted the national championships. How excited were you and fellow teammates for the opportunity to compete on home turf, and do you think the school will now seek to host the 2022 Championships?
We were pumped! It is cool to hop on a plane to get to nationals, but it would be pretty sweet to have the Championships at home, especially with the brand-new field house. To my knowledge, UNB will try to host next year so long as competitions are a-go, but I am sure there are still a number of unknowns related to sports and travel at the moment. In any case it would be awesome to have U Sports here soon!
As a post-secondary student, how have you handled the switch from in-person to virtual classes? What have been some of the pros and cons of learning virtually?
The switch hasn't been too jarring since we had a taste of it at the end of the spring term where all of the students and staff were figuring things out together. It has been challenging not being on campus with my classmates though. Those quick chats to/from classes and smaller social interactions are surprisingly important in keeping motivated and focused, in my opinion. It is definitely easier to focus on classes when everyone is in the same room and the profs can sort of read the room and get a sense for how the students are feeling about the material, or if it is a particularly hard week. I can imagine being a first-year student must be tough right now, trying to make friends without sitting with new people or chatting with instructors. The pros are that I can have a little bit more freedom with my schedule, since not all of my classes are live, which has been nice. There is also the component of getting used to working remotely. While not a skill that I was wanting to learn initially, I am sure it will be valuable to be able to get things done with work groups without being in the same geographical area.
In terms of athletics, education, and career opportunities, what are some of your thoughts about after you graduate from UNB next spring?
At the moment I would love to work for a little while before making any decision on doing further education or making big career moves. It is interesting graduating from my undergrad. It's a similar feeling to finishing high school where you feel somewhat liberated by having lots of choices to make, but also paralyzed because you know choices you make now will affect you for a long time. In any case I plan to still have running be a part of my life. I like it too much to not. I would for sure like to see what I could do in a half marathon and do at least one marathon build, just to see what happens.
Aside from running, what are some of your other hobbies?
Rock climbing, guitars, and drinking coffee.
---
Hosted by New Brunswick-born track runner, administrator, and coach Brandon Scott LeBlanc, AtlanticU23 is an interview series with upcoming Atlantic Canada track and field athletes under the age of 23.
Facebook: @AtlanticU23
Twitter: @AtlanticU23
User

Comments
Currently, there are no comments.