AtlanticU23 #072 - Bailey Ferguson (New Brunswick)
Posted 2 months ago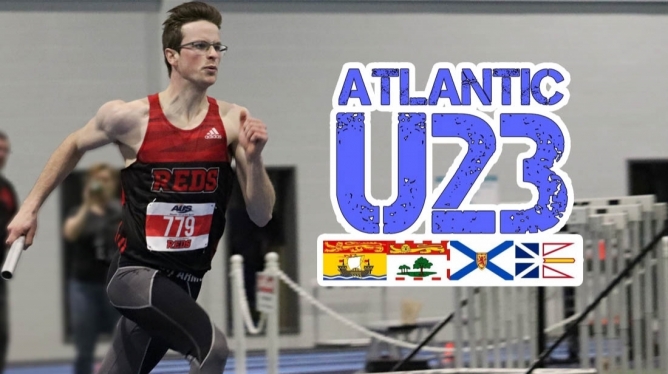 AtlanticU23 #072 - Bailey Ferguson (New Brunswick)
Hometown: Truro, NS
Birth Year: 1998 (Senior age class)
Club: Fredericton Legion Track Club
Coach: Jennifer Butler
Personal Bests (as of November 23rd, 2020): 300m: 36.03, 400m: 52.05, 600m: 1:23.13
5 quick questions with Bailey
Favourite foreign food? Is pasta a foreign food? Its Italian right? Definitely pasta.
Starbucks or Tim Hortons? Tim Hortons, but I don't even drink coffee.
What was the worst job you've ever had? I haven't had any bad jobs, but I raked blueberries for a week when I was 14 and that was unpleasant at best.
Would you rather be able to turn invisible or read minds? Turn invisible
If you could choose only one place to go on vacation for the rest of your life, where would it be and why? I don't think I have travelled enough to pick one place with confidence, but I loved Whistler, BC when I went there.
How did you first get involved in track and field?
I thought I was fast in gym class in elementary school so I showed up to track practice in my first year of junior high. They asked everyone who wanted to run distance to stay put and those who wanted to sprint to go to the other side of the gym. When most people went with the sprinters, I decided I was going to be a distance runner so that I would actually have a chance at competing in my first year. First practice was a cold and rainy long run – first one I had ever done – and I was miserable by the time I finished. But I showed up two days later for the next practice and never stopped going.
Aside from cross country and track and field, you played numerous other sports throughout high school, including baseball and hockey. Alongside academics, how did you find the time participate in so many different sports?
I was lucky enough to have parents who supported me through high school and were willing to get me where I needed to be until I got my licence. Academics always came first, but as long as the deadlines were met everyone was happy. It may have meant some late night pushes to complete assignments, but I always got the work done. Beyond that, I have always been restless and I am never satisfied to just sit and stay idle. I need something driving me. So to have another practice to go to or game to prepare for, I wouldn't have done it any other way.
In choosing to pursue just one sport competitively, what led you to pick athletics over other sports?
I wanted to pursue sports throughout university as competitively as possible, and after I graduated high school it was clear that I was going to be most competitive in athletics.
After graduating from Cobequid Educational Centre in 2016, you immediately enrolled in the Bachelor of Science in Mechanical Engineering program at the University of New Brunswick. What contributed to your decision to attend UNB?
I wanted to get away from Nova Scotia, and UNB at the time was still developing a track team to challenge for an AUS banner. I felt that I would be able to have an impact with the UNB team and become a major player. The fact that their Engineering program is highly accredited and that Fredericton has the small town sort of feel I am accustomed to made my choice pretty simple. I didn't even bother applying anywhere else, I was committed to becoming a Red.
At this year's AUS Track and Field Championships, yourself and teammates Benjamin Perrett and Tyler Adams ran to placements of 2nd, 3rd, and 4th, each crossing the line in high-1:22 / low-1:23 – a big improvement compared to the previous year when only two finished in the top 8 (yourself and Adams, 6th and 7th, respectively), each with times of 1:27. What led to such breakthrough performances for you and your teammates?
Tyler and Ben both worked with our Head Coach Chris Belof, who is really pushing for his middle and long distance team to be the strongest in the AUS. As someone who used to run those longer distances and greater volumes with middling degrees of success, I was committed to working with my coach Jenn Butler and focusing on shorter, high intensity sessions. I think knowing how hard their group was working really drove me to prove that our smaller group of long sprinters could compete just as seriously as their large training group that was racking up mileage. I am a competitor and I always strive to lead. The progress I could see their group making just fired me up to train harder so I was right in the mix with them come race-day. At the end of the day I am pleased that we all have that same drive and we all want the team to succeed.
The other major change was that I took a different summer job and had time to focus on training seriously through the summer, so I had essentially 20 months of solid training under my belt compared to previous years where I was taking the summer off to work. Jenn worked with me the whole time, so she knows exactly what my goals were. She is always willing to work with me about how I want to approach my season and how I attack my workouts. Tweaking things on the fly so that I got the most of my sessions but also so that I was happy with the results is one of the things I appreciate most – I think that really let me step up my game this year. I like bringing her my ideas for how I want to improve and having her negotiate a plan that still gets me doing the work that I need to do to – this keeps me engaged so that I am invested in the plan as well.
Aside from the 600m, you captured two additional bronze medals at the Championships – in the 300m with a time of 36.03, and in the 4x200m (alongside teammates Eric Hughes, Ben Edwards, and Braden Harrison) with a time of 1:31.98. What were your goals heading into the Championships, and were you happy with your performances?
My goal entering the season was to podium in the 600m – that didn't change all year long. I know we had potential to place better in the relays and I was hoping if everything lined up right maybe we could run our way to U Sports, but it didn't come together on race day. And regarding the 300m, I had to badger Jenn to let me run it and convince her it would not affect my 600m performance the next day. My goal running it was to maybe crack the top 6 and pick up a spare point or two for the team, but I got lucky with the lane draw and gave myself a chance with how fast I close out my races. I surprised myself with how well I ran and I still find it hard to believe I made it onto the podium.
Compared to Moncton's CEPS – which hosted all past editions of the AUS Championships – how was racing the Championships at Saint John's Irving Oil Field House?
I think the biggest difference was the strategy involved in the races. I know last year when I raced at CEPS I spent the majority of the race in lane 2 trying to make a pass but because the track is so tight it is incredibly difficult to pull off. I found that at the new 200m facility everyone had the ability to run their own race and chase a personal best time, instead of simply jockeying for a position in the field and sacrificing a faster time in doing so.
While you've kept up with track and field since high school, you haven't raced cross country with the Reds in any of your post-secondary years. What led you to drop cross country and focus solely on track?
It came down to a mix of wanting to be as competitive as possible and not wanting to hurt myself. I have struggled with minor injuries in my lower body all through high school and I find the extra mileage takes a toll on me. The fact that I found success in my last year of high school athletics when I changed events from the 800m / 1500m to the 400m / 800m made my choice that much easier and just confirmed that I was going to be more successful in the long sprints.
Back in September, it was announced that the 2021 Canada Games would be postponed to 2022 as the result of concerns related to COVID-19. There remains an outstanding question of how this will affect the eligibility of those who would have been at the top of their age category in 2021 (athletes born in 1998, in the case of athletics), but will now presumably be over-aged and ineligible in 2022. As an athlete who will be directly impacted by this decision, how do you believe this dilemma ought to be addressed?
I think any athlete who was going to be eligible for 2021 should have the option to compete. I am sure there are a lot of athletes out there who have kept training from home or in a different capacity to try and keep themselves in competitive shape to plan for a Canada Games reschedule. I think it would be a tough thing to have to be told you are no longer eligible after putting in the years of effort – to have something you worked toward for years be taken away by something out of your control is a tough pill for anyone to swallow.
If deemed eligible to compete in the 2022 Canada Games, do you intend to try out for Team Nova Scotia or Team New Brunswick?
I would compete with Team New Brunswick. I think this would have me competing with some of my teammates and coaches from UNB, and I would be able to optimize my training by working with a team and coaches that already have an understanding of how I race and train.
With no varsity indoor track season, but still indoor meets to compete at, what do the training objectives and goals look like for you and your teammates this season?
I can't speak on behalf of my teammates since I am actually on a co-op term in Alberta for the next year. But myself, I have been corresponding with Jenn to get workouts to complete solo. It is difficult for me as the facilities that I would like to train at are closed due to pandemic safety restrictions. It has resulted in a big change in my training plan and I have had to set goals for fitness instead of my race times. For now I am thinking long-term about how to try and make the most of the time I am away from my teammates and racing, and plan for a return to the outdoor tracks in the spring, and then my normal training facilities once I get back to UNB next fall.
Tell us about your co-op in Alberta. As a post-secondary student in a global pandemic, would you rather be at home attending regular classes or elsewhere taking part in a co-op program?
I am very glad that I had the opportunity to go ahead with my co-op. I do feel that I am missing out on some of the experience I would gain from being on a co-op work term, but based on what I experienced in my last semester in online classes, I am much happier to be working. I find it much easier to keep a schedule with a regular job. Doing online classwork made it tough for me to get into a daily routine with the different schedule and assignments.
The two provinces have been hit by COVID-19 very differently: AB is experiencing large-scale outbreaks and recording around one thousand new cases daily, while NB is experiencing small-scale outbreaks in the Moncton and Saint John regions and recording around 10 new cases daily. How has the pandemic affected your co-op program in AB, and how have you been navigating life in the pandemic?
The pandemic has affected my co-op by delaying my start date by a month. Once we got started, I was working remotely from NB. As the summer progressed and things improved, I moved to Alberta to be ready to begin working from the office in September. We have been in the office for the past few weeks, but with the increase in cases here we are reverting to working from home again until January. It is affecting my personal life a bit because I have to question if I want to go out or meet with friends, especially in the city where case counts are highest. I try and take precautions as best I can to limit my risk of exposure by going to the gym and track really late and following the public health advice. It is all sort of surreal just working through the fall months instead of being in school, let alone through a pandemic with all these measures in place. I am holding out hope we can get back to a sense of normalcy so I can go back to in-person classes next fall, but until then I think I am making the most of my time away from UNB.
In terms of athletics, education, and career opportunities, what are some of your thoughts about after you graduate from UNB next spring?
I am hoping I can secure a full-time position with the company I am on my co-op with in Alberta next May. But I haven't committed to anything yet so if I find something exciting in my field, I could jump at that as well. The nice thing about athletics is that you can still compete as an individual no matter what your situation is. I think I will have a hard time getting away from the sport even once I hang up the Reds singlet, and will continue racing as I get older. By now I have spent half of my years running and training to get on the track, so I don't think I will be able to just turn off that urge once I leave UNB.
Aside from running, what are some of your other hobbies?
I have been golfing since I was little, but especially over the last two years I have spent a lot of time at the Kingswood course in Fredericton with Braden Harrison and Jarod Manuel, two of my friends from the Reds track team. I am also getting quite into skiing and hiking while I have the Rockies nearby in Alberta, so I expect if I am not able to race this coming summer I will be hiking the mountains instead.
---
Hosted by New Brunswick-born track runner, administrator, and coach Brandon Scott LeBlanc, AtlanticU23 is an interview series with upcoming Atlantic Canada track and field athletes under the age of 23.
Facebook: @AtlanticU23
Twitter: @AtlanticU23
User

Comments
Currently, there are no comments.