AtlanticU23 #073 - Chelsea MacIsaac (Nova Scotia)
Posted 1 month ago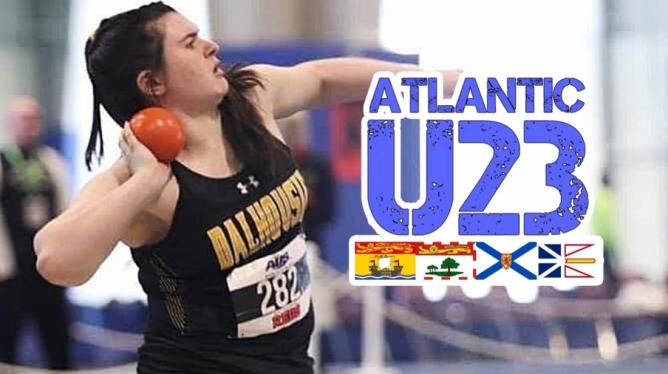 AtlanticU23 #073 - Chelsea MacIsaac (Nova Scotia)
Hometown: Truro, NS
Birth Year: 2001 (U20 age class)
Club: Truro Lions
Coach: Nathan Burris and Kirk Jessome
Personal Bests (as of December 7th, 2020): Shot Put (4kg): 12.09m, Discus (1kg): 41.22m, Weight Throw (9.07kg): 13.43m
5 quick questions with Chelsea:
Favourite movie genre? Horror
Whole wheat or white bread? White
What movie title best describes your life? "Women on the Verge of a Nervous Breakdown"
Would you rather always be in a crowd, or be the only person on Earth? Only person on Earth
If you didn't have to sleep, what would you do with the extra time? Make up for my procrastination
How did you first get involved in track and field?
Field days were some of the days in elementary school that I would look forward to the most every year. Though I had to wait until grade six to do actual track and field in school, I still remembered how much fun it was back in elementary school. I decided to give the real thing a try and I loved it.
With so many events to choose from, what initially drew your attention to throwing?
Going back to elementary school, I always ended up doing better in the throwing events compared to the running and jumping events and though it sounds conceded, that's why I found those events to be the most fun. I also would feel special and important once I reached school track age because throwing was always one of the most undersized events that needed athletes.
From 2016 to 2018, you represented Team Nova Scotia / Nunavut at three consecutive Canadian Legion Track & Field Championships, recording your best placement - 5th in the discus - at the 2017 Championships. What were some of the lessons learned and most memorable moments during your years competing in the Legion program?
I learned not to let your results be the be-all-end-all of your overall experience at meets - especially if they are results you're not happy about. I've had some bad results at Legions over my three years, and while I was pretty upset over them for a bit, I would end up feeling better at the end of the day because of the fun and supportiveness brought upon by the rest of the team. Some of my favourite memories consist of watching my teammates compete and cheering them on. Nova Scotia always prided ourselves being the most enthusiastic, most supportive team at the meet, and so it was always fun to be a part of that group.
At your final NSSAF Track and Field Championships in 2019, you defended your Senior titles in both the shot put and discus with rather large margins of victory (1.08m in the shot put and 11.46m in the discus). How did it feel to defend your titles and repeat as a double champion?
Though I was sad my high school career was over, it was very relieving to know I was ending on a high note. I try to act confident going into meets but I always end up having those thoughts in the back of my mind telling me "don't blow it!" Knowing I was able to not let myself get in my own head was definitely a huge weight off my shoulders. One of the great things about me going to such a large and supportive school like Cobequid Educational Centre (CEC) was that I was able to accomplish those finishing results with many of my teammates backing me up, along with competitors-turned-friends I have made through the years. This support is really what helped me perform to the level I did.
Your best attempt of 41.22m just narrowly missed the NSSAF Senior record of 41.92m, set by Kayla Gallagher in 2012. Did you go into the Championships with this record in mind?
This record had been on my mind honestly for years, maybe my whole CEC career. Going into the provincial meet, I had never hit 40m before, so I knew that if I had any chance of beating that record I really had to perform. Although I didn't end up beating it, hitting that 41.22m did show me that it very well could have happened and that I did have that ability inside of me - it just wasn't going to be at that moment. Regardless, I still impressed myself with an insane PB and I couldn't be mad at that.
After graduating from CEC in 2019, you immediately enrolled in the Recreation Management program at Dalhousie University. What contributed to your decision to attend Dal?
Dalhousie seemed to check off all the boxes for me. I do have family history with Dalhousie, with both of my parents and my aunt all employed by the campus in Truro. But as to why I thought it would be best for me, I didn't want to leave Nova Scotia, but still explore a new environment, and Halifax was perfect for that. Next, I wanted to think about my track training and needed to consider where I would have the best resources in order to allow me to train to the best of my ability. I was already familiar with the throws coach, Kirk Jessome, and his way of coaching, and I knew that I would be in good hands in terms of a coach. Finally, I was thinking about my program, and while other Atlantic schools had similar programs, Dalhousie's Rec. Management sounded exactly like what I wanted. Aside from the material I'm learning, the fact that it's a five-year program was intriguing to me because that meant I could use all my eligible years of track.
At this year's AUS Track and Field Championships, you captured silver in the shot put with a personal best throw of 12.09m, and bronze in the weight throw with a near-personal best throw of 13.29m. This being only your first year of varsity sport, what were your goals heading into the Championships?
Despite being one of the least experienced athletes in both the shot put and weight throw field when it came to AUS competitions, I wasn't going to act like it. I knew that I was brought onto Dal for a reason, to perform well. I wasn't cocky however, and knew that there was going to be a tough competition ahead of me. I knew that there were some very talented competitors, but I was happy about that because I knew that they would push me harder. Because of all this, my goals consisted mainly of getting PBs in both events. This was the extent of my goals because accomplishing that goal could have led to other goal ideas being accomplished. I knew that getting PBs would mean that my placement in the competition would be high, and for shot put, I knew that if I threw a big PB it would bring me closer to getting the Dalhousie record, if not beating it.
With the 2021 varsity season already cancelled, your next competitive indoor season will come in the 2021-2022 school year. Do you have any goals in mind for when varsity competition resumes?
With the next season being rather far away, I feel comfortable with making my goals rather large. I want to win ideally both events, though I do have some smaller, preliminary goals to accomplish first. My shot put record was very close to the Dalhousie record (12.25m), so I definitely have ambitions of overtaking that.
How about goals for the next Canada Games (initially set to take place in 2021 but postponed to 2022)?
Right now, the goal is to make the team first. After that, the next step it to always aim for top 8 and go from there.
While a successful combination of two events is common among throwers, you've seen great success in three distinct events: shot put, discus, and hammer/weight throw. What do you attribute to do your versatility among the throwing events?
In terms of technique, there is a lot of carryover amongst the events, with minor differences here-and-there. It definitely makes it easier to pick up a new event with already having prior knowledge of certain techniques to keep in mind.
The only throws event missing from your repertoire is the one that stands out as being technically quite different from the others - the javelin throw. Beyond not pairing well with the other throws, is there any particular reason that your interests never extended to the javelin?
Based on how practices worked growing up, all the circle-events would be within one practice, so it was easy to pick up a new implement and start training. Javelin was always its separate thing, normally practicing at the same time back when I was still getting started. It wasn't quite as easy to switch between them throughout practice, especially since javelin was always more structured in practices than the circle throwing. Javelin had practice plans which would span the whole practice, while the circle-throwing practices were more designed to let each athlete go at their own pace, to allow them to switch events at their own pace. Not to mention that the techniques for the most part in circle-events had a lot of carry-over between them, while javelin was something completely different. Especially for a new thrower, it was easier to juggle the other three events and pick up their techniques faster. But also, to quote my first club coach, Paul Millman, "geometry lesson: circles rule!"
The discus is a somewhat unique event in that the implement does not increase in weight throughout age classes, remaining at 1kg from U16 all the way up to Senior. Compared to your other primary events, how has the lack of implement weight increases changed your approach to the discus?
It has allowed me to focus more on technique, as I don't have to take the time to adjust to a new weight and how that would affect my rhythm. Since the disc never changed, I've had to adjust my speed and strength in order make the improvements throughout the years.
In recent years, the women's throws program at Dal has seen considerable improvement, going from a few athletes rarely capturing medals to a team of throwers claiming multiple spots on the podium. Tell us about the Tigers' throws program - what does a typical week of training look like during the indoor season?
Though this year is slightly toned down because of there being no season, for a typical season the training looks identical every day of the week that we train. The same amount of reps, the same drills, the same weights, and afterwards the same workout. Our programs will change every month or so, however. This is to find out how long it takes each athlete to reach their peak for that program, so we can try to replicate that time frame for the purpose of being at a peak level for a meet.
With the varsity indoor season now officially cancelled, what do the next few months have in store for the Dal Tigers?
Because there is no need to overly worry about any upcoming meets, I have more time to focus on my school work as well as events which I cannot contest indoors - discus and hammer throw. As soon as the gyms open back up and I'm allowed to continue training, I'll be getting right back to it. I guess since there are no big meets to prepare for, I'm more free to work on school-sport balance, and need to be ready to take advantage of that.
Due to a sudden rise in the number of COVID-19 cases in each of the Atlantic provinces, the initial competitions scheduled for the indoor season have been cancelled - including the Red and Black Meet in Saint John, and the Athletics NS Last Chance Meet in Halifax. Do you think that the Atlantic provinces will see any indoor competitions take place this winter?
I want to say yes just because I want to compete again, but I think that each province may limit themselves to athletes who already reside in those provinces. Nova Scotian athletes go to Nova Scotia meets, New Brunswickers only compete in New Brunswick, etc. It will be very crucial to this decision once the new year starts and people are either travelling back to school from the break or insisting on travelling to visit family. But unless I feel unsafe going to a meet, I would love to have them be able to be held again.
Aside from throwing, what are some of your other hobbies?
I've always loved basketball and love playing it, as well as watching it. Aside from that, I'm usually down to try new things, but I can never resist taking a nap in my free time.
---
Hosted by New Brunswick-born track runner, administrator, and coach Brandon Scott LeBlanc, AtlanticU23 is an interview series with upcoming Atlantic Canada track and field athletes under the age of 23.
Facebook: @AtlanticU23
Twitter: @AtlanticU23
User

Comments
Currently, there are no comments.