AtlanticU23 #075 - Mackenzie Hall (New Brunswick)
Posted 3 weeks ago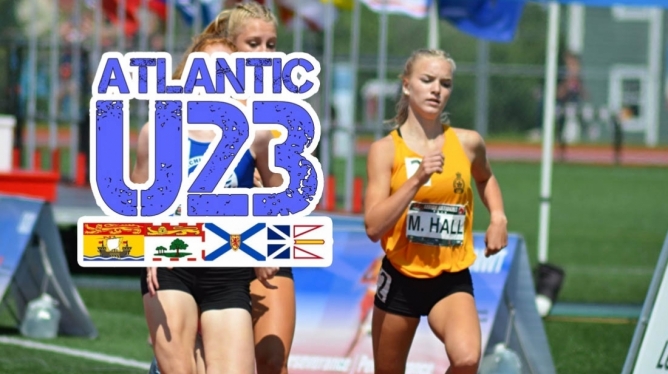 Photo Courtesy: Sharon Peabody
AtlanticU23 #075 - Mackenzie Hall (New Brunswick)
Hometown: Upper Kingsclear, NB
Birth Year: 2002 (U20 age class)
Club: Fredericton Fast Tracks
Coach: Greg Allan or Rich Lehman
Personal Bests (as of January 4th, 2021): 300m: 42.73, 400m: 58.98, 600m: 1:36.76, 800m: 2:16.68
5 quick questions with Mackenzie:
Favourite travel destination? Boston
Skittles, Smarties, or M&M's? M&M's
What is something you are looking forward to in 2021? A fresh year to enhance my training, and hopefully get some real races in
Would you rather be able to fly or turn invisible? Turn invisible
If you had your own small business, what products would it sell or service it provide? I'd open my own small gym and supply programs
How did you first get involved in track and field?
Way back in elementary school when track was mandatory, I was upset with my 150m race in the 3rd grade and I told myself track was not for me. But then one of my current coaches, Greg Allan, introduced himself and suggested that I have potential in the sport and should come join his club, Fast Tracks.
In the past you've described your sister Chelsey, who also competes in the mid-distance events, as your personal role model. Tell us about the relationship between you and your sister, and your shared passion for running.
Chelsey was always very successful in her events growing up. I remember sitting on the side of the track at her meets, watching her break provincial records. I travelled to Pennsylvania to watch her compete at the Hershey North American Final in 2012 and come 4th in the 1600m, and I remember her being incredible in my eyes. I always knew I wanted to be like her and get into running. Once I started competing against her it was really fun - we would always be supportive and make goals for each other before each race. High-fiving my role model at the end of a hard race was always such a cool moment, especially when I'd beat her (haha). It was always a great feeling knowing my sister was on the track with me.
In your final NBIAA Track and Field Championships, you captured an astonishing five gold medals, winning the 200m, 400m, and 800m, and the 4x100m and 4x400m relays as a member of Fredericton High School's relay teams. Among these five events, which did you find to be the most difficult to win?
My main outdoor events are the 400m and 800m, so those were not as challenging as the other three events. I'd say the 4x100m was the most challenging to win in my final year. Looking back at my senior teammates that year, we were a strong middle-distance and distance team, so this relay team was pretty unique. We really just gave it our all and made it work.
Although the 200m / 400m double is fairly common at the NBIAA Championships, and the 400m and 800m a bit less so, but wins in both the 200m and 800m are practically unheard of. What do you attribute to your success over such a wide range of distances?
I've recently cut my distance off at the 800m because I really love speed and training at fast-paces. Long runs and longer intervals have always been less enjoyable and motivating for me. My mental game is also much stronger in a shorter race. I usually have just enough endurance to carry me through 800m, and I tend to rely mostly on my speed and final kick. I think the 200m is very refreshing for me and just gives off the feeling of that final kick in an 800m race. I get so much adrenaline when I get to surge to the finish line, and the 200m is just that final sprint to me.
Five events in one day can be quite tiresome, particularly considering that the 200m, 800m, 4x100m, and 4x400m are back-to-back-to-back-to-back at the NBIAA Championships. How did you manage to stay fresh and maintain energy throughout the day?
The 200m, 800m, and relays were one after another for my last two years of high school track, and I learned the first time that this is most likely not PB territory, but the 400m was always much earlier in the day, so I'd always take advantage of it. I'd go into the 400m feeling fresh, and I knew I could give it my all in this one race and have a few hours of downtime before my last four events. I saw these last four events as a workout or a challenge. Even if I couldn't necessarily give it my all in each of the races, I wanted to have a goal in mind, and it was always to cross the finish line first.
After graduating from FHS in last year, you immediately enrolled in the Bachelor of Kinesiology program at Dalhousie University. What contributed to your decision to attend Dal?
Dalhousie seemed like the best fit for me and I knew it after my very first visit with the team. I like to have a lot of fun when I work out, and this team clearly likes to as well. The team was always cracking jokes and having fun while still remaining focused and getting the job done - this type of environment really motivates me at practice and keeps me thinking positive when challenging a difficult workout. Rich Lehman also had a great plan for me as my coach, and I knew I would get the best at Dalhousie.
At just 14 years of age - turning 15 later that year - you were the youngest member of Team New Brunswick's athletics contingent at the 2017 Canada Games, placing 14th in the 800m. Knowing that you'd be competing against athletes up to nine years your senior, were you nervous heading into the event (and if so, how did you deal with the nerves)?
It still surprises me that I was able to pull it together and compete against 23-year-olds at only 14. I remember feeling very intimidated and small heading into my event, but I also learned to calm my nerves and feel proud of myself knowing I already made it here and I was competing against the best in the country under 23, as the youngest member on Team NB. I was focused mainly on my own times, and I wanted to enjoy my experience at the Games and not psych myself out too much thinking about the competition.
What were your goals heading into the Games - were you satisfied with your performances?
I remember being the happiest about actually getting to attend the Games and not too worried about what I did when I got there. I wanted to work on my own goals and focus on my own race and not worry about the crazy competition. I am happy with my performance at the Games - I ran milliseconds around my PB at the time and I was satisfied with my results. It wasn't easy finding my pace when I was usually running alone behind the pack of faster and older women in my races.
Just one week after the Canada Games, you competed for Team New Brunswick at the Canadian Legion Track & Field Championships, placing 4th in the 800m, 10th in the 300m, and 5th as a member of the province's sprint medley relay team. Tell us about your experience at these Championships. How did you stay competition-ready coming off the Canada Games?
The Championships were very different from each other, I was definitely more confident and comfortable at Legions than I was at Canada Games, as it was my third year at Legions. After coming back from Winnipeg and heading straight back to Brandon a few days later, I was so motivated to get out and race again at another national meet. Coming off Canada Games, I didn't have a chance to get any extra training in before Legions, so I knew I'd have to find a way to better myself mentally for my next few races. I knew at Legions I'd have much closer competition and more people to push me in my race. I was very happy, as I ran a personal best and came one second away from a spot on the podium - missing third place was a bit of a letdown, but I knew I gave it my all on the track that day.
Having competed in a previous edition of the Canada Summer Games, do you have any goals in mind for the 2022 Games?
My goals for the 2022 Games compared to the 2017 Games are very different. For the 2017 Games, I had no intention to tryout and I had no idea I was even eligible to attend these Games until after the race when I got a call saying I was on Team NB. For 2022, I will have to work hard to get there, as I believe there will be more competition in my events. If I attend the 2022 Games I will hope to make the ?A' final, or win the ?B' final in one of my races. With extra time given to train, I think this is achievable.
Though the 800m has stood out as your strongest event, you've recorded impressive marks over a wide-range of distances, including a 27.04 200m and a 10:38.91 3000m. Which event is your favourite, and which do you consider to be your strongest?
The event I consider my favourite is also the event I consider myself the strongest in, the 600m. I love the 600m because it is in-between my two main outdoor events, and it has always felt very natural and fun for me. After I hit my personal best of 1:36 in 2019, I realized the 600m was my strong point and I loved racing it. I am usually quite consistent in the 600m, where in the 800m I am less consistent, therefore I believe I am strongest in the 600m.
Two of your main events - the 400m and 800m - are not contested as part of the U Sports indoor season, and are essentially replaced by the 300m, 600m, and 1000m. Which events do you plan to specialize in throughout your varsity career?
Personally, I prefer the indoor events over the outdoor events for middle distance. I love racing the 600m and I hope to really improve on it. I hope to specialize in it, and I really want to drop my time over my varsity career. The 1000m is not as much of an interest to me - I am starting to prefer the shorter middle-distance events and I think that is really where I will be the strongest over my varsity career. This being said, I may throw in some 300m races in my career and participate in some relays over my time at Dal.
Though most successful on the track, you've also stood out as a cross country runner, placing top 5 at the NBIAA Cross Country Championships on three occasions. What are your goals for cross country while at Dal?
Cross country has turned into a training season for me over the years. I continue to race cross country but I have always taken the pressure off of placement and time, and focus on using it as a workout. I plan on most likely doing some cross country races at Dal and staying on the roster for XC, unless training for track during the fall is more convenient and better for my indoor events.
The ongoing pandemic has been particularly devastating for students beginning their first year of post-secondary education. As someone in this position, how has the pandemic affected your academics?
The pandemic has affected more of my social experiences than my academics. Doing school online has been different, but it has not affected my marks thus far. Not being able to go to class and get a real university experience is what is truly affecting me as I enroll in my first year.
And how about athletics - what has your training looked like since starting university in September?
Training has been pretty challenging, as my coaching is taking place from Dalhousie and I am home in Fredericton. My workouts are sent to me, for me to do on my own - this can be challenging because as I mentioned before I am a very social person at practice and I love a good environment when I'm working out. The key here is communication and reporting back-and-forth frequently. It is challenging at times to do these workouts without a coach or any teammates, but we are all learning how to adjust.
Aside from running, what are some of your other hobbies?
Most of my hobbies are getting outside and being active. I like to do other sports with friends, like downhill skiing, skating, snowmobiling, jet skiing, beach volleyball, golf, and tons of others. I grew up playing several sports but decided to focus on track halfway through high school. Accompanying my running, I love training at the gym, and it may even be my favourite part of track training.
---
Hosted by New Brunswick-born track runner, administrator, and coach Brandon Scott LeBlanc, AtlanticU23 is an interview series with upcoming Atlantic Canada track and field athletes under the age of 23.
Facebook: @AtlanticU23
Twitter: @AtlanticU23
User

Comments
Currently, there are no comments.