AtlanticU23 #076 - Kristen Ross (Nova Scotia)
Posted 6 months ago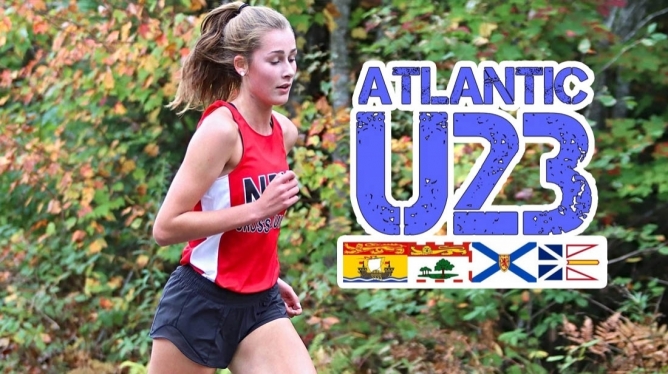 AtlanticU23 #076 - Kristen Ross (Nova Scotia)
Hometown: Greenhill, NS
Birth Year: 2003 (U20 age class)
Club: Pictou County Athletics Club
Coach: Pat Carty and Dave MacLennan
Personal Bests (as of January 18th, 2021): 800m: 2:17.40, 1000m: 3:02.44, 1500m: 4:41.67, 3000m: 10:54.44
5 quick questions with Kristen:
Favourite novel? I don't like reading
Tolerance to spicy food? Yes
Who's a musician you secretly enjoy listening to? Justin Bieber
Would you rather only be able to wash your hair once a month or only be able to check your phone once a week?Check my phone once a week
If you had the chance to compete in the Winter Olympic Games, which sport would you compete in? Downhill skiing
How did you first get involved in track and field?
I first got involved in track and field in 2016 when I was in the seventh grade. I joined my local track club (Pictou County Athletics) for fun and to try something new.
Throughout your early years on the track, you contested a number of events, including the sprints, hurdles, long jump, high jump, and shot put. What eventually helped you find your niche and settle into the mid-distance and endurance events? 
During my early years on the track, I was trying to find which events I enjoyed and excelled at the most. Getting the opportunity to compete in most events at a young age definitely helped me get to where I am today. What made me finally settle into middle-distance and endurance events was when I did cross country for my first time in grade 9. It showed me that I had potential, so I started training for middle distance the following track season and continued cross country throughout high school.
Representing Team Nova Scotia/Nunavut at the 2018 Canadian Legion Track & Field Championships, you came up shy of your personal best but still placed an impressive 13th in the 800m. Tell us about your experience representing the provincial team. This being your first time racing outside the Maritimes, and your first national championships, were you at all nervous heading into the event?
My experience representing the provincial team was very fun and an experience I will never forget. Since this was my first time racing outside the Maritimes, and my first national championships, I was nervous. It was much more serious than all the track meets I competed at before, but I was prepared for that. The track meet was three days long, and my event was on the last day. I started building up nerves more and more each day, so I was nervous heading into the event.
Despite qualifying to be on Team Nova Scotia/Nunavut for the 2019 Legion Championships, you decided to compete as an open athlete and represent your club, Pictou County Athletics. Why did you choose to compete as an open athlete rather than on the provincial team?
I actually tried making Team Nova Scotia/Nunavut in 2019, but I did not. I decided to still go and compete as an open athlete because I worked hard and knew I still deserved a chance to compete at nationals. Pictou County Athletics also had multiple open athletes competing, so we rented an Airbnb and had a great time.
At the 2019 Legion Championships, you finished 7th in both the 800m and 1500m, recording large personal bests of 2:17.40 and 4:41.67, respectively. What were your goals heading into the Championships, and - particularly in the 1500m - what was your reaction to achieving such a substantial personal best?
My goals heading into the championships were to do my best and have no regrets. I was extremely motivated as well because I was finally over a knee injury I had before summer season, and I knew I was back into good running shape. In my 1500m, I had a 10 second personal best. I was kind of shocked that I ran that time, but when I finished I knew I had a good race so I was very happy.
You and a group of fellow PCA athletes were set to compete at last year's Canadian Indoor Championships in Montreal, but the Championships were abruptly cancelled just nine days prior to their start as a result of the pandemic. Did you see the possibility of cancellation coming, or were you sort of caught off guard by this?
A few weeks before the Indoor Championships, I did not see the possibility that it would be cancelled. Once everything began to change so fast I did see the possibility, and then it unfortunately got cancelled.
In addition to the Indoor Championships, the pandemic resulted in you missing out on what would have been your final Legion Championships. What were some of your goals in thinking about these Championships and the 2020 outdoor season?
It was very unfortunate that Legions was cancelled in general, and considering it was my last year. My goals for these Championships and the 2020 outdoor season was originally to train hard and to compete well. Once I realized that there was no outdoor season my goals were to maintain my fitness and still train with my friends.
Despite all these cancellations, a successful NSSAF cross country season was able to take place in the fall, between the first and second waves of the virus. How did it feel to be able to race again after almost eight months of no competition?
I found not racing for almost 8 months definitely felt different. I did find it hard at the beginning because I wasn't used to it yet, but by the time Provincials came I was ready.
The postponement of the Canada Summer Games from 2021 to 2022 has given younger athletes such as yourself additional time to prepare. Knowing that you will still be eligible for the 2025 Games - and more in your prime at that time - what are your thoughts in looking towards the Team Nova Scotia trials in 2022?
I am glad that I will still be eligible in 2025 for the Canada Summer Games, and happy I will have lots of time to prepare. My thoughts looking towards the Team Nova Scotia trials in 2022 are to try my best and to be consistent with my training.
A former hurdler and successful mid-long distance runner, what are your thoughts on giving the steeplechase a go?
I wouldn't be against trying steeplechase, but I would rather stick to just running. I haven't practiced hurdles in a long time so if I was to do the event, I would need to start practicing again.
Though strongest in the 800m, you've also shown strong potential in the endurance events. Looking towards your varsity years, what do you see for yourself in cross country and the longer track events?
Looking towards my varsity years, I will continue to compete in cross country. My first few years of track, I will probably continue doing the mid distance events. When I am in my later years, I may try the 3000m.
You recently announced your commitment to attend Dalhousie University in the fall, where you will join the Tigers cross country and track and field teams. Academically and athletically, what contributed to your decision to attend Dal?
Academically, Dalhousie University offered the program I was interested in, which is Kinesiology. Dalhousie also has a very good reputation for academics. Athletically, I wanted to compete and train with the Tigers and improve my skills. I know Dalhousie was a good choice for me, as there are good opportunities academically and athletically.
In both cross country and track and field, what are some of the athletic goals that you hope to accomplish while a member of the Tigers varsity teams?
Goals I hope to accomplish while being a member of the Tigers varsity team are to have fun, train hard, and become the best runner I can be.
Over the years, you've not had many opportunities to race as part of a relay team. Is this something you are hoping to do while competing for the Tigers?
I would like to compete for a relay team for the Tigers. I think they are very entertaining to watch, and they really show team spirit.
With the pandemic intensifying and a rapid increase in the number of cases emerging, there is growing speculation that track meets might not be able to take place during the early-months of the outdoor season. Being both optimistic and realistic, what are your hopes for the spring season?
I hope the spring season will happen, especially since it is my last NSSAF year. I will understand if it does happen to get canceled, but if things continue to get better I can see a spring season happening, even if it looks different from other years.
Aside from running, what are some of your other hobbies?
Aside from running, I like to hang out with my friends and family, bike, and go for hikes on cool trails.
---
Hosted by New Brunswick-born track runner, administrator, and coach Brandon Scott LeBlanc, AtlanticU23 is an interview series with upcoming Atlantic Canada track and field athletes under the age of 23.
Facebook: @AtlanticU23
Twitter: @AtlanticU23
User

Comments
Currently, there are no comments.