AtlanticU23 #077 - Erin McCavour (New Brunswick)
Posted 7 months ago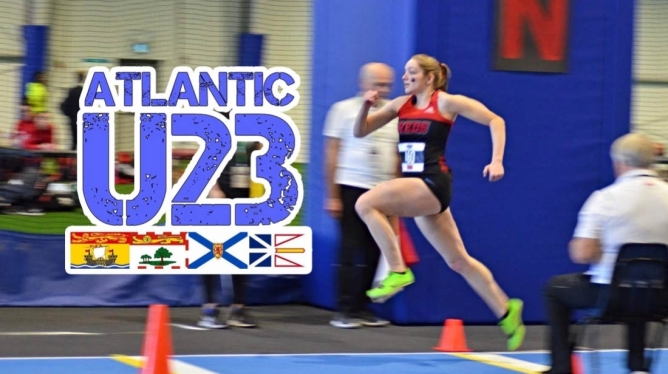 AtlanticU23 #077 - Erin McCavour (New Brunswick)
Hometown: Truro, NS
Birth Year: 2000 (Senior age class)
Club: Fredericton Legion Track Club
Coach: Carl McIntosh
Personal Bests (as of February 1st, 2021): Long Jump: 5.57m, Triple Jump: 11.38m
Favourite clothing brand? Nike
French fries or onion rings? Onion rings
What is your dream job? Marine researcher
Would you rather be reborn sometime in the past or the future? Probably sometime in the past.
If you could create a new track and field event, what would it be? Maybe something like a jumping relay, not sure how it would work.
How did you first get involved in track and field?
I first got involved with track and field when I was in grade 6 when I joined my junior high school team. Both of my older sisters did track when I was growing up and I always loved going to their meets, so I decided I wanted to try. I started out mainly jumping because I thought the jumping events were the most fun and not very many people wanted to do them.
You grew up playing a variety of sports, foremost gymnastics - where you were a nationally competitive member of the Cobequid Spartans Gymnastics Club - but also athletics and soccer. Tell us about your career in gymnastics, and how you prioritized it while also participating in other sports.
I started gymnastics when I was about 8 years old and stayed in it for around 10 years. For many of those years I trained 4 days a week for 4 hours at a time - it was a very time-consuming sport, but I loved it. When I competed in gymnastics there were not many girls in my level in Nova Scotia, so I competed alone for many years. Gymnastics gave me so many opportunities: I got to compete at several Atlantic and Eastern championships, and even got to compete at the Canadian national championships in Edmonton, AB. Along with big Canadian competitions, I also got the chance to compete a couple of times at meets in Florida and Texas. Participating in other sports was very difficult because I was always on the go and school was always a priority - most of my days went 8am to 8pm, full of school and sports. I missed many school field trips, birthday parties, and a couple of soccer games, but I didn't mind because sports were my life. I'm very lucky to have parents and coaches that always made it possible for me to participate in as many activities as I wanted, while still maintaining a career in gymnastics.
Gymnastics has been a common background sport among successful horizontal jumpers in the region. How do you feel that gymnastics has prepared you for jumping far, and what are some shared skills between the two sports?
I think gymnastics prepares a lot of jumpers by giving them a good strength and flexibility base. In gymnastics we did a lot of conditioning to help us become springier for our floor tumbling, which I think translates very nicely on the track runway. There is also a lot of flexibility training involved in gymnastics and that is a very key skill for the in-air component in horizontal jumping. Another skill I think is very useful that translated from gymnastics are the running approaches. For vault in gymnastics we only get about 20m for our run before we have to flip over the vault. We have to learn how to get to top speed as quickly as we can, which is similar in jumping where we only have about 20-30m to work with before the take-off board.
With so much success in gymnastics, what encouraged you to specialize in athletics in late-high school / early-university?
I have always loved track and field, the meet environments, and the team aspect despite individual events. During my second year of high school, I was very conflicted between choosing track and field or gymnastics. It was a tough decision, but I already met my goal of competing at the Canadian national championships in gymnastics and I wanted to see what I could do in track, so I decided to retire from gymnastics. I loved track and jumping, and I knew I was strong and fast enough to compete at a high level. I never thought about pursuing track in university until I was approached by a couple of schools at a club track meet and decided that track was the sport I wanted to do.
After graduating from Cobequid Educational Centre in 2018, you immediately enrolled in the Bachelor of Science program at the University of New Brunswick. What contributed to your decision to attend UNB?
I was really interested in the programs UNB had to offer, they had a very good science and marine biology program along with a beautiful campus. I went to visit a couple other schools, but UNB was my favourite. I met with the head coach of the track and field team at UNB, Chris Belof, and the jumps coach, Carl McIntosh, who I really liked and wanted to work with. I also got to meet some of the athletes while I visited the school and I really enjoyed the team atmosphere, so I decided UNB was the place for me.
Capturing gold in the long jump at your very first AUS Track and Field Championships in 2019, you had the rare opportunity to compete as a rookie at the U Sports Championships, where you placed 12th overall with a best attempt of 5.31m. Tell us about your experience competing at your first national championships in this sport.
U Sports was my first ever national meet in track and field because I never tried out for legions when I was younger. I was extremely nervous at U Sports because I have never competed at that high of a level in track. U Sports was not my best meet - there were some ups and downs, and I had a hard time getting my mark because I was so nervous. It took me a couple of tries but I finally got one jump in that I was okay with. It was not the outcome I was hoping for, but I learnt so much from my experience. It also gave me some incentive to train harder and compete more, so that the next time I would get the chance to compete at a large meet I would be more prepared.
In preparing for the U Sports Championships, did you find your former experiences competing in national gymnastics events to be helpful?
I found it helpful in some ways as I have had a lot of practice competing against very experienced athletes, however there were so many aspects of U Sports that were very different. There are a lot more distractions at bigger track meets that you must be aware of, and you have to be more independent. There's not always someone telling you where to go, so it was definitely an adjustment.
At the conclusion of the 2019 Maritime Track League (MTL), you placed runner-up with a total of 228 points and received $500 for your efforts. Tell us about your 2019 outdoor season and competing in the MTL - were you surprized to find yourself on the podium and receiving prize money?
I was very surprised to receive 2nd in the Maritime Track League because I did not even know it existed until I received the award. I competed in as many track meets as I could the summer of 2019, because I wanted to improve and practice competing so I would not get as nervous in the upcoming university meets. I also just love competing outdoors - they are some of my favourite meets, so any chance I got to jump, I took it. I decided to compete in Montreal to get some more practice competing against highly skilled athletes, in a high-pressure situation. The Montreal meet was not my best meet, but I am still happy I attended. I was able to watch many of my Truro Lions and UNB teammates compete and hit PBs along with gaining experience at a big meet.
At last year's AUS Championships, yourself and teammates Victoria LeBlanc and Lexie Shannon swept the podium of the women's triple jump, all jumping significantly farther than the next closest competitor. Was the possibility of sweeping the podium something that you and your teammates anticipated heading into the Championships?
Our triple jump team was very strong so sweeping the podium was a goal throughout the entire season. Having Victoria and Lexie as teammates, and as well as competing against them, is great. We're always so close to each other and are able push and encourage each other during training and meets. I think at AUS we were all happy with our performances and sweeping the podium was a really cool experience.
Looking towards the 2022 Canada Games, do you intend to try out for Team New Brunswick or Team Nova Scotia?
My plan is to try out for team New Brunswick. Carl McIntosh and Chris Belof are now my main coaches and I live in Fredericton throughout the entire year, so I would like to continue training and competing in New Brunswick. I also really enjoy getting the chance to train and compete with my teammates at UNB throughout the year so we can keep the training intensity high.
Knowing that 2022 will be your one and only opportunity to compete at the Canada Games, what are some of the things you would like to accomplish there (assuming you make the team of course)?
That is a tough question. I guess since Canada Games has been pushed back, I haven't really thought about my goals for that meet yet. I think a good goal for any meet would be to PB or try to beat my season's best of that year. I think I will have some more specific goals as we get closer to the meet.
Aside from the horizontal jumps, you've also dabbled a bit in the high jump, with a personal best clearance of 1.50m. What aspirations do you have in this event, and is it one that we can expect to see you continue to contest from time-to-time?
I have competed in high jump since I was in grade 6. It was one of my mother's favourite events and not very many people did it, so I decided to try it. I always enjoyed it and got the technique easy when I was younger, so I decided to compete in it as a side event because they were always looking for more girls to do it. I did not want to pursue high jump in university at first because it was never my favourite event and I was always stuck around 1.50m all through high school. But, sure enough, my coaches found out I used to compete in it and wanted to see how I would do, so they would usually throw me in it from time-to-time. In the future I would love to clear a height over 1.50m, and I'm sure I'll give it another try.
In recent years, UNB has emerged as a training hub for top female competitors in the horizontal jumps, recruiting athletes such as Victoria LeBlanc, Lexie Shannon, Sierra Sweeney, and of course yourself. How would you describe the atmosphere and team dynamics of this group? Have you found training alongside other high-calibre jumpers to be helpful towards developing your abilities and reaching your goals?
The atmosphere of the jumping team is always very upbeat. Everyone is very close on our team and always cheers each other on at practice and at meets. We have one of the best jumping coaches in the Maritimes, Carl McIntosh, who is always joking around with us at practices and cares about all his athletes. I think he makes the jumping team feel like a family. Getting to train with a group of girls who are all very strong has given us a chance to push each other and help each other out.
In a non-pandemic year, what would a typical week of training look like for the jumps squad during the indoor season?
A typical week would usually consist of at least 3 practices at the Gagetown Training Base where they have an indoor track that we can run on. We typically practice for around 2 hours at the base, where we get to sprint and do some jumping drills. On the off days, we typically spend about 2-4 of those days in the gym doing weights, core, or flexibility, depending on what we're working on that week.
With the varsity indoor season cancelled, and a second wave of the virus currently prohibiting any competition in New Brunswick, what does your training look like for these first few months of 2021?
Right now, it's been pretty slow. Most of the team tries to get to the gym as many days as they can. They are trying to find a space for us to train indoors, because the Gagetown Base where we typically train is not open to the public. So right now, we're just waiting to hear if we have a space to practice, but in the meantime it's mostly workouts on our own.
Assuming that we'll be able to have a safe and successful outdoor season, what are some of your goals for training and competition?
I think if we have a regular outdoor season, my main goal would just be to get out training as much as I can and get back in shape for the 2022 season. I think it's going to be tough getting back to competing after taking a year off, but I am just looking forward to getting to where I was at the end of my 2020 season.
Last month, you were announced as one of 131 Reds to earn Academic All-Canadian honours for the 2019-2020 school year. What are some strategies that you've found helpful in balancing academics and athletics, and what is one piece of advice that you would give to others wishing to accomplish this balance?
I have always found the easiest way to succeed in school while competing was to try and get all the assignments and work done as soon as I can, or ask for help immediately if I do not understand. I also find asking my teammates for help if I am stuck is very helpful - that is one of the many perks about being a part of such a large team, there are many people in different degrees and usually a couple of people in your classes. My big piece of advice would be to ask for help if you are stuck, so you don't spend too much time on anything, and to get as much sleep as possible so you can make it through your busy days.
Like most other universities in Canada, UNB has switched to an almost exclusively virtual format this school year. How have you been handling virtual classes, and what have been some of the pros and cons of learning virtually?
First semester I was enrolled in a field semester called the marine block. During this semester we had blended learning, where I had many in-person labs out in the field, and a lot of the course work was online. Since I got to experience both, I didn't find the virtual learning so bad, but it is definitely different. I think some of the pros of online learning is that we have a bit more freedom to choose our own schedules and it is easier to stay in touch with your professors if you have any questions. One downside of online classes that I have experienced is screen burnout. I am a very hands-on learner, so I've found reading lectures on my computer a bit frustrating, and giving presentations to a computer screen is definitely weird.
Aside from jumping, what are some of your other hobbies?
I really like watching movies in my free time if I am not doing schoolwork or track, or in a non-COVID year typically hanging out with my friends.
---
Hosted by New Brunswick-born track runner, administrator, and coach Brandon Scott LeBlanc, AtlanticU23 is an interview series with upcoming Atlantic Canada track and field athletes under the age of 23.
Facebook: @AtlanticU23
Twitter: @AtlanticU23
User

Comments
Currently, there are no comments.