AtlanticU23 #078 - Dan Lord (Nova Scotia)
Posted 2 months ago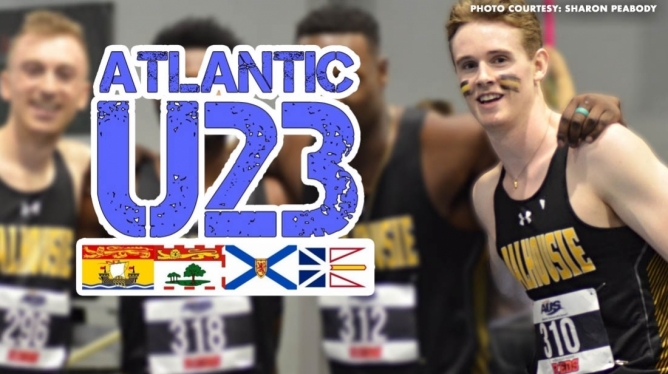 AtlanticU23 #078 - Dan Lord (Nova Scotia)
Hometown: Windsor, NS
Birth Year: 2000 (Senior age class)
Club: Valley Athletics
Coach: Mike Bawol
Personal Bests (as of February 15th, 2021): 100m: 11.21, 200m: 22.50, 300m: 35.95, 400m: 49.72.
5 quick questions with Dan:
Favourite winter sport? Hockey
1% or 2% milk? 2%
What accent would you most like to acquire? Probably Irish because I am a big Conor McGregor fan.
Would you rather know the date of your death or the cause of your death? I would rather know the date so I can plan my goals accordingly.
If you owned a bakery, what would you name it? The Lord's Bakery, because it sounds cool.
How did you first get involved in track and field?
was nicknamed "Dan Lord Jump High" in middle school and I first got involved in track and field when I was in grade 7. I was trying to play all the sports of course. There was a sheet on the wall where you could write your name for each event. I only wrote my name in the 100-meter hurdles. In grade 9, I matured quite a bit and was 6'1" and every event I did I seemed to make provincials for – ever since that year I knew I could have success in track and field. I owe a lot of the reason I got started in track and field to Paula and Edward James, both of them coached me in middle school and encouraged me to join a team outside of school (Valley Athletics). I had good guidance from my gym teacher at the time as well, Mr. Ward, who had competed as a decathlete at Dalhousie and in the Canada Games.
You represented Team Nova Scotia / Nunavut at the 2017 Canadian Legion Track & Field Championships, narrowly missing the finals in both the 200m and 400m, and placing 7th as a member of the province's 4x100m relay.
The goal heading into my first Legions was to just run PB's, because I didn't have that many outdoor races under my belt. I was happy with my performances because the times were good for me at that time. It was a really fun trip and I got to know some great people that are teammates with me now at Dalhousie.
Despite being the second highest jumper in the province with a season's best of 1.83m, you did not contest the event at the Legion Championships. Why was this?
I think that it was a mix of not really liking the event and already having two events to compete in. Looking back, I should've done high jump that year, but I was more interested in the running events because I loved racing people and competing on the track. There's something different about the competition aspect on the track that jumping can't compare to.
After graduating from Avon View High School in 2019, you immediately enrolled in the Bachelor of Kinesiology program at Dalhousie University. What contributed to your decision to attend Dal?
I actually had no idea what I wanted to study or where I wanted to go…I knew nothing about university or how anything worked. I did know that Dalhousie was the one and only school that sent me an email about running track in university. I figured I might as well go to Dalhousie because that's the only school that had any interest in my skills, and that was a compliment to me. I actually almost didn't get into a residence spot because I didn't accept my offer, as I was not thinking about university the summer after grade 12. I wish I was more mature in high school and took more time to think about my future life. I'm glad it all worked out though.
Throughout high school you were also a successful hockey player. With so much emphasis on hockey in this country, what led you to focus on track and field throughout university?
I knew that hockey players at university came from the Junior A, OHL, WHL and QMJHL leagues. I played high school hockey and knew my time with hockey was coming to an end unless I wanted to play Junior hockey. Track and field was something that I was good at and I knew if I wanted to do a university sport than it was going to be track. I loved playing hockey though, you can't beat going to school with everyone that is on your team and having that close team bond.
At last year's SMU Open, you raced your first 600m, clocking a time of 1:26.59. Tell us about your first time racing this event. Is this a distance that we can expect to see you focus on throughout the varsity indoor seasons?
I went into this race not having done any 600m/800m specific workouts. The race was not ideal, with someone wiping-out right in front of me, and having to jump over them. The 400m split was too slow and when the last lap came around, I underestimated the mental part of the race and I noticed myself give-up a little bit. Anyone that knows me knows that I don't simply try something, fail, and then just walk away. The 600 meter is an event that challenged me and I'm definitely not giving up on it. I also think that running the 300m/600m combo can help me have success in the 400m outdoors.
On the field side of things, you were also quite successful in the jumping events throughout high school, clearing 1.85m in the high jump and 5.87m in the long jump. What does your future look like in the jumps – do you have any plans to contest these events again in the future?
I would like to start high jumping again, because I hate thinking about what could have been and it makes sense to me to start again because I jumped 1.85m in grade 10, and who knows what I could have gotten that up too. I have no doubt that I could perform well in both jumps, considering those performances were early in my high school career, but that's not what my coaches want me to do right now. You will probably see me jump again, because it's on my mind quite frequently and I don't want to get to the point where it's out of question.
The Dalhousie Tigers sprints program has been immense success in recent years, producing a number of AUS record holders and U Sports medalists. Throughout the indoor season, what does a typical week of training look like for yourself and fellow sprinters?
During a typical week, we can expect two speed days back-to-back, followed-up with a speed day later in the week for 60m runners, or a lactic workout for 300m runners. I try to get a day for a 600m workout at least once a week as well. We do a lot of split 400m workouts for lactic acid training and we do timed sprints with sled pulls for speed days.
Given limitations posed by the ongoing pandemic, how have you and your teammates had to adjust your training throughout this indoor season?
When the pandemic first hit, we couldn't practice at all, so I just tried to maintain general fitness. I was road biking a lot and doing workouts in Windsor with Noah and Zach James. Once school started back up, we were allowed to practice in the Dalplex as normal. We have had to adjust training, and get used to not practicing for a week or two because of a COVID case in Halifax. I think we are lucky that we can still practice as usual. Obviously, we haven't got to compete at all, so it's sometimes hard to find motivation
With such success in a handful of events – notably the 100m, 200m, 400m, and high jump – which events do you think you will attempt to make Nova Scotia's Canada Games team for in 2022?
I would love to try and run the 200m and 400m for sure, along with the 4x400m relay. Maybe I will try to get back in high jump shape, but it depends on what my coaches want and think is best for me. I think if I focus on speed, I could even be in consideration for the 100m. It's hard to say what will happen between now and then, so nothing is for certain. I would love to keep busy and train hard to run the best times I can possibly pull out between now and then.
Aside from running, what are some of your other hobbies?
When I'm not training track and field – and there is no COVID-19 – I like to go to the beach, workout at the gym, go road biking, and swim laps in the pool. I'm also a big UFC fan, so I try to make it over to my older cousin's house to watch every big fight. Cooking is something I would like to learn better, because right now basically all I know how to make is chicken.
---
Hosted by New Brunswick-born track runner, administrator, and coach Brandon Scott LeBlanc, AtlanticU23 is an interview series with upcoming Atlantic Canada track and field athletes under the age of 23.
Facebook: @AtlanticU23
Twitter: @AtlanticU23
User

Comments
Currently, there are no comments.