AtlanticU23 #079 - Malia Artibello (Nova Scotia)
Posted 10 months ago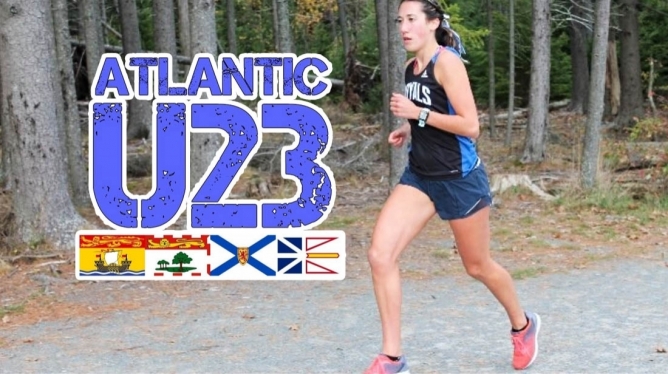 AtlanticU23 #079 - Malia Artibello (Nova Scotia)
Hometown: Antigonish, NS
Birth Year: 2003 (U20 age class)
Club: Pictou County Athletics Club
Coach: Heather Beaton
Personal Bests (as of March 1st, 2021): 400m: 1:00.76, 600m: 1:39.94, 800m: 2:19.29
5 quick questions with Malia:
Favourite TV show? New Girl
Libraries or museums? Museums
Which fast food restaurant makes the best fries? Chick-fil-A
Would you rather be able to speak with animals or speak all foreign languages? All foreign languages
If you could have dinner with any famous person, who would you choose and why? Taylor Swift
How did you first get involved in track and field?
I started running for my junior high school in grade 7. I joined because my mom (Tara Artibello) was a runner in high school and at St. FX University, so I wanted to follow in her footsteps. When it came to choosing what races I wanted to run, all I remember thinking was, "Mom ran the 400m, so I'll run the 400m!"
Besides athletics, what are some other sports that you have been involved in over the years, and how has track and field become the primary focus among these?
I have been playing basketball since elementary school, and I still play at my high school. When I started getting serious about track, I wanted to dedicate more time to my training. I love the team aspect of basketball, but I find you can still get that from track by having training partners and running relays.
Primarily a 400m/800m runner, do you consider more of a long-sprinter or a mid-distance runner?
I would say long sprinter, because I haven't done any races longer than 800m.
Beyond the distance itself, two primary differences between the 400m and 800m are the lanes and the blocks - the 400m requires you to use blocks and to stay in your own lane, whereas the 800m incorporates a standing start, staggered or waterfall. Looking away from the distances themselves and more so at these technical aspects of the events, is there one that you prefer racing?
I definitely prefer a waterfall/staggered start to block starts. I think I just feel more comfortable off the line than out of the blocks.
Here in Atlantic Canada, COVID-19 began to impact athletics almost one year ago now. Throughout the various stages of the pandemic - for which there have been many - how have you been keeping up with training?
At the start of the pandemic when everything was completely shut down, I was lucky enough to have my sister (Mya Artibello) training with me every day. We did our workouts out in our driveway or on some quiet streets around Antigonish. When the summer came and we were able to start having small team practices, I travelled to Pictou County Athletics (PCA) practices twice a week. It felt great to be back on an actual track and have other people to train with again.
Perhaps the greatest loss to youth athletes throughout the pandemic has been the cancellation of last year's Canadian Legion Track & Field Championships, which would have been your third and final. Going into 2020, what were some of your goals looking towards these Championships?
I had an amazing experience at Legions in 2019, so I was excited to go back again in 2020. I was really disappointed that I didn't have the chance to compete at my last Legions. I would have liked to compete in the 800m and improve my personal best. I would've also liked to have been an asset in the 4x400m relay.
Off the track, you've also been a successful cross country runner, placing 5th at last year's NSSAF Cross Country Championships and 10th the year prior. Compared to the much shorter events that you race on the track, how do you find these endurance races?
When I first started cross country, I was not used to running distance and I didn't like it at all. After running cross country for so many years, I can handle the longer workouts and races for the short season. I find cross country hard, but it's a different sort of hurt than the 400m and 800m. Track is definitely my favourite of the two.
You formerly trained as a member of StFX Track and Field Club, but recently made the switch to PCA. What encouraged you to make the change, and how have you been settling into your new club?
Training with StFX Track Club was great, but what drew me to PCA was other runners in my age group that ran the same distances as me. I think having good training partners is super motivational and makes it so much easier to push yourself through hard workouts.
You recently announced your commitment to attend Dalhousie University in the fall, where you will enrol in the Bachelor of Kinesiology program and run track for the Tigers. Academically and athletically, what contributed to your decision to attend Dal?
Dalhousie is well known for academics and offers the program I was looking for. As for athletics, I chose Dal because I think it's the place where I'll have the best opportunity to improve as a runner. After talking to Head Coach Rich Lehman and some of the athletes, I found there was a great team dynamic and a positive training environment.
U Sports does not offer your primary events of the 400m and 800m, but instead offers comparable distances of 300m, 600m, and 1000m. Which events do you intend to focus on upon becoming a varsity athlete?
I am going to focus on the 600m. I'm not sure yet whether the 300m or 1000m will be my secondary event.
You first took-up the 600m in 2018, and focused on it a fair bit throughout last year's indoor season. Compared to the 400m and 800m, does the event feel more like an extended sprint or a short mid-distance race?
I'm not really sure, but after I started racing the 600m it actually became my favorite race.
Do you plan on running cross country for the Tigers as well?
For my first year I don't plan on running cross country. After that I'm not sure, I guess we'll have to see!
Nova Scotia is very fortunate to have been able to host two indoor meets so far this year, both of which you have participated in. How has it felt having the opportunity to race again, and how is your indoor season going overall?
It's really exciting getting to race again, I actually love indoor competitions. I like the 200m track, which I think is kind of an unpopular opinion. The season is going well, I'm thankful that I have a great coach and teammates to train with.
Minding that the pandemic will still effect competition opportunities this summer, what are your hopes for the outdoor season?
I hope there will still be local competitions so I have the chance to get on the track and compete.
With so much uncertainty for what sport will look like this year, what sorts of goals and expectations have you set for yourself?
For the outdoor season, my plan is to still train like I normally would in preparation for possible meets. I'm hoping for some competitions so I can improve all aspects of my race.
Aside from running, what are some of your other hobbies?
I love to cook!
---
Hosted by New Brunswick-born track runner, administrator, and coach Brandon Scott LeBlanc, AtlanticU23 is an interview series with upcoming Atlantic Canada track and field athletes under the age of 23.
Facebook: @AtlanticU23
Twitter: @AtlanticU23
User

Comments
Currently, there are no comments.