AtlanticU23 #080 - Nick Robertson (Prince Edward Island)
Posted 10 months ago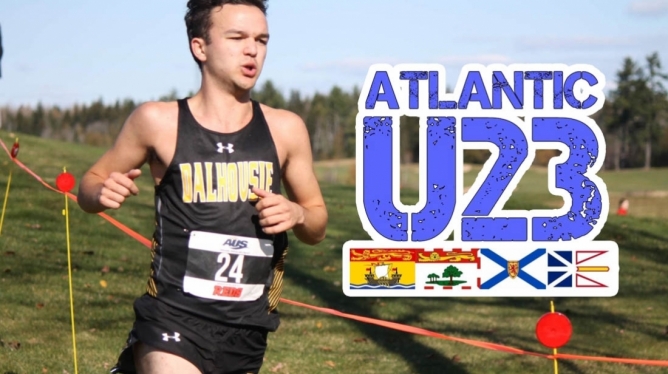 AtlanticU23 #080 - Nick Robertson (Prince Edward Island)
Hometown: Charlottetown, PEI
Birth Year: 2000 (Senior age class)
Club: Halifast Athletics
Coach: Rich Lehman
Personal Bests (as of March 15th, 2021): 1500m: 3:58.34, 3000m: 8:39.00
Favourite dipping sauce? Sweet and Sour
Bagels or toast? Bagels
What's a song that you cannot stand? "Who Let the Dogs Out" - Baha Men
Would you rather always be thirsty or always be hungry? Always be hungry
If you could be somebody else for a day, who would you be? Mark McMorris. It would be so much fun to use his skill set for a day and just nail come crazy tricks.
How did you first get involved in track and field?
My parents met my eventual high school coach, Mike Peterson, at my younger brother's soccer game the summer before I started my grade 10 year. He mentioned I should come out to a practice once I start at Colonel Gray and try out cross country. I fell in love immediately.
At your final PEISAA Championships in 2018, you cruised to rather east wins in the 800m, 1500m, and 3000m. In athletic talent, what were some of the pros and cons of being a big fish in a small pond?
Being one of the top guys in my year, it was nice to have a lot more individual work and feedback with my coach and be a little more known in the community, as opposed to being just a number on a sheet. On the other hand, it was really hard to push myself to get those times and achievements I knew I had in me, and it was always a huge shock whenever I was in those 'big pond' races with my lack of experience.
Colonel Gray High School has long dominated boys' track and field in the PEISAA. Between cross country in the fall and track and field in the spring, what did the Colonels' training typically consist of?
We had a pretty typical training routine: the classic 'Peterson Loop' on our easy days - Colonel Gray alumni know what I'm talking about - fartlek and interval sessions on some uneven footing in the fall, and lots of interval and race-pace work on the track in the spring.
After graduating from Colonel Gray in 2018, you immediately enrolled in the Bachelor of Science program at the University of Prince Edward Island. Academically and athletically, how did UPEI fit what you were looking for?
I went to UPEI right out of high school so I could get a little smoother transition into the collegiate lifestyle. I still lived at home, so I didn't need to learn to live by myself while also getting used to what it's like to study at a university level. Athletically, I was able to keep training with Mike and I already trained with some of the distance team, so it was nice to stay in my comfort zone from a training and team perspective.
After your rookie season at UPEI, you transferred away from your hometown, enrolling in the Bachelor of Kinesiology program at Dalhousie University. What contributed to your decision to switch universities?
After a couple months at UPEI, I knew it wasn't quite the university lifestyle I wanted. I wasn't meeting new people - mostly because I knew friends in classes and wasn't living in residence - and it more or less felt like grade 13. This was also around the time I started to realize my athletic potential. I started looking for a school that was still close to home, had a well-established Kinesiology program, and had a team that could push me to where I wanted to be. Dal then became a pretty easy choice.
Going from the UPEI Panthers to the Dal Tigers, what were some of the key differences in training and competition opportunities?
One of the first things I noticed was the team atmosphere was completely different. All the guys here at Dal have pretty similar fitness levels, so workouts are almost always done start to finish in one big pack. Competition opportunities weren't too different, as I was still running in the AUS, but with the Tigers I had one or two more opportunities to race in some bigger national level meets.
The lack of an indoor athletics facility in PEI has often been cited by the province's athletes as a barrier to quality training throughout the winter months. Throughout high school and your first year of university, what did training typically look like for you and your teammates during these months, and how did you best manage sport-specific training without proper facility access?
We were forced to just grind through those months and hope for the best. We worked just as hard as schools with better facilities and just took the challenges face on. We had to hit the treadmills more than anyone would have liked, but that's what it took to put in the training we needed to succeed.
In the two AUS Cross Country Championships that you have raced - 2018 with the UPEI Panthers and 2019 with the Dal Tigers - you recorded placements of 17th and 9th, respectively. What do you attribute to the significant improvement in finishing placement over just one year?
It was a big mix of everything, a new coach and training program that resonated really well with me, having a bit more race experience, and overall confidence when put up against some tougher competition. Rich and the team helped me significantly improve my confidence, and I think my mindset change to, 'I'm just as good as these guys, and I can compete at the same level as them', was one of the best and biggest changes I've accomplished so far.
Similarly, you accomplished substantial time improvements between your two AUS Track and Field Championships - in 2019 you placed 12th in the 1500m with a time of 4:14.44, and in 2020 placed 6th with a time of 4:03.86, as well as 4th in the 3000m with a time of 8:39.00. Comparing the lead-up to each season's Championships, what went particularly well in 2020?
My 2020 track season really was my first solid university track season. I had the facilities, coach, and team that I needed to improve, and it paid off. Obviously, doing workouts on an indoor track and knowing what it feels like to run race-pace helped a ton, as opposed to just putting in the work on the winter roads and treadmills and experiencing race-pace on a track for the first time on the day of competition.
You got your first taste of national experience at the 2019 U Sports Cross Country Championships, where you placed 73rd overall. This being your first nationals, what were your goals heading into the event?
It really switched up what I was accustomed to on PEI - I knew I was just a small fish in a big pond. I didn't have any big placement times set in stone, because I really had no idea what any finish positions really meant. I just wanted to put in a solid effort, get a feel for what it's like to run with the best in the country, and use the experience to come back stronger.
Had the COVID-19 pandemic not occurred, what were some of the goals that you had in mind for this year's varsity cross country and indoor track and field seasons?
Questions about what could have been are tough, there's way too many 'what if's'. That being said, I wanted to improve in times and placings. If things had gone to plan, I decided that in my cross country season I wanted to contend for a medal at AUS, and a top 45 spot at nationals. I also wanted to shoot for some PEI or Dal records in track and qualify for the U Sports 3000m.
Absent of these varsity seasons, what has training looked like for Tigers' endurance squad, and how have you tried to stay motivated through this period of scarce competition opportunities?
As a co-captain of the cross team, I've been trying to play a key role in keeping the team motivated and keep pushing everyone to work as hard as we normally would. Were really trying to use this year to build for something special, and I think that mindset has helped a lot in everyone keeping sight of the future. We also took this time of scarce competition as a period where we can experiment with some new training styles that we can use once competition comes back.
In both cross country and indoor track, what are some of the goals that you would like to accomplish in your remaining varsity seasons?
I'm dreading the fact that I might run out of school before I run out of eligibility. If things lighten-up for the rest of my varsity career, I'm going to be gunning for gold in AUS cross country, some shiny new PB's and PEI/Dal records on the track, and some solid national finishes in both.
Though successful in both, do you prefer racing cross country or track (indoor/outdoor)?
Age old question. I love the grind of cross country, but I love the speed and versatility of the track. It's a tough decision, but cross country is probably the slight favorite.
Though predominantly a distance runner, what are your thoughts on racing the mid-distance events, such as the 600m, 800m, or 1000m?
Distance races always have my heart. It would take a lot of convincing to get me training for a 1000m or 600m…I don't even want to think about the 800m. I'll leave those ones to the guys who somehow enjoy them.
Do you have any goals in mind for the 2022 Canada Games?
I haven't put too much thought into it, but at the 2017 Canada Games I went for triathlon, and I was there more for the experience and the opportunity instead of being a real contender. By the time summer 2022 rolls around and if everything goes to plan, I want to switch my personal narrative and do something special in the 5000m.
Aside from running, what are some of your other hobbies?
Other than the classics like hanging out with my friends and relaxing, I watch a lot of anime, I'm learning how to juggle, and I'm on an endless pursuit to make a better breakfast than my dad!
---
Hosted by New Brunswick-born track runner, administrator, and coach Brandon Scott LeBlanc, AtlanticU23 is an interview series with upcoming Atlantic Canada track and field athletes under the age of 23.
Facebook: @AtlanticU23
Twitter: @AtlanticU23
User

Comments
Currently, there are no comments.