AtlanticU23 #081 - Hannah Cormier (New Brunswick)
Posted 9 months ago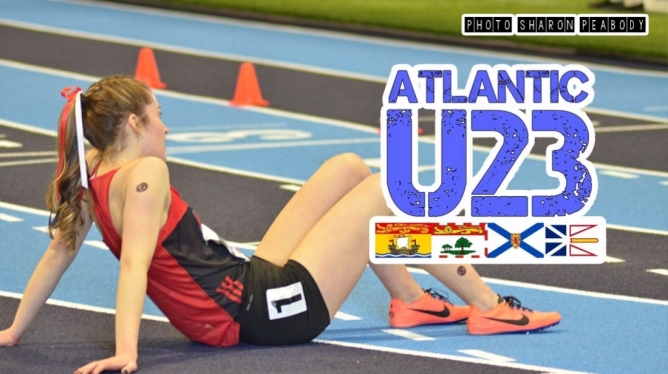 AtlanticU23 #081 - Hannah Cormier (New Brunswick)
Hometown: Fredericton, NB
Birth Year: 1999 (Senior age class)
Club: Saint John Track Club
Coach: Chris Belof
Personal Bests (as of March 29th 2021): 1000m: 3:09.94, 1500m: 4:47.23, 3000m: 9:57.41
5 quick questions with Hannah:
Favourite course in university? Performance Psychology
Are you a morning person or a nighthawk? I think I am somewhere in the middle, but definitely more towards a morning person, if I had to choose one.
What is a movie or TV show you watched in your childhood that your parents don't know about and would not approve of? I can't think of a movie or TV show, but I remember sneaking into my older sister's room and reading Twilight when I was about 12 years old. Probably would not have been approved by my parents.
Would you rather change the past or be able to see into the future? I would rather be able to see the future.
If you owned a restaurant, what kind of food would it serve? I love breakfast food, so I think I would open up a breakfast café that had lots of different options.
How did you first get involved in track and field?
I started running in grade 2 when I decided to join Fredericton Fast Tracks. My parents were both running lots of road races at the time, so I was constantly surrounded by people running and thought that I should get involved. I didn't really start my competitive track and field days until I reached middle school, but I enjoyed all of the running meets that the schools provided in elementary school.
You were a member of the Oromocto-based Motley Crew track club until its dissolution in 2017. Being the first athlete from this club to appear on AtlanticU23, can you tell is what it was like training as a member of Motley Crew?
It wasn't until I started training at Motley Crew that I really realized what it took to become a strong runner. My coach (Richard Hartnett) constantly instilled in us the importance of "embracing the pain", which is a quote that will stick with me forever. It was also a very small tight-knit group, which I think really helped the athletes excel. We were able to constantly push each other in practices while still getting a lot of one-on-one time with our coach when needed. This club definitely gave me a strong idea of what type of work ethic was required to become a good runner.
Competing in the NBIAA during your high school years, you excelled in the mid-distance events on the track as well as the much longer races on the cross country trails. Which season did you most prefer racing back then, and has this changed at all throughout your varsity career?
In high school I definitely preferred cross country season. I loved training in the woods and competing on a different course every race. Towards the beginning of my university career, cross country was definitely still my favorite, however towards the end I liked both track and cross country equally as much. It wasn't until I started running the 3000m that I really started to enjoy track.
After graduating from Fredericton High School in 2017, you immediately enrolled in the Bachelor of Kinesiology program at Dalhousie University. Academically and athletically, how did Dal fit what you were looking for?
I was really excited to go to Dalhousie to start a new chapter of my life. At the time, I thought moving out was what I needed, but I later discovered that I wasn't quite ready for this step yet. Academically, I found it challenging since the class sizes were so big, and I was too shy at times to reach out for help when needed. Athletically, I really enjoyed my time at Dal - I loved the team atmosphere, my coach (Rich Lehman), and my teammates. I think that because I was constantly overwhelmed with school and home sickness at times, it limited me from running to the best of my abilities. I am still really glad I chose to attend Dal to see what it was all about, and I'm grateful for all of the opportunities that it gave me.
After one year at Dal, you transferred to the University of New Brunswick's Fredericton campus. What contributed to your decision to switch universities?
When I came home from my first year, I started training on my own as I really didn't have a team anymore to train with in Fredericton. I found it very mentally challenging to complete the workouts on my own and was constantly frustrated I wasn't running the times that the workout suggested I hit. After a few weeks, I decided maybe it was time to stop running altogether. I had been thinking about it for a little while as I felt that I wasn't living a very balanced lifestyle and wanted to spend some time rediscovering old hobbies and sports that I enjoyed. It wasn't an easy decision, but I spent most of the summer trying new activities and really not doing a whole lot of running for a couple months. Finally, my friend Sarah Myatt - who is like a big sister to me - came over one day and tried to convince me to reach out to the UNB coaches to see if I could start training with them to see if it was a good fit. Although I wasn't yet convinced that this is what I wanted, I gave it a try and loved the training group and felt like it was a good fit for me.
Going from the Dal Tigers to the UNB Reds, what were some of the key differences that you noticed in training and competition opportunities?
I think Rich and Chris definitely have a similar coaching style, so the workouts were fairly similar, but there were some differences in competition opportunities. I struggled a little bit at Dal as I knew if I wanted to make the AUS cross team I needed to be top 7 consistently in practices and in races. I think this idea I had in my head definitely caused a lot of extra anxiety at practice that did not help my performance in any way. When transferring to UNB, the women's team was still just beginning to come together, so I didn't feel this constant pressure during practices. Chris also knew that I was someone who would need a constant push at practices, so that definitely helped. The men's team also helped me a lot, as they would push me through challenging repeats in the middle or end of their workout. As far as racing opportunities, Chris provided a lot of racing opportunities in the United States during the cross and track seasons, which I think were super beneficial. Running at bigger meets gave me lots of confidence when returning to the AUS races.
At the 2019 AUS Cross Country Championships, you placed 4th overall and led the Reds women to a bronze medal (actually placed 5th as a team) placement in the team standings. What were your individual and team goals heading into the Championships?
Going into this race I was pretty nervous, as I felt like I was in the best shape I'd ever been in. Throughout the whole season, I really just focused on pushing myself each workout to see how far I could go. After having a breakthrough race at the Paul Short Run in Pennsylvania, I knew that qualifying for U Sports was not unreasonable. I think when the gun went off the nerves definitely got to me and I went out way too fast, taking the lead for the first 1.5km of the race. After I settled in to the race I knew I was going to have to continue to push myself in order to finish top 7. Although I would have liked to have finished in the top 3, I was still very happy with the 4th place finish alongside a strong field of women. As a team, our goal was to work together as best as we could. We knew the competition was going to be tough, so we were just hoping to finish as high up as we could.
At the U Sports Cross Country Championships two weeks later, you placed 46th overall and were the top finisher from the AUS conference. Take us through the race - what went particularly well that day?
I think going into this race I had a pretty open mindset and didn't really have any specific goals. This was my second U Sports experience, so I knew that it would be a big and tough field of women, and that I would need to really give it my all if I wanted to perform well. That morning, I woke up feeling pretty determined to race well. Going as an individual runner also motivated me, as I wanted to represent UNB to the best of my abilities. I learned my lesson from AUS and went out relatively conservatively at the beginning of the race. I really had no concept of where I was in the field, but I was feeling pretty good, so I decided to start moving up gradually. I was also lucky to have a few former UNB runners cheering me along, as well as Chris cheering for me at each spot he could get to. All of the sudden, he started to tell me where I was, and this is when it just clicked for me. I think the first time he counted, he had me around 60th, and started to put the plug in my ear that I would be able to make top 50. When I crossed the finish line and was told that I was 46th, place I was so excited and happy. I was also surprised to find out that I was the top AUS finisher at this race, as I had no idea where the other AUS runners were in such a large race.
At last year's AUS Track and Field Championships - your most recent competition and one of the final before the COVID-19 pandemic began - you won bronze in the 3000m, placed 8th in the 1500m, and were a member of the Reds' 4x400m team that captured bronze in a thrilling three-way photo finish. Now realizing that this was your final competition with the Reds, are you satisfied with these outcomes?
Unfortunately, I suffered from plantar fasciitis for a good portion of the indoor season, so I struggled to keep up my training and racing as the season progressed. I was really hoping to capture the gold medal in the 3000m, as I had been running really well early-on in the season, however, I just didn't have it in me on the day of the race. I was also hoping to place in the top 3 in the 1500m the following day, however the 3000m really took a toll on me, mentally and physically. I was really proud of our 4x800m team for capturing the bronze medal, despite the error that was made during the initial race and having to re-run it the following morning. I would love to go back and redo this meet, however given the circumstances I am proud of how I did individually, and how we did as a team. I think it was a big step in the right direction for the women's program at UNB.
You've recently decided to step away from competitive running and to focus on the recreational side of the sport. Often being one of the hardest choices for a long-time athlete to make, how did you ultimately process these thoughts and come to this decision?
This was a super hard decision for me to make. I trained fairly well on my own during the beginning few months of quarantine, but as the summer continued and there were no races in sight, I began to lose interest. I felt that I wasn't living a very balanced life and it was a constant battle between missing practice - which I knew wasn't fair to my coach or my teammates - or missing out on a fun opportunity that I wanted to go to. I knew that I had to make a decision and it was really hard because I knew I was going to miss my teammates and coaches a lot, but I also knew that I could continue running on my own, or in a less competitive atmosphere whenever I wanted, which was comforting to know.
How much did COVID-19 and the cancellation of the 2020-2021 varsity seasons play a role in your decision to step away from competitive running? Do you think that this decision would have come at the same time had the pandemic not occurred?
As sad as it is, COVID-19 definitely played a pretty big role in my decision to step down from competitive running this year. I was so excited after coming off my best season in 2019-20 that I wanted to accomplish even bigger things the following year. Knowing that there was going to be no season and not many, if any, opportunities to race was really discouraging for me. I felt that all the hard work I was going to put in all year wasn't really going to pay off. I can't really say whether or not I would have made the same decision if the pandemic hadn't happened, but it was definitely one of the deciding factors.
Looking towards the future, do you have any particular recreational goals that you would like to accomplish?
I can definitely see myself getting into road racing in the future. Both of my parents completed the Boston Marathon, so that's definitely one of my long-term goals, however I don't think that will be for quite some time. In the near future, I would like to run some 5km and 10km road races to see if I can run some new personal bests. Since most of my running thus far has either been on a cross country course or a track, I don't have many good road racing times. I think it will be fun to open myself up to a new side of the sport.
Any temptation to get back into competition for the 2022 Canada Games, the last edition in which you will be eligible for?
That's a tough question. I still don't really know where I'll be next year as far as school goes, so possibly, but it depends where I am and if I can find a good training group, wherever that may be.
Last year, you became Community Director of UNB's Women in Sport Club. What was your inspiration for getting involved with the club, and what are some of the things that you hope to achieve while in the role?
When I saw the application come out for the Women in Sport Conference, I knew I had to apply. Sports have been a huge part of my life growing-up and something that I will always be passionate about. I am definitely bothered by the inequalities that continue to exist in sport, so I wanted to help raise awareness and bridge that gap. I hope to also encourage and inspire younger girls to stay involved in sport, as unfortunately 1 in 3 female adolescents drop out of sport during late-adolescence.
The Women in Sport Club will be hosting a conference April 9th-11th, with keynote speakers, panels, and workshops lined-up for the event. Can you tell us a bit about the background and objectives of this conference, and your role in the organization of it?
Initially this conference was founded by former UNB students Kelsey Bond and Mikaela Dodig in 2019. Due to the pandemic, we were unable to put on our conference. which was really sad, given all of the hard work that was put into it. This year, current students Andrea Creer and Brynn Nash decided to restart this group and become co-chairs for this year's conference. We have also formed this group into a club at UNB, which is really awesome and exciting as now it will continue to exist in the future, and hopefully make a large impact over time. The objectives of the conference are to educate students and the people of New Brunswick about the disparities that exist in women's sports, as well as to empower women within and through sports to become leaders. Our four core values are passion, confidence, resilience and community. My role as the Community Director has mostly been to advertise and encourage people to come out to our conference. It has been challenging to go into the community to promote this conference due to the pandemic, but we are hoping through all of our social media platforms to really get the word out there.
A link to register for the UNB Women in Sport Conference can be found here: www.eventbrite.ca/e/unb-women-in-sport-conference-registration-144428422299
With such a lengthy career in the sport, you've participated in a myriad of events and competed at numerous championships, including Legions, U Sports, and the Canadian Indoor Championships. What have been some of your favourite memories to date?
I definitely have so many fond memories from the sport and am so thankful for all the opportunities that it provided me with. I think one of my favorite memories was going to Canada Games in 2017. It was so fun to represent NB and to be a part of such a great group of athletes. I also really enjoyed the Paul Short cross-country race in Pennsylvania that I competed in last fall. It was definitely the largest field I have ever competed in, and was a very good learning experience. Although I went out way too fast in the first couple of miles it was still one of my best ever cross-country races. Finally, I also loved competing at the track meets in Boston in my second and third year at UNB, as they were a great opportunity to compete against a tough field of runners. I was able to run personal bests almost every time I competed there.
Aside from running, what are some of your other hobbies?
Aside from running, I love hiking, biking, playing beach volleyball, cooking, and spending time with my friends. I also love travelling, so hopefully once the pandemic is over I will be able to explore some new places.
---
Hosted by New Brunswick-born track runner, administrator, and coach Brandon Scott LeBlanc, AtlanticU23 is an interview series with upcoming Atlantic Canada track and field athletes under the age of 23.
Facebook: @AtlanticU23
Twitter: @AtlanticU23
User

Comments
Currently, there are no comments.