AtlanticU23 #082 - Kyla Hughes (New Brunswick)
Posted 1 year ago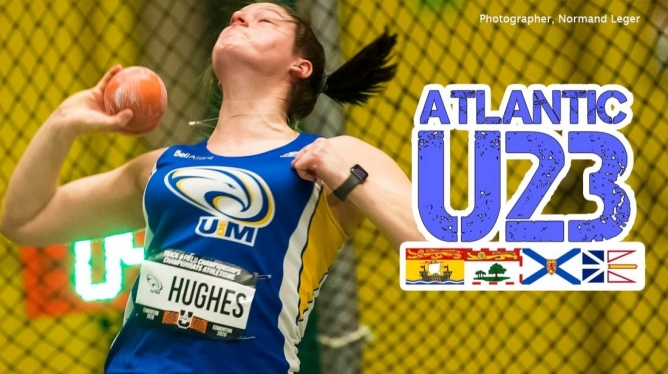 Photo Courtesy: Normand Leger
AtlanticU23 #082 - Kyla Hughes (New Brunswick)
Hometown: Cocagne, NB
Birth Year: 2000 (Senior age class)
Club: Aetos Athletica
Coach: Earl Church
Personal Bests (as of April 12th, 2021): Shot Put (4kg): 12.90m, Weight Throw (9.07kg): 13.00m, Javelin Throw (600g): 39.25m
5 quick questions with Kyla:
Favourite pizza place? Zio's Pizza
Card games or board games? Board games
What has been your least favourite university course? Psychology 1000
Would you rather be able to detect any lie you hear or get away with any lie you tell? Detect any lie I hear
If you were a professional wrestler, what would be your entrance theme song? Thunderstruck by AC/DC
How did you first get involved in track and field?
My gym teacher in middle school had told be about the Jeux régionaux and that she thought I should try it out. I was up for anything and trying new sports, so she registered me in a few events, and I've been doing it ever since.
Aside from track and field, you have also been successful in softball, and have pitched for Team New Brunswick at the national championships. Beyond the obvious similarities in throwing, how have these sports combined well for you?
I really enjoy track and field because it is an individual sport with the benefits of a group sport. I like that we compete individually but with the support of our team. I felt that softball somewhat resembled this because everyone has their own individual position on the diamond but that we all worked together and supported each other.
Have you had chosen to specialize in either one of these two sports, or do you still train and compete in both?
After the Canada Games in 2017, I chose to let go of softball and just continue training and competing in athletics. It was tough to stop playing softball, but it was the best decision for me as I had more opportunities with track and field and I always wanted to compete at the university level in this sport.
Born and raised a francophone in South-East New Brunswick, you have represented Kent Region at the Jeux de l'Acadie as well as Nouveau-?Brunswick at the Jeux de la francophonie canadienne, and have captured medals at both championships. Tell us about your experience competing at these francophone championships.
The Jeux de l'Acadie were definitely what sparked my interest in doing sports at a competitive level, and track and field. These championships were always my favourite to attend when I was younger because they were always so fun, and I was able to compete against people from all over the Atlantic provinces. The Jeux de la francophonie canadienne in 2014 was my first ever 'big competition' in athletics, and I gained so much experience from this. I had an amazing time at both the 2014 and 2017 jeux francophonie, and made many friends that share the same passion for sports as I do.
Then still quite new to the sport of athletics, at the 2015 Canadian Legion Track & Field Championships you threw a personal best of 12.83m to capture bronze in the shot put. This being only your second time competing at the Championships - where you placed 11th the previous year - what were your expectations heading into the event? Did you consider a spot on the podium to be within your sights?
Heading into the 2015 Legion Championships, I was not expecting a spot on the podium at all, but I was really looking for a personal best. That whole season had been going well, and my training was also going well considering that I was practicing in my back yard at the time. As it was my second year in the sport, I felt a lot more comfortable and confident with competing at larger events, and I feel that the previous year helped a lot with that.
You represented Team New Brunswick at the 2017 Canada Games in Winnipeg, MB, placing 10th in the javelin and 11th in the shot put. Still in high school and knowing that you would have additional chances to compete at the Games in the future, what goals did you have heading into these Games?
My goals for the 2017 Games were really to gain experience, as I was one of the younger throwers and I was really looking for a personal best in the shot put. Although I didn't get a personal best, the Games were definitely a huge learning experience, and being able to compete against some of the best athletes in Canada was really inspiring.
You also competed in softball in week two of the 2017 Canada Games, where New Brunswick placed 7th overall. What was it like competing at the Games in two sports?
Competing at the Games in two sports was super fun. I enjoyed every moment of it, and being able to attend the opening and closing ceremonies was super cool. While being there for two weeks, I was able to meet so many people and I really enjoyed being able to watch other New Brunswick athletes compete in different sports.
Competing in the second week of the Canada Games meant forgoing your final year of Legions Nationals, where you had placed 4th just the year prior. Was this a difficult choice for you?
It was a difficult choice not attending my final year of Legion Nationals, as I was looking forward to going because my goal was to make it on the podium. I chose to stay for the second week as it was my only chance of playing softball at the Games, and I had dedicated so much time over the prior years in preparation for this tournament. I don't regret my decision, because I had already been to the Legion Championships three times and it was also my last time playing softball at a competitive level.
Do you have any goals in mind for next year's 2022 Canada Games in Niagara Region, ON?
My goal for the 2022 Canada Games is to do better than the last Games and to have an impact on the competition. I really want to finish within the top 8 in the events that I compete in. Since it is usually the last track meet of the year, I would also want to get a new personal best.
In your final year of high school in 2018, you captured a decisive win in the shot put at the NBIAA Track and Field Championships, breaking an already-strong Championship record and winning the event by nearly 3 meters. Tell us about this performance - how was this the perfect ending to your youth career?
I really wanted to make an impact at this competition because it was going to be my first and last time at the NBIAA Championships. The competition went well, and I was happy with how things turned out. This was the perfect ending to my youth career because I was able to capture that last record before moving on to university sport.
Though you were active in the sport throughout each of your high school years, you only competed at the NBIAA Championships this one time. Why was this?
I only competed in the NBIAA Championships during my senior year of high school because there were always other sporting events happening the same weekend. When I was in grade 9, I had the Jeux regionaux to be able to qualify for the Jeux de l'Acadie, and when I was in grades 10 and 11, I attended the Spartan Race obstacle course in Quebec. Even though I wasn't competing at the NBIAA, I was definitely still doing something sports related!
After graduating from École Clément-Cormier in 2018, you immediately enrolled in the Bachelor of Kinesiology program at Université de Moncton. What contributed to your decision to attend UdeM?
The coaching staff at the university definitely had a big influence on my decision. I had already been training with the ASEA team at the time and working with coaches Earl Church and Steve LeBlanc. I felt that they knew what the goals I wanted to reach were and that they would be able to help me reach them.
As a member of both the UdeM Aigles Bleues and Moncton-based club Aetos Athletica, you train under renowned throws coach Dr. Earl Church. In a non-pandemic year, what does a typical week of training look like during the indoor season?
During the indoor season, I usually have three practices per week of throwing / technique, and three sessions per week in the weight room. For technical practices, I usually do a lot of glide work, standing throws, and box drills. There is a lot of repetition to be able to have consistent throws, and sometimes I throw heavier or lighter weighted shots. In the weight room, what we do really depends on the time of year, sometimes its heavier weights or lighter weights, with a lot of explosive movement. We often do a lot of squats, cleans, and overhead presses.
Though you've also seen success in both the javelin and weight throw, the shot put has undoubtedly stood out as your most successful event. Looking towards the future, where do you intend for these other throwing events to fit into your career?
Weight throw is an event that I have a love-hate relationship with. I really only practice a few times during the indoor season and only compete in it once. I usually only do it at the AUS Championships, so I will be doing it again for the next two years. But other than that I don't think I'll be doing it at any other competitions or after I'm done with university sport. I enjoy the event, but the spin technique isn't something that I really enjoy. On the other hand, javelin throw is an event that I love to do during the outdoor season. I am looking forward to getting outside to be able to throw the javelin and being able to compete.
Essentially being the outdoor equivalent of the weight throw, any thoughts on trying-out the hammer throw?
I have tried the hammer throw a few times in practice here-and-there, but it is definitely not an event that I like. I find it way too fast and that it makes me dizzy. I am truly a glider and I'm not fond of rotational throws.
During last year's indoor season, you competed in your first multi-event, recording a best score of 2538 points in the pentathlon. Of course being most accustomed to the throwing events, how challenging was it to learn each of these new events?
It was very challenging to learn so many new events but really fun at the same time. There is so much technique to every event that is so important to learn in such a small amount of time. I enjoyed every bit of it, but everything is still so new.
Is the multi-event something that we can expect to see you continue to contest?
I have continued to practice the different events and I am looking forward to trying more multi-events in competition. It is still very new to me and I am not super confident in everything, but I feel that gaining competition experience is something that would help me a lot.
You'll be going into your fourth and final year at UdeM in September. Is there anything in particular you hope to accomplish in your final season with the Aigles Bleues?
I've decided to do my schooling over five years instead of four, so I still have two more seasons with the team. I'm really hoping track events will be back to normal or as close to normal as we can get by the fall. One of my goals is to get my throwing distances back up, and my big goal is to make it back to U Sports during the next two seasons and to really make an impact.
Aside from throwing, what are some of your other hobbies?
Aside from throwing, I really enjoy spending time with my friends, traveling, and spending time outdoors. Although I haven't been able to do much traveling with the current global pandemic, I've been able to discover my home province and the other Atlantic provinces.
---
Hosted by New Brunswick-born track runner, administrator, and coach Brandon Scott LeBlanc, AtlanticU23 is an interview series with upcoming Atlantic Canada track and field athletes under the age of 23.
Facebook: @AtlanticU23
Twitter: @AtlanticU23
User

Comments
Currently, there are no comments.