AtlanticU23 #083 - Abbi Gaudry (Nova Scotia)
Posted 8 months ago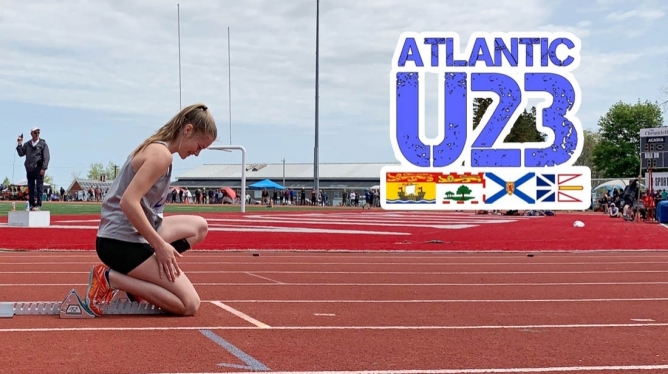 AtlanticU23 #083 - Abbi Gaudry (Nova Scotia)
Hometown: Windsor Junction, NS
Birth Year: 2003 (U20 age class)
Club: Chebucto Athletics
Coach: Aaron Gaudry, Andrew Conrad, and Doug Mitchell
Personal Bests (as of April 26th, 2021): 100mh (30 inch): 14.80, 200m: 26.63, 800m: 2:46.79, Long Jump: 5.42m, High Jump: 1.58m, Shot Put (3kg): 10.33, Javelin (500g): 31.91m, Heptathlon (U20 specs): 4241
5 quick questions with Abbi:
Favourite class in high school? Probably drama, which was a huge surprise. I'd never done anything like it and probably won't again, but it was awesome to be able to let loose and just have fun.
Ice cream or cake? I like the best of both worlds. My favourite flavour of ice cream is birthday party, which has pieces of cake in it.
Which athletics event have you never attempted, but would most like to try? I've done many, so this is a tough question. I think it would be racewalking…not sure if my hips can bend that way but would love to try.
Would you rather set a world record or win Olympic gold? Win Olympic gold, then I will have something I could hang on the wall forever. It would always be mine, never to be replaced by someone else.
If you could have a one-line speaking role in any upcoming movie, which would you choose? I absolutely adore Disney movies, so I think it would be the next Frozen movie.
How did you first get involved in track and field?
I first got involved with track and field in my junior high gym class. My gym teacher (Sean Hanlon) was teaching a track unit, and I instantly fell in love with it. He then introduced me to Doug Mitchell, who is now one of my coaches, and he invited me to train with Chebucto Athletics.
While most athletes specialize in just one or a few events, you quickly decided that you wanted to contest the multi-event. What was the exploration process like in trying out each event for the first time, and how did you determine that the multi-event was the event for you?
Since I first started track, I loved a wide variety of events. I have a very outgoing personality and could never say no to the challenge of trying a new one. At track meets I would do as many as I could, which was usually 6 (until they wouldn't let me do anymore). At that point I was only missing shot put and the 800m. My coaches noticed how much I loved doing multiple events per meet and decided to give me the new challenge of heptathlon. I had already thought about it and didn't even hesitate to try it. This experience for the most part has been an easy transition, since I was usually already doing that many events. The biggest challenge for me was training for the 800m. I'm definitely more a jumper/sprinter, so training for a distance event was extremely difficult. As a whole though, so far it's been a blast. I love that if I'm struggling with one event I can shift my focus to another to de-stress. I also love the bonding with your competitors, as you're with them for two whole days.
In 2019, you had the rare opportunity of representing your province at a national championships held on home soil. At the Canadian Legion Track & Field Championships in Sydney, you achieved multiple personal bests to place an impressive 6th in the heptathlon. Tell us about the competition. Were you happy with your result?
The fact that it was on home soil was so much fun. I originally thought it wouldn't feel like as big of a competition since I didn't get to travel, but in reality it was actually nice to not have jet leg. I was amazed by the amount of people that came to support the Nova Scotia athletes, and it truly was an amazing experience. It was a great feeling to have my name called as the local girl, it made me proud to be Nova Scotia. As for the competition side of things, it was also awesome. Being from Nova Scotia I'd never had anyone to compete against - I'm the only multi-eventer my age. It was great to have so many talented athletes to push me, them being there was a huge part of me getting personal bests. I had that little extra motivation. Going into that competition I was actually really nervous, the obvious reason was because I was at home and wanted to do good for my family watching. The other reason was because it was only my second heptathlon ever. I was and am still very inexperienced as a multi eventer. There isn't many opportunities to compete in Atlantic Canada for this event as I'm one of the only ones…which is another reason that pushes me, I still have lots of work to do! Overall, I was very happy with my placing. I worked very hard and as a first year in that age group was proud of myself.
You were one of a many number of athletes to have missed out on their final opportunity to compete at the Legion Championships, as the 2020 event was cancelled as a result of the pandemic. At the beginning of 2020 when COVID-19 was not yet of worldwide concern, what were some of your goals in thinking about these Championships, and how disappointing was it to hear of their cancellation?
At the beginning of the year, I was so excited for the competition. It was again on home soil and I was excited to have my second shot at the heptathlon on the national stage. It was a big year especially to start getting recruited by universities. I was excited to be more experienced going in, and my big goal was to place higher than the year before, ideally win a medal. My other big goal that I was most excited for was to be captain. The whole competition I was supposed to be the leader and the oldest. Hearing it was canceled, like most athletes, crushed me. Legions is a unique experience and I was very sad I would never get to live it again. After the original disappointment I set new goals and carried on. I will always have the awesome memories to look back on.
Just last week, St. John's, NL was announced host city of the 2025 Canada Games, an event in which you would be among the more developed athletes eligible to compete. How excited are you for the opportunity to compete right here in Atlantic Canada?
Hearing the news gave me a newfound motivation. It will be similar to Cape Breton being in Atlantic Canada, so I will have many people to cheer me on. I've never been to St. John's, but am very excited to hopefully attend. I will be working hard until then so I can give my last opportunity to compete at Canada Games my best shot!
As a combined events athlete, you require a wide variety of skills in order to be successful, and have multiple coaches to help you develop each. How is your training structured to regularly work on skills from different event groups, and how do your coaches work with one another to make it all come together?
The most important thing for me and my coaches is to not focus entirely on my best event. As a multi athlete, if you want to be successful you have to be strong across the board. My coaches do a great job with this by splitting my training days up for different events. I usually do 1-2 800m training days a week with strength at home after. I also usually have specific days for speed/hurdles. Speed is very important to us, I need it for almost all my events. In the winters, it's more strength development, especially to help with throwing, and endurance. Once it gets warm out, there is a lot of skill and working on nailing down my techniques. Since there is so much I have to learn for seven different events, you really learn to take advantage of every single practice. My main multi-coach (Doug Mitchell) creates a schedule for me to reference every day, which has really helped me stay organized. This schedule reflects the drills and workouts I receive from all my different coaches.
With so many different skills to develop and so much going on, do you ever feel overwhelmed by the total number of events, or by any one event in particular?
From my background of doing lots of events, I've never felt overwhelmed by the amount of events. It's a lot of work, but it's work I enjoy. The biggest thing to overwhelm me is the 800m. All other events require lots of focus…I rarely have time to stress. The 800m isn't finished in 30 seconds like the 200m - it's approximately 3 minutes of straight running, which gives me lots of time to think. My biggest challenge is staying positive during the race. Since I don't have a distance background, I've never learned to pace and stay mentally strong. It's definitely my biggest challenge yet. One step at a time...
Among the individual events that make up the multi-event, which is your favourite and which is your least favourite, and why?
My inability to choose a favorite is what ultimately lead me to being a multi athlete. I'd say my favourite event is either long jump or hurdles. I will always have a special place in my heart for field events, as they give you the opportunity to change and improve throughout the competition. You get many attempts to reach your goal. Long jump is also super fun because a big part of it is speed, which is easy to improve. Hurdles is also one of my favorites because of how technical it is and how satisfying it is to master it - there's no better feeling then running an entire race without hitting a hurdle! I have many battle scars. My least favourite is the 800m, as you'd expect based on the previous question. It's a goal of mine to learn to love this event.
As of this year, you've moved up to the U20 / Senior age category, which includes higher hurdles (30" to 33") and heavier shots and javelins (3kg to 4kg and 500g to 600g, respectively). How have you adapted your training to prepare for these more challenging technical specifications?
This was definitely challenging, as I'm not that big of a person. A big way I prepared for this was overtraining. This means I practiced with heavier shots and higher hurdles for part of my training. In that year of competition when I arrived at the meet I would be throwing lighter, which was nice. This overtraining also helped make the transition for the next year much easier.
You recently announced your commitment to attend Dalhousie University in the fall, where you will enrol in the Bachelor of Kinesiology program and compete for the Tigers. Academically and athletically, what contributed to your decision to attend Dal?
Since junior high, I've watched the Tigers compete. They are always big competitors and have great team spirit. When they reached out to me I was very excited to look into their program. Getting offers from other schools was a fun experience, but ultimately staying here was the right choice. With COVID-19 being such a big part of my life, I was reluctant to go to a university I was unable to visit. With Dalhousie being here at home, I could easily go walk around campus and get to know the city. The biggest part of my decision to stay home was because of the amazing coaching they have. From the improvements I've seen in the other athletes, and how welcoming they have been to me, I haven't doubted my decision for a second. Academically, I will be following in my mother's footsteps by taking Kinesiology, and I'm ecstatic about that. Dalhousie is academically one of the best schools in the country, and I can't wait to start.
You will join a solid team environment at Dal, which includes high-performing athletes in each of the event groups, as well as in the combined events. In particular, what are some of the things that you're looking forward to about the training environment at Dal?
I'm most excited to have another multi athlete to train with. With her (Lorena Heubach) being such a talented athlete, I will be pushed, which will be great. I'm also looking forward to making lots of new friends of all ages and event groups. I think it will be really interesting to be on a team of this size, as I never have been before. My final thing is that I'm very excited to work with new coaches - they are very knowledgeable and I can't wait to see where they will take me in this event.
What are some of the goals that you would like to accomplish in your first year with the Tigers?
My main goals for my first year are to get used to the training load and do my best. I would love to get a good placing at the AUS Championships, but we will see how things go. My plan is to work hard and embrace my new coaching and see where it takes me.
Nova Scotia has been fortunate in being able to host a handful of indoor meets this year, and so you've been able to have at least a bit of an indoor season. What has your training focused on throughout this compacted season, and what have been the goals?
I've been very lucky to have the training I've had. Being here in Nova Scotia was truly a blessing, and I definitely took advantage. I was focusing on my speed and 800m training, since - due to COVID-19 - jumps were usually unavailable. My goal for this compacted indoor season was just get used to my new hurdle heights and prepare for our outdoor season. Having already committed to a university this indoor season has made it relatively stress free, and a good opportunity to try new things with my techniques.
Although the NSSAF has ruled-out the possibility of provincial championships for any school sports, the possibility of local/regional track and field championships is still being explored. Minding that cases of the virus have been on the rise recently, what are your hopes or expectations for the spring season?
Unfortunately with the cases rising and sports being shut down last week my spring season will most likely not take place. As frustrating as it is being a senior and wanting to represent my school one last time, it's important to stay positive. I've gotten an indoor season, which most provinces have not. I will be looking ahead to hopefully the summer season and continuing my training. This summer, I hope to get some new personal bests and grow my confidence heading into my first year as a Tiger.
Competitions or not, what are some of your training goals for this year's outdoor season?
My goal will be to improve in all my events. I hope to have testing days with me and my coach, so I can record my improvements as the summer progresses. As my coach always says: bigger, faster, stronger!
Aside from running, jumping, and throwing, what are some of your other hobbies?
My other hobbies include lots of reading, eating chocolate, and going to the beach no matter what time of year it is. I love spending time with my family, which is perfect as I will still be only a twenty-minute drive from home next year!
---
Hosted by New Brunswick-born track runner, administrator, and coach Brandon Scott LeBlanc, AtlanticU23 is an interview series with upcoming Atlantic Canada track and field athletes under the age of 23.
Facebook: @AtlanticU23
Twitter: @AtlanticU23
User

Comments
Currently, there are no comments.