AtlanticU23 #084 - Jacob Benoit (Nova Scotia)
Posted 6 months ago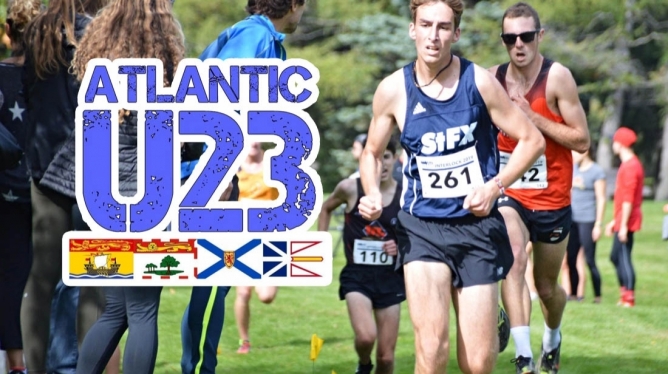 AtlanticU23 #084 - Jacob Benoit (Nova Scotia)
Hometown: Windsor, NS
Birth Year: 2000 (Senior age class)
Club: StFX Track and Field Club
Coach: Eric Gillis
Personal Bests (as of May 10th, 2021): 1500m: 4:01.21, 3000m: 8:43.94
5 quick questions with Jacob:
Favourite sport to watch on TV? Hockey
Android or iPhone? iPhone
Which fictional place would you most like to visit? The Shire from The Lord of the Rings
Would you rather have a lifetime subscription to FloTrack or Spotify? Spotify
If you could have dinner with any individual, living or deceased, who would you choose and why? Probably Blackbeard, because I bet that he'd be really interesting company and I want to know what he'd order on the menu
How did you first get involved in track and field?
I got involved with track and field because my sister (Eileen) joined our middle school's team. I went to watch a race and one of the runners couldn't run in the relay, so I borrowed a pair of shorts and running shoes to fill in on the 4x400m squad. After that I fell in love with the sport.
After graduating from Avon View High School in 2019, you immediately enrolled in the Bachelor of Science in Human Kinetics program at St. Francis Xavier University. Academically and athletically, what contributed to your decision to attend St. FX?
St. FX immediately got my attention because it seemed to fit the bill for all aspects I was looking for. It's a good area and I spent a lot of summers growing-up in Antigonish, so I already knew I liked it here. The Human Kinetics program here is really versatile, so I knew I'd find it to my interest no matter what minor I chose to study in. Athletically, it was a good choice for me too, because I'm fortunate to train under the wing of Eric Gillis, who has a wealth of experience as an elite athlete.
At the 2019 AUS Cross Country Championships, you accomplished the rare feat of landing on the podium in your rookie year, capturing bronze. Individually and as a member of the X-Men, what were the expectations heading into these Championships?
In my rookie year going into AUS I knew medalling would be tough, and I was going to be an underdog going into the race. My teammates and coaches were really supportive of that, so they didn't put a lot of expectations on me to perform individually, it was more about doing well for the team. I always had the goal of medalling in mind, but I decided before the race that I'd just run my guts out for the team, and if I happen to make podium, that's an added bonus.
At the U Sports Championships two weeks later, you held consistent placement throughout the race and crossed the line 100th. What went well at these Championships, and what went not so well?
U Sports didn't go as well for me as I expected, given my consistency throughout the season. I think I prepared as well as I could've, but with my high school experience being a bit different, I wasn't used to the length of the university season. I think it was a wakeup call for me too - I've experienced racing at the Canadian Cross Country Championships before, but racing against a huge field of seriously fit university guys was completely different. As soon as the gun went off, I think I actually realized how tough all of the other guys were.
Since 2018, St. FX Cross Country and Track and Field has bolstered three-time Olympian Eric Gillis as Head Coach. What has Eric's experience brought to the program, and what's it like having an Olympian as a coach?
Eric is relatively new to coaching but has much more experience as an athlete than most other coaches out there, which is what in my opinion sets him apart. I can really tell that he relates to us on the men's and women's teams just because he still trains himself, so he knows what's going on in our heads most of the time. If you sit down to talk with him, you can just tell he's an Olympian by his mindset. And if you run with him, you can definitely still tell that he's an Olympian.
Both the X-Men and X-Women have a rich history full of success in the endurance events. What does a typical week of training look like for the X-Men cross country team?
This year is a bit different than last year's training just because of COVID-19. We all have three running workouts a week, with team runs on Saturday and long runs on Sunday. Rest days usually vary depending on the athlete, and Eric did a good job of getting us into some other forms of mental and physical training over the season too. I did strength workouts a couple times a week, but others incorporated other forms like yoga into their schedules.
Absent an indoor athletics facility in Antigonish, what does training look like throughout the indoor season / winter months?
We do almost all of our training outdoors, regardless of the weather. I think it's seen as a disadvantage from other teams at times, but in my eyes it's really good training for us. It isn't easy putting on a bunch of warm clothes to run in the cold every day, but everybody on the team does it so I think it strengthens our bond. Plus, if Angus Rawling could go on to win a U Sports 3000m with this training, how much of an argument still stands that you can't get good training in outside?
You've been successful on both the track and the cross country trails. Which side of the sport do you consider to be your favourite?
I've always liked cross country a bit more, but the difference in enjoy-ability between the two is starting to get narrower.
Almost one year ago today, St. FX removed all field events and track events under 600m from the scope of the program, choosing to adopt an exclusive focus on the endurance events. One year later, what have been some of the more noticeable changes of this transformation?
I don't think anybody at St. FX wanted the track and field program to lose athletes, but it was more about what was capable for our coaching staff and facilities. It's possible to train outdoors for distance runners, but when the track is snow covered, sprint work becomes tougher. To see the full difference is too soon to say in my opinion, because COVID-19 limited all varsity teams in the Maritimes compared to a usual year.
With the cancellation of this past year's varsity cross country and indoor track seasons, what has training looked like for the X-Men and X-Women's endurance teams, and how have you tried to stay motivated through this period of scarce competition opportunities?
Our type of training hasn't changed much from last year, we still do the same kind of workouts. With COVID-19, we usually have to find ways to work-out while avoiding large crowds, which can be challenging, depending on restrictions, but we always make it work. To keep motivation up, we always keep each other accountable to our training and actions. Time trials are another good way to have something to look forward to.
Nova Scotia is in the midst of a third-wave of the pandemic, recording record numbers of new cases each day. How has your training and day-to-day life been impacted by the province's strict lockdown measures?
I decided to live in Antigonish for the summer to get in more training. Unfortunately, I've been training solo aside from some runs with my roommates. As long as I can get the workouts done, I'm happy for now. I'm not getting any slower, and making sure that I'm doing what's right for provincial safety is most important.
Assuming that the pandemic is better under control come September, and that U Sports and its conferences are able to offer a full cross country season and Championship races, what are some goals that you and the X-Men would like to accomplish?
A big goal for us is to win the AUS Cross Country Championships. I think we have a deep field of athletes right now, and we've come a long way as a team since I first joined. We've been fortunate enough to have some leaders on the team step-up to enforce good habits, which I think gives us a great shot at accomplishing our goals.
Do you have any goals in mind for the 2022 Canada Games, or any particular events that you'll seek to make Team Nova Scotia for?
I think right now the 5000m is my go-to event for the Canada Games trials. Meeting the required time should be a manageable goal for me, but I want to be better than 'good enough', because I want to actually compete. Hopefully with an extra year between the Games, and with a good summer of training, I'll be one step closer to this.
Aside from running, what are some of your other hobbies?
Besides running, I really like hiking, playing guitar, watching movies, playing video games, and playing any sports I can with friends.
---
Hosted by New Brunswick-born track runner, administrator, and coach Brandon Scott LeBlanc, AtlanticU23 is an interview series with upcoming Atlantic Canada track and field athletes under the age of 23.
Facebook: @AtlanticU23
Twitter: @AtlanticU23
User

Comments
Currently, there are no comments.