AtlanticU23 #085 - Siona Chisholm (Nova Scotia)
Posted 1 year ago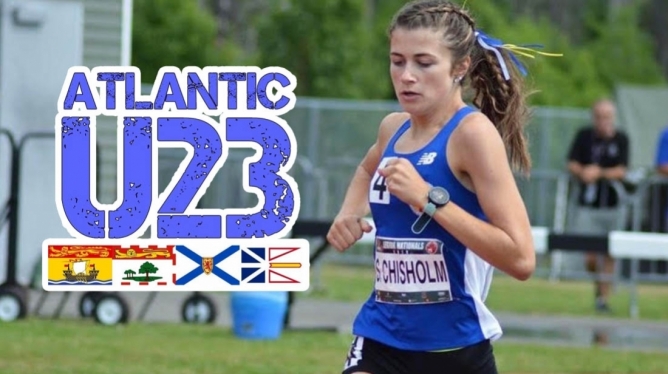 AtlanticU23 #085 - Siona Chisholm (Nova Scotia)
Hometown: Antigonish, NS
Birth Year: 2003 (U20 age class)
Club: StFX Track and Field Club
Coach: Tommy Chisholm
Personal Bests (as of June 7th, 2021): 800m: 2:19.66, 1500m: 4:34.19, 3000m: 9:55.05
5 quick questions with Siona:
Favourite dessert? Chocolate peanut butter ice cream – "Udderly Divine" from Scotsburn Dairy is preferable.
Pineapple on pizza, yay or nay? If it's Hawaiian, then yay!
What is something you are great at baking? Layered birthday cakes.
Would you rather race in the scorching heat or the freezing cold? Scorching heat.
If you could fly anywhere in the world right now, where would it be? Switzerland.
How did you first get involved in track and field?
I am the youngest of six siblings, who all competitively ran cross country and track, as well as many road races, so I've been a part of the running community for as long as I can remember. I always looked forward to running through the trails at cross country races to cheer on my siblings or missing school to watch their track meets. The first time I started running was when I would go to kid runs at the Joe Earl road races in Trenton and the Highland Games Wee Lads and Lassies 400m. At my elementary school, I remember being a part of the run club after school in grades 3 and 4, where you would run continuous laps around the school's perimeter and every lap get a tick mark on your hand to keep track of your laps. Mairin Canning and I took after school run club very seriously, always trying to beat how many laps we did the previous practice. From there I joined the cross country team at the junior school in grade 5 and track in grade 6 (grade 5's can't run track there), and from there on out my love for running grew.
Although athletics has always been your primary sport, you've also played hockey, soccer, and several other sports in recreational-competitive capacities. How has your participation in these other sports helped you become a better athlete all-around?
From the time when I was 4 or 5 years old until grade 9, I played hockey in the fall and winter, soccer in the spring and summer, as well as step danced, along with many other recreational activities. I enjoyed hockey and soccer and saw them as my main sports. I was never an all-star at either sports, but I enjoyed the team aspect, going to games, and practicing with my friends. By seeing hockey and soccer as my sports, running was more so a fun activity, and I felt excited for practices and the occasional race. I soon realized in hockey and soccer, my favorite part was skating down the ice or running down the field, which correlated to my love for running. I played these sports up until grade 9 when I noted that my joy for playing soccer and hockey was not near the extent I felt for running and wanted to take running serious and train year-round. I am happy I waited until high school to specialize in cross country and track, as it let me realize how much passion I had to run while still immersing myself in various other activities.
How did you come to determine that athletics would be your primary sport, and in particular that you would specialize in the endurance event group?
Like I mentioned, running was more of a natural development for me. Every year from grade 4 was a continuous progression of the sport, with more races and more training opportunities each year. When I was younger I honestly never thought of running other than an endurance sport, as I was surrounded by the distance running community through my sibling's involvement in endurance events. I remember in grade 6 when I told people I was running the 3000m, and my friends had wide eyes as if I said I was about to go run a sub-2 marathon. But I ran my first 3000m at Districts on the St.FX track in the rain, and felt a sense of accomplishment as my grade 8 teammate Lauren Lowther only finished 300m ahead of me! It hurt, but I loved it.
Throughout your years at Dr. J. H. Gillis Regional High School and the StFX Track and Field Club, your father (Tommy Chisholm) has been your primary coach. What has it been like having your dad as your coach?
My dad started coaching me in grade 9, as he was the high school track and cross country coach. It was the next natural step from junior school, and I thought it would be different with my dad coaching me, but it worked out great!
What has been the most memorable moment thus far in having your father as your coach?
My most memorable moment/moments with my dad coaching me is all 3 Maine Festival of Champions cross country races. This cross country race is one of the largest in the New England states and has been a tradition for our high school team to attend for many years. The first year we traveled on a team bus. Then the two years after my dad drove my teammates in a full van load. In grade 10 and 11, our teams finished 3rd place out of more than 60 American schools, that added on to this excitement. During the years at the race, my dad never put pressure on us for these tough races, but always prepared us for the challenge and just wanted us to enjoy the experience of this level of racing. These were the best memories of my high school running career.
You had a breakthrough race in front of a home crowd at the 2019 Canadian Legion Track & Field Championships in Sydney, achieving a personal best by over 16 seconds and placing a narrow 4th in the 3000m. Take us through your experience at these Championships.
Throughout the spring and summer track season one of my goals was to run under 10 minutes for the 3000m. I think I needed the level of competition that Legions brings to accomplish this goal, and focus on racing other girls instead of just racing a clock. The day before my 3000m I ran the 1500m, and was disappointed with the way I handled the race, but instead of dragging myself down I went into the 3000m with more optimism and curiosity, and it worked out in the end…although it was a very narrow finish for third place! Because the Championships were so close to home, my family and friends were at my race, which made the whole meet very special.
You were one of a many number of athletes to have missed out on your final opportunity to compete at the Legion Championships, as the 2020 event was cancelled as a result of the pandemic. With such success in 2019, what were some of your goals in thinking about the 2020 Championships, and how disappointing was it to hear of their cancellation?
From my 2019 experience, I learned that I wanted to immerse myself in more challenging, and competitive race scenarios, which are difficult to come by during the year in Nova Scotia, until the summer at Legion Nationals. As well I had so much fun at Legions both years I went, especially in Cape Breton. So when I heard the news it was cancelled, it was disappointing, as I did have goals specific to the Championships. However at the same time I totally understood the reasoning for the cancellation.
You've gotten a taste of the longer distance races at the Antigonish Highland Games 5 Mile Road Race over the years, including in 2019 where you were the top female in a time of 30:48. Compared to the shorter distance events that you're more accustomed to, how do you enjoy these longer road races?
I have been doing The Highland Games 5 Mile Road Race most years since I was 10 years old, so the race is very familiar. The summer going into grade 5 was the first time I ran it. Although my parents were hesitant about me running the whole five miles, that summer I was determined to run it like the rest of my siblings. To prove I could do it – as my runs were usually be 4-5km max – I did a 7km loop down West River Road with my dad, my longest run ever, a few days before the race. I knew I was ready to go. Let's just say the nerves were running high, but my sister put braids in my hair and we wore matching outfits, and I ended up receiving the top U13 girl trophy. In 2019, my friends Mairin Canning, Lauren Lowther, and I decided to hop in the race last minute and on the start line I still didn't know if I was taking it as a fun run or a race. But I felt really good, as well I'm too competitive to just 'run' it, so I decided around a mile in that it'd be fun to see what I can do. The Highland Games races are so much fun, and the town is filled with people and energy.
You've had great success on both the track and cross country trails. Between the two, which do you consider your favourite and why?
I find track and cross country so different that it is hard to pick a favorite. I love the challenges and grit of a cross country race – especially on courses with hills, turns, and other obstacles – and cross country is really about the team effort, making you feel like you raced for not only yourself but your team, in comparison to track where it can get very individualistic. Track is a longer season, with indoor and outdoor, so I prioritize it more. I like setting goals in track, and the intensity of the competition.
Last November, you announced your commitment to attend Boston University and compete for the Terriers in NCAA Division I cross country and track and field, but have since requested and received a release. What changed your mind?
I was very excited for the opportunity to go to Boston University, with the combination of the academic and athletic resources, competing in the NCAA, and living in a beautiful city such as Boston. Although I got to know the coach really well, and all the team members through many Zoom calls in a 10-month recruiting span, I still hoped to visit the campus and meet everyone in-person. In March, I was informed that the head coach – who had recruited me – was dismissed, which really made me put attending BU into question. It was a very difficult decision, but I am grateful that I was granted a full release to allow myself to view my options and choose the best future direction for me.
Since being released from BU, have you explored other varsity athletic programs or committed to any other university?
Yes, since I was released from BU I have explored options and offers in both the NCAA and U Sports. Due to this situation, and repeating the same process as last fall, it made me debate the two leagues again. I have recognized that the opportunities offered by staying in Canada and competing in U Sports is how I want to further my athletic and academic career.
Pretty much the entirety of your varsity recruitment experience took place during the pandemic, when interprovincial and international travel has been significantly hindered. How did the pandemic impact the recruitment process, and did it make the decision more challenging for you?
When I imagined my recruiting process, I always thought that I would have the opportunity to meet coaches in person, visit the university, and train with the team, and ultimately then could make a decision based on these in-person factors. However, this was not the case. For both Canadian and American schools, I had to adapt and learn how to make meaningful connections and gain information through a virtual setting: on the phone or through video calls. I could tell this was very challenging on both sides, for the recruit and the coach. It is much more difficult to get the whole picture of a university, when you never get the chance to go there yourself. Although one bonus with video chats, was that one of the coaches invited recruits to team calls with elite athletes like Molly Seidel and Emma Coburn, which was very exciting!
Although the structure of competition opportunities in Nova Scotia is still a bit up in the air at this point, what sort of training and competition goals do you have in mind for this outdoor season?
As of now, due to COVID-19 restrictions there is no outdoor competitive season, especially with all NSSAF spring sports being cancelled. The StFX Track and Field Club is starting in-person practices this week, and I am hoping that by mid-to-late summer there will be competition to train towards and get back on the track.
Although you would be among the lower ages at the competition, do you have any thoughts in looking towards next year's Canada Summer Games?
I am planning on trying out for next year's Canada Summer Games team. Being one of the younger athletes, there will be a lot of competition from many other great runners in Nova Scotia. For which races I am thinking about, I am leaning towards the 1500m, and as I did run a 5000m time trial on the track during cross country season this past year, I could see that as a potential race in my future. The 5000m I discovered is very tough physically and mentally, but would love to run it in a race scenario.
Aside from running, what are some of your other hobbies?
I love being outside and going for hikes with my dog, whether it is at Keppoch Mountain in Antigonish or exploring new trails around Nova Scotia. I like going to the beach, baking, cross country skiing, and being with my friends and family!
---
Hosted by New Brunswick-born track runner, administrator, and coach Brandon Scott LeBlanc, AtlanticU23 is an interview series with upcoming Atlantic Canada track and field athletes under the age of 23.
Facebook: @AtlanticU23
Twitter: @AtlanticU23
User

Comments
Currently, there are no comments.