AtlanticU23 #086 - Madeleine McLeod (New Brunswick)
Posted 1 year ago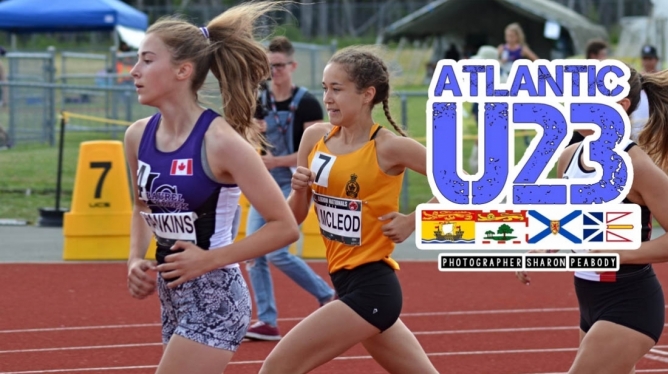 Photo Courtesy: Sharon Peabody
AtlanticU23 #086 - Madeleine McLeod (New Brunswick)
Hometown: New Maryland, NB
Birth Year: 2003 (U20 age class)
Club: Fredericton Fast Tracks
Coach: Greg Allan
Personal Bests (as of June 21st, 2021): 800m: 2:26.52, 1000m: 3:09.26, 1500m: 4:53.21, 3000m: 10:38.02
5 quick questions with Madeleine:
Favourite season? The fall, because of cross country.
Facebook, Twitter, or Instagram? Instagram.
What was your favourite childhood toy? Razor Ripstik.
Would you rather always say everything on your mind or never speak again? Everything on my mind.
If you were to direct a movie, what would the plot be? A runner competing in the Olympics.
How did you first get involved in track and field?
My neighbours joined the track team at school, and I wanted to spend more time with them, so I joined the team and that's when I fell in love with the sport.
Aside from athletics, are there any other sports that you have participated in over the years, or other sports that have been useful towards your development as an endurance athlete?
In grade 8, I won my school's Female Athlete of the Year Award - I played most of the sports in middle school including basketball, soccer, and badminton. Today, I'm focused on running and I also downhill ski and mountain bike.
You represented Team Sud-Est at the 2018 Jeux de l'Acadie, capturing gold in the 2000m and silver in the 1200m. Tell us about your experience growing up as a francophone athlete in southern New Brunswick, and competing at these Games.
The four Jeux de l'Acadie were a highlight of my track career, I've made a lot of new friends and I'm very grateful to be bilingual. The Games were well organized, and I really enjoyed the competition.
Due to the pandemic, last year's Legion Canadian Track and Field Championships were cancelled. Heading into 2020, what were some of the things that you were looking forward to about your final opportunity to compete at these Championships, and how disappointing was it to hear of their cancellation?
I was very disappointed to hear about the cancelation. I look forward to Legion Nationals every year - it's a great experience to be able to compete against runners from all over Canada. I was hoping to place in the top 10 again for the 3000m and get a personal best time.
How has your training been going throughout the pandemic, and how have you stayed motivated and committed to your training despite so much uncertainty in the future of sporting events?
My training has been consistent, I've done multiple time trials including my first half marathon, which I really enjoyed. Our coaches keep us motivated and create great programs for us to train under. Staying motivated wasn't hard for me because I love to run and am always looking to improve on my running. I took this pandemic as an opportunity to work hard and to better myself at the sport.
You recently announced your commitment to attend Queen's University in the fall, where you will join the Golden Gaels cross country and track and field teams. Academically and athletically, what contributed to your decision to attend Queen's?
I'm really looking forward to training and competing for Queen's in the fall. The Head Coach, Mark Bomba, has a great reputation and the women's cross-country team won the last U Sports Cross Country Championships. Queen's University has always been my dream school. Academically, I'm looking forward to studying at such a prestigious university.
In your first season with the Golden Gaels, you will race a cross country distance of 8km - much farther than the 5km that senior women run in the NBIAA. How are you preparing for the increased distance?
I've always been better at the longer distances, and I've increased my weekly mileage to be able to be well prepared for the event. I'm looking forward to the challenge.
Given the longstanding gap in cross country distances offered by the NBIAA and U Sports - for both men and women - do you believe that the NBIAA should consider increasing its race distances to better prepare athletes for varsity sport?
No, because the longer distance might discourage the number of participants in the women's races in high school. The more motivated athletes will train for the longer university distances anyway.
In both cross country and indoor track and field, what are some of the goals that you would like to accomplish in your first year with the Golden Gaels?
I would like to train hard, stay injury-free, and improve my personal best times in all events. I would like to make a mark on the team by placing well in my events.
With New Brunswick rapidly progressing through its COVID-19 recovery plan, training and competition opportunities have become much more feasible in recent weeks. Between training and competition, what are your plans for this outdoor season?
I will continue training hard and plan on competing in July and August, if possible. I will continue focusing on the longer distances.
You haven't competed on the cross country trails since October of 2019, and on the track since November of that same year. Having gone so long without competition, are you experiencing any nervousness in thinking about your next race?
No, because I'm very competitive and I can't wait to get back to racing.
What are your thoughts on trying out steeplechase?
I've never raced the steeple, but I've always wanted to try. I think it's something I would enjoy.
Although you would be among the lower ages at the competition, do you have any thoughts in looking towards next year's Canada Summer Games?
I would like to make the New Brunswick team and compete at the Canada Summer Games. I'll be concentrating on the 5000m and possibly the 1500m…maybe the steeplechase is an option as well.
Aside from running, what are some of your other hobbies?
I enjoy downhill skiing, mountain biking, listening to music, spending time outside, and spending time with family and friends.
---
Hosted by New Brunswick-born track runner, administrator, and coach Brandon Scott LeBlanc, AtlanticU23 is an interview series with upcoming Atlantic Canada track and field athletes under the age of 23.
Facebook: @AtlanticU23
Twitter: @AtlanticU23
User

Comments
Currently, there are no comments.