AtlanticU23 #087 - Nick Landry (Nova Scotia)
Posted 1 year ago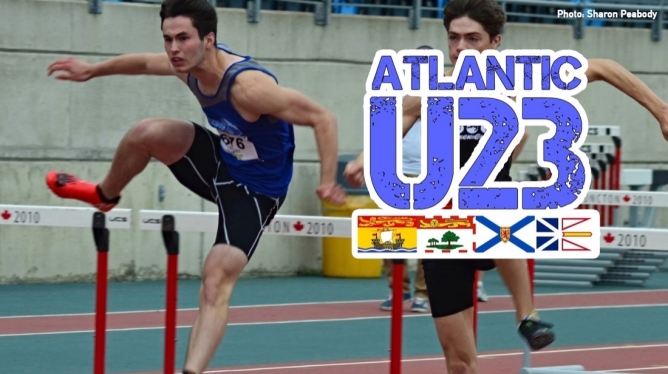 Photo Courtesy: Sharon Peabody
AtlanticU23 #087 - Nick Landry (Nova Scotia)
Hometown: Bridgewater, NS
Birth Year: 2001 (Senior age class)
Club: Unattached
Coach: None
Personal Bests (as of April 26th, 2021): 60mh (39"): 8.32, 110mh (39"): 14.60, 400mh (33"): 57.29
5 quick questions with Nick:
Favorite seat on an airplane? Aisle seat, I need as much leg room as I can get.
Dairy Queen or Burger King? It's gotta be Dairy Queen, can't beat their ice cream.
What is something you are great at cooking? I'm great at cooking chicken, and it can be made into so many different types of meals.
Would you rather go a month without social media or a month without caffeine? I'm honestly not much of a caffeine guy, so one month without it couldn't be too bad.
If you could have an endless supply of any food, which food would you choose? I'll go with chicken again, it's my go-to source of protein and it never gets old.
How did you first get involved in track and field?
I had ran cross country in elementary school in the fall before my first track season, so I figured it would be pretty similar to XC. My first year or two were more focused on distance events since that was all I knew beforehand.
What initially sparked your interest in hurdling, and how did you approach learning this new skill?
It was honestly a total fluke that I even got into hurdles to being with. I had finished up a distance workout earlier than expected, and I saw some other kids hurdling across the track. I had never seen them before and it definitely caught my attention right away. I ran over and tried it out, and from then on I would always hurdle a bit after my distance workouts. Eventually, I decided to make it one of my main events, and I'm sure glad I did.
Aside from athletics, are there other sports that you've played to help develop your overall athletic abilities, or which you feel have helped you become a better sprinter / hurdler?
I played hockey for over a decade before I got serious with my running, and I'd say it helped with my explosiveness. I was a late bloomer physically, so during the years before I became a competitive runner, I was never any good at other sports besides hockey, so I never really got into them.
At your one and only Canadian Legion Track & Field Championships in 2018, you ran personal bests in both of your events, capturing bronze in the 400mh and narrowly missing the podium in the 110mh, placing 4th. Tell us about your experience representing - and medaling for - Team Nova Scotia/Nunavut on the national stage.
It was an honour to represent Nova Scotia at the 2018 Legions. I have an unlucky birthday for club sports (December 17), so it was always a struggle to make teams. There was a lot of hard work that went into finally making Team Nova Scotia that year, and I was happy enough just to be on the team. I guess the lack of pressure gave me the confidence to just go for it in my events and PB in both of them at the championships, leading to a medal. Above all else, I'll never forget the experience of just being there, and having a team to cheer for.
After graduating from Park View Education Centre in 2020, you immediately enrolled in the Bachelor of Science in Data Science program at Simon Fraser University. What contributed to your decision to attend SFU?
I've always been adventurous, and this was a perfect opportunity for a huge adventure. I love the scenery out west, and the small community surrounding the university campus reminded me of the town I currently live in, Bridgewater, so I sort of felt at home there.
With so many options for post-secondary education, how did SFU - literally located on the other side of the country - come into your mind and become a viable option for you?
I was visiting my aunt and uncle who live in British Columbia, during March Break of 2019. It was actually their idea to check the place out while I was out west, and I loved what I saw. I hadn't committed to any other universities at the time, so SFU immediately went to the top of my list, and it stayed there.
SFU is unique in that it is the only Canadian school in the NCAA, competing in Division II. How much did this detail play a role in your decision to attend SFU?
It was definitely a big factor in my decision. For the past few years, I had either been training alone or in small groups where I was always the leader/pace setter. Having the opportunity to become part of a much larger group of runners really appealed to me, as well as having lots of teammates who were faster than me. Anyone who has set a pace for a group know how much more draining it is than when you're able to sit behind someone else and follow their pace.
With the pandemic having cancelled in-person classes at SFU during the 2020-2021 school year, did you travel to British Columbia or stay at home in Nova Scotia?
I travelled out west last fall, as I (along with pretty much everyone at the time) was hoping the pandemic would be over by January or so, and we'd be able to have a full outdoor season. Obviously things didn't turn out this way, and the year was sort of underwhelming, but I was still able to improve and I'm very optimistic looking forward.
Though not currently a member of the club, you spent several years as a member of Bluenose Athletics. As the first athlete from the club to appear on AtlanticU23, can you tell us about their training environment - what would a standard week of training look like during the outdoor season?
I have been training independently for the last few summers, but during the fall and winter, I could always count on a strong base and a great strength training program thanks to the club. We would have three sessions of strength training per week, with three sprint workouts per week as well, and one long run to top it off.
Bridgewater contains athletic facilities that would not typically be found in other towns of its size - an outdoor track at Park View Education Centre and an indoor track at HB Studios Sports Centre. What have your experiences been like in training at these facilities, and how practical are these facilities for high-performing athletes such as yourself?
Although I've always dreamed of having a synthetic track right in town, the resources we do have here are great for what I've needed over the years. An indoor 200m track, two outdoor 400m dirt tracks, multiple great gyms, and countless fields and trails have served me very well since I moved to Bridgewater in 2011. These places have all come in handy at one point or another, and I don't think I'd be where I am right now without them.
How much of your training is spent running over hurdles?
I would say about half of my practices involve hurdles, sometimes incorporated into a 400m workout, and sometimes strictly to work on my form.
Since entering the Senior age category this year, you have yet to race the 42" sprint hurdles and the 36" long hurdles. How have you been preparing for these higher hurdles?
I use any hurdles I can get my hands on, it's been tough to find some lately, but when I can't, I make sure I still do a lot of stretches to maintain my flexibility.
Any nervousness in thinking about racing over these higher hurdles?
A little bit, but I'm more excited than anything else. Nothing feels better than clearing a hurdle just right.
Do you have a preference towards either the sprint or long hurdle events, or plan to specialize in one over the other?
I had always held a preference to the sprint hurdles, although that might be because I didn't have to get as tired. These days, it's more of an even split, I might even say that I'm starting to lean towards the long hurdles. The height is much easier, and I've been really working on my endurance lately.
An age-old question in the sprint hurdles, particularly in the Senior age category: should women's hurdle heights be raised, men's lowered, or should hurdle heights remain as they are?
I think the women's height should be raised. It's still extremely impressive to watch, but it hardly even looks like they're hurdling anything, and it's always slightly annoyed me that I had to clear the same height [as Senior women] when I was thirteen - and thirteen year-old me was shorter, much less athletic, and much less experienced than any female Olympic hurdler. I think 36" would be a good height.
With Canada fast emerging from the pandemic and competition opportunities growing quickly, do you have any plans to compete this summer?
It's a bit of a toss-up right now. I'm definitely more focused on being primed for the 2022 Canada Games, but if I feel ready later on this summer then I'll be out there for sure.
What sort of goals do you have in mind in looking towards next year's Canada Summer Games?
I want to make sure I'm in peak shape for the trials and hopefully the championships as well. It always feels great to PB at a big meet. I'm not really worried about positioning, as long as I get a time I'm happy with, I'll be good with that.
Aside from running, what are some of your other hobbies?
I love to golf, I try to get out almost every day during the summer. I'm not great by any means, but I can crush it with a driver. I'm also very into music, whether it's singing, song writing, or just relaxing to my favourite playlists.
---
Hosted by New Brunswick-born track runner, administrator, and coach Brandon Scott LeBlanc, AtlanticU23 is an interview series with upcoming Atlantic Canada track and field athletes under the age of 23.
Facebook: @AtlanticU23
Twitter: @AtlanticU23
User

Comments
Currently, there are no comments.