AtlanticU23 #088 - Quinn Alexander (Nova Scotia)
Posted 1 year ago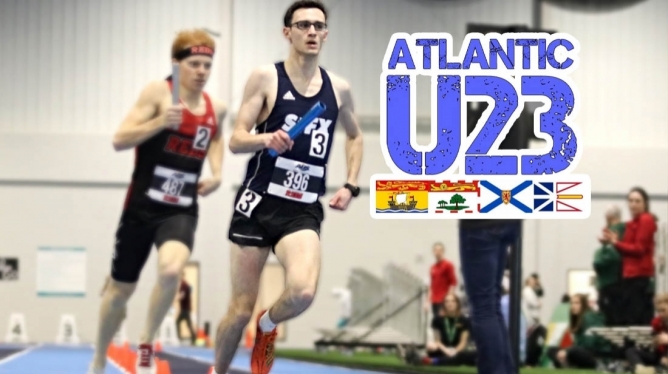 AtlanticU23 #088 - Quinn Alexander (Nova Scotia)
Hometown: Truro, NS
Birth Year: 1999 (Senior age class)
Club: Truro Lions
Coach: Eric Gillis
Personal Bests (as of July 19th, 2021): 600m: 1:23.46, 800m: 1:59.07, 1000m: 2:36.55, 1500m: 4:14.25
5 quick questions with Quinn:
Favorite restaurant? Moxie's
Spice or sour? Spice
What was your first stuffed animal, and what did you name it? It was a teddy bear my grandma gave me when I was a baby, I don't think I named it though
Would you rather be able to speak every language or play every instrument? Speak every language
If you could choose any actor to star in a movie about your life, who would you choose? Asa Butterfield
How did you first get involved in track and field?
I was always trying out new sports when I was young, and I wanted to be involved in everything I could when I got to junior high. I loved running and I thought it would be a great opportunity to run more as part of an organized sport. So, I joined the school track and field team in 6th grade, originally as a sprinter, then as a horizontal jumper, then as a javelin thrower and distance runner, before I figured out that my true love in track and field was middle distance running.
Besides cross country and track, did you play any other sports growing up?
Yes, I was involved in many different sports growing up. My primary sport growing up from grades 7 through 11 was actually volleyball, before I decided that running was what I wanted to do most in university. I then shifted focus to cross country and track and field in my senior year of high school. I also played soccer for most of my life, badminton every other year, and I'd tried a few other sports for a short period of time as well.
Your high school of Cobequid Educational Centre is well-known around the province as a highly athletic school, particularly in track and field. What are some of the factors that have led to such high participation, deep athletic talent, and such energetic team spirit at the school?
The CEC track and field team really is such a unique team and atmosphere. I would say it's about as close as it gets to training with a university team, but with even more people. In recent years, the team has consistently had over 100 athletes, and yet we still manage to find an event for most people to compete in that they want. The team has such strong school pride and such a successful history in the sport at the provincial level, and there are so many event-specific coaches around who have a lot of experience in the sport as successful athletes - most of the coaches went to CEC themselves and competed in track and field, some of them still even have school records. Knowing that the coaches were knowledgeable and confident in what they were doing, as well as expecting high commitment from us as athletes, were key factors in our team's successes. In 2017, my senior year, our team was so successful that we even swept every single Division 1 high school banner that was offered for track and field. I'll never forget all our team cheers, we were such a loud and present team in competitions, with all our cheering for each other from all over the track. You'd often see groups of us all over the place at each event station, supporting each other when we weren't actively warming up for our own events.
After graduating from CEC in 2017, you immediately enrolled in the Bachelor of Arts program at St. Francis Xavier University. Academically and athletically, what contributed to your decision to attend St. FX?
In all honesty, I had no idea where I wanted to go. I'd changed my mind so many times throughout high school, but in the end, I knew I wanted to go a small-town university with a good academic standing that was closer to home where I could continue to improve in track and field, and St. FX was the best fit for that. I didn't end up applying anywhere else, and I'd already been accepted, but I still was hesitant about going to St. FX until my first day of training camp. From that day on, I knew I'd picked the right school to go to - I loved the team and the coaches, and I couldn't have imagined wanting to be anywhere else.
The performance necessary to get on the podium in the men's 600m at the AUS Track and Field Championships has varied widely in recent years - in 2018, you placed 8th with a 1:27.84; in 2019, you captured bronze with a 1:26.97; and in 2020, you placed 7th with a 1:23.99. What do you believe has contributed to such massive differences in the performance necessary to medal in this event from year-to-year?
This is a great question. I've also been reflecting on this recently and just thinking about how incredibly different each of these races were. The first two of these AUS Championships were hosted by Université de Moncton and raced on an undersized track (166m), whereas the third was raced at the new Irving Oil Field House in Saint John (200m track). In 2018, I had run very well all season as a rookie and went into the race ranked 4th, but I lacked major championship race experience. It was a very tactical and physical race, and I didn't know how to adapt to it. It really came down to who ran the race the smartest, or who got out the quickest and avoided all the mess. In 2019, there wasn't as much depth in the event and the AUS race was certainly far less tactical. We just all ran our own races and ran as fast as we could, and it was even single file for most of the race rather than the usual bunching-up. In 2020, it was a whole new environment for AUS and there was so much depth in the event - everyone was gunning for a fast time. UNB had the most experience on the new track and they had a strategy going into the race that was very successful for them. It came down to who got out the fastest and who had the most top speed at the end.
With the absence of an indoor track and field facility in Antigonish, what do the X-Men and X-Women do for sport-specific training during the winter months?
We actually do most of our workouts outdoors on the roads during the winter season! Running on the roads in the middle of winter wouldn't sound glamourous to most, but we've always taken advantage of the situation and used it to build up our resilience in training. Sometimes if the weather is nice and the track is clear we'll run on the outdoor track, or if the weather is bad then we'll run on the treadmills in the school gym or on the walking track around one of the hockey rinks. We had some sport-specific strength sessions mixed in throughout the season as well. We may not have the luxury of an indoor track and field facility, but we've still come to AUS and U Sports Championships with something to prove, and we've performed well.
Following the conclusion of the 2019-2020 indoor season, St. FX announced that it would remove all field events and track events under 600m from the scope of the program, effective the following season. Now a program focused exclusively on the endurance events, what have been some of the more noticeable changes in the training environment and team culture?
It's definitely been different not having all the sprinters and field athletes around. They were a big part of team energy at competitions and brought tough competition to the AUS and U Sports stages. I don't think anybody wanted the field and sprints events to be removed from the program, but it was definitely a struggle for the coaching staff to keep the program running, and the facilities limited training options for them. It's easier for distance runners to train outside in the winter than it is for sprinters and field athletes, and ultimately removing those parts of the program was the decision that was made.
While always more focused on track, you had also ran cross country throughout high school. What influenced your decision not to run cross country at the varsity level?
Well, in my first year, I did run varsity cross country. I improved a lot, but I didn't really enjoy all the mileage, I mostly enjoyed it for the hard work and for the time with the team and the coaches. In my second year, my coach and I decided together that I would focus more on track and field the full year, instead of cross country for the fall season and track for the winter season, and it just stuck throughout my years at St. FX.
You haven't competed since last year's AUS Track and Field Championships in February. How are you preparing for a return to competition?
I'm just trying to stay healthy and take my time getting back into it. I'm not in any rush to compete or to prove myself in competition, I'm just focusing on being content with how my body feels in workouts.
Have you run any notable time trials in the meantime?
I've run a couple 400m time trials in the meantime, but nothing notable. I lost some fitness over the course of the pandemic and my main focus was just to work on getting some of that fitness back rather than focusing on trying to run certain times in races and rush back to competition.
Entering into your fifth year at St. FX, what are some things you feel that you have left to accomplish?
I'm excited to begin my studies in the Education program at St. FX this fall. Completing a Bachelor of Education and becoming a teacher is something I've been wanting to do for a number of years. I'm happy with what I've accomplished in my time at St. FX thus far. I've been a 5-time AUS track and field medallist, I've been an Academic All-Canadian twice, I was the St. FX Track and Field Rookie of the Year in my first year, and I've improved my personal bests in every event. As a track and field Official, I have been able to officiate at the Legion Youth National Championships, and most recently had the opportunity to be the Chief Official for two Olympic shot put throwers - Brittany Crew and Sarah Mitton - at the Athletics Nova Scotia Open Meet. For the past four years I have been the distance coach for Truro Lions Track and Field Club - this season, mentored by Rich Lehman. I've met a lot of great people along the way, and even though there's always more that can be accomplished, I've done a lot already and that's something to be proud of.
The University of New Brunswick Reds will be hosting the U Sports Track and Field Championships at the Irving Oil Field House in Saint John next year. What are your thoughts on being able to attend and possibly compete at the first of these Championships to take place in Atlantic Canada?
I think it's an exciting opportunity for the UNB Reds to be able to host the first U Sports Track and Field Championships in Atlantic Canada, and for us as Atlantic Canadian university athletes to compete somewhere that's more familiar to us. I see it as a home court advantage and it could potentially bring forth great results for us.
Any thoughts in looking towards next year's Canada Games? Which events are you planning to try out for?
I haven't really given Canada Games any thought, even growing-up it was never something I had aspired to participate in. I just wanted to focus on my own personal development, regardless of the level of competition it brought me to. But if I were to try out for Canada Games, I would probably try out for the 800m.
Aside from running, what are some of your other hobbies?
I love staying involved with track and field in other ways besides running; I've been coaching middle and long-distance runners with the Truro Lions for a few years now, and I've also been officiating at track and field meets since high school - I even got to officiate at the most recent Legion Youth National Championships back in 2019 when we hosted it here in Nova Scotia. I still love playing volleyball whenever I can, and I enjoy doing some drawing every once in a while, too.
Fun Fact - In 2017, I was asked to run against a horse for the opening of the Nova Scotia Provincial Exhibition at the Truro Raceway. On an 800m racetrack, I ran against a two-year-old racehorse named Cherry Pop - Cherry Pop won "by a horse's nose". It was also my 18th birthday.
---
Hosted by New Brunswick-born track runner, administrator, and coach Brandon Scott LeBlanc, AtlanticU23 is an interview series with upcoming Atlantic Canada track and field athletes under the age of 23.
Facebook: @AtlanticU23
Twitter: @AtlanticU23
User

Comments
Currently, there are no comments.