AtlanticU23 #089 - Alex Amero (Nova Scotia)
Posted 1 year ago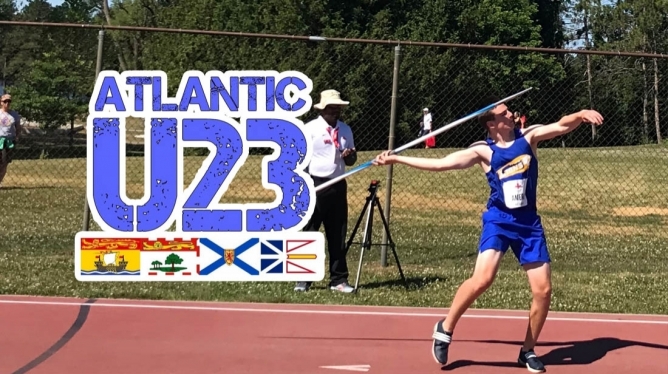 AtlanticU23 #089 - Alex Amero (Nova Scotia)
Hometown: Valley, NS
Birth Year: 2000 (Senior age class)
Club: Truro Lions
Coach: Iain LaPointe and Nathan Burris
Personal Bests (as of August 3rd, 2021): Javelin (800g): 56.43m, Discus Throw (2kg): 36.81m, Shot Put (7.26kg): 11.01m
5 quick questions with Alex:
Favourite Netflix series? Formula 1: Drive to Survive
Coffee or tea? Coffee
What is something you did in your childhood that your parents don't know about and would not approve of? Wrote my brother's name on the back of a piece of furniture in the T.V. room.
Would you rather celebrate Canada Day with Michael Bublé or Christmas with Mariah Carey? Christmas with Mariah Carey, she definitely buys sick presents.
If you had a time machine and could travel anywhere, what year would you travel to and why? Year 1, just to see what it was like before we had to deal with lines outside of stores.
How did you first get involved in track and field?
A friend in middle school I think dared me to see if I could beat him in javelin and that's where I started training and learned what track and field was.
What in particular sparked your interest in throwing, vs. the other track and field events?
I think being a bigger kid growing up I just knew that I could be a lot quicker throwing something rather than trying to outrun someone, and I think it's cool that with throwing events you get to see your work being done in the air rather than while you're in freak-out mode down the final stretch.
Here's a question that we asked one of your former teammates (Quinn Alexander) in our last interview, AtlanticU23 #088. Your high school of Cobequid Educational Centre is well-known around the province as a highly athletic school, particularly in track and field. What are some of the factors that have led to such high participation, deep athletic talent, and such energetic team spirit at the school?
I think the whole program being managed by Iain LaPointe sets athletes up to have the opportunity to compete at a high level but also just to try the sport out and be involved. Track is often a very individual sport where a lot of drive needs to come from the athletes and I think the long history of track and field at CEC is something the athletes know from it being handed down from the grade 12s, and 11s, and all alumni.
You steadily climbed the podium throughout your years competing in the NSSAF Track and Field Championships - capturing a bronze in 2016, a bronze in 2017, two silvers in 2018, and finally a gold and a silver in 2019. Tell us about your years competing in the NSSAF. What were some of your favourite memories from these Championships?
I think my first and last competitions at Provincials are just fun memories, and mostly not around the competition itself but being amongst the team members and friends is something I like to remember from these competitions. The long trips and overnight stays at Acadia or Cape Breton University I think are everyone's favorite parts to their high school competitions.
After graduating from CEC in 2019, you enrolled in the Community Recreation program at the Nova Scotia Community College's Truro campus. What contributed to your decision to attend NSCC?
I knew then (and still know now) that I wasn't sure on what I really wanted to do after school, but I knew if I didn't continue taking classes I wouldn't want to after a year or two off. So I decided that a course in something I'm interested in - that being the outdoors, sports, and recreational activities in general - I saw this as an opportunity to learn more about this subject, but also have an opportunity to continue my education at Acadia with a 2-and-2 program if I wanted to keep going to school after graduating.
You mentioned that you will be attending Acadia University starting in September. What do you plan on studying at Acadia, and how will these studies build upon what you've learned at NSCC?
At Acadia this September I will be taking Community Development, which is something that I learned through NSCC will be helpful to have when I enter the recreation field. As most I'm sure can tell, both programs that I've taken or am now in involve community, and that's something that I'm interested in and wish to peruse is a career where I'm involved in bettering the community through recreation, sports, and physical activity.
Although Acadia competes in the AUS, the school currently only offers to female athletes, particularly in the endurance events, and has not entered male athletes in the AUS Championships since 2016. Do you hope to compete in the AUS during your time at Acadia?
I would be interested in competing and perhaps starting the process to have athletics become more of a bigger team, as I think having a track and field team is something that a lot of Canadian Universities are lacking, and I would definitely like to see more high calibre athletes stay, train, and compete at Canadian universities. Currently our talented athletes lose their abilities due to the high price tag of going to the United States in order to compete in year-round training and events rather than the select few in Canada.
Competing in the U20 category at the 2019 Canadian Track and Field Championships, you achieved a nearly five meter personal best to place 5th, a substantial improvement upon your 9th place ranking. Tell us about the competition. What went right that day?
That event was great. There were lots of great athletes around and having a great finals competition with throwers constantly pushing each other just created a cool mentality for everyone competing. Everyone who entered the runway that day felt like they could throw 90+ meters, easy.
Training under throws coaches Iain LaPointe (javelin) and Nathan Burris (discus) at the Truro Lions Club, what does a typical week look like during the outdoor season?
Currently, I'm training two days out of the week, with the odd competition on the weekends or a solo throws session. On the training days, I have discus practice first for about an hour, then I move on to javelin for an hour and half, but other than that you can usually find me on the golf course working.
How about during the indoor season?
During the offseason I'm usually training three or four times a week.
How about strength workouts - what sort of exercises do you do and how often?
Most of my training so far has been with heavy implements, but I've spent a lot of time focusing on my core strength and arm speed recently.
During the outdoor season, Truro-area athletes predominantly train at the Truro Amateur Athletic Club (TAAC) Grounds, an aged facility which has long been in need of major upgrades. Tell us about your experience training at the TAAC Grounds. How would improvements to the facility be beneficial for yourself and other Truro-area athletes?
I think most people who have had to train or compete on that track understands, and has no end to the number of stories about when they scraped their legs on the crusher dust or smoked the powerline with a javelin. I think having a new facility where competitions can be held will be good for the community, but also having a facility close to the school and in the community will offer athletes a better opportunity to train on a real track surface and will help their training a tremendous amount.
Back in June, the CEC javelin runway was surfaced with a synthetic material, allowing for much safer and higher quality training, and for the facility to finally host sanctioned competition. Have you had the chance to throw on the new runway yet?
Yes, and it's a relief to finally have a place where the javelin throwers can train and compete. I can't wait to train and compete from that runway in the future.
Though javelin and discus have long been your primary events, in recent years you've also dabbled in the shot put and weight throw. What are your aspirations for these secondary events?
These events are more experimental, as I'm definitely not very good in these events but still love to train and throw them. I think having an understanding of these different events all help in the end.
Do you have any goals in mind in looking towards next year's Canada Summer Games, set to take place in the Niagara Region of Ontario?
I think going into the Canada Games I would like to set personal bests in both events. I would be lying if I said I didn't want to podium there, but I'm sure next year after my training over the winter I should be set to have a good year and hope to represent my province well.
Aside from throwing, what are some of your other hobbies?
I'm fortunate to have a job where I get paid to do and be around the things I love, which is sports (in the summer at the golf course and in the winter refereeing hockey around the province). In my free time though I usually spend my time camping in Cape Breton, kayaking and fishing, or booting-up some racing games and acting like an F1 driver.
---
Hosted by New Brunswick-born track runner, administrator, and coach Brandon Scott LeBlanc, AtlanticU23 is an interview series with upcoming Atlantic Canada track and field athletes under the age of 23.
Facebook: @AtlanticU23
Twitter: @AtlanticU23
User

Comments
Currently, there are no comments.