AtlanticU23 #090 - Mya Archibald (Nova Scotia)
Posted 1 year ago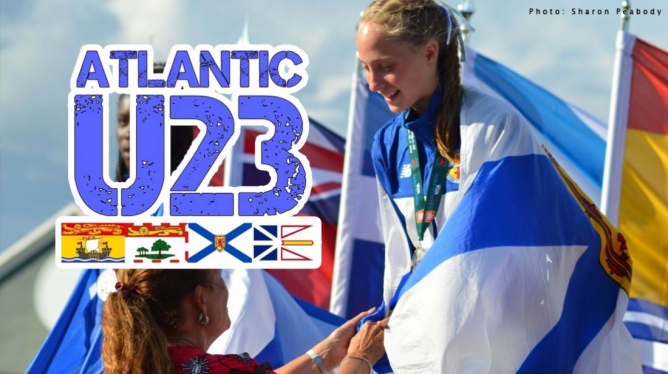 Photo Courtesy: Sharon Peabody
AtlanticU23 #090 - Mya Archibald (Nova Scotia)
Hometown: Fall River, NS
Birth Year: 2005 (U18 age class)
Club: Chebucto Athletics
Coach: Doug Mitchell
Personal Bests (as of August 16th, 2021): High Jump: 1.61m
5 quick questions with Mya:
Favourite thing to do on a snow day? Sledding and drinking hot chocolate.
Pizza or garlic fingers? Pizza, because you can add lots of toppings.
What unconventional pet would you most like to have? I would like to have an elephant for a pet because I watched a Barbie movie when I was young with an elephant in it.
Would you rather have a swimming lesson with Penny Oleksiak or a sprinting lesson with Andre de Grasse?Sprinting lesson with Andre de Grasse.
If you were to write a book, what would the plot be? When I read books, I don't like when they are predictable so I would probably write a mystery book with a big plot twist.
How did you first get involved in track and field?
In junior high I tried track and field and I enjoyed it and was good, so I decided to pursue it further. I had just quit hockey because it conflicted with soccer, so I thought track and field would be a good sport to complement soccer.
Aside from running, you're also a competitive soccer player. Tell us about your background in soccer.
I began playing soccer in the summer when I was 5 years old. In U12, I started playing competitively. I left club play when I was invited to play in the women's EXCEL program when I was 13. Last winter I was moved to the men's side of the EXCEL program.
In your experience, how well do these two sports pair? What are some of the shared skills between athletics and soccer, and how does athletics make you a better athlete on the field and soccer make you a better athlete on the track?
Soccer got me in shape for track initially. The training in the gym and running for soccer made it easy to transition to track and field. The sprint training I do for track and field helps me to be faster on the soccer field.
The 2019 Canadian Legion Track & Field Championships in Sydney were your first time attending a national championships. Tell us about the process you went through in order to make Team Nova Scotia/Nunavut, and your overall excitement about having the opportunity to compete in a national championships on home soil.
In 2019 at the grade 8 provincials for track and field, I jumped the standard for my age. Abbi Gaudry, who is a family friend, told me I could qualify for Legions, so I decided to join Chebucto Athletics and began competing that spring in track meets. I went to the Legion qualifiers and jumped 1.60m, made standard, and qualified for Legions. I was very excited and grateful to have the opportunity, and all the members of Team Nova Scotia / Nunavut were great.
On your first day of competition, you placed 13th in the long jump with a best attempt of 4.76m. At the time, how were you feeling about this performance?
I was very disappointed with the results on my first day of competition in long jump. I knew I could jump better, but I got psyched-out with the high level of competition I was up against and the intense atmosphere. I had never competed with anyone my age jumping over five meters in Nova Scotia. It was very overwhelming and it made me nervous. I also didn't train as much for long jump as I did for high jump, and it just wasn't a good day. I really needed to regroup.
The following day is when you really made headlines, clearing a personal best of 1.61m to capture gold in the high jump. Tell us all about this day at the Championships.
The next day my roommate told me what coach Doug liked to say: "you can't sit on the pity potty." She told me I could sit on the pity potty for one minute, then I needed to get over it. I also spoke to a coach that day that told me I needed to trust my training and then go out and have fun. My goal was to clear 1.53m and if I did that I would be happy.
Making your gold medal performance that much more impressive was the fact that you were one of the youngest athletes in the field - a 2005 birth competing against mostly 2004s. Did you feel nervous competing against a group of girls older than you, or feel like you were at any disadvantage?
I didn't feel nervous about competing against girls that were older than me. I've always trained with older athletes, and my attitude has always been to never use my age as an excuse - just go do the best I can.
What were your competition goals headed into the Championships? Did you have your mind on a medal at all?
I was not expecting a medal, I just wanted to try for a personal best. I wanted to do the best I could and go for the experience.
Although you missed out on both the 2020 and 2021 Legion Championships - due to the pandemic causing their cancellation - you will still have one final opportunity to compete at these Championships again. Do you have any goals in thinking about your final Legion Championships next year?
My goal for Legions next year is to qualify and go as a heptathlete.
You train and compete as a member of the Lower Sackville-based Chebucto Athletics under Coach Doug Mitchell. In a non-pandemic year, what does a typical week of training look like during the outdoor season?
A typical week of training during the outdoor season is three days per week on the track, with two hours each day. Occasionally there will be an extra jump or sprint session depending on whether or not we have a meet coming up and something we want to work on.
What does your warm-up look like? Does it differ between when you're warming-up to train vs. compete, or does it remain the same?
Training warm-ups differ depending on the session. Competition warm-ups are less running to save your legs, more stretching, and less straining distance exercises.
What are some of your favourite workouts, or favourite activities to do within workouts?
Some of my favourite workouts include back squats, spring boards for long jump, and I love all my gym sessions.
How much of your high jump training is spent going over the bar vs. doing other things?
Very little time is spent going over an actual bar. We use bungee cords instead of the bar to practice things we would do over the bar. We also work a lot on our runways, because your runway is a huge part of the jump.
Besides high jump, you have achieved promising performances in a number of other events, including the 200m (27.26), 400m (1:00.13), 60mh (9.77), and long jump (5.27m). Have you thought about contesting the multi-event?
Yes, that's something I've always been interested in. I haven't had the opportunity to compete as a heptathlete yet, but I've been training for it and plan to as soon as I can.
Due to some of the lingering effects of the pandemic, this year's outdoor season had a rather compact schedule and was less-competitive than usual. In terms of training and competition, what did you do this summer and what are some of the things that you accomplished?
Training has been pretty much back to normal and I've had the opportunity to compete in five track meets. Unfortunately with my soccer and work schedule, I didn't get to work on my high jump as much as I would've liked to and it has shown in competition. However, I got to work on other events like long jump and the 400m, where I've PB'd in both this season.
Do you plan on running any cross country this fall?
Yes, I plan on running cross country this year. I enjoy running and the team atmosphere.
Though still several months away, what are some of your goals in looking towards the indoor season?
I would like to get back into high jump shape. Because of COVID-19 rules, it's been hard to train with mats, so hopefully those are lifted and I can jump on a more regular basis. I also want to put some more work into the heptathlon and hopefully get to compete in one.
Aside from jumping, what are some of your other hobbies?
Between sports, school, and work, I don't have a lot of time left for hobbies. I do like downhill skiing, hanging out with friends and family, reading, and watching movies in my spare time.
---
Hosted by New Brunswick-born track runner, administrator, and coach Brandon Scott LeBlanc, AtlanticU23 is an interview series with upcoming Atlantic Canada track and field athletes under the age of 23.
Facebook: @AtlanticU23
Twitter: @AtlanticU23
User

Comments
Currently, there are no comments.