AtlanticU23 #091 - Laura Dickinson (New Brunswick)
Posted 1 year ago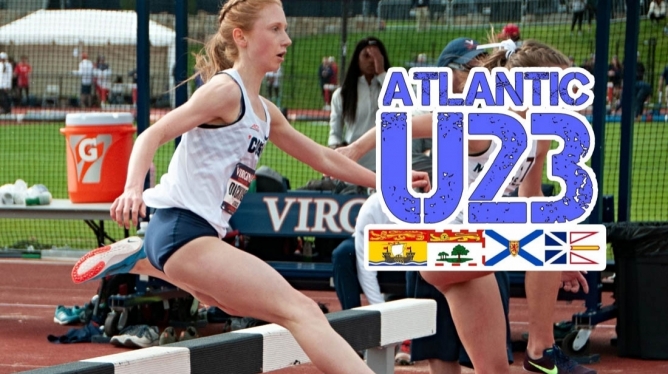 AtlanticU23 #091 - Laura Dickinson (New Brunswick)
Hometown: Miramichi, NB
Birth Year: 1999 (Senior age class)
Club: Athlétisme Sud-Est / South-East Athletics
Coach: Brien Bell
Personal Bests (as of December 1st, 2021): 3000m: 9:26.57, 5000m: 16:08.66, 10000m: 33:31.24, 3000m Steeplechase: 10:10.19
5 quick questions with Laura:
Favourite animal? Monkey
Track or cross country? Cross Country
How do you take your coffee? Black or with almond milk
Would you rather live in a big city or a small town? Small town
If you could fly anywhere in the world right now, where would it be? Thailand
How did you first get involved in track and field?
I was always involved in multiple sports, and was encouraged by my basketball coach to start training for track and cross country. I started by competing in the annual Hershey track and field meets when I was 9, but started training and competing more seriously when I was 12.
Throughout early high school, you also played basketball and volleyball. Looking back, what role did these other sports play in your development as an athlete?
I think being involved in multiple sports is important for development and longevity as a runner. Physically, other sports can help prevent injuries by improving coordination, stability, muscle development, etc. Mentally, I had so much fun playing the other sports and I'm sure they helped with preventing burnout from a single sport.
Tell us about your years living in Miramichi and training with Moncton-based Athlétisme Sud-Est / South-East Athletics (ASEA). Did the hour-and-a-half commute (each way) ever pose a barrier to your training?
I started training with ASEA in 8th grade and would commute once per week to Moncton with Sydney MacDonald, who also trained with the group. Coach Peter Stuart. from ASEA, would send me a training schedule for the other days of the week to do on my own. Training mostly alone wasn't ideal, but I always really enjoyed working out with the group whenever I could travel to Moncton. My dad also did a lot of running with me at home which kept things fun…love you dad.
After graduating from Miramichi Valley High School in 2017, you initially went to the University of Guelph, but soon left and enrolled at Syracuse the following year. What contributed to your decision to attend Guelph, and what influenced you in switching to Syracuse?
I chose Guelph because they had a national championship-winning cross country team, a well-established post-collegiate program, and I had family in the area. Multiple factors went into the decision to leave, but mainly I felt like I wasn't ready to make the transition to university yet and move so far away from home. After taking the semester off, I felt more prepared and recognized that Guelph wasn't the right fit for me at the time. Despite some of the challenges that the Guelph team has faced in recent years, it's been great to watch them continue to crush it each season.
Beyond switching schools, you also switched leagues. What are some of the opportunities you've had in the NCAA Division I that you would not have had in U Sports?
I think that both the NCAA and U Sports provide great opportunities to reach your potential as an athlete. There are extremely talented coaches and athletes on both sides of the border. Through the NCAA, I've had the opportunity to travel across the US to compete in many elite-level races, and participate in a collegiate outdoor track season in my primary events of 5,000m, 10,000m, and steeplechase (all outdoor events).
In contrast, is there anything you feel you've missed out on by not competing in U Sports?
I like that in U Sports women run 8km for cross country. I think that running an 8km plays more to my strengths than a 6km, so I would have liked to see how I could have performed in the longer race.
In recent years, Syracuse has emerged as a strong contender in endurance events, consistently qualifying athletes to the NCAA Division I Outdoor Track and Field Championships. What does a typical week of training look like for the Orange in the midst of the outdoor season?
Our training is pretty similar across all three seasons (XC, indoor, and outdoor), consisting of two workouts, a long run, 3 regular mileage days, along with core/strength work. One of our classic workouts is a fartlek or hard long run up a very hilly road called Sweet Road.
What does your weekly mileage typically look like during the cross country season? How about during the outdoor track season?
Along with the training schedule, my mileage is typically consistent across the seasons. My freshman year I was running about 55-65 miles per week and sophomore year I built up to 65-75 miles per week. After dealing with some injuries last year, my coach and I have been building my mileage back up conservatively.
While in-season and travelling from state-to-state for competitions, how do you manage to stay focused on academics and get all of your work done?
I find that having the balance of school and athletics helps me to stay focused. I think the work ethic associated with distance running can be translated to academics and vice versa. Trying to get ahead on school work and communicating with professors before travelling is helpful.
In 2017, you got a taste of the longer road distances when you completed the half marathon at Moncton's Legs For Literacy. What inspired you to enter into this event, and how did you enjoy the distance?
That race was in the fall after graduating high school, and I was looking for races to enter as I wasn't running cross country. I've always loved running road races in New Brunswick and wanted to challenge myself with the longer distance. I really enjoyed it and can see myself returning to road 10km and half marathons after university.
You have yet to race the steeplechase since taking a break from it in 2019 to focus on the 5000m and 10000m distances. Do you have any solid plans for a return to the steeplechase in the near future?
Yes, I plan on running the steeplechase this outdoor season.
You had an incredibly successful age class career that included national records and international medals. What do you attribute to your success during these years?
I would attribute this success to the consistency of my training. Throughout high school and my first two years of university, I was continuing to build upon the mileage and intensity of my previous seasons, resulting in gradual improvement each year.
How has your progression into the senior category been going, and what are some of the challenges that you've faced along the way?
My progression into the senior category has not been as smooth. I had some injuries over the last year and a half which prevented me from training and competing. Not being able to run was really challenging, but also being patient in the process of recovery and returning to training. I think I needed to recognize that to reach my potential in running I needed to prioritize my health first.
In recent years, it has become more-and-more clear that eating disorders are severely impacting the lives of athletes in our sport. While eating disorders can affect anyone in any event group at any time, there seems to be a higher trend among young females in the endurance events. What do you believe organizations (clubs, universities, governing bodies, etc.) can do to better support athletes experiencing disordered eating?
Unfortunately this is an issue in our sport, but I think the growing awareness and education regarding disordered eating and Relative Energy Deficiency in Sport (RED-S) has had a positive impact. Females can be at a higher risk, particularly during developmental years, and having resources available to educate athletes and coaches is necessary. I think that having open conversations with athletes about the importance of adequate nutrition, and having access to sports dietitians and counselors can be extremely helpful.
What resources have been helpful to you?
Working with a registered dietitian, along with learning more about RED-S through various platforms, and hearing stories from other athletes and how they were impacted by it has helped. Here are a few of those:
Instagram Account: @redefining_health_
Canadian Running Magazine Article: Bowerman runner opens up about dealing with RED-S
YouTube Video: What are the problems associated with relative energy deficiency? Trent Stellingwerff
Is there any advice that you would like to provide to anyone who may be experiencing something similar?
The main advice I would give is that long-term success in running requires adequate nutrition and energy. Under-eating is not only putting your health at risk but also your potential as an athlete. Ultimately, time spent away from training is what sets you back, and consistent training is achieved through eating enough to fuel that training. Be patient and trust in your body as you develop into your strongest and fastest self.
What are your plans for the upcoming indoor and outdoor varsity seasons?
I plan to continue to train and build up my mileage and intensity over the next month in preparation for the indoor season. I will run the 3,000m and 5,000m indoor and steeplechase, 5,000m, and 10,000m outdoor. Outside of that, I don't have any specific plans, just continuing to trust the process as I build back fitness.
Athletic and otherwise, any thoughts on what's to come after graduating from Syracuse next year?
I plan on continuing to train after I graduate from Syracuse, and would like to focus on some longer road events. I will be applying to medical schools this summer.
You've represented Canada at numerous international events, in both track and cross country. Between each of the teams, what has been your most memorable experience to date?
It's tough to pick one, but I think I would say my most memorable experience was at the 2019 World University Games in Italy. It was my favorite race because it was the highest level that I've competed at, combined with the most confidence that I've felt in my fitness and racing ability. Outside of the race, the friends that I met and exploring around Italy with them was an experience of a lifetime.
Aside from running, what are some of your other hobbies?
I like board games, cards, music, hiking, and snowboarding.
---
Hosted by New Brunswick-born track runner, administrator, and coach Brandon Scott LeBlanc, AtlanticU23 is an interview series with upcoming Atlantic Canada track and field athletes under the age of 23.
Facebook: @AtlanticU23
Twitter: @AtlanticU23
User

Comments
Currently, there are no comments.