AtlanticU23 #092 - Abby Lewis (Nova Scotia)
Posted 11 months ago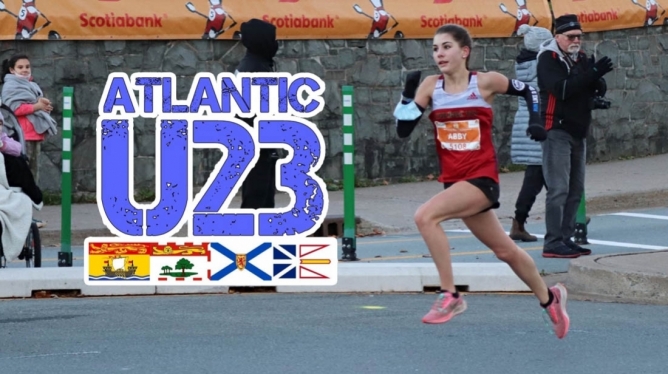 AtlanticU23 #092 - Abby Lewis (Nova Scotia)
Hometown: Beaver Bank, NS
Birth Year: 2006 (U18 age class)
Club: Chebucto Athletics
Coach: Deon Flynn
Personal Bests (as of February 14th, 2022): 800m: 2:13.72, 1500m: 4:30.60, Mile: 4:58.34, 2000m: 6:10.88, 3000m: 9:48.83
5 quick questions with Abby:
Favourite colour? Pink
Pool side or beach? The beach, for sure
What mythical creature would you most like to keep as a pet? Not a mythical creature, but I would LOVE to have a pet giraffe!
Would you rather visit the bottom of the Mariana Trench or the peak of Mount Everest? The peak of Mount Everest
If you could compete at any high-performance track meet around the world, which would it be? The Olympics! It's the biggest stage in the world!
How did you first get involved in track and field?
My previous coach, Alex MacEachern, got me involved in track. We heard him speak at a Youth Running Series banquet and my parents thought he would be the perfect fit to help me take the next steps in training and competing. Coach Alex introduced me to my current track team, Chebucto Athletics, and he guided to me to bigger competitions like Legions.
Between running, biking, swimming, and all three put together (triathlon), you've had a very active childhood. What do you credit for your interest in such a wide range of physical activities at a young age?
My dad has always been a runner and a triathlete. He inspired me to get involved in sport from a very young age. I did my first fun run, the Santa Shuffle, when I was just 15 months old. I started racing in the Youth Running Series when I was 5 and I joined my first running club, the Kingfishers, shortly after. I did my first Kids of Steel triathlon when I was 4 and I've been competing ever since!
You first made national headlines in the fall of 2017 when the Department of Education and Early Childhood Development stepped-in to allow you to compete in the NSSAF cross country season as an 11-year old, after initially being denied. What did it mean to you that you would be allowed to race?
My friends from my running team and friends from others schools that were the same age and in the same grade as me were able to compete, but I wasn't allowed to race because of the school that I went to. As an 11 year old, that was so upsetting for me and I didn't really understand. Although I was young, I remember that it was a hard battle and it took a lot of work to make it happen. It meant a lot to me that I would be able to compete and I really appreciated the support that I received from so many people.
As an underage athlete, you competed for Team Nova Scotia/Nunavut in the U16 category at the 2019 Canadian Legion Track & Field Championships, placing an impressive 8th in the 2000m and 18th in the 1200m. Tell us about your first provincial team experience. How did it feel to compete and do so well against a group of girls up to two years older than you?
My experience at Legions was beyond anything I could have ever imagined, and I still consider it to be one of the best weeks of my life. That being said, I was definitely disappointed in my performance. Legions was by far the biggest race I had ever been a part of, but as a 12 year old I was inexperienced and I didn't know what to expect racing against the older girls. I was eager to see what I could do but I got caught up in the race. I went out too hard and I couldn't hang on. Despite my performance, it was an invaluable learning experience and an opportunity that I am forever grateful for.
As a result of the COVID-19 pandemic, both the 2020 and 2021 Legion Championships were cancelled, effectively eliminating both of your years to compete in the U16 category. How did the cancellation of these Championships impact your training and competition goals over the past two years?
The pandemic affected so many athletes in different ways, no matter the sport. For me, Legions being cancelled two years in a row was heartbreaking. There were definitely tears shed. I was really looking forward to competing at the top of my age group. Training through the pandemic without competitions like Legions to focus on was tough, but my coach and I still kept a structured program and focused training. I learned to be adaptable and keep a positive mindset, even when it seemed that there were no races to look forward to.
You remain eligible for the 2022 and 2023 editions of the Legion Championships, where you would compete in the U18 category. What are your hopes for your remaining years in the Legion program?
Of course the goal is to have fun at Legions and race the best that I can, but if I'm being honest, I won't be happy until I'm on the podium!
At the Scotia bank Blue Nose Marathon back in November, you topped the women's podium in the 5km, running a time of 16:00 to dip under the Canadian U18 record of 16:31 (pending ratification). Tell us about this race. What went right that day?
Unfortunately, the Bluenose course was not certified, so there will be no national record. Nevertheless, I am still very happy with my race. I was in great shape going into it and I had been doing some really good training and racing, having just finished the school cross country season. I think the Bluenose couldn't have come at a better time for me. To be honest, I had no goal going into that race, not even a time in mind. I hadn't run a 5km race in years so I just wanted to have fun with it.
You faced disappointment at last year's Canadian Cross Country Championships, where you placed 21st in the U18 girls' 4km race. What perhaps did not go so well at this race?
It's difficult for me to put into words what happened at the Canadian Cross Country Championships this year, but at the end of the day, my experience at Nationals was very similar to what happened at Legions in 2019. After not being able to race at a national competition in so long, I was eager to show off the training and hard work I had put in over the last 2 years. I went out at a pace that was impossible for me to maintain and I ultimately paid for it. That being said, the Canadian Cross Country Championships are in the same place next year and I know exactly what I need to do. I am confident that I will be ready to redeem myself next year in Ottawa.
How did the course at ACXC 2021 (in Ottawa) compare to the course at the 2019 edition (in Abbotsford), where you had placed 4th in the same event?
I try not to pay too much attention to the course…everyone on the start line is racing on the same terrain. Although the course in Ottawa was definitely different than Abbotsford, and much colder, I don't feel that it affected my result this year.
Although a member of Chebucto Athletics, you are coached by Deon Flynn of the Calgary Spartans Track and Field Club. How did Deon come to be your coach, and what does the coach-athlete relationship look like with being on opposite ends of the country?
Coach Deon is a family friend as well as a high level track coach. He has an Advanced Coaching Diploma from the Canadian Sport Institute and is an NCCP Performance Coach (old Level 3). I previously met him at Legions and the Canadian Cross Country Championships in Abbotsford. When we were at the height of Covid, Coach Alex was moving away to be with his family and I was in need of a coach. Coach Deon stepped up and our relationship has grown from there. Although I wish he were closer, we talk almost daily and check in after every workout. Looking back, I feel that he came into my life at the perfect time and my training has never been better.
With all of your programming overseen by Coach Flynn, what does your involvement with Chebucto Athletics look like?
I am still very involved with Chebucto Athletics. Although my programming comes from Coach Deon, a lot of my training is done at Chebucto practices. I think it's important to feel like part of a team…some of my closest friends are on Chebucto. Coach Jonathan and Coach Ian help with my technique, encourage me at practice, and guide me towards events and track meets that are good opportunities for me.
You've posted impressive marks across a wide-range of distances, including a 2:13 800m, 4:30 1500m, and a 16:00 5km. Which distance do you consider to be your strongest, and which your favourite?
It's so hard to decide, I love them all! My strongest event would probably be the 1500m, or maybe the 5km.
You've accomplished great success in all corners of the sport: indoor track, outdoor track, cross country, and road running. Which surface is your favourite to race on?
Cross country season is probably my favourite. It's fun to mix up the terrain and run on different courses!
You've also established yourself as a successful triathlete, most notably winning the U15 Quebec Cup event at the 2021 TriMemphré Magog. What future plans do you have for triathlon?
Triathlon is a huge part of my life and I have so many goals for the sport. I will be heading to Sarasota, FL in March with my triathlon coach, Shannon Read, in hopes of qualifying for World Triathlon Junior Championships in June. I also hope to compete at the Canada Games this summer.
While still several years away from graduating high school, what are your thoughts on what you would like to do post-high school, in terms of athletics, academics, and career choices?
I would love to compete at the university level, either in triathlon or track/cross country, while also focusing on my education. My dream would be to pursue a professional career in sport. As for academics, I am leaning towards something in medicine or law.
What are your goals for 2022?
I hope to gain valuable race experience in 2022. I am most focused on the Triathlon World Junior Championships, Legions, Canada Games, and Cross Country Nationals. My goal is to perform to the best of my ability, while running smart and tactical races.
Aside from running, what are some of your other hobbies?
When I'm not training or doing schoolwork, I am usually working on my small business. I customize and sell phone cases. Check out my Instagram: @shopsunnycreations ;)

---

Hosted by New Brunswick-born track runner, administrator, and coach Brandon Scott LeBlanc, AtlanticU23 is an interview series with upcoming Atlantic Canada track and field athletes under the age of 23.
Facebook: @AtlanticU23
Twitter: @AtlanticU23
User

Comments
Currently, there are no comments.