AtlanticU23 #093 - Mitchell Kean (New Brunswick)
Posted 10 months ago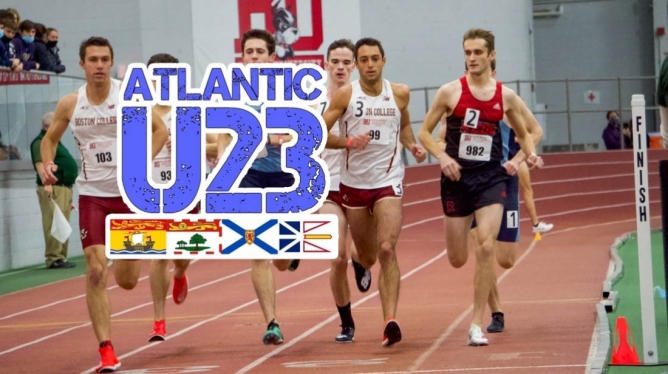 Photo Courtesy: Boston College Athletics
AtlanticU23 #093 - Mitchell Kean (New Brunswick)
Hometown: Fredericton, NB
Birth Year: 2001 (Senior age class)
Club: Saint John Reds Track and Field Club
Coach: Chris Belof
Personal Bests (as of February 28th, 2021): 600m: 1:25.04, 800m: 1:55.65, 1000m: 2:26.99, 1500m: 4:03.73
5 quick questions with Mitchell:
Favourite brand of chips? Pringles
South Side or North Side Fredericton? North Side for sure
Which teammate do you have a friendly rivalry with? Mitch Spragg, on the golf course
Would you rather watch a marathon of horror films or Hallmark Christmas movies? Hallmark Christmas movies, I can't do horror movies
If you could direct a box office film, what would the plot be? Probably some type of survival film
How did you first get involved in track and field?
I was first introduced to it in elementary school. We had a Track and Field Day where we got to compete against our classmates in a bunch of different events, and I really enjoyed it. We all signed-up for cross country the next year to compete against other schools in the city. I ended up having some success in it, so I continued to sign-up for it all throughout middle school as well. I knew one of the Fast Tracks coaches, Kathleen Kiely, and she told me that I needed to start training for running because other kids that were training would start to beat me. In my first high school cross country race, I found that out the hard way...I struggled just to cross the finish line. At that point I realized I needed to join a track club if I wanted to keep up, so I joined Fast Tracks that spring.
You had a particularly impressive high school career, which included one of each gold, silver, and bronze at the NBIAA Cross Country Championships, and 7 gold and 2 silver on the track (with additional in relays). What do you attribute to such success over four consecutive years?
I give all the credit to Fast Tracks coach Greg Allan. I went into Fast Tracks not knowing anything about what actual training looks like, and he showed it to me and developed me. I played hockey throughout high school, so each year I completely stopped running from late-October to early-April. That meant every track season I had to build back up all of my fitness. Greg was able to have me ready for high school track in June, get me to a position where I could be on Team New Brunswick at Legion Nationals each summer, and build me up for cross country in the fall. In terms of being able to stay healthy, I think part of it was that I didn't train in the winters and so I got a big break from running, but also my training plan was well set-up so I wouldn't overdo it.
Equally impressive is the range of distances that you captured gold in: 400m, 800m, 1500m, 3000m, and 4km (including the 400m, 800m, and 1500m in the same year). What do you attribute to your success in such a wide range of distances?
I think naturally I always did better in the longer distances, but from taking each winter off I couldn't ever really build up my mileage enough to focus on it. So middle distance seemed like my best option. I spent a lot of time working on my speed and doing shorter distances when I first got back to training, and then built-up my mileage as I got going. That helped me have a range of distances I was comfortable competing in.
After graduating from Leo Hayes High School in 2019, you immediately enrolled in the Bachelor of Business Administration program at the University of New Brunswick. Aside from sticking close to home, what contributed to your decision to attend UNB?
I knew I wanted to do track and field in university, and UNB was a program on the rise. When I was training with Fast Tracks our practices would sometimes overlap, so I could see how they operated a little bit. I didn't really have any training partners in high school so the first thing that blew me away was the size of their training groups. Their training groups were huge and looked like a great environment to be in. The next reason was their coaching staff. I had assistant coach Tim Randall as a teacher in high school and got to know head coach Chris Belof throughout the recruiting process. I felt like they both saw a lot of potential in me and knew I could be better than my times had shown. Coach Belof had a plan for my development and showed he really cared. I really liked the way he ran things and how hard he works. I knew under him the program would continue its upward trajectory. I couldn't pass up the opportunity to be a part of it.
The Omicron wave of COVID threw a rather unexpected hitch in Canada's indoor season. What has your training looked like since the indoor season started-up in November, and how has this most recent wave impacted it?
It's certainly been challenging since the start-up in November. Training was pretty normal in November, however since December we've had to isolate a couple of times, which meant missing out on team practices. We had to adjust to doing those workouts on our own outside or on the treadmill.
You recently tested positive for COVID, and were unable to compete in the Reds University Invitational last weekend. How have you been trying to maintain fitness while in isolation?
Getting COVID was tough, especially in the middle of the season and just before our first AUS competition in two years. The first week I really just focused on resting…you don't know what effects it can have on your heart, so I didn't do any physical activity for a week. After that I started with a short easy run and just increased the load each day. Throughout the week I just tried to get enough sleep, made sure I stayed hydrated, and did the little things I could control.
For the UNB Reds endurance program, what does a typical week of training look like during the cross country season?
Generally, we have our major sessions on Tuesday and Saturday, with a smaller hill session on Thursday. Easy runs on Wednesday and Friday, long run on Sunday, and off day on Monday.
During the indoor season, how much of the Reds' training takes place at the CFB Gagetown Fitness Centre in Oromocto compared to the new Irving Oil Field House in Saint John?
Unfortunately, due to COVID regulations we haven't been able to hold team practices at the Gagetown Fitness Centre in Oromocto for the past two seasons. All of our track work has been done in Saint John. In a normal season we would spend most of our time in Oromocto and go to Saint John sometimes on the weekends.
The Reds often travel to Boston University for competition once or twice throughout the indoor season. What does a trip to Boston look like, start to finish?
It depends if it's a two-day track event or one. But basically, we get on a bus in the morning the day before the meet and drive straight to Boston, with some stops for lunch and bathroom breaks. We're provided with some money to spend on meals so it's great. Once we get into Boston, we go to the track to do a warmup, run, and get some reps on the track. We then grab a bite to eat and go to bed at the hotel. The next day is the meet and once everyone's event is done, we hop on the bus and go back to Fredericton that night. It's a quick trip, but we get in good competition to run fast times, as well as bond as a team.
Next month, the Reds will host the U Sports Track and Field Championships, the first time that these Championships have been hosted in Atlantic Canada. Currently in good position to qualify, what about the Championships are you most excited for?
It's so great to finally have these championships in Atlantic Canada. The Irving Oil Field House in Saint John is a fantastic facility and it's great that athletes from all over Canada are going to get to see it. I'm most excited to see the best athletes from around the country go up against one another, you don't get to see that every day.
What are your goals for the 2022 Canada Games, and which event(s) do you intent to try out for?
I don't have specific goals yet because we're still a ways away from the competition. But the first goal is making the team. We have lots of competition now in New Brunswick so people will be fighting for spots. I intend on trying out for the 1500m and it being the main focus. 800m is also an option.
Aside from running, what are some of your other hobbies?
Playing golf, pond hockey, following/watching sports, and comedy television shows.
---

Hosted by New Brunswick-born track runner, administrator, and coach Brandon Scott LeBlanc, AtlanticU23 is an interview series with upcoming Atlantic Canada track and field athletes under the age of 23.
Facebook: @AtlanticU23
Twitter: @AtlanticU23
User

Comments
Currently, there are no comments.