AtlanticU23 #094 - Ivy Bialowas (New Brunswick)
Posted 9 months ago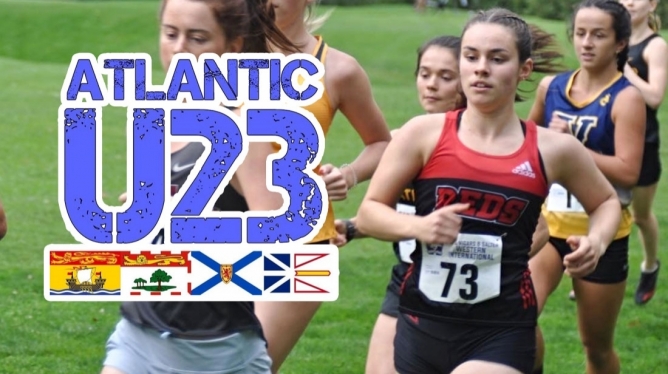 AtlanticU23 #094 - Ivy Bialowas (New Brunswick)
Hometown: Ottawa, ON
Birth Year: 2003 (U20 age class)
Club: Saint John Reds Track and Field Club
Coach: Chris Belof
Personal Bests (as of April 18th, 2021): 1500m: 4:47.24, 3000m: 10:14.75, 5000m: 17:25.74
5 quick questions with Ivy:
Favourite lunch spot? The Abbey Cafe in Downtown Fredericton
Warm-up music, yay or nay? Yay (but only if I am not warming-up with my teammates)
What is a movie you could watch over-and-over-and-over? Pitch Perfect
You're ordering a pizza - what toppings are you putting on it? Ham and pineapple!
If you could add a new track and field event, what would it be? Wheelbarrow relay
How did you first get involved in track and field?
I first got involved with track and field in elementary school when we had track and field day starting in grade four - we got to try all the events and I really enjoyed it. I wasn't very good at any of them but continued to participate each year. I would also do cross country in the fall, usually finishing in the 50s for our small regional cross country meets. I was always a very short kid but once I grew a bit by grade 6 I had become one of the top endurance runners in the city in my age group. I continued to race for my school in grades 7 and 8, and saw success without doing much running specific training. My parents would take me out for fun runs every once in a while, but I mostly relied on other sports to keep me in shape. I played ringette, was also doing dance a couple times a week, and played soccer. In grade 9, I started to really enjoy running regularly and saw some success with only a short period of training under my belt.
While a student at Glebe Collegiate Institute and training with the Ottawa Lions, what did your training and competition look like throughout the pandemic?
Training was a challenge during the pandemic. I personally really struggled with the lack of structure the pandemic left me with. Before the pandemic started my training was focused on both ringette and track, with more of a focus on ringette in the winters. Once the pandemic hit, I had no access to the facilities that I needed to train for ringette so I decided to shift my focus solely to running. This was a difficult transition as my body was not used to doing multiple workouts and runs a week without the supplemental cross training ringette had offered. I blindly jumped into full-time training for running and unfortunately faced a lot of injury issues. Training was challenging because it was completely on my own, but I had the motivation of hoping to run in university to keep me going. The pandemic gave me a chance to slowly adjust to training and get stronger, so when races finally returned almost a year later I was ready to go. In the fall of 2020, I had the opportunity to race two cross country races and do some time trials with my training group.
How did you first hear about the University of New Brunswick, and what ultimately led to you deciding on the school and joining the Reds last fall?
I first heard about UNB when Chris Belof, the head coach, contacted me and said he was interested in having me join the program. I really liked his coaching philosophy, his aspirations for the program, and his goals for me as an individual athlete. I joined calls with team members, had some virtual campus tours, and spoke with an academic advisor. Throughout the process, I couldn't help but see myself thriving in that environment so I made the decision to go. I really liked the idea that it would be a smaller team and I would be able to get an individual focus from coaching staff. I also felt like I would be able to make more of an impact as a teammate at UNB than at a larger Ontario school.
You finished-up your first varsity cross country season as the Reds' top female at the AUS Championships, and the women's team narrowly beat the UPEI Panthers to claim the bronze medal. What were your individual and team goals for the season, and how did you feel about the result?
I was very excited about our team results at the AUS championships. Our goal going in was to place third as a team, and we were able to pull it off (even if it was a little too close!). The women's program was at a developing stage in the fall, with our team being comprised of almost all first year athletes. That race sets us up for success in the coming years. Individually, I was hoping for a better finish. My season goal was to finish in the top 10, and I was just short, finishing in 12th place. I know that I still have lots of years left competing in the AUS, so I will look to improve on that in the coming seasons.
You recently made headlines when you were named to Team Canada for the Pan American Cross Country Cup, and again when you finished as the top Canadian in your race. Tell us about your experience - what were some of the most exciting aspects of the opportunity?
It was a surreal experience for sure. If someone were to have told me a year ago that I would be named to a national team, I would not have believed them. Being named to the team was very cool. I was refreshing my email all day on the selection date. The trip was different from any other competition I had attended before. It was a challenge to stay rested, hydrated, and fuelled, with long travel days a limited time before the competition. Traveling with a national team is certainly a fun experience, because you get to meet the other athletes, represent your country, and compete on an international scale. My favourite part was definitely the race itself and getting to wear the Team Canada singlet, but I did enjoy seeing a bit of Brazil and meeting some of the other international athletes.
Taking place in Serra, Brazil, Pan Ams were run in a very different climate than you have to train in here in New Brunswick. How did you prepare for the much warmer climate you would be racing in, and do you feel that your preparations were successful?
I did do some heat acclimatization prior to leaving for Brazil. I only had about three weeks notice before I left, but my coach and I did what we could to be as prepared as possible. I started doing more of my easy runs on the treadmill in the gym and then going directly into the sauna after. The gym was warm and in the same building as the sauna, so my body temperature and heart rate would be elevated before going in. I started out at 20 minutes and then slowly increased my way to 50 minutes in the steam room…it wasn't very fun. I usually have trouble dealing with the heat, so I'm glad I did it. It certainly mentally and physically prepared me for the conditions in Brazil, and I do feel like my preparation was successful. The race was hot, and I went out very conservatively as planned to make sure I didn't get too hot in the early stages.
The selection criteria for this year's Pan Ams was quite different from previous editions - rather than being solely based on placement at the Canadian Cross Country Championships, athletes were selected on a more subjective basis that considered both an athlete's placement at the Championships and national ranking in endurance events. What were your thoughts on the selection criteria?
I think that the selection criteria made sense based on the possible restrictions athletes may have had in attending the Canadian Cross Country Championships. Because of the pandemic, I feel that less athletes were willing to travel to that meet and I'm glad the selection criteria allowed them to still have a chance at being placed on the Pan Am team. In my case, I had run at the Championships, so that additional subjective basis wasn't really applied to me.
After being named to Team Canada, you turned your attention away from the varsity indoor season to focus on Pan Ams. What were some of the highlights of your indoor season, and is there anything you feel you missed out on in your first indoor season as a varsity athlete?
I did have to give up some indoor opportunities to focus my training on Pan Ams. Although that was tough, I know it was the right decision. My season highlight was running my first indoor 5000m in Boston at the Valentine Invitational. I was really happy with my performance and felt like I had a seamless training block going in. Another highlight was racing the 4x800m with my team at the AUS Championships in Moncton. Although I don't really focus on the 800m, it was really fun to run with my teammates and still get an opportunity to race an event at AUS. I did miss out on competing in my individual events - the 1500m and 3000m - at AUS because my coach didn't want me to race the weekend leading up to Pan Ams. It would have been fun to contend for an AUS medal in those events, but I know that sacrificing those races allowed me to race well in Brazil.
You were a member of the Ottawa Lions prior to coming to Fredericton and joining the Reds last fall. How would you compare and contrast your training environment in these two cities?
I would say the environments are quite different. Workouts with the Reds are more focused on working as a group and supporting your teammates, which I really like. The conditions and weather are pretty similar in both cities. My training and workout volume has drastically increased compared to what I did in high school. It took some time to get used to, but now I am starting to feel settled in the program and enjoy day-to-day training.
The Reds have seen exponential growth in the AUS over the last few years, and are starting to see modest growth at the U Sports level. Though you've only been with the program since the fall, what are some signs of growth that you've seen within the program thus far?
It has been really cool to see the growth of the program, even in my short time here. I have witnessed some outstanding performances from my teammates. I see them all working hard every day, and that is super inspiring. We took some big steps as a team this winter, sending our biggest ever group to U Sports and having our first U Sport gold medal. I'm excited to see where the team will be in a few years.
Between cross country, road running, and indoor and outdoor track, and various race distance throughout, endurance runners are known to take-on a wide variety of challenges. Which seasons and which events do you most enjoy, and which do you see yourself most competitive in?
I enjoy training and running most distances. I would have to say my favourite event to train for would be the 8km cross country distance. I enjoy the longer cross country workouts and higher mileage weeks. My favourite events to race would probably be the 3000m or 5000m on the track. I see myself being the most competitive in the longer track events, because I usually do better the flatter the course. I am interested to race more 5000s this summer and hopefully try a 10000m in the coming years.
What are your goals for the upcoming outdoor season?
My goal for the outdoor season is to focus mostly on the 5000m. I would like to break the 17 minute barrier and try for the U20 Worlds standard (16:40). I would also like to qualify for the Canada Summer Games and contend for a medal there.
Assuming you intend to tryout for Team New Brunswick for this year's Canada Summer Games, which event(s) do you intend to tryout for?
I am intending to tryout for the 5000m. I think that distance is most suited to my abilities.
Looking more long term, what are some things that you would like to accomplish throughout your varsity career?
In the long term, I would really like to have some team success in cross country. I think we have something special here, and I want to do my part in bringing the women's program forward. I want to enjoy the training process and take the seasons one at a time.
Aside from running, what are some of your other hobbies?
I really like to cook and bake! I spend a lot of time in the kitchen making meals to fuel up after my training sessions, but I also like to bake fun stuff for my friends' birthdays. I also enjoy playing games with my roommates (Catan!).
---
Hosted by New Brunswick-born track runner, administrator, and coach Brandon Scott LeBlanc, AtlanticU23 is an interview series with upcoming Atlantic Canada track and field athletes under the age of 23.
Facebook: @AtlanticU23
Twitter: @AtlanticU23
User

Comments
Currently, there are no comments.