AtlanticU23 Special Edition - Adam Stacey
Posted 11 months ago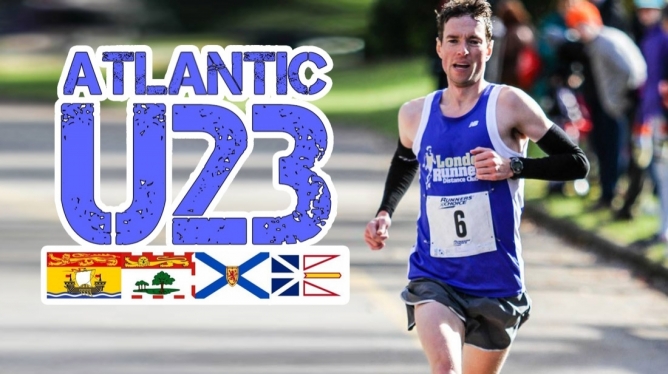 Hometown: Moncton, NB
Occupation: Web Developer
PBs (as of March 2, 2019): 1500m 3:59.11, 5km: 15:08, 10km: 31:41, Half Marathon: 1:08:01
5 quick questions with the Adam:

Favourite meal? Full English breakfast
Best thing about living in Britain? *See favourite meal*
What's the most frustrating thing about being a web developer? Maybe "frustrating" isn't the right word but having to constantly upgrade/fix things as technology/devices change.
Would you rather run the Boston Marathon or the Berlin Marathon? Berlin, mainly because I have never been to Germany and I think the course would suit me better.
If you could go back in time and choose any other career, which would you choose? I wouldn't want to change a thing! ;)
How did you first get involved in track and field?
I first got involved in school track with some friends in grade 4. A few years later I started training with a track club in Moncton.
As a U16/U18 athlete you were one of the top distance runners in the Atlantic provinces, competing for Team New Brunswick at the Canadian Legion Track & Field Championships for three consecutive years. What were the highlights of these early years in the sport?
When I found out that I made my first Legion team it was definitely a highlight. Back when I went to Legions it was a 2-day competition followed by a week-long camp. Getting to experience a week away from home with a bunch of other athletes was definitely a fun experience.
At the 2001 Canada Games in London, Ontario, you placed 12th in both the 3000m steeplechase and 10,000m. What was the experience like? Was there any connection between competing at the Games and your move to the city years later?
Canada Games is a great event. It's really well organized and you can tell a lot of time/money is put into it. Nothing specific stands out but getting to meet athletes from across Canada who compete in different sports was a plus.
There was no connection to the Canada Games and my move to London, Ontario. My partner (now fiancée) did her Master's degree at Western University so we moved there together. Before moving to London I had previously worked with the London Runner Distance Club (and Coach Steve Weiler) on building their website. So I was lucky to have talked to Steve beforehand, and having a great training group in London made the transition very easy.
In the early 2010's you took up racing the half marathon distance, pumping out quality performances at events across Canada and the United States. What got you interested in trying out this long distance?
I always had the "long distance" mentality as even when I started training at 12-13 years old I ran a fair amount of 5km/10km road races. Once I finished university I started running less track/cross-country events and more road races so I guess it was natural to eventually move up to the half marathon distance.
You made your full marathon debut at the Fredericton Marathon in 2017. Take us through the race. Compared to the half marathon distance, how difficult did you find the full marathon to be?
Hah…Yeah, that was a tough one. I had come back to New Brunswick that spring/summer (for non-running related reasons). I was in decent 5km/10km shape and I knew some fellow Moncton runners/friends (Jean-Marc Doiron & Paul Gallant) that were racing, so I thought…why not jump in and give a marathon a try. I ended up only making it to 26/27km before my legs started to cramp up. The way the course is laid out (basically 21.1km out-and-back twice) by the time I got to ~30km it was a looooooong way back. At that point the race was over for me and all I could do is walk/hobble back the final 12km. I was happy to eventually cross the finish line.
You've been living in Leeds, England for about two years now. Compared to Atlantic Canada, what has the sport culture been like there?
My fiancée did her PhD at the University of Leeds so we made the move out here a few years ago. Surprisingly, I haven't found the sport/living culture that much different from Canada (although they certainly like their football "soccer" here!). The club system is also quite good and there are a lot more 20+ aged athletes that stick to the sport after university. With the Country being so small (area-wise) it's easier for athletes to travel to the same races so some of the races have very competitive/deep fields compared to what I was use to when racing in Ontario/New Brunswick.
While living in the UK, you've run a number of road races in the North Yorkshire area. Tell us about some of your experiences.
It has been fun racing in the UK. As mentioned previously, it's common to get into races that are very deep/competitive. Also, it's not uncommon to get to line-up against some of the best runners in the UK such as Marc Scott, Andrew Butchart, the Brownlee brothers, Eilish McColgan, Laura Weightman, etc. Although, it can be a humbling experience to run against so many good runners in a single event.
What are your plans for running in the near future? Any plans to tackle the marathon distance again?
I have been mainly just racing some 5km and 10km road races. I do plan to run another marathon someday (likely in the next few years) but with the amount of work I do I sometimes find it hard to train for those longer races. One of my training partners is a good marathon runner so I've been able to get in some longer workouts with him.
What first sparked your interest in website design and development?
I studied Computer Science at the University of New Brunswick (UNB) and I've always liked computers/graphic design, so I guess web development just came naturally to me.
How did you and your brother first get the idea of Trackie Inc.? Did you ever think back then that it would become as large and successful as it has?
At the time I was interested in web development but had very little experience. So the main reason was just to learn more about website design/development. My brother and I both were runners at UNB so Trackie started out as a fun little project/hobby. Once Trackie.ca finally launched, I started getting inquiries to build other websites (Jeff May, Bruny Surin, and Achraf Tadili were some of my first clients).
For those interested you can view an article that was posted a few years ago on the "Evolution of Trackie" here: www.trackie.com/evolution-of-trackie/
As an athlete you competed at the Legion Championships each year from 1995 to 1997, while as Owner of Trackie you have provided the registration and live stream services to numerous editions of the event. How has the championships evolved since your first involvement?
It's interesting to see an event from both an athlete perspective and from a non-athlete perspective. The Legion Championships has changed quite a bit since I competed. As mentioned above it used to be a week-long camp, but also it was only open to two runners per province. Now it still has the provincial team aspect but it is also an open championship for all club runners. This certainly makes the fields larger and more competitive.
While Trackie.reg originated exclusively as a registration system for track and field, cross country, and road running events, it has evolved to become much more, offering registration services for club memberships, sport summits, karate, judo, boxing, wrestling, and more. How did Trackie.reg evolve to include all of these?
It was always the vision to provide registration services for sports outside of track & field, cross-country, and road running. It did take a bit longer than expected to start branching out into other sports but the way the registration system was built it works extremely well for other sporting organizations as well. Our registration services have grown immensely over the past few years and we look forward to continuing to expand and improve these services in the years to come.
In the early years of Trackie.ca, a number of games were created that proved to be quite popular, including Trackie Pro Am and Trackie 400. Any plans to produce a follow-up to these successful games?
Likely not. In my earlier days I had an interest in Flash development and it was fun to create some games. We always had prizes and whoever had the top score always got to be a character in the next Trackie game. Today, Flash on the web is basically dead and very infrequently used (doesn't even work on most mobile devices). I haven't developed anything in Flash for many years (the last game "Trackie 400" was developed about 8 years ago).
Can you offer us a sneak peek about what the future has in store for Trackie.ca?
We've been working (for over a year now!) on launching a new version of Trackie which will launch sometime in 2019. Basically we're merging all the different Trackie services (Trackie.ca, Trackie.reg, Trackie.me, and Trackie.org) into a single "Trackie" website. The focus of the new Trackie will be to simplify the structure of our services and put the primary focus on event registration and membership management. Stay tuned for more information on that!
Aside from running and overseeing Trackie Inc., what are some of your other hobbies?
Aside from running and working I really just enjoy hanging out with friends and chilling with my fiancée :)
 
---

Hosted by New Brunswick-born track runner, administrator, and coach Brandon Scott LeBlanc, AtlanticU23 is an interview series with upcoming Atlantic Canada track and field athletes under the age of 23.
Facebook: @AtlanticU23
Twitter: @AtlanticU23