AtlanticU23 Special Edition - Endurance Coaches
Posted 6 months ago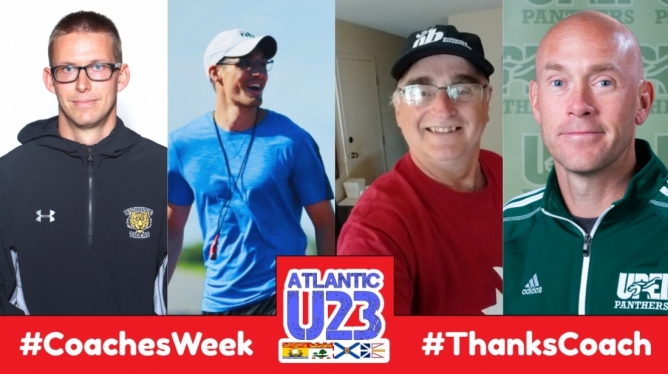 In celebration of National Coaches Week, we are pleased to release this special edition of AtlanticU23, featuring an endurance coach from each of the four Atlantic provinces. Let's meet the coaches!
Name: Peter Stuart
Hometown: Riverview, NB
Club: Athlétisme Sud-Est / South-East Athletics
Name: Mark Miller
Hometown: St. John's, NL
Club: Pearlgate Track and Field Club
Name: Rich Lehman
Hometown: Dartmouth, NS
Club: Halifast Athletics / Dalhousie University
Name: Mike Peterson
Hometown: Charlottetown, PEI
Club: Colonel Gray High School / University of Prince Edward Island
5 quick questions with the coaches:
Favourite track facility?
Peter: Moncton High School
Mark: Pearlgate - it's windy and old, but it's made me who I am and I value that
Rich: Beazley Field for training, UPEI for competition
Mike: UPEI Alumni Canada Games Place of course – also liked the vibe at the Nike Grand Prix at University of Toronto's Varsity Stadium
Pool side or beach?
Peter: Beach
Mark: Beach
Rich: Neither are super appealing to me, but probably beach
Mike: Love the beaches here but prefer the pool – no sand to clean up afterward
What is the best thing about your home province?
Peter: Most things are at an endurance runners pace
Mark: The people
Rich: Best people in the world
Mike: The people are the best thing about PEI
Would you rather coach a small group of elite athletes, or a large group of developing athletes?
Peter: Depends on the day. Today, small group of elite athletes
Mark: Whichever group enjoys the sport more – dedication usually stems from some form of joy in running and I love working with dedicated young people
Rich: Really doesn't matter to me as long as the athletes are self-motivated and fully bought in
Mike: Both – I'd like to turn a large group of developing athletes into a large group of elite athletes
If you had not become a coach, what would you do with all your extra time?
Peter: Travel
Mark: I can't picture my life without coaching, but I would probably spend a lot more time camping, hiking, and at the cabin
Rich: Probably nothing productive
Mike: I'd spend a lot more time running with my family
Prior to becoming a coach, what was your involvement in the sport of athletics?
Peter: I was a high school middle distance runner who saw too much of Peter Richardson's back.
Mark: In high school my family moved to Kansas City, Missouri for my father's job, so I joined the cross country and track and field teams to have a new focus. I fell in love with running, and dedicate much of who I am today to the growth I experienced through the sport. I didn't manage much of a career after high school outside of the scattered open event, as I struggled balancing engineering in university and athletics, but I always intended on returning to the sport as a coach.
Rich: Like most coaches, I was an athlete first. I've been involved in some capacity since I was in about grade 6, but didn't start training seriously until high school. I ran for five years at the University of Victoria as a 600m/1000m/cross country runner guy from 2003-07.
Mike: I came to athletics late. Previously, I had coached basketball at the club, high school, college, university, and provincial level, but when I stopped playing myself and started running to fill the void, I became hooked.
How did you first get involved in coaching?
Peter: During my first week of teaching in Woodstock, NB in September of 1979, I inherited a small junior high school cross country team.
Mark: I always looked up to my father's stories of coaching wrestling in Labrador in the 80's and wanted to be able to have the same experience for myself. I began coaching high school basketball when I moved home to Newfoundland but quickly discovered that the sport of athletics had a shortage of both coaches and athletes. I called the local club (Pearlgate Track and Field Club) and started with a small cross country team of high school athletes – before I knew it I had 25 athletes and I needed to quickly learn a lot to keep up. I am still trying to learn as much as I can and love coaching more than I imagined I would.
Rich: I had a unique experience as an athlete by being exposed to a number of great coaches with VERY different styles. I got to work with Robert Englehutt at the club level in Dartmouth, and Brent Fougner and Sean Baynton at the varsity level in Victoria. I found it super interesting that all three of those guys were able to see tremendous success in this sport with very little in common as far as programming and delivery were concerned. What they all had though, was a passion for the sport that matched or exceeded my own. I don't think anyone who knows me ever really mistook me for someone that was likely to succeed in academia, and I was never going to be a professional athlete, so I saw coaching as a way to make a career out of the sport I loved. Robert gave me an opportunity to start working with a group of athletes in my hometown in October of 2009 and I've been at it ever since. In that time I've had so many tremendous opportunities present themselves and I try to spend a little bit of time every day reflecting on how lucky I've been to find myself in this position.
Mike: As mentioned, I started out coaching mostly basketball, but as I got involved with running, I became a running junkie and started reading and researching everything I could get my hands on. At the time, I was teaching at Halifax Grammar, and I was fortunate enough to have the opportunity to work with and learn a ton from Peter Beazley, who has built very strong cross country and track and field programs there. He's extremely knowledgeable, organized and motivational.
Tell us about your training group (number of athletes, age categories, LTAD stages, number of practices per week, etc.).
Peter: Currently the group has about 45 athletes and I am assisted by four great assistants. The athletes are ages 13-22. A few are in the Train to Train stage of LTAD, some are in the Train to Compete stage, and a couple are in the Learn to Win stage. Most athletes have 4 practices each week, while most of the younger athletes also play others sports and practice 2-3 times each week. The older athletes will train 5-6 days each week.
Mark: My group is mostly comprised of junior high and high school athletes, however, I am fortunate enough to coach a few senior athletes as well. I coach approximately 25 athletes and we meet at least 3 times per week, with some additional prescribed running outside of practice. Most of my athletes come in with some experience in the sport or experience in another sport, so LTAD is usually in the Train to Train stage, and my top athletes are bordering on the Train to Compete stage.
Rich: The group I work with right now is almost entirely varsity athletes at Dalhousie University. Up until the end of August I was also working with a couple of high school athletes, but have elected to take a bit of a step back from that age group for the time being. The group is about 30 people in total, all of whom are U20 or over. The number of sessions per week obviously varies on the season we're in – as we're in the middle of cross country right now, the whole group has two quality sessions per week plus one technical session that's mostly just a series of drills and strides. From there the number of sessions depends on the individual. A few of them are running twice a day, except for Sundays which is our long run day. Most are somewhere between 7 and 9 sessions per week.
Mike: This time of year, I'm essentially working with three teams – we're all over the map. I took over the University of Prince Edward Island cross country team in late August, so I'm working with about 20 athletes at that level. At the same time, I'm still coaching the Colonel Gray High School team, which is usually 50-60 strong by the time Provincials roll around. Finally, we usually have some grade nine athletes from the Colonel Gray feeder schools workout with our group, as we usually bring a number of them to run in the freshman division at the Maine Festival of Champions. In PEI, the athlete pool isn't as big as in some larger centres, and we often have to accommodate other sports. So there aren't too many weeks where we go 6 or 7 days, just to make sure everyone gets in as much as they safely can.
In 2016, Moncton hosted the Eastern Canadian Espoir Championships, featuring provincial teams comprised of athletes eligible for the following year's Canada Games. The event was a revival of an inter-provincial championships hosted in non-Canada Games years, last held in Ottawa in 2008. Despite good participation and quality competition, the event has not been held since. What are your thoughts on the 2016 return of Espoirs, and the future of these championships?
Peter: Eastern Espoir competitions are great for the up-and-coming Atlantic Canada Games athletes. Since athletes in Quebec & Ontario have easier access to meets of this level, these provinces are not as keen on such meets. It would be great to see a return of the Championships, but this will only happen if the larger provinces send teams, and if the host province can break-even financially.
Mark: From my perspective, I think the 2016 event was a positive experience. It was an opportunity to size up our athletes' progress against their national counterparts and participate in a larger stage than is accessible within our own province. I am a fan of having meets of this scale as long as the quality is reliable and consistent. I would be happy to send athletes back if this was organized again. Our province currently doesn't have the infrastructure to host such events, so we are reliant on other sporting bodies' interest in the event.
Rich: As an endurance coach I tend to be of the mindset that our Espoir Championships (and Canada Games) are a little later in the season than I'd like to see them. I get that we want to wait until after the national championships, and that August has probably the best track and field weather for the other event groups, but I prefer to use August as a transition month as we head into cross country season. On the other hand, I do appreciate the competitive opportunity that this meet can provide. I'd just like to see it a little bit earlier in the summer!
Mike: I hope that an event of this type continues in some capacity. We don't have the resources that larger provinces have, and it can be difficult for our athletes to get away to face quality competition. The more opportunities our athletes have to compete against quality competition without having to travel too far, the better…for the most part.
The appropriate weekly mileage of distance runners is often a point of contention among coaches, with various methods of understanding the amount that an athlete should be running. How do you determine appropriate mileage for your endurance athletes?
Peter: Weekly mileage should be gauged on the age, experience, and ability of the athlete, as well as being dependent on the time of the season. Some younger athletes (chronological or developmental) are doing too much mileage too soon. As these athletes gain experience each season and year, they can build on the previous – as the athlete develops, they can gradually do more mileage. Doing too much too soon could result in a variety of problems.
Mark: Appropriate mileage is always going to be unique to the individual, some need to run a lot and some need to rest a lot, and most are somewhere in the middle. I tend to err on the side of relatively less mileage for most athletes in an attempt to get more value out of our speed work. I am not one to prescribe work based on any specific blanket metric so I don't like to get caught up in exact miles per week, but rather the athletes' reaction to current training load. In most cases if the athlete can handle it, I will slowly increase either volume or density of training and re-analyze iteratively. If they respond positively to the increase – which could mean they are improving in races, or it could be as simple as they enjoy that level of training more – myself and the athlete can decide if we are at an appropriate amount of training. I am a fan of giving athletes autonomy on how much and how far they run, as I think ownership of your training allows for a more engaged athlete.
Rich: I'd be lying if I told you that I, or any coach, can always tell right away what type of volume an athlete should be doing. Athletes need to be able to listen to their body and then communicate with their coach about what it's telling them. I think that too many athletes are looking to be told exactly how much to run and how fast to do it before the coach actually knows anything about the athlete! I've found that in our program we've had the most success with athletes who are able to advocate for themselves and take ownership of at least part of their own programs. That said, it's no secret that you have to run a fair amount to be successful in this sport. Funnily enough, it was a comment made by a throws coach (Jonathan Doucette) that resonates most with me when it comes to training volumes: try to find the lowest effective dose, but be aware of the fact that that dose is still going to be extremely high.
Mike: I think this is entirely case-by-case. Even with our USPORTS athletes, some runners can handle more mileage than others. I think it's crucial that coaches ramp things up gently and keep a watchful eye on the health of their runners at all times.
During the cross country season, how often do your athletes train on grass, trails, and hills vs. synthetic track?
Peter: During the cross country season most of our runners train on alternate surfaces 75% of the time.
Mark: We might go on the track once every couple of weeks. In the St. John's area we are very fortunate to have a large array of different trail systems. There are beautiful parks and ponds, and I love letting the athletes get out in a different environment and have a break from the monotony of the oval.
Rich: I'm a big believer in specificity, so we train almost exclusively on grass and trails during the cross country season. I'm not a big believer in hill work during the cross country season: it just doesn't allow for us to manipulate work-to-rest ratios the way I like to. I like to incorporate hills within sessions instead of just going up and down.
Mike: We rarely get to the track during the cross season. We generally only get there if we're really looking to snap some speed into the legs. We try to take advantage of the local terrain if we can. We have a number of loops we use around Charlottetown and the surrounding area that involve all types of terrain. Occasionally, we'll take advantage of the trail systems at Bonshaw Park or Brookvale Park. I find running on some of the technical single-track can be really good for gait, and it's way more fun than doing hurdle drills.
In recent years and at all levels of the sport, cross country has been consumed with conflicting opinions about appropriate race distances for men and women. What are your thoughts on the situation? Using USPORTS as an example, what do you believe to be the appropriate race distances?
Peter: I believe that in both high school and USPORTS the girls & guys should run the same distance. 17 year old high school runners might be best served by racing over 5km – if this is the case than the USPORTS distances should progress to 8km for everyone.
Mark: It doesn't matter if we are training for 6km, 8km, or 10km – good coaches and good athletes will adapt the best they know how. There's no distance out there that isn't gender appropriate, so I would advocate for having men and women run the same distance, whatever distance that is. Misogyny is still alive and well in sports and challenging the differential treatment of genders is important.
Rich: I'm not particularly passionate about the race distances themselves. I think that every athlete in USPORTS is more than capable of handling 8km or 10km. I do however think it's ridiculous that the race distances aren't the same for the men's and women's races. Distances are equal on the track and on the roads, so I'm not sure what it is about grass that makes a difference. I'm quite confident we're going to be there eventually, but I think that years down the road we're going to look back on this era and wonder what took us so long!
Mike: I asked my daughter to answer this one, and she said "cross country is about grit and endurance." We'll leave it at that, except I'll add that I've never seen a half-marathon, marathon, or ultra-distance that was shortened for one gender.
While the use of treadmills is enjoyed by some athletes, and less so by others, treadmills offer a viable option for training when other facilities may not be available. How and when do you incorporate treadmills into your athletes' training?
Peter: We use treadmills when the weather prevents an athlete from getting outside. Even in the Maritimes athletes can complete their run outside for most of the winter. Extreme cold or lack of visibility are the main determining factors.
Mark: I find it to be valuable for threshold type runs or longer repeats where it's nice to be able to stay on a certain pace and not get thrown off by the elements, which we certainly get our fair share of. But if an athlete would prefer to slug it out in the snow and the sleet, I say "fill your boots." We have a fantastic fieldhouse that is great for indoor running so most athletes opt for that if they can't run outdoors.
Rich: We will only use treadmills if we have no other option. Our winters are on the milder side in Halifax (compared to the rest of Canada), so it's pretty rare of us to have a storm that forces us on treadmills for more than a day or two.
Mike: Only when necessary – I would much rather see athletes bundle up and get outdoors. Unfortunately though, we need to resort to treadmills from time-to-time because we don't have a legitimate indoor track. We can still usually get outside for long runs, fartleks, tempos, thresholds, and easy run – and just go by effort instead of pace – but it's tough to get in any real speed work on those slippery, icy, snowy days.
Factoring in the indoor and outdoor track seasons, cross country, and road racing, endurance running is the only athletics discipline that offers competitive seasons year-round. Where do you look to insert training breaks to ensure that your athletes do not burnout or risk injury?
Peter: Training breaks should come at the end of a major competitive season. These breaks can depend on the goals of the athlete. If the outdoor season is the focus then the athlete should get a break once it is completed and then ease into the cross country season. If cross country and indoors is the focus then a short break after cross and a late start indoors would be appropriate. Some athletes take one season off completely so they can train for the other two. All three seasons can be done if there are short breaks and care is taken with the number of competitions. For most of our athletes road racing is used as part of their training.
Mark: Ideally, you can fit a nice easy block in between each season, however rarely do we face ideal conditions. A lot of my youth and junior athletes play multiple sports so I encourage them to pick one season (indoor, outdoor, or cross country) and focus on their other sport. This allows a mental break from training and they can typically stay more engaged in the following training block. It's also really important to stay in tune with where an athlete is mentally. Identifying mental burnout is not always easy, but it warrants a break just as much as any physical fatigue.
Rich: I'll admit that this is something that I haven't gotten exactly right every time, but I'm starting to move more towards asking athletes to choose two competitive seasons per year. That doesn't necessarily mean we don't do the third season, it just means that it's not a priority. The 2018/19 that Hudson Grimshaw-Surette had is a solid example of this: he had career seasons in cross country and indoors, but only raced once in the outdoor season. His plantar fascia started bothering him in May and we decided to just call the whole season then. We probably wouldn't have done that if it were indoor or outdoor, but knowing that in this particular year we valued the two varsity seasons over the outdoor season, it was an easy call to make. I think it takes a pretty special athlete to be able to string three solid competitive seasons together.
Mike: Ideally, whenever they need it. I definitely think everyone needs to take a significant break, probably once a season to avoid injury and burnout, but not necessarily right after the season. If someone is really cooking after the cross season, is feeling good and wants to get going for indoors, then we'd have to talk about when the best time to take a break would be.
With the popularity of road races ever increasing around the Atlantic provinces, there is an increasing number of young athletes entering into questionable distances, including U14 athletes in 10km events and U18 athletes in half marathons. What are your thoughts on young athletes contesting long distance events on the roads?
Peter: U14 athletes should not be doing 10km road races. With this age even 5km races should be used sparingly. 5km races can be beneficial for U16 runners, as part of their training – 10km can be used the same way for U18 athletes. U18 athletes can race 5km road races, and the occasionally well prepared athlete could benefit from racing a few 10km's. There is no need for U18 athletes to be competing in half marathons. These middle & high school athletes should be progressively working on shorter distances to develop the foot speed so that, when the time is right, they can step up to the longer distances and be able to truly race them.
Mark: I prefer developing athletes in the world of track and cross country, as I think that training and racing with your peers in age appropriate distances fosters a healthier growth for athletes. There is definitely something to be learned from the success in the gathering interest and participation of road running, but I certainly don't think it's physically safe for young athletes to train for the longer distances. The biggest race in St. John's is the Tely 10 (ten mile event) with nearly 5000 runners every year – I don't advise my athletes to race the Tely 10 until they hit the age of 19.
Rich: I think that most of these kids are way more resilient than we think, in the sense that it's likely not going to hurt anyone if a U14 athlete jumps into a 10k or a U18 athlete in a half marathon. I think that where the problem lies is when athletes at those ages start training for those events. If the athlete is enjoying an age appropriate program that emphasizes the right athletic qualities, than there's nothing wrong with them doing a fun run here and there. But if you have a 13 year old specifically training for a road 10km, that's where I believe we'll start seeing problems.
Mike: I certainly wouldn't want to see a young athlete just jump into a race that was beyond what he or she can handle; however, if a young athlete enjoys longer distances, works through a strong training block, and is monitored closely by their coach who feels that they are ready, then I might let them give it a whirl.
While all competitive sporting events feature a mental component, the endurance races are perhaps most well-known for testing the boundaries of one's mental strength. Mentally and psychologically, how do you prepare your athletes for the long and sometimes-grueling distance events?
Peter: If the athlete has done all the training necessary to be prepared for the distance, than part of the mental prep is done. These are the athletes that need to complete runs early in the morning and in all kinds of weather. They have also needed to mentally get through all of their intervals and progressive runs. Progressive runs are great for this: the athlete learns what various speeds feel like. In races there always needs to be a game plan (sometimes multiple) and I find it helps to have them break races into sections. If workouts are used correctly, they can prepare athletes to be mentally tough in races. Over the years a good distance runner becomes one of the most mentally tough of all athletes.
Mark: I think mental toughness is a skill acquired similarly to physical toughness. It requires a delicate balance of stress and rest. I like to develop it in practice and actively talk about it during workouts so athletes can normalize this battle with their own will. The athletes' autonomy in having a say in what their workouts look like can give them more ownership of that battle – I think when the athlete is choosing to engage in that psychological stress, they tend to adapt to it better. Mental rest is just as important. A mental taper is really helpful similarly to a physical taper during race preparation and I like athletes to allow themselves to enjoy their running and shift their focus away from the stress closer to race day. Social media can be a terrible stressor leading into race prep and I encourage athletes to stay off it to keep their mind relaxed.
Rich: I believe that the worst possible plan a coach/athlete can have is if they're hoping to do something for the first time in competition. Like all other aspects of our sport, the best way to prepare to do something is to train it. You have to pick your spots, and this is again where solid communication between coach and athlete is important, but I like to throw a few sessions per season at athletes that will really send them to that deep, dark place you need to go to in a race. Knowing the athlete and how long it will take for them to recover from that type of session is key, but I'm a big believer in heading into race day knowing that you don't have to do anything new to be successful on the day.
Mike: We try to make it their new normal. Having a big group is great because it opens the eyes of the newcomers. They see how hard the experienced runners are working and realize that, with some work, time, and luck, they can do it too. We also try to stay positive at all times.
Being the second largest country in the world, Canadian athletes often have to travel long distances for high-performance opportunities, national championships, and provincial team events (in the Atlantic provinces alone, some athletes need to drive 4-5 hours, or fly to another province). How do you prepare your athletes for competing away from home, often in cities or provinces that they have never been to before?
Peter: 4-5 hour drives need rest beforehand, and give yourself lots of time to get there. For a new place I try to normalize things as much as possible – keep the athletes in their same routine and discuss any differences. To deal with time zones they can either go a few days early or change the body clock before going.
Mark: A big thing that I try to have my athletes do is to control the things that they can control. Racing in a new place is always exciting but we are often faced with the fear of the uncontrollable, like level of competition, heat, humidity, lack of usual support system, etc. Before we travel, I like to reflect on what we've done to deserve to be where we are going and let the work speak for itself. On a more simple level, I always try to travel a day or so early just to familiarize ourselves with our new environment and time zone, and do things like packing your own pillow and snacks to keep some things consistent to home.
Rich: I just try to make it clear that no matter where we are, it's just putting one foot in front of the other and trying to beat as many people as possible at the agreed upon race distance. We try to travel a day early so that we have some time to relax, but other than that we don't spend a bunch of time dwelling on things that we can't control. I actually think it's pretty funny when people in Atlantic Canada complain about driving distances. Geoff Martinson, my teammate and roommate in Victoria would often talk about the commute from Prince George to Vancouver or Vancouver Island, which is close to 9 hours – there are also athletes that have to travel from Thunder Bay to Ottawa which is almost double that. Both of those examples apply to something as small as a Provincial Championship, so I think we actually have it better than almost any other part of the country!
Mike: I coached the PEI Legion team in consecutive years in Brandon, MB and, for the new athletes, it was definitely a gradual process. Our team usually consists of some strong athletes and some new athletes with potential. It's great once they've been to a big event, so they know what to expect the second time and beyond. We also pay close attention to detail in order to make sure that everyone travels as comfortably and efficiently as possible.
In regards to training facilities and resources, what is the most substantial challenge you face in coaching your athletes?
Peter: The biggest challenge is for athletes that travel 1-3 hours to practice. Since they can't get to every practice they need to do some at home. E-mail coaching is a huge challenge. We currently have over a dozen athletes in this situation.
Mark: I think in Newfoundland and Labrador we have a critical mass issue. We are at a low right now with the quantity of athletes, coaches, and officials in the sport. We see the same faces at every start line, which can be exhausting in certain ways. We travel a little throughout the year, which allows for new competition and new experiences to reinvigorate us, but it would be helpful to have that more at home. There is also a shortage of facilities in the province which I think really deters participation in the sport outside of the St. John's Metro area.
Rich: Honestly, from a day-to-day coaching environment perspective, there's not a whole lot I would change. In ten years of coaching I don't think I've ever had to adjust a workout plan because of facilities. That said, it's a little different from a head coaching perspective. While we have access to facilities for every event except for pole vault, those facilities aren't in the same physical space. So we have to be pretty creative when it comes to team cohesion in the indoor track season since the different event groups aren't always together. We make do though and I think that a lot of coaches and athletes make too big of a deal about facilities. Queen's University doesn't have a field house on campus and they're winning national medals every year. I believe it can be done anywhere as long as everyone believes and works their ass off.
Mike: Absolutely, 100% not having anywhere to train indoor during the winter.
Coaching is a skill that takes years of experience to refine, and is never truly perfected. What do you consider to be the single largest mistake that new and inexperienced coaches commonly make?
Peter: Some inexperienced coaches attempt to coach on an island. With all the resources available, that is not necessary.
Mark: I think there are a lot of mistakes that new (and old) coaches make. I think coaching athletes as a version of yourself when you were their age is a big one for new coaches; we need to be better at recognizing the uniqueness of each person in our training group. Also, it's important that the athlete's development, success, and happiness remains your primary focus – your own ego needs to be put aside.
Rich: Honestly, I think the biggest mistake we make is believing that we affect more than we do from a physical stand point. I believe that a self-motivated athlete who buys into a program and can string together good chunks of healthy training is going to see success in our sport. I've seen people run well off of all sorts of different training programs. I think it's human nature for us to want to feel like we're doing something better or different than everyone else, but this isn't rocket science. In my experience, getting caught up trying to reinvent the wheel is more trouble than it's worth.
Mike: Thinking they know everything. I am so lucky to have had or been exposed to good and bad coaches in multiple sports. Every time you're around another coach, if you aren't paying attention, you could miss a valuable lesson that you could choose to incorporate (or not) into what you're doing.
As an art form that is constantly evolving, and a profession that requires working with various personalities in various situations, coaches must be life-long learners. As a coach, what is the latest thing that you have learned?
Peter: Younger athletes love running over steeple barriers. After forty years of coaching there are still things to learn and achieve. Does that mean I am a slow learner? No, just pacing myself!
Mark: As a coach, the biggest lesson I think I have recently learned is that early success for young athletes is far less important than nurturing a love of the sport. It sounds simple, but it's a challenge in real life practice.
Rich: This is a tough one for me, because prior to starting coaching I didn't actually have a physiology or even any kind of science background – I studied English in university! So my learning curve has been pretty steep. I'm very fortunate to be surrounded by people like Mike and Heather Bawol, Jonathan Doucette, and Simon Watts who spend way more time than they probably should educating me. I basically never have a conversation with any of those coaches without learning something new about what I'm supposedly an expert on.
Mike: That it's important to admit when you don't know something and ask for help. Everyone I've encountered so far who coaches athletics in the Atlantic region has been generous with their time and advice. If I pretended I knew everything, I would have missed out on some valuable information and insight.
Aside from coaching, what are some of your other hobbies?
Peter: Watching a variety of sports, traveling outside Canada, and weekly meetings.
Mark: I still love running myself, so I do my best to still train and compete. I am slowly trying to get better in the kitchen as well but I don't hold a candle to my mother. Aside from that, I prioritize spending time with my wife and spending time outdoors.
Rich: Pretty much anything there is to do in the Dartmouth community! That sounds like a joke, but it is very important to me that I have a life outside of track and field and I feel like I've done a pretty good job of surrounding myself with people who have absolutely no interest in what I do for a living. My wife and I spend a lot of time just hanging out with friends, trying to avoid growing up. I recently rediscovered my love for Mario games, and just last weekend finished all 96 exits of Super Mario World on SNES with my sister-in-law Michaela. No one ever said I was the most interesting guy in the world…
Mike: In a way, I'm really lucky that I came to running so late because I still absolutely love doing it myself and have managed to avoid significant injury. I just finished my first 100 miler in August, and I'm looking forward to racing the Chicago Marathon with my wife and a group of friends in October.
---

Through their long time dedication to coaching endurance events in the Atlantic provinces, these four coaches serve as excellent role models for coaches of all backgrounds. Thank you to Peter, Mark, Rich, and Mike for all that you do in the world of coaching!
This week, please take a moment to express your appreciation of the many coaches in Canada who are making a difference in their sport communities! #CoachesWeek #ThanksCoach
Hosted by New Brunswick-born track runner, administrator, and coach Brandon Scott LeBlanc, AtlanticU23 is an interview series with upcoming Atlantic Canada track and field athletes under the age of 23.
Facebook: @AtlanticU23
Twitter: @AtlanticU23