AtlanticU23 Special Edition - Michael Lucien Bergeron
Posted 10 months ago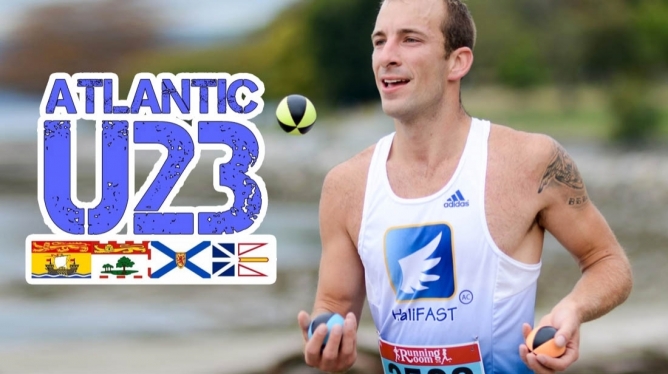 AtlanticU23 Special Edition - Michael Lucien Bergeron
Hometown: Stanley Bridge, PEI
Occupation: Lieutenant (Navy)
Personal Bests (as of March 8th, 2021): 5000m (Joggling): 16:50, 10km (Joggling): 35:36, Half Marathon (Joggling): 1:17:10, Marathon (Joggling): 3:13:12
5 quick questions with Michael:
Favourite snack? Energy bites that my wife makes
Track race or road race? I prefer track races, but don't race them often
Most difficult object you've ever joggled? Double blade axes while on fire
Would you rather joggle ping pong balls or beach balls? Beach Balls
If you could go back in time and choose any other career, which would you choose? I always wanted to become a teacher but the timing was not right when I graduated university
How did you first get involved in track and field?
When I was 13 years old, my father took me to a local road race where his work had a 5 member team relay. I had to run 8km straight which I had never done before. My time was not super fast in comparison to nowadays, but I still managed to be the fastest on the team and my dad's co-workers at the time were quite impressed. From there, I started to run in high school/university and the passion became what it is today.
While studying History at the University of Ottawa, you ran on the Gee-Gee's cross country and track and field teams. Which events did you specialize in, and what were some of the highlights of your varsity career?
I ran for the team for four years but I was an alternate (8th-9th runner). I never cracked down on the top 7 due to my own fault for not training harder. I believe my highlight was running the 1500m and 1000m almost back-to-back during a meet at McGill University. The highlight was mostly the ride back on the bus with my teammates - always some fun conversation along the way.
What initially inspired you to join the Canadian Armed Forces, and when did you discover that this was the career for you?
I followed the footsteps of my father - growing up on a military base, joining the CAF seemed to be the only option. So I started with the Army Reserve as a Signalman, then got inspired to join the Regular Force under the Regular Officer Training Plan for a long career with the Royal Canadian Navy.
In October of 2019, you had the opportunity to represent Canada in the marathon at the CISM Military World Games (MWG) in Wuhan, China. Tell us about your experience competing at this international event.
It is hard to describe how amazing this experience was. This was my second time being part of Team Canada, so the excitement was still there but the expectation was more controlled. China had done a fantastic job at hosting the Games, from the transportation, accommodation, food, cultural show, and the actual conducts of the Games. Imagine over 10,000 athletes staying in a new village with everything accessible. I encourage everyone to watch the Opening Ceremony video on YouTube of the 7th CISM Summer Games in Wuhan, it is worth the watch. I competed in the marathon, which was the last event of the 12-day Games. Training was difficult, between balancing the cultural and sporting events that I was excited about and the tapering that was required. At the time I was injured with a hip injury for which I am still suffering - luckily for me the physio team helped me manage the pain and I completed an okay time during the race.
Video of the Opening Ceremony of the 7th CISM Military World Games can be found here: www.youtube.com/watch?v=cKIfgkxaJSE
Although its host has not yet been determined, the next MWG are set to take place in 2023. Is this an event you hope to compete at, and if so in which event(s) do you hope to contest?
I would like to compete in the marathon once again and shoot for a redemption run. After my schedule surgery if I can heal properly and train well, I would like to aim for a low 2:30.
The MWG commonly features a mix of athletes of very different training backgrounds, as the service requirements required to be considered a member of the armed forces can vary drastically from country-to-country. In light of varying service requirements, what are your thoughts on the MWG's eligibility requirements?
Some countries have full-time service members while others have every citizen of their country conscripted as part of the military. Obviously it makes the Games not at a fair advantage, since some athletes are full-time athletes and others like myself train on the side. But this is the reality we have to live with - I am still happy to have had the chance to represent Canada.
As a direct result of varying service requirements, the MWG are shockingly competitive in the track and field events, and quite commonly feature athletes who have competed - and even medaled - at the World Championships and Olympic Games. Do you find that the inclusion of elite athletes compliments the Games or detracts from them?
I would say both. It is a compliment and I feel honoured to toe the line with some of the greatest in the world - how many times in your life can you say you had a meal with Olympians of different countries? But it does take away from a fair competition.
Looking back at your time at the MWG, how surreal is it to think that you were in Wuhan, China just one month before the world's first case of COVID-19 was reported there?
It makes you realize that anything can happen. It was also my last big race other than a small local race in PEI. I remember being there with over 10,000 athletes from around the world - if the pandemic would had started one month earlier, it would have spread so much faster, as all the athletes would have returned to their home countries.
Where did you first learn to juggle?
Back in grade 10, I participated in les Jeux de la FESFO, which are the games of the federation of francophone high schools in Ontario. During these games, I was in the circus arts delegation, where I learned the basics of juggling and the art of the scene. From there I took it upon myself to add other objects and tricks to make it more challenging.
Where did the idea of combining your talents in running and juggling initially come from?
The initial idea came from my friend Josee, who sent me a challenge over Facebook. But it took 2-3 years and a Facebook memory to bring back this idea. I then made a bet with myself to joggle a 5km race, and then a 3 month training began. That was in 2015 where I joggled the Navy 5km in Halifax in 19:56sec and finished 4th overall.
In training the two distinct skills within joggling - running and juggling - how do you structure your training - how much of it is running, how much of it is juggling, and how much of it is joggling?
The first two years (2015-2016), I was joggling 100% of the time until I joined the Halifax Road Hammers. I would participate in every road race possible, from sunny summer days to snowy winter days. At that time, I started to run more volume and faster paces with other people, and could really start to focus on that. Joggling just became a hobby on the side, but I would jump in road races once in a while. Surprisingly, my newly acquired speed helped me joggle faster and faster, to nowadays having faster joggling times than in my university prime.
Running frequently includes a number of environmental challenges, such as wind, rain, snow, unstable terrain, and excessive temperature (both high and low). What are some of the added environmental challenges that you've experienced in joggling?
The most difficult part is the visibility, affecting my eyes. While juggling, I have to keep my focus on the balls and the road, making blinking my eyes not natural. High wind, rain, and sunny days all affect my joggling.
In competition, how often is it that you leave the balls at home and just run a standard race?
These days I run more often than joggle. I guess it all depends on the goal of the season. Last year, I was trying to make Canada's CISM Running Team and once I did, I decided to do a joggling race for myself and see how I would do.
Take us through your first world record run. Were you specifically aiming for the record in particular, or did it come as a sort of surprise?
My first record was during the Navy 10km in Halifax in 2018 (35:36). My friend Matt McNeil was pacing me and we had in mind to run just under 36:30. I remember running the first kilometer in 3:20, and Matt was like "shoot, we have to keep it conservative." At the halfway point we were under 17:30, and I knew I was going to break it but by how much was the question.
Now holding world records in the 5km, 10km, and half marathon, what is the next distance that you will tackle?
I would have said the marathon, but I don't think with my current injury that I will be able to complete one for a year or two. Maybe the mile or 800m.
Among each of the world records that you already hold, which do you feel most confident you could lower? Do you have an attempt planned to try and lower this one in the near future?
I am sure I could lower the 10km record, which is currently 35:36. I was planning on doing a 10,000m this past summer, but could not manage to gain access to the UPEI track. Other than my current injury, I think I could get back in shape to break 35 minutes if I could book a track early in the summer and have a pacer to keep the pace.
Each of your world records is in the 3-ball category - have you thought about giving the 5-ball records a try?
If I could manage to learn juggling with 5 balls I would, but I cannot find the patience to learn.
Aside from balls, you've been known to joggle various other objects, including knives. What are all of the objects that you have joggled over the years?
Outside of regular balls, I have done 50m joggling with torches on fire, 400m joggling knives, and a 5km joggling bowling pins.
On knives in particular, what sparked this idea and what sorts of considerations are there in terms of safety?
I wanted to do something even more difficult than the typical balls. In terms of safety, it is mostly the reflection of the sun on the blades which blinds me when I run. I am pretty good at controlling the juggling part…I guess I have to make sure I don't fall on them if I drop one!
What advice would you give to fellow runners interested in learning how to joggle?
Well, joggling is quite similar to running but you will have to start slower and concentrate on the juggling part before introducing the combination of both. I found juggling while watching a movie really develops your ability to multitask.
Working full-time for the Canadian Armed Forces, how do you successfully fit training into your busy schedule?
Luckily for me, my current work gives us one hour to exercise per day, but due to a busy schedule I often run at 6am before work with some friends, and finish-up with some core training or cycling in the evening.
On top of active military service and your own running, you also volunteer your time with local athletic associations - formerly as a Coordinator with Run Nova Scotia and presently as President of the PEI Road Runners. What are some of the things you enjoy about these volunteer initiatives, and what are some of your goals for the PEI RoadRunners this year?
Having participated in road racing for over 15 years, I thought it was time to give back to the community. It's always easy as a participant to show up to an event and then go back home, but being behind the scene gives a different perspective that makes me appreciate volunteers more and more. With the Board of the PEI RoadRunners, I want to make some changes to attract more runners, including the youth. When I was part of Run NS, we had a Performance Series which attracted some great talent and helped develop the competitiveness of some runners. I would like to create a championship, and maybe after the pandemic a Maritime championships, where all three provinces could rotate each year in hosting a championship - imagine one big race with all the best talent challenging each other for some fast times.
Aside from joggling, what are some of your other hobbies?
Having moved to Stanley Bridge in PEI back in 2019, I enjoy kayaking. I find it quite relaxing and a good way to exercise while taking a breath of fresh air.
---
Hosted by New Brunswick-born track runner, administrator, and coach Brandon Scott LeBlanc, AtlanticU23 is an interview series with upcoming Atlantic Canada track and field athletes under the age of 23.
Facebook: @AtlanticU23
Twitter: @AtlanticU23
User

Comments
Currently, there are no comments.