AtlanticU23 Special Edition - Postponed Olympics
Posted 1 year ago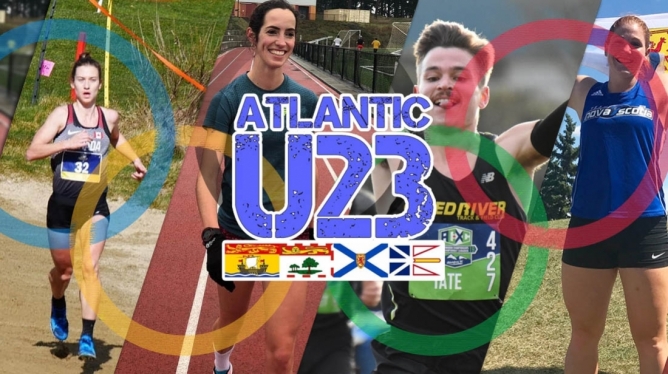 AtlanticU23 Special Edition - Postponed Olympics
In response to the postponement of the 2020 Olympic and Paralympic Games, we are pleased to release this special edition of AtlanticU23, featuring four Olympic hopefuls from Atlantic Canada. Let's meet the athletes!
Name: Geneviève Lalonde
Hometown: Moncton, NB
Club: Unattached New Brunswick
Coach: Hilary Stellingwerff and Joël Bourgeois
Name: Sarah MacPherson
Hometown: Keswick Ridge, NB
Club: Vic-City Elite
Coach: Heather Hennigar
Name: Sarah Mitton
Hometown: Brooklyn, NS
Club: SISU Throws Club
Coach: Richard Parkinson
Name: Mike Tate
Hometown: Antigonish, NS
Club: Unattached Ontario
Coach: Kyle Boorsma
5 quick questions with the Olympic hopefuls:
Favourite meal to cook?
Gen: Fricot Acadien
MacPherson: Macaroni and cheese with tomato juice, my nana's specialty
Mitton: Tacos
Mike: BBQ Cheese Burgers
Fruit or vegetables?
Gen: Fruits
MacPherson: Fruit, can't go a day without a banana
Mitton: Vegetables
Mike: Fruit
What is one of your guilty pleasures?
Gen: Superhero Movies
MacPherson: Gluten free ice cream sandwiches
Mitton: Pop tarts
Mike: Chocolate
Would you rather compete in freezing or blisteringly hot conditions?
Gen: Freezing
MacPherson: In high school I would have said freezing, but now I'm more use to the heat, so I would go with blisteringly hot
Mitton: Blistering hot
Mike: Freezing
If you had to drop athletics and pick-up any other sport, which would you choose?
Gen: Downhill skiing
MacPherson: Basketball, I love team sports and how fast pace the game can be
Mitton: Rugby or bobsled
Mike: Basketball
The effects of COVID-19 on the world of sports has escalated continuously since late-January when the World Athletics Indoor Championships were delayed to 2021, with more and more modifications, postponements, and cancellations being announced every day since. At what point did the severity of the pandemic become evident to you, and at what point did you start to think that this would affect the scheduling of the Olympic Games?
Gen: I think from the first signs of the virus the world knew that it was quite serious for human health, and at that point as an athlete our concerns were focused on the health and wellbeing of humans around the world. The Olympics, albeit something we are working towards every day, became a privilege in a time of crisis. As the pandemic began to spread it was evident that the Olympics wouldn't be held, and I am grateful for Team Canada's decision to not send a team, as it allowed us to focus on staying healthy rather than trying everything we could to train from our homes.
MacPherson: I had a friend that mentioned the virus to me in mid-January when I was at training camp in Florida. I had also just watched the Netflix series Pandemic, so I started to get a little concerned about the World Athletics Indoor Championships. I even brought up my concerns to my coach hoping that I was being overdramatic, but the next day they were cancelled. At that time, I wasn't worried at all about the Olympics being postponed or any meets in North America being cancelled. I was honestly consumed in my own training, staying healthy and competing since it was an Olympic year. COVID-19 has been on the news a lot. It's become my morning routine to catch up on the news with my breakfast. Once I saw all the cases in Italy and then Iran, I became a little unsettled. Half of me was 100% focused on training, but the logical part knew that this year was not going to go smoothly. After seeing multiple cities shut down for weeks upon weeks and knowing that a vaccine is over a year away, I didn't think Olympics would be a good idea.
Mitton: COVID-19 first started impacting my season when the World Athletics Indoor Championships in Nanjing, China were postponed. At that point, I had just thought the situation would be under control in time for Tokyo. It was only after I had hit the qualifying standard that it really hit me. It started out as comic relief; I would say things like "if there is a Games" and "if they don't cancel it". About a week later, as the pandemic grew so did my uncertainty surrounding the Games.
Mike: Once major marathons started to get postponed and the virus continued to spread, I knew the track season was in jeopardy. I knew if the early part of track season wasn't able to happen, then the Olympics would most likely get delayed. With no qualifying competitions, only those who have already qualified would be able to compete. It only made sense to postpone the Olympics.
On March 22nd, Canada became the first nation to inform the International Olympic Committee (IOC) and the Tokyo 2020 Organizing Committee that were the Games to be held as planned in the summer of 2020, Canada would not participate. How did you first hear the news, and what were your thoughts on the decision?
Gen: Team Canada Olympic Potentials were sent an email and then minutes later it was published on social media outlets. I agree that this was the right decision. We need to be role models and there was no better way than to tell the world that we aren't ready.
MacPherson: I was at my boyfriend's parent's house for dinner, when my boyfriend said he was sorry and quietly handed over his phone to me with the news. I immediately sent it to my coach (Heather Hennigar), who probably already knew the news. I was relieved and disappointed; it's hard not to be rattled when your 4-year plan has come to a halt. My coach called me to make sure that I understood why the decision was made and that it was the right call. I am very proud of my country for making this decision; it helped the movement in postponing the Olympics.
Mitton: The news that Canada would not be send a team to the Olympics if they were to be hosted in the summer of 2020 caught me by surprise. I had been watching a movie with my mom that evening and I had missed the email sent out by the Canadian Olympic Chef de Mission. I received some messages from my friends asking if I was okay and if I had seen the announcement, which I had not. I opened my computer to see what they were talking about and that is when I found the email explaining Team Canada's decision.
Mike: I think I saw something on Twitter or Instagram about the decision. I immediately read the article and thought it was the right decision. There are things in the world bigger than the Olympics.
Within 48 hours of Canada's announcement, the Olympic Games were officially postponed. What was your emotion in hearing this news?
Gen: I think it was again the right decision, I was happy that they had made that decision. At that point though I was – and remain – more concerned for the people in my home community, the children who are not going to school, the people living in uncomfortable circumstances, and the older populations who cannot see their families.
MacPherson: Relieved. I was a slightly worried that they wouldn't postpone. I was also grateful that they didn't wait another four weeks to make the announcement.
Mitton: Relief. Canada made the right decision withdrawing from the Games given the severity of the pandemic, but I could not imagine what it would be like to sit out of the Games if they had proceeded as planned.
Mike: Relief. Even if Canada decided to send a team to the originally scheduled Games, many athletes like myself would miss out on a chance to even attempt to make the team with the track season being cancelled. Canada would only have been able to send a team with athletes who had already hit standard; I would not have been selected.
Qualifying to compete at the world's largest sporting event obviously requires intensive planning and precise execution. Since January 1st, what did your training consist of and what sort of benchmark performances did you have in mind?
Gen: Planning goes back a few years, not just to January 1st. However, this year while working with my team and coaches Joël Bourgeois and Hilary Stellingwerff, we envisioned key races and training camps including: Pan Am XC, Flagstaff training camp, early spring races, National Olympic Trials, Pre-Olympic training camp, and the Olympic Games.
MacPherson: Training for the Olympic year started in the fall with a month training camp at altitude. I was able to get consistent training and had the biggest base season that I've ever had – over 100km running weeks consistently. In January, we went to Phoenix, Arizona for warm-weather training, where we touched on some 1500m race pace. My 1500m pace workout was an awesome benchmark to knowing that I was in sub 4:30 mile shape. However, I started getting some foot pain, so most of my workouts switched to the bike. I still managed to run 4:33 in the mile at the Dr. Sander Invitational in New York. Next I went to Florida for another warm-weather training camp, getting in probably my best 3km workout ever. Although I was cross training more than running (4-6 hours a week), my fitness was keeping up. My benchmark performance was to run world indoor standard (4:28.50) at a Boston meet in February. However, my foot injury prevented me from competing.
Mitton: Most of the hard work happened from October to December. Our plan was to hit the Tokyo qualification mark (18.50m) during our first training block. The plan was to compete indoors at a few meets to achieve the qualifying mark for the World Indoor Championships (17.93m), and then head down under to Australia and New Zealand to capitalize on their outdoor season. I had started to see the fruits of my labour in January when I threw an indoor personal best of 18.00m. Once we got outdoors, I just worked building off of each throw and each competition, not focusing too much on specific numbers but just throwing further on every attempt.
Mike: On January 5th, I travelled back to my alma mater of Southern Utah University, in Cedar City, Utah. The town sits at 6,000ft elevation. I spent six weeks staying with my former teammate, good friend, and professional trail runner Hayden Hawks, his wife Ashley, who is the newly minted USATF 50 mile champion, and their son Crosby. I spent those six weeks focusing on building a big base at altitude, with a little bit of track work to keep the legs guessing. I raced in Seattle on two separate weekends while I was away – the first meet I ran a 7:54 3000m, and then two weeks later ran a 13:48 5000m and a 4:01 mile. After that, I flew back to Guelph where I continued to train for two more weeks, and then travelled to Boston for a shot at a fast 5000m. I ended up running 13:41, but was hoping for a bit more.
The Olympics' move to 2021 has created a concerning dilemma for those who had already achieved auto-qualifying marks, and has raised questions about whether these performances will remain eligible for qualification purposes. How do you believe the qualification system should be altered now that the Games will take place approximately one year later?
Editor's note: Since the time in which this question was sent to the four athletes, the IOC has announced that all those athletes who have already qualified for the Tokyo Olympics will keep their spots.
Gen: There are many things to be considered and I believe World Athletics will do a good job evaluating all of the circumstances. After they have developed their criteria, Athletics Canada will then prepare their qualification standards. I have heard that standards already achieved will be honored. I believe for all of us who have achieved standard that does provide some relief, as we often have to travel quite far to get into high level races, and with the uncertainty of the world it is difficult to evaluate when that will be safe again.
MacPherson: This is a very difficult question, and I glad I'm not responsible for making the decision. There are definitely a lot of factors that come into play that I'm not aware of. But from my perspective, I think that you need to achieve auto-qualifying marks within the year like usual. You should select the best athletes for that Olympic year, rather than last year's best athletes. I am also wondering how the top-5 performance qualification system will change. If we are unable to compete internationally this year and into early next year, does it make sense to have top 5 performances? Maybe top 3? Or we could go back to the regular way of selecting based on top time performances and how you place at nationals.
Mitton: The IOC has announced that the athletes will remain qualified for 2021. I stand behind this decision. The work behind each and every one of those qualifications cannot be overlooked. I am not bias with that decision; I would stand by that even if I had yet to qualify a spot, because I believe that it would be unfair to take that away from those athletes. That being said, that decision comes with its own set of unique challenges especially in sports whose quota has already been completely filled. For sports such as athletics where only those who have achieved the automatic standard have qualified so far, the only challenge is related to the new point-based world ranking system and how this will affect the world rankings given that almost all the meets in the foreseeable future have been postponed or cancelled.
Mike: I believe that the qualification period should just be extended. Anyone who has already hit standard in the former qualifying period should have a spot on the start line if their country decides to send them.
For your own athletic career, what do you believe to be the pros and cons of the Olympics' move to 2021?
Gen: I think I speak for most athletes when we say that first and foremost the importance is that humans are safe and remain healthy. I think that considering the state of the world, we are all happy that they have not canceled but rather postponed the Olympic Games. Personally, I take every year as an incredible honor, so if I get to compete in these Olympics I will be extremely grateful for the experience. I know many people around the world won't get to enjoy their own events, so I'm very lucky that mine were just postponed.
MacPherson: For me, I believe that I will benefit from this postponement. I have been off running since early February due to Achilles Tendinopathy and some inflammation in my ankle joints. I was planning on getting a cortisone shot to reduce the inflammation and get back to training, however the hospital cancelled my appointment due to COVID-19 and Dr. Paddy McCluskey suggested that I use this time to fully heal. I also learned a lot of lessons from this year that will help me in 2021. Specifically, I noticed that my demeanour and stress levels changed a lot preparing for the 2020 Olympics. I was almost frantically trying to boost my aerobic fitness greater than I ever have and pushing through niggles to be able to get five good performances in. I now know more about myself and what my body is capable of. Next year I will be cross training a lot more to stay healthy and achieve that aerobic fitness that I need. The cons is that I put a lot into this year and only have a mile in New York to show for it. The feeling that this year is basically a wash is very odd. To be dramatic, it feels like my whole life has been delayed one year.
Mitton: I have been focusing more on the positive impact of postponing the Games. For myself, there are more pros than cons. I am at the beginning of my athletic career so the postponement will allow me another year to develop and have an even stronger Olympic debut. Secondly, there were rumors that they had considered running the Games without spectators, but hopefully by postponing the Games until everything is settled will mean having a true Olympic experience. The only con is that I had started my season off very strong. I had a lot of momentum moving forward through the Olympic year and I was excited to see what was to come.
Mike: In the current situation I don't think there are any cons for me personally. This gives me one more year to work hard and get better, and maybe even try something I have never done in either my training or race distances.
Things can change very quickly for athletes in the world of high performance sport – teammates, coaches, facilities, competition opportunities, finances, etc. Are there any concerns that you have in mind for what your training environment might look like in your preparation for the Olympics in 2021?
Gen: Over the past few months I have completely changed my training environment, my coaches, and my location. It has been quite a steep learning curve but if anything, I have realised that my team is – simply put – incredible. I am very happy where I am and really looking forward to what we can do in the future. If anything, I think that we will be even stronger and faster.
MacPherson: I have been very fortunate to be able to be coached by Heather Hennigar at the Athletics Canada West Hub in Victoria, BC. I have access to amazing coaches and Integrated Support Team (IST) staff. The staff has been doing an amazing job accommodating us during this time. I've had doctor's appointments, mental performance, and physiotherapy sessions over video chat. I do enjoy training by myself, so I'm not concerned about training in that capacity. Financially, I am not a carded athlete and work casually as a Research Assistant at the BC Cancer Agency. I have been applying for funding, however it is difficult to describe my performance goals for this year as I don't know what competitions will be available. My biggest concern at the moment is when will I be able to race next and when will I be able to compete internationally again.
Mitton: I feel extremely fortunate to have such a great support system, including my coach (Richard Parkinson), my teammates, my IST, and the staff at the Athletics Canada East Hub – I am confident that they will continue to be in my corner and help me take on the challenges to come over the next year of preparation for 2021. I look forward to when I can rejoin them in Toronto at the East Hub and regain some level of normalcy. For now, I will continue to do everything that I can from home to be ready if we can compete in 2020.
Mike: My training environment kind of already got flipped on its head last fall with the firing of Dave Scott-Thomas. My training partners and I worked through that together and had great seasons last fall. Right now training needs to be done solo, which can be an issue for some. I believe I am pretty good at training alone and have a fair amount of experience doing it. I trust my coach (Kyle Boorsma) to have me ready to take my shot at standard, whenever that may be.
While the local organizing committee for the 2021 World Athletics Championships (set to take place in Eugene, Oregon, USA) has not yet said how the scheduling of the event may change to accommodate the Olympics' move to 2021, they have said that they are evaluating options. When do you believe that the next World Championships should take place?
Editor's note: Since the time in which this question was sent to the four athletes, World Athletics has announced that the 2021 World Athletics Championships will instead take place in 2022.
Gen: We were told on a call recently that it was highly likely that they will take place in 2022. I think that presents a viable option for everyone.
MacPherson: I think what makes the most sense is to have Worlds postponed to 2022.
Mitton: They have officially moved the World Athletics Championships to 2022. I believe that the organizing committee did not want the Championships to be overshadowed by sharing the same year as the Olympic Games. Everything is getting adjusted to make room for the Games, but this gives us so much to look forward to when the pandemic is over, and we can return to sport.
Mike: I think they should move the World Championships to the gap year, 2022. There is no other world championship that summer, just World Indoors and the Commonwealth Games. I think hosting Commonwealths and World Championships in the same year would be easier than Olympics and World Championships.
With a majority of this year's outdoor season now postponed / cancelled, and the remainder of the season in doubt, what are your plans for training at this time?
Gen: At this time, we are building up my base training. This will allow me to have a solid support built up for when we do know more about our season and to best prepare for the Olympics next year.
MacPherson: I haven't discussed these details with my coach Heather yet, as I'm recovering from injury. I could see us setting up some time trials and maybe a local meet if restrictions lift before the end of the summer. I would love for there to be international competitions late this summer, but I'm prepared for anything.
Mitton: Staying home and doing what I can. The more people listen and practice social distancing, the quicker we can return to sport and regular life. Most things in the foreseeable future have been cancelled but there is talks of having a late outdoor season from July to October. I am grateful to be in Nova Scotia with my family during this time. My dad has geared an indoor throwing set-up in our garage so I can continue to train. I am taking everything day-by-day and focusing on the basics.
Mike: Right now we're keeping things simple and basic, no workouts for specific distances. Right now looks pretty similar to early cross country season, just focusing on building mileage and simple workouts like tempo and fartlek.
While Tokyo 2020 has been postponed, I feel confident in saying that your goal remains the same – represent Canada at the next Summer Olympic Games. Looking towards this goal, what has changed, what remains the same, and what is your plan to make it a reality?
Gen: That remains the goal. Our plans are quite simple to adapt to our new reality, to test our strength when and where we can and to remain patient and work together as a team to make that happen.
MacPherson: Yes my goal remains the same. There is a new normal at the moment, and I'm unsure when we will be able to start competing again. One thing that has always been consistent is having complete support from my coach Heather, the IST staff, and my family and friends on helping me reach my goals. I've already learned a lot from this Olympic year, about the added pressure and the decisions that I made as a result. To make my dream a reality, I've learned that I will need to get a lot of my aerobic fitness from the pool and the bike to ensure that I stay healthy so that I can race. As for racing, I will need to be adaptable, as Heather always says. When opportunities arise, I need to be prepared to perform. Ideally I'll have the opportunity to make the World Indoor Championships in China and reach indoor standard like I was pursuing this year.
Mitton: The journey remains the same – represent Canada in 2021. I feel confident that given an extra year of training the goals for the Games will be bigger. I plan on bringing the same intensity/focus to my training that I did this past season and really use the next 478 days to get a little better every day.
Mike: Absolutely, my goal remains the same. Not much has changed except now we have this big block of no racing to play around with things – normally there isn't enough time to tinker much with training or potential race distances with a track season. I just plan on focusing on what I can control, and be ready whenever the opportunity presents itself.
While the postponement of the 2020 Olympic and Paralympic Summer Games is unfortunate, AtlanticU23 stands by the decision of the International Olympic Committee and the Tokyo Organising Committee of the Olympic and Paralympic Games. Postponement of the Games will provide the world with the time necessary to successfully address the ongoing pandemic, and provide athletes with the opportunity to train and compete at their best while putting health first, as should always be the case.
Thank you Gen, Sarah, Sarah, and Mike for taking the time for this interview, and best of luck in chasing the Olympic dream in 2021!
---
Hosted by New Brunswick-born track runner, administrator, and coach Brandon Scott LeBlanc, AtlanticU23 is an interview series with upcoming Atlantic Canada track and field athletes under the age of 23.
Facebook: @AtlanticU23
Twitter: @AtlanticU23
User

Comments
Currently, there are no comments.