AtlanticU23 Special Edition - Sprints Coaches
Posted 10 months ago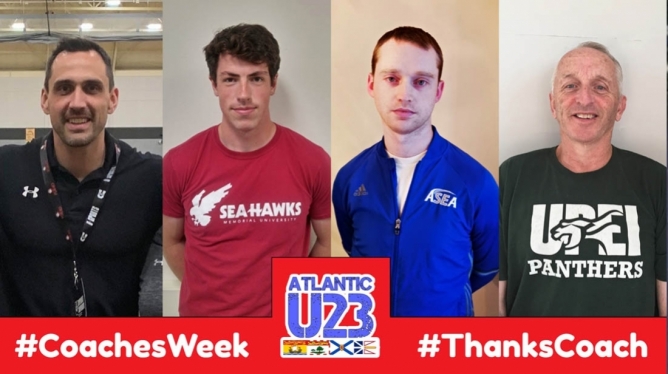 In celebration of National Coaches Week, we are pleased to release our second annual special edition of AtlanticU23, featuring one coach from each of the four Atlantic provinces. The focus of our 2019 special was the endurance events, and now this year we are taking a close look at the sprint events. Without further ado, let's meet the coaches!
Name: Alex Stuart
Hometown: Riverview, NB
Club: Athlétisme Sud-Est / South-East Athletics
Name: Gerard Power
Hometown: Mount Pearl, NL
Club: Pearlgate Track and Field Club
Name: Mike Bawol
Hometown: Halifax, NS
Club: Halifast Athletics / Dalhousie University
Name: Colin MacAdam
Hometown: Charlottetown, PEI
Club: Islanders Track and Field Club / University of Prince Edward Island
5 quick questions with the coaches:
Favourite event to watch?
Alex: 400mh, no question. The mix of physicality, technique, and race planning is nothing short of artistic.
Gerard: 800m. I love the combination of speed and strategy required for the race.
Mike: 100m. Ever since the 96' Olympics and watching Donovan Bailey break the WR and win gold, I've had a keen interest in that event.
Colin: Got to be the 100m or the 800m – tossup.
Indoor or outdoor season?
Alex: Outdoor.
Gerard: Outdoor.
Mike: I think the outdoor season is much more fun, but for the Canadian collegiate season, indoors is much more competitive and rewarding.
Colin: Outdoor season with full events and full fields, but in our region that is difficult to arrange.
What is your preferred age group to coach?
Alex: I'm not overly picky to be honest, as long as they're prepared to put in some work.
Gerard: Tough to choose one – it's great to coach younger athletes who can make significant technical and performance improvements in no time, but also great to coach older athletes as they become more serious about the sport.
Mike: I really enjoy coaching athletes coming from high school in to their first and second year of college. It's an age of rapid progression, and one where there is a significant change of commitment in training.
Colin: I really enjoy working with university aged athletes. At this age the athletes have made a decision to train and compete and they are not merely following a crowd.
Would you rather be a full-time professional coach or coach voluntarily alongside a full-time job?
Alex: While it'd be nice to be paid to coach, it isn't really the point of doing it, but the expectations on a professional coach and their athletes wouldn't really be my cup of tea, so being a volunteer coach is good by me.
Gerard: Volunteer for sure. Coaching is an escape for me, turning it into a job could take away from that.
Mike: I used to dream of becoming a full-time coach, but as the years progressed, I realized that to make it in that industry you need to be willing to relocate and that the opportunities are sparse. Coaching as a volunteer is the perfect setup for me in my situation.
Colin: Full-time professional coach.
If you could spend a day picking the brain of any coach, living or deceased, who would you pick and why?
Alex: Brent McFarlane. What he accomplished for sprint hurdles was extremely impressive and he did it with limited access to facilities and equipment, and in large part in an era when sprint hurdles was still relatively underdeveloped in Canada.
Gerard: It would have to be my former coach, Becky Sjare. She passed away early on in my involvement in the sport but was a huge part of the sport in Newfoundland and Labrador. I would love to hear her thoughts on how to continue growing the sport here.
Mike: I've drawn a tremendous amount of inspiration from coaches like Dan Pfaff, Charlie Francis, and Dr. Anatoliy Bondarchuk, but I think I would rather have more a detailed, data driven conversation with my peer coaches than enshrine any one person with an infallible guru-like mystique. I think there is much more to be gained from what our peers are doing on a day-to-day basis than any single expert.
Colin: With the current explosion of online podcasts and webinars, I can learn from coaches from around the world, past and present. The World Speed Summit was a great program that gave us an opportunity to listen to great coaches.
Prior to becoming a coach, what was your involvement in the sport of athletics?
Alex: Like most coaches I was an athlete. In my time I held three provincial records (although only one still stands) and won three national medals. I've spent my whole life around the sport, as my first interaction with the sport was within 24 hours of my birth (haha).
Gerard: Growing up, I was heavily involved in soccer. I did not have my first exposure to athletics until I was in grade 10. I took part in the regional high school meet and held my own considering it was my first time at a meet. I continued my involvement in soccer with the hopes of attending the 2013 Canada Games in Sherbrooke. However, I was cut from the team, and with the free time that I now had I began to train in athletics for the 400m. I instantly fell in love with the sport, attending the Legion Championships in 2012 (my first year in the sport), and then going to Canada Games in 2013 for both relays. From there, I continued competing in the sport, including four years of varsity athletics at Memorial University from 2016-2019, competing in the 300m and 600m, and the 2017 Canada Games in Winnipeg, competing in the 400m and 800m. Between 2013 and 2017, more leadership opportunities arose in the sport, which eventually led to me becoming a coach with Pearlgate Track and Field, however I continued to train while coaching. Only in the past year, due to injuries, have I unwillingly taken a step back from competing in the sport.
Mike: Before becoming a coach, I was a sprinter at Dalhousie University. I competed in the 60m indoors and 100m outdoors as an athlete. I made a lot of really great friends while competing as an athlete and I'm lucky to still be friends with many of those people today.
Colin: I competed for many years, primarily in the 800m. My history as an 800m runner is a very long one. I started running the 800m when I missed making the school team as a 100m runner when I was in grade 8. I jumped into the 1500m and instantly became a middle distance runner, but while I liked the 1500m, I loved the 800m and I really loved winning. I ran my last 800m when I was in my early 30's and I broke 2:00 in that race. I was running against some 15 and 16 year olds and I had been running the 800m for about 20 years – it was time. A "frustrated sprinter" as my son Gerry, a sprinter, likes to say, I had pretty good speed (50.00 in the 400m) and pretty good endurance. Atlantic Canada had a large number of quality 800m runners in the 70's and 80's, and 800m runners faced stiff opposition every weekend. I would hitchhike to meets in Halifax, Antigonish, and Moncton and it was not unusual to take about 10 hours to travel to a meet. We ran with elbows out and there was lots of contact. An 800m race would never be won in a time slower than 2:00. The highlight of my career was making the 800m and 1500m finals at the 1977 Canada Games – I didn't run very well in either final, but I learned some very valuable lessons which help me in my coaching to this day. I feel that I can relate to the pressures that athletes face when they run in the bigger meets (travelling from the smallest province to the Canada Games and other national championships can be intimidating) and I can help them prepare somewhat for the experience. It is important to remember that it is difficult to be at the top of your game in the first 'big' meet in which you compete – you need a few tries to get it right. There is a learning curve and usually some disappointment that you will go through.
How did you first get involved in coaching?
Alex: I had some free time and I was asked to offer some technical help to some athletes. It just kind of slowly spread from there.
Gerard: After Canada Games in 2013, there was a bit of transitioning in sprint coaching in the province. I started by coaching the development group with Pearlgate once a week, while still training with the sprints coach. Eventually, my sprints coach was having difficulty finding the time to coach consistently with the birth of his child and a new job, so I would fill in for him when he couldn't make it and inform the other athletes of the workouts. At the same time, I was completing my Kinesiology degree at Memorial and taking a couple of coaching courses. When the time came, and my sprints coach was unable to commit to coaching anymore, I expanded my development group, and some of the younger sprinters joined with that group. Over a couple of years, once the group grew, I was able to split the sprints group and development group again. Both groups are now very successful, with the development group now being coached by some of the club's senior athletes.
Mike: As an athlete I was stubborn and so I dabbled in coaching myself when I thought I knew all the answers – only to realize that I had no idea what I was doing, and my results suffered. It was very humbling, and to a certain extent I see a lot of athletes go through the same process when their results might stagnate for a year or two. I became interested in learning how to make improvements in maximal sprinting speed and studied everything that I could on the matter. I began to experiment with various sprint training methodologies later in my career and eventually landing on a methodology that forms the foundation of my current training philosophies. As my athletic career ended, my coaching career began very naturally, and I have been coaching ever since.
Colin: My son started competing in track and field in elementary school and when he reached grade 8 he got involved in the Legion track and field program. I became the Legion team coach by default. This is a great program but on PEI – like most places – we are looking for coaches!
Tell us about your training group (number of athletes, age categories, LTAD stages, number of practices per week, etc.).
Alex: With how we set-up our training groups it is more coaching by committee for many of the athletes, under plans headed up by a particular coach, so these answers would vary greatly depending on which group in particular.
Gerard: My sprints group currently has 15-20 athletes. As a smaller club, we have a large age range within our groups – my youngest athlete is 12, while my oldest athlete is 22. The large majority of the athletes are in their high school years. Having a wide range of athletes and one coach does limit the amount of age-specific work that I can do, however I try to make it work as best as possible. It is not rare for me to have four different workouts that I am supervising simultaneously, while making slight changes to each workout to accommodate the specific training level of each athlete. I currently coach my group three times a week – I previously would have a fourth conditioning session, however with COVID-19 and my current schooling, I have been doing three sessions. My training group has a good mix of athletes who train to compete and athletes who train to improve speed for other sports. It is fun to have a good variety of athletes in my group, but it does cause some difficulty once competitions close in. Often times, the other sport athletes will enjoy the competition prep and it will spark their interest in trying out competitions.
Mike: Right now, I am coaching a group of about 14 collegiate-aged athletes, and we typically train two-three high intensity sessions per week and supplement that with some weight room activities. My training programs vary quite significantly from one athlete to the next, and so a first year athlete may be training only twice per week short speed, whereas a fourth year athlete I will try to get really creative to stimulate adaptations, and we may end up having upwards of eight smaller sessions broken up throughout the week, with sometimes two in a single day.
Colin: I currently have about 20 athletes and we train three to four days per week. There are about six or seven high school athletes (primarily U18) and the rest are competing for University of Prince Edward Island (UPEI). My younger athletes fit in the Train to Train / Learn to Compete stages, while the university athletes are in the Train to Compete / Learn to Win stages.
In 2015, Athletics Canada made a change to the U18 long hurdle event, upping the distance from 300m to 400m and keeping the hurdles at 33". While the change itself did not seem too drastic, the consequence of this was that U16 athletes would run the 200mh at 30" and then immediately progress to 400mh at 33". What are your thoughts on this particular progression, and what do you believe is the proper progression for this age category event?
Alex: Ultimately to fix the issues created with huge jumps like this, we have just a few options: we can lengthen the U16 event, shorten the U18 event, or remove the U16 event. Each has their own pros and cons, as does keeping it as it is. Generally speaking, U16 athletes have little to no development physically or energy system wise – for a longer sprint we hit a bit of an impasse, for this same reason they only run a flat 300m and that is pushing it for them. For this reason we have to be very careful with how we handle a long hurdle race. U18 athletes are at a point in their development that doing a 400mh isn't all that bad for them, although some would argue it isn't optimal, so shortening it from that perspective could be the choice. However, I don't see that as being the case, so I think we need to leave the U18 event alone as it is. From there we could lengthen the U16 event – if we did it we can only go out to something like a 250mh because of their development, but doing so would allow for more of the tactical and technical elements that the 200mh really doesn't allow for, but that may still leave us with too much of a gap to U18. I however think that we need to drop the U16 event from national competition, and provincially offer a mix of 200mh races and 300mh races so coaches, parents, and athletes can work to progress athletes towards the 400mh, rather than putting focus onto an event that can create bad habits and worsen their progression.
Gerard: To this date, I have only trained two athletes in long hurdles, and both were U18 males, and therefore I personally have not had to work with athletes going through this transition. However, based on my general understanding of progressing developing athletes, more subtle transitions are better. For example, progressing from a quarter size soccer field, then to a half size, before finally a full-size field is more beneficial for the athlete's development than going straight from a quarter size to a full size. Increasing the height of the hurdles by 3" and doubling the race distance is a big transition. If the U18 age group increased to 400m, I think it would make sense to also increase the distance of the U16 age group to 300m. This would make the transition a little less drastic. With all that being said, successful athletes and coaches have to be able to adapt in a split second. This change may hinder the athlete at the start, but with proper coaching and training, the change can be successfully done.
Mike: I don't have an opinion about this, I don't think I'm informed enough to say anything on this matter.
Colin: The 300m hurdles may be too great a challenge for U16 females who lack the strength for the event. Perhaps the 200m distance will attract more athletes. The 300m has been the 'long sprint' for U16 athletes for some time, and a U16 female can expect to give a 40 – 44 second effort. The 200mh is a 28 – 33 second effort for U16 females, with the hurdles providing significant extra effort. Adding 100m and some hurdles will not encourage young athletes to compete in the 'long' hurdle event – it can lead to sloppy technique and injuries.
One of the longest running debates in our sport concerns senior hurdle heights in the sprint hurdle races (women race over 33", men over 42"), with coaches most frequently arguing one of three positions: women's hurdles should be raised, men's hurdles should be lowered, or hurdle heights should remain where they're at. What is your stance on this?
Alex: This is a really fun debate and ultimately the heights will always stay the same, so it is merely academic to discuss, but I would say move the women up to 36". To begin with, men's hurdles at 42" is great and should stay where they are. The only real question is about the women's. In my view it depends on what you want women's 100mh to be – as it stands it is more of a sprint race than a hurdle race, which if that is the goal then leave them where they are. However if you want it to be like the men's, then some changes have to be made. To validate my point, according to the Centers for Disease Control and Prevention (CDC) the average height of a man in the United States is 69", which would make the hurdle 60.86% of the average man's height, whereas the average women is 63.6", which makes their hurdle 51.88% of the average women's height. So if you were to use only height proportion for women's hurdles to be like men's, their hurdles would have to be about 39". Now of course there are plenty of other factors including women's physiology that would limit your move to a height of 39". A move to 36" would be reasonable in my view, although again that would never happen.
Gerard: Once again, I do not have much personal experience with training hurdlers, but I can use some of my education and other personal experiences to try and answer this. There are a lot of factors that go into a sprint hurdle, such as sprint speed, stride length, leg length, etc. The average sprint speed, stride length, and leg length of a male is greater than that of a female, however, I do not know if these differences warrant hurdles that are 9" higher for males. From somewhat of an outsider's perspective, the current state of the hurdle race seems to be a fairly successful and entertaining. So, if it ain't broken, there is no reason to fix it. However, if there are fundamental issues with the race, I can see the heights being changed to have the hurdle heights be a little closer than they currently are. Since males and females are competing separately, it is important to look at each sex separately, rather than compare. As long as the males are comfortable with their event, and the females are comfortable with theirs, I don't see any issues.
Mike: I think women's hurdles should increase in height. It fundamentally biases women's hurdles in to a more speed focused event right now, whereas the men's event – although speed matters – is much more technical. I recognize though that it is difficult to make changes to events that have been practiced for so long.
Colin: The women's hurdle heights seem a bit low, but the result may be more women doing the event and having success – leave those where they are. Men's hurdles are very high, I say lower those to 39".
The toe drag technique of block starting has long been a source of division among sprint coaches – some praise it, others condemn it. What is your stance on the toe drag?
Alex: I see a toe drag as mistake in preparation and execution, caused by attempting to lengthen and lower drive angle. Ultimately, you'd only drag on purpose if you figure you gain more from the lower drive angle than you lose by making extra contact with the ground and limiting your following stride angle.
Gerard: It has not been a technique that I have taught to my athletes. I do put a lot of emphasis on keeping the torso low and driving the knees towards the chest in order to get a powerful push-off in the first few steps of a race, but I do not see an advantage to dragging the toes and introducing unnecessary friction to a runner's stride. I understand that by dragging the toes, it is causing the athlete to stay low and drive their knees, but I would rather teach my athletes the importance of that rather than just getting them to drag their toes.
Mike: I see the toe drag as a symptom of movement mechanics. It's not good to be dragging the foot, creating friction in the spike. I don't know if this is actively coached as a cue, but I do recognize that it does happen as a result of low heel recovery. It's tough – I think it's a more complex and nuanced issue, but I would say that I don't advocate that as a coaching cue and in the ideal world, an athlete would not drag their toes.
Colin: I teach a 'flat' first few strides rather than an actual toe drag – fewer trips and less wear and tear on the shoes. While I have seen the toe drag done very well, some athletes tend to exaggerate the drag to a fault.
In developing an athlete to perform over a particular distance, how often would you have that athlete exceed their race distance during training (example: 150m intervals for a 100m runner, 250m intervals for a 200m runner)?
Alex: Regularly, to be able to perform at your best in a given distance they need to be prepared to go further, allowing them to 'step down' to their race distance and make it both physically and mentally easier.
Gerard: With three training sessions per week, I follow a general pattern every week. There will be one short day, where distances are less than race distance and speed is emphasized; one medium day, where distances are close to race distance and technique and race strategy is emphasized; and one long day, where distances are longer than the race distance and there is more of an emphasis on speed endurance. So typically once a week I will have athletes exceeding their race distances.
Mike: It really depends on the athlete and the distance. Some athletes tolerate long sprint intervals much better than others. If you are a 400m sprinter, you have no choice but to tolerate and adapt to these intervals, but with that being said, I have rarely if ever prescribed an interval over 400m for a 400m sprinter. Racing above the distance is a different matter – it might make sense for a 400m sprinter to race a 600m. In the shorter sprint distances, again it really depends on the who and how. For a 100m sprinter, we often use 120m's and 150m's to build speed endurance, and we may use that once a week. For a 200m sprinter, we occasionally experiment with sprints above 200m, maybe up to 250m, but it's quite rare.
Colin: We rarely, if ever, do greater than race distance runs with our sprinters. We do a 150m test a few times a year for our 100/200 runners to indicate speed and endurance.
The 600m is an event that is sometimes considered a sprint event, and sometimes a mid-distance event, depending upon who you ask. What is – or what would be – your approach to coaching this long sprint / short-endurance event?
Alex: It is in my view the longest sprint, but it requires a mixture of pure sprint work, long sprint work, and distance work to allow the athlete to perform using such a complex mixture of energy systems.
Gerard: As an athlete, the 600m was my favourite event. In terms of coaching it, it would be really important to find that balance between 400m training and 800m training. As a sprints coach who has some athletes that also train for the 800m, I put a lot of emphasis on 200m and 300m repeats. For the 600m, I would also emphasis these repeats – it's a great way to work on the pacing that is still required for a 600m, but also keep each individual run relatively short to maintain speed development. Additionally, drawing on 400m training, I would emphasis sprints in the range of 120m-160m – doing sprints at this distance with shorter breaks would help work on speed and speed endurance. As a sprints coach, I would not give many workouts for 600m runners over 600m. I would prefer to keep speed as a priority, and work on endurance by emphasizing shorter break times.
Mike: I've never coached this event, but it's a very interesting one. I think that it really depends on the type of athlete you have, and there are multiple ways to train given all the variables that are coming together to produce that 600m performance. I like what Coach Bob Westman at the University of Toronto has done in the 600m. We've discussed his methodologies and I think I would probably tackle the training like he does, which is more from the sprint side of things. Again, you need a really fast athlete, with either exceptional anaerobic endurance or some natural aerobic abilities. You have to decide which system is really worth pursuing and at the expense of what trade-offs. Because my background is in sprints training, I think to have an athlete who is more aerobically inclined train in this way would be a waste of time.
Colin: I think a good 400m runner will run a better 600m than a good 800m runner would. Olympic 800m semi-finalist Geoff Harris was a great 600m runner, but he came from a speed background – 22.37 for 200m. I consider the 600m a long – and painful – sprint. 400m training with added special endurance workouts of 500m is ideal.
The positioning of athletes on relay squads is a less contentious topic, but one of high interest at all levels of the sport. What methodology do you rely on in assigning athletes to the four legs of the 4x100m?
Alex: It will vary greatly depending on the athletes you have, but ultimately I always start with the blocks and look for the most competent and consistent starter. From there, I take a look at who is the best at running corners of those that remain to run the third leg. From there, optimally I would put the faster remaining athlete on the second leg. Leaving the next fastest (or last remaining, depending on pool size) to run the final leg. This would be with the intent that assuming you have a few meets and time to train their hand-offs that you would end up adjusting the pass locations to shorten the first leg in favour of the second, and potentially shortening the third for second and/or fourth, or shortening the fourth for the third. With of course a few hundred other variables that could change it greatly.
Gerard: The anchor runner would always be the fastest 100m runner for me. I would choose the first leg based on whichever athlete has the best start. The second and third legs I would choose based on which athlete runs better on the turn and which athlete runs better on the straight.
Mike: I have always relied on data to make these types of decisions. There are three nuanced sprinting abilities to run a fast relay: 100m starting on the bend, flying 100m, and flying 100m on the bend. If you measure these three elements on each of your athletes, you can optimize the distribution of your talent. Assuming passing is equal, it takes the subjectivity out of the equation and you do not need to make guesses based on traditions like your best 200m guy is on the curve, etc.
Colin: Best out of the blocks for position 1. Position 2 is – potentially – the longest leg, so often best for that 400m runner who is moving down for the relay. Position 3 can run the turn and has the best relay skills. Position 4 is the team leader and good under pressure (won't fumble that final pass where the crowd could be getting away from him/her).
How about the 4x400m?
Alex: I always start by looking for the strongest athlete, or the one with the most experience cutting in, to run second for the cut in. From there I'd look to put the least experienced athlete running first, since they don't have to worry about other people or cutting in. From there I'd want the fastest remaining to run fourth, and your fastest from there (again pool size pending) to run third.
Gerard: For the 4x400m, the order would often depend on the level of competitiveness of the other teams. If it was a race with better teams, I would put my most competitive athletes first and last, to make sure that the team started and ended with a good kick. In general, the first leg would be the athlete most comfortable in blocks, the second leg would be an experienced runner who is comfortable with cutting in, and choosing between the third and fourth runner I would put the athlete that I think could more easily run outside of their comfort zone last.
Mike: The 4x400m is usually about positioning the strength of your runners. Who is the best competitor usually goes last, but it also depends on where your runners stack up against the competition. You may want to get an early lead in order to try to hold on to it with your last runners. The 4x400m placing I find are more psychologically driven, because if you get it right you can squeeze out some extra speed out of each of your runners.
Colin: This depends on where you feel you are in the field, which is pretty easy to figure out. This is not a great event for us so we tend to put our top guys early in the race – stay in contact for as long as possible and hope for some magic out of our final runner. We have put our best runner in the lead position in order to give that person a chance to show his / her stuff. If we had four healthy, competitive 400m runners on our team then I would change that thinking.
While strength training is important for all athletic disciplines, the muscle mass side of strength is often considered to be particularly important for sprinters. What is your approach to strength training for sprinters?
Alex: Strength is ultimately the bread and butter of pure sprints. It is extremely important and needs to be done to compliment the speed and technical work.
Gerard: In theory, I would like for my athletes to be regularly strength training. I think it's very important for strength and power development. However, many of my athletes are currently too young for unsupervised strength training, and it is difficult in the province to find a venue where I can bring my athletes and introduce them to strength training. As a relatively new sprints coach, introducing strength training to my group is my next goal.
Mike: I think strength training is way over-hyped in sprinting, and this is coming from a certified strength and conditioning specialist who did his Master's thesis on the biomechanics of the front squat. Do not get me wrong, strength is important, but it does not correlate to speed, and strength gains do not improve maximal sprinting speed. I will be controversial here and say that maximal strength has no impact on a somewhat developed sprinter's maximal speed. If you look at the literature in strength training, you will find a lot of studies related to strength gains improving acceleration and max velocity in team sport athletes. A lot of those gains would not likely have been achieved in an athlete with a sprint training age of more than one year, and if you did they would likely be confined to the early acceleration phase. Now if I say that, I should probably explain myself – it's worthy of a longer more nuanced conversation of course. I'll keep it simple for the sake of this response. I use strength training for a few reasons: injury prevention, specific load preparation, to correct any strength deficits, and to target specific joint mechanical issues. I am an advocate for hyper specificity – I would rather improve a sprinter's acceleration curve via sled sprints than through Olympic lifts. From what I have seen, sled sprints have a much higher and direct transfer of training. I think coaches need to take more time to understand the concept of transfer of training, which Dr. Bondarchuk has written extensively on. I try to minimize competing stressors as much as possible to allow the most amount of energy to be devoted to the main stimulus, and in sprinting that is maximal sprinting speed. Throughout my career, I've seen more sprinting speed gains from getting athletes who have been devoting way too much time in the gym to move away from the energy expenditure and devote it to intensification of the main sprint training components, while still keeping a maintenance dose of the strength stimulus present.
Colin: Our high school athletes may do a strength program that is aimed at general (not maximal) strength, and the goal is to increase performance somewhat and to prevent injury. Olympic lifting and max strength work is an option that some of our university aged athletes get into.
When do you begin to transition an athlete from simple lifts and body-weight exercises to more technical lifts and plated weights / dumbbells?
Alex: The key is when it is safe and when they're ready – you can and should work on the technical aspects of the more technical lifts well before you add weight. The athlete needs to be competent at the techniques before they even try to use a regularly weighted bar. Wooden dowels are your friend until they are completely ready, and of course are clear of their major growth windows.
Gerard: In order to keep athletes interested in strength training and safe from injuries, it is very important to have a slow and smooth progression. Once an athlete can demonstrate that they can perform simple bodyweight exercises and lifts, I would progress them to more complex lifts. For both the person and the body, it is important to progress enough so that the body is always being stressed, but not enough to cause injuries or a loss of interest from improper form or lifts that are too difficult for the athlete.
Mike: Now that I've trashed strength training (haha), let me dive-in to how we do progress in the gym. I typically move an athlete from novice lifts, which are more single leg, multi-planar lunge oriented, to more standard barbell movements, such as squats, deadlifts, and hex bar deadlifts. This transition occurs pretty quickly over the first few months of an athlete's career. As I explained earlier, we are more-so focused on creating a strength training protocol which attempts to address mechanical weaknesses in the athlete. This can present itself as a strength deficit (concentric or eccentric) which is more global, or one that is more specifically related to a posture, joint velocity, or movement sequence.
Colin: High school aged athletes will often do weight training as a component of their track and field training. My opinion is that these athletes should do a general strength program which will help to prevent injury and also to improve performance to some extent. The athletes will often feel that they are working at the 'next level' of training. This is a significant commitment for track athletes in high school, as many are still competing in other sports. When track athletes become 'twelve months a year' track athletes, I feel that they are mentally ready for the extra commitment of learning and doing Olympic lifting.
In regards to training facilities and resources, what is the most substantial challenge you face in coaching your athletes?
Alex: Access to it – we have beautiful facilities but we're very limited in terms of when and how we can use them, for a variety of reasons.
Gerard: Outside of the summer months, we do not have access to a safe and spacious training facility. We make use of the fieldhouse at Memorial, however we do not get access to reserved lanes and as a result are forced to use the track with the general public. This creates safety concerns for both the athletes and the general public and limits the work that I can do with athletes, particularly drills.
Mike: As a volunteer coach, my time is quite limited. The way I like to program for an individual athlete is to create a unique program for that person. And the way that this gets executed often means that training days may fall outside of our regularly scheduled practices. For example, the core training group may train Monday, Wednesday, Friday at 5pm, but the optimal program for one athlete might be to train outside of this specific micro cycle sequence, let's say on a 2, 2, 1, 1 repeating pattern (on, off, on, off) – you can see how this would be a significant challenge to organize a larger group around that. The most significant variable I like to manipulate is that microcycle structure – it's something that I learned via Derek Evely and Dr. B. There are tremendous societal and scheduling reasons why most programs adopt a traditional weekly microcycle with set training days. For my own schedule and that of others, I often program out of convenience, and the programming often falls into weekly patterning. But if I had full-time to dedicate to this pursuit what you would see is that I would program a variety of different microcycles depending on the athlete and I would ideally meet each group for each session.
Colin: We have a beautiful outdoor facility at UPEI and we have good access to that facility and equipment thanks to our close ties to the university (most of our university team members are from PEI and train at UPEI.) In the winter, we train on a very small, square-cornered, indoor track in the university's indoor gymnasium, which has a 40m straightaway. At 40m you hit a concrete wall or a steel door, so sprinters get to train over about 20m. The track is about 2.5m wide. Track shoes are not allowed and blocks are set up against a wall – friction and the wall hold them during practice starts. The facility forces us to work on technique (starts and running), and it forces athletes to accept the challenge of competing in a very tough AUS conference. Bailey Smith's success (three-time AUS 60m champ and USPORTS silver medalist) shows that we can perform at the highest levels in the country, but we have to be positive, determined, and smart. A poor facility is not an acceptable excuse for doing your best, it is just another part of the challenge.
Coaching is a skill that takes years of experience to refine, and is never truly perfected. What do you consider to be the single largest mistake that new and inexperienced coaches commonly make?
Alex: They see only one solution to a problem. Ultimately, with how varied athletes can be and how greatly mood – particularly with teen-aged athletes – can impact them, the coach needs to be flexible in how they solve and approach situations.
Gerard: As a new and inexperienced coach myself, I am not sure how much insight I can give into this question. For me, I think that a lot of new coaches may get impatient when first starting out. It is difficult at the start to be able to make a name for yourself, to be able to develop a solid program and to have a group with good numbers. A lot of patience is required and for me it took years before I felt that the size of my sprints group was at a number that I was happy with. There are a lot of senior athletes who do not coach for long, because they get discouraged. It is important to stick with it, and eventually the difficult first few months or years will be worth it.
Mike: That's a tough one. I think inevitably everyone goes through the Dunning-Kruger effect and have too much confidence early-on. The biggest mistake I would say that a lot of coaches make is that they build one single mental model of training and modify and add to that single mental model as they progress in their career. Having only one mental model of training theory dictates that there is a single fixed approach that works for everyone. For example, when I was a younger coach, my mental model was one such that super compensation must be achieved between each session, allowing for 24 – 48 hours recovery between high intensity sessions, and a de-load week must be present every 2 – 6 weeks in order to achieve adaptations. According to that model, training is best for everyone three days a week in what I would consider your traditional approach. Of course this model does work quite well, but it won't work for everyone in every situation and won't work forever. I still have a lot of room to grow, but I would say that I confidently operate with several mental models of training and attempt to use them in different circumstances. Endurance training vs. sprint training models are completely different, and many sprint coaches are very biased toward their own distances and vice versa. The earlier you can expand you model toolsets and check your biases, the better off you will be in the long-term with your athletes. The final important point here, is checking your biases and making sure that your process is vigorous enough to make sure that the things you believe to be true are in fact true. Every year I try to challenge one of my assumptions in a controlled and measured environment.
Colin: Here are three instead of just one. If you are going to be a coach, you should take advantage of coaching courses – you will be presented the best and most efficient way to teach / coach your athletes, and you will also receive a mountain of material. Learn how to work on running technique rather than just working endurance. Don't assume that all sprinters are distance runners in disguise.
As an art form that is constantly evolving, and a profession that requires working with various personalities in various situations, coaches must be life-long learners. As a coach, what is the latest thing that you have learned?
Alex: While I was answering the sprint hurdle question, I learned that advocating for women's hurdles to rise makes more sense than I had previously known.
Gerard: Having to coach through the COVID-19 pandemic has taught me a lot. As a coach, a lot of programming is directed towards preparing the athletes to peak at certain time points. However with COVID, there were no scheduled competitions, and it required me to change the plan of attack. For me, I learned the importance of constantly focusing on athlete development. During competition season, it was easy to give workouts to the athletes without focusing on the fundamentals of sprinting. During this extended period of time with no competition, I've really been able to emphasize fundamentals much more than I usually can.
Mike: I've been more focused on the differences from one athlete to another. Where they are in life, what types of personality traits they have, and how their identities are attached to track and field. I have found that the inter-personal styles, and social/societal patterns in athletes predict as much about their success as do their underlying genetics. And now as a coach I find myself as interested in helping the athletes be successful in life through athletics, and see how many of the skills that we work-on on the track transfer to the real world.
Colin: I follow a few YouTube contributors who get into the mechanics of the top runners in the world. They also offer examples of exercises that will help athletes change their running technique. I find that I need three or four or five different ways to teach a technique to athletes, and I am always looking for a better way.
Aside from coaching, what are some of your other hobbies?
Alex: Not much, I am pretty boring. I watch a decent amount of sports and general entertainment.
Gerard: I am currently in my second year of medical school at Memorial, which takes up a large majority of my time. I have been dealing with various injuries over the last year, including a recent Achilles tendon rupture. In addition to coaching, I would typically be training myself for varsity track and field and also playing competitive provincial soccer.
Mike: Besides coaching, I focus on spending time with my family, and building my business (www.innerlogic.ca). These are the best things in life.
Colin: I am a retired teacher and I am in the middle of a 30 year renovation of my house. I feel that I will finish this project and move on to another in about 15 years.
Through their long time dedication to coaching sprint events in the Atlantic provinces, these four coaches serve as excellent role models for coaches of all backgrounds. Thank you to Alex, Gerard, Mike, and Colin for all that you do in the world of coaching!
This week, please take a moment to express your appreciation of the many coaches in Canada who are making a difference in their sport communities! #CoachesWeek #ThanksCoach

---

Hosted by New Brunswick-born track runner, administrator, and coach Brandon Scott LeBlanc, AtlanticU23 is an interview series with upcoming Atlantic Canada track and field athletes under the age of 23.
Facebook: @AtlanticU23
Twitter: @AtlanticU23
User

Comments
Currently, there are no comments.