Everything I Couldn't Tell my Parents
Posted 4 months ago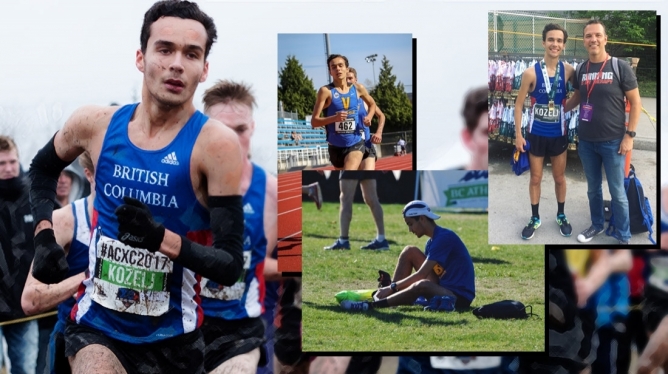 Written by Josh Kozelj
When I was a child I used to hide from my parents. There was a closet in my room that was maybe two meters long and a meter wide, and this was my sanctuary. It was quiet, and a place to avoid the double life I was living through sport. For hours after middle and high school, I would sit in that closet bawling my eyes out and wiping snot off my nose with my already tear soaked t-shirt. Only when I didn't come down for dinner would my parents start to get worried and look for me. They would come into my room, and I would watch them through the slits in the closet door, as they looked for me under my desk and bed. I secretly hoped they would find me. Yes, it may not make sense to hide in a closet but at the same time hope my parents would find me, but I hoped they would have the answers to the questions that rattled around in my head. Why did it feel like my lungs were closing in on me? Why did it get hard to breath? Why did it seem to me, that out of all the friends in my group, I was the only one that seemed worried all the time?
Most people that know me today as a 20-year-old university student, see me as shy and introverted, and that is true. However, in middle and high school, I got involved in a few fist fights in that I'm not proud of. Because of these fights, I earned the nickname "Angry Josh" from my school friends and sports teammates.  
First, when I was 13 and living in the Vancouver suburb of Coquitlam, B.C., I dreamed of one day playing in the National Football League. This vision of mine turned into an obsession. I became so consumed by football that every day before and after school I turned the TV in my family's living room to the 24/7 football channel, NFL Network. Luckily for me, the NFL Network re-ran Hall of Fame highlight reels of running back Barry Sanders and Walter Payton's. I began to study their technique, in hopes of one day mastering their famous cuts and jukes. Once, after watching a Barry Sanders highlight against the Dallas Cowboys in a 1995 playoff game where he ran into a herd of five Cowboy defensive lineman, stopped dead in his tracks, and reversed directions to evade them on route to a touchdown. I went to my backyard in the middle of a torrential monsoon and dodged and spun from imaginary defenders in hopes of imitating him. 
On the first day of the season, I laced up my hand-me-down black and white Under Armor spikes, threw on my gloves and jogged to the mass of people on the field. The coaches ordered us into the pre-arranged teams, and I met the seven people with whom I would spend the next three months vying for the title. Once we divided into teams, our coach, an old white-haired buzz-cut man, preached how we would treat each other as family, as brothers, and how we would have each other's back no matter what.
One thing that my dad had instilled in me as a child was hard work. He was an athlete himself, and recognized the importance of respecting coach's orders. My dad was a tennis player, and in this individualized sport where it's merely the athlete and the coach interacting, following coach's orders was highlighted even more. So, after hearing my football coach rant about how we should see each other as brothers, coupled with my dad's experience following coach's orders in his tennis career, sparked a flame inside me to protect my teammates at all cost. 
In a mid-season game, when one of the opposing team's players threw his mouth guard and took a swing at our quarterback, I was the first to run across the field and protect him. Despite my lanky 6'0, 140-pound frame, I tried to take down a defender who was at least twice my weight and had three inches on me. Naturally, as I had watched professional players tackle on NFL Network, I went for his torso. I think the element of surprise took him down. I remember laying at the bottom of a 14-person doggy pile with someone's back weighing down on my neck, thinking what have I gotten myself into. 
After the scrum was over and the players were pulled off the pile, adrenaline coursed through my veins. Perhaps like a charging bull seeing red, every time I saw that opposing team after that I felt anger towards them. My coach and teammates started to slap my butt, a common football praising technique, and said, "I like Angry Josh!" Just like that 'Angry Josh' became a rallying cry for our team. For the rest of the season, whenever we needed a spark they would look to me for the emotional boost.
But I didn't like being the hostile one, the pitbull on the team. I preferred being quiet, respectful, and nice. What the coaches or my teammates didn't know was that I was simply following coach's orders, and instinctively helping my brother in need.
'Angry Josh' became a trademark for me in team sports throughout high school. At the end of the season I stopped playing football, ending my lifelong dream of playing in the NFL. The abusive culture, and militant style coaching had turned me off from the game. With all the fighting and 'rah rah' atmosphere, I forgot the reason why I joined football in the first place, for its purity: The silky-smooth cuts of Sanders, the magician like spin moves of Payton; not the street-yard bully part of the game.
However, 'Angry Josh' followed me into the next team sport I played, basketball. Like my football coach, our basketball coach preached how we were a family, and I got déjà vu when we were playing a late season game against a rival school in Richmond. We were leading by a healthy margin when our star point guard, and my best friend on the team, made a lay-up and subsequently got two-arm-pushed into the nearby wall by a frustrated opposing player. Standing a few feet away from the action, again I jumped in to defend my teammate. I shoved the other player in return, and he grabbed my jersey and started to flail his arms in the direction of my face. Before any punches were landed, the referees jumped in between us, and ejected us both from the game.
Almost exactly like my football team, my high-school basketball team started to feed off the energy I brought to the court. They cheered me on every time I dived for a loose ball, they egged me on when I started to trash talk opponents, and perhaps what I'm most embarrassed about, they congratulated me on getting into fights on court and getting ejected. It felt like it was my job to be angry and fire up the team in games, and for someone who is naturally introverted, every game felt both physically and mentally exhausting.
When I quit basketball in grade 10 for the individualized sport of running, I felt like I lost a connection with that friend group. I started to isolate myself from them, in fear that they wouldn't like me without the fiery persona. During lunchtime, instead of sitting and chatting with them in our school's Grand Hall, I opted to sit in classrooms by myself.
When I was 15 on one November night, after a feisty basketball practice where I engaged in an intense verbal confrontation with a teammate after we lost a scrimmage, I tip-toed up the stairs to my room to hide in my closet. In there I thought about the damage I caused to the relationship with that teammate. We were, and still are close friends, but in the intensity of the basketball game, I let 'Angry Josh' take over my persona and cussed out words I later regret saying in the heat of the moment.  My mother followed me into my room and said, "Josh, I know you're in there." (Years later, my parents admitted to me that they always knew I went to my room to hide in my closet. However, they didn't come to seek me out immediately because they didn't know how to help me. They were begging for any kind of insight into my headspace). Looking through the opening in the closet, I made eye-contact with her and she pulled open the door.
"Can we talk?"
Yes. Mom, I would love to talk. I have these feelings. Feelings like my lungs are going to explode, like, like, I'm drowning. Like I'm suffocating. I don't know what to do. I don't know who to talk too. I don't know if my friends are my friends? I don't know if they like me as a friend to hang out with after school, or as a simply a friend to sit beside in class. Mom, I think I'm overthinking this all, but I just don't know. I've googled, which I know you and Dad have said not to do in the past, but I did it anyways. I googled about depression and anxiety, and, I think that might be what's going on with me. Mom, I'm scared. Mom, can you help? Please.
"Josh?" she said again.
But, I couldn't say any of those thoughts. Instead I sat in front of my Mom shaking and crying.
"I can't help you if you don't tell me what's going on. Josh, I want you to know that you can never disappoint us." Again, I stared at the ground, and didn't respond. She walked towards the door of my room, but turned around with her hand on the door handle. "I want to help you, but if you don't tell us, I can't."
Mom! Wait! Don't leave me here, alone!
I watched her close the door, and used my forearm to wipe the tears coursing down my face.
During one lunchtime when I was 17 and in grade 12, I stayed inside my History 12 classroom because I knew that teacher always left his class unlocked while he went to the staff lounge. It was me, a few grade nines huddled around a computer, and another student studying in the corner.
That day, I learned the story of Madison Holleran. While surfing through multiple sports websites I stumbled upon an article titled, "Spilt Image - On Instagram, Madison Holleran's life looked ideal: Star athlete, bright student, beloved friend. But the photos hid the reality of someone struggling to go on." Without hesitation, I clicked on the article.
In Madison's story, I could see parallels to my own life. Madison was a star high school track runner, who had just committed to Penn University, but was dealing with an underlying case of severe depression. She was a state champion in track, also had a scholarship offer to Lehigh university for soccer, and was an A student. Her friends and family described her as a perfectionist, who struggled when she performed poorly. In the article, ESPN journalist Kate Fagan described Madison as, "A deep thinker, someone who was aware of the image she presented to the world, and someone who often struggled with what the image conveyed about her, with how people superficially read who she was, what her life was like."
However, despite her illness, she continued to post photos on her Instagram feed which portrayed her life as seemingly perfect: posing for a group shot at a party, the finish line of a cross country race, smiling with her dad in a Penn track singlet. 
I found this relatable to my life. While I played team sports, I struggled with the image that was conveyed of me: an extroverted, fiery, and angry person to whom the team looked for a spark. Also, I had just accepted an offer to run track at UVic, and consider myself a perfectionist. I remember in high school particularly, how I would put myself down for every small stumble. I kicked myself for stuttering or stumbling in conversation, and cursed under my breath for the awkward pause that was my fault. I wanted to make everyone like me, and sometimes at the fault of my personal well-being. I put other people's priorities over mine to ensure they liked me. I remember handing over my homework to one friend in a math class, since he forgot to do the assignment, only to later that night scroll through my Instagram feed and see him posing for pictures at a party, without me. These were the people that I shut off from my life, that I avoided in fear that they wouldn't like me for who I am, without being 'Angry Josh.'
Tragically, on January 17, 2014, Madison sprinted off the ninth floor of a parking garage and took her own life at the age of 19.
After reading Madison's story, I felt I needed to seek out help and was ready to let my parents into my life. A month or two after I started counselling, my counsellor suggested a joint session with my parents might help to get us all on the same page. In that first joint discussion, I wore a flat brim baseball cap to cover my eyes, and kept my gaze at the brown and orange rug below me. Tears formed in my eyes and my counsellor and parents started to talk about me. Honestly, even after years of reflection, I can't pinpoint an exact reason why I couldn't share my feelings with my parents before then. Maybe it was because I didn't want to disappoint them. Or, maybe it was because I didn't want them to think I was simply a crazed lunatic. Mental health has this stigma surrounding it, and I didn't want my parents to think that I was weak.
My dad, wearing a navy suit, had left worked early for this meeting and sat beside my mother in the corner of the office. The counsellor sat beside her desk, and I was tucked in the opposite corner from my parents closest to the window.
My counsellor, with my previous approval, explained my parents the reasoning for them coming to the appointment. When she stopped taking, and all three-people turned in the office to face me, I kept my eyes on the rug. I could feel tears in my eyes, but I opened my mouth to speak. The words simply flowed out.
As I started to describe the pressure I felt from my ex-basketball teammates, and how I was lonely from isolating myself from them, I watched my parent's expressions. My mother's eyes were already red and wet with tears, while I noticed a sight I never saw from my dad before. I saw him crying. He has always been the rock in the family. The one who had never complained about being tired after getting home from work, the one who paid the bills, the one who cancelled business trips across the country just to watch my track races. I was shocked to see his emotions, and after this meeting I never hid in my closet again. I saw my parents at their most vulnerable, they've already seen me at my lowest, and it felt like we recaptured a bond. For the first time in my life I let them into my closet.
I hit another low point in my second year at university. However, this time it was different. In a span of a few days, I found out my aunt had been diagnosed with terminal cancer, and one of my high school friends that I ran cross country with had committed suicide. To make matters worse, that weekend I was scheduled to run the biggest race of my life, the B.C. Cross Country Championships in Abbotsford, B.C., on the same course that my friend and I had run on in high school. I inscribed his initials, E.H, on my spikes and ran the race thinking not only of him, but of my aunt too.
This time, when I was battling my personal demons, I leaned on my parents for support. After that joint counselling session in high school, I found it much easier to communicate with them. As a writer, I take pride in describing concrete emotions, but I find myself struggling how to describe this bond that was felt in that counselling session. It's like a switch went off in my brain, and I became immensely more comfortable talking with them. Before the race, I talked with my dad on the phone almost every night. In tears, with anger in my voice, frustration in my tone. I shared with him my anger. I asked him why the word seemed to torture all those close to me, while I was isolated on an island pursuing my love of running and writing. 
The whole eight-kilometer race went by in a blur, and I don't remember any of it except crossing the finish line feeling like a ten-pound cylinder block was lifted off my shoulders. After the race, I felt this feeling of jubilation of accomplishing all the goals I set out for myself: Qualify to represent Team B.C. at the Canadian Cross Country Nationals, and make the UVic U Sports Varsity team. However, seeing my parents greet me at the finish line, was the one unforgettable moment I'll treasure from that day. While runners crossed the finish line behind us, in my sweat drenched royal blue and yellow Vikes singlet, I embraced my parents in a gigantic bear hug. 
User

Comments
User since:
Sep 24th, 2018

---

Posts: 4

Nasalstrip said 4 months ago

Wow, Josh, thanks for sharing your story! At the end of the day we're just people aren't we? There's a lot of negativity on this site, but hopefully we can come together to support those who need it.

This post was edited by Nasalstrip 4 months ago .

Quote comment

User since:
Jun 8th, 2015

---

Posts: 1260
User since:
Oct 8th, 2013

---

Posts: 857
User since:
Sep 1st, 2018

---

Posts: 16

BlogSquad said 4 months ago

Amazing story Josh!! From a fellow writer and runner, it's great to hear you come out with such a personal and inspirational story. I'm sure you will accomplish anything you set out to do in the future after going through what you've been through.

Quote comment

User since:
Sep 25th, 2013

---

Posts: 2351

Oldster said 4 months ago

Thanks, Josh. This is a courageous offering. And you should know that you have more company in your struggles-- of all ages and at all levels of this sport-- than you probably realize. What you've written here is a gift to all of them. Happy trails, man.

Quote comment

Anonymous

---

Posts: 48829

anonymous said 4 months ago

Thanks so much for this deeply personal piece of writing. There are many who cannot go to their parents, no matter what. To those people, I want to say the following: There are other people in your life who care about you. Find those people and talk to them. If you can't find them, find a therapist who will support you. Life is worth living.

Quote comment

User since:
Oct 4th, 2018

---

Posts: 7

Hillrunner said 4 months ago

Thank you so much for sharing. Depression and anxiety are more common than many believe. What many young teens and adults are battling while trying to go to university is so sad. I love your message that you finally reached out and it made a difference. You will make a difference to other lives from this post-others will read it and likely reach out and maybe start a healing process. I know you personally and I am so grateful you wrote this. I will start reaching out more and I hope others do.

Quote comment