PhD Research Project - Recruiting middle-distance runners across Canada
Posted 1 month ago
Dear Athlete,
You are invited to participate in the second phase of our research project, in which we are aiming to evaluate and compare the benefits, drawbacks, and effects of different online mental performance interventions on exercise-induced pain management (EIP), performance, and mental health in competitive and high-performance endurance athletes. This study is part of the principal investigator's doctoral research.
The findings of this research will lead to applicable recommendations that endurance athletes, coaches, and mental performance consultants can use to enhance EIP management, performance, and mental health. Further, workbooks specifically designed for the interventions will be available for use following this research.
As a participant, you will be asked to participate in an online intervention lasting 8 consecutive weeks between February and May 2020. The intervention will consist of completing a module of a workbook each week and submit it to the lead researcher, Jonathan Lasnier. Each module will take approximately 30 minutes to complete. You will also be asked to complete a survey containing demographic, EIP management, psychological skills, and mental health-related questions before and after the online intervention, which will take 20-30 minutes each time.
After the online intervention, some participants who have indicated in their consent form they wanted to be contacted for a follow-up qualitative study will be asked to participate in one face-to-face interview conducted in person or online via Zoom. The interview, which will last approximately 45 minutes, will take place two months after submitting the last module of the workbook and will be audio-recorded. Participants will be asked to discuss their overall experience and perceived changes as a result of participating in the online intervention. They will also be asked to discuss contextual competitions information.
To be eligible, you must (a) be aged from 18 to 35 years old, (b) be a provincial, national or international level club middle-distance track and field athlete who is specialized in distances ranging from 600 meters to the mile, (c) be competing before and after the online intervention, and (d) be able to read in English.
Your participation in this research project is extremely important as mental performance interventions to improve EIP management, performance, and mental health in endurance athletes are limited. Help us help endurance athletes to perform up to their potential while maintaining their mental health. If you are interested, please email Jonathan Lasnier at jonathan.lasnier@uottawa.ca. Participants will be recruited on a first-come, first-served basis.
Thank you for your time and participation!
Sincerely,
Jonathan Lasnier, PhD Candidate
jonathan.lasnier@uottawa.ca
School of Human Kinetics University of Ottawa

Natalie Durand-Bush, PhD
natalie.durand-bush@uottawa.ca
School of Human Kinetics University of Ottawa
IMPORTANT LINKS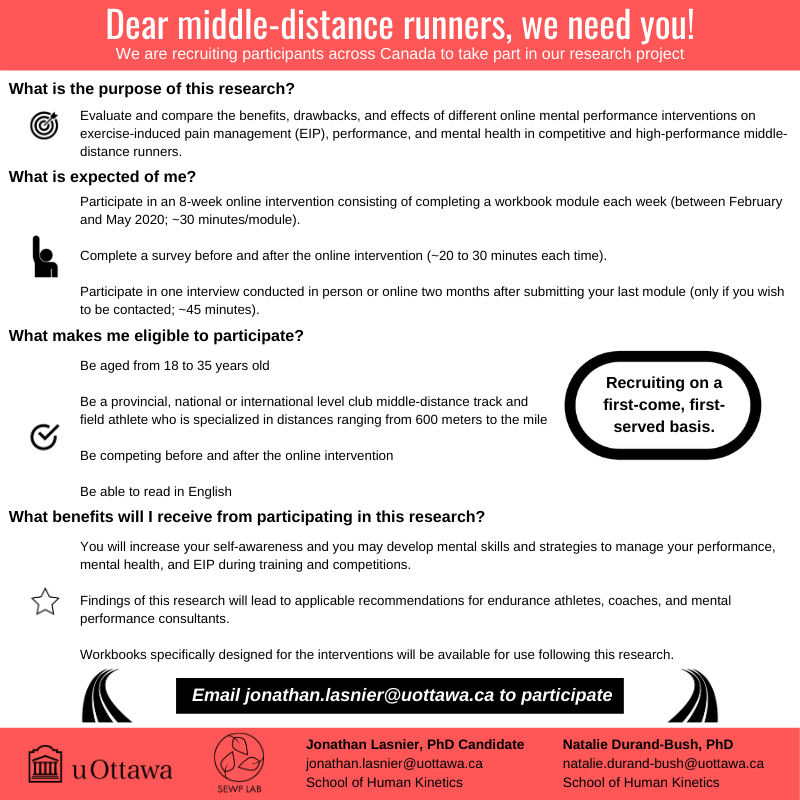 User

Comments