SECOND WIN FOR WOODFINE, COMEAU IS FOR REAL
Posted 1 year ago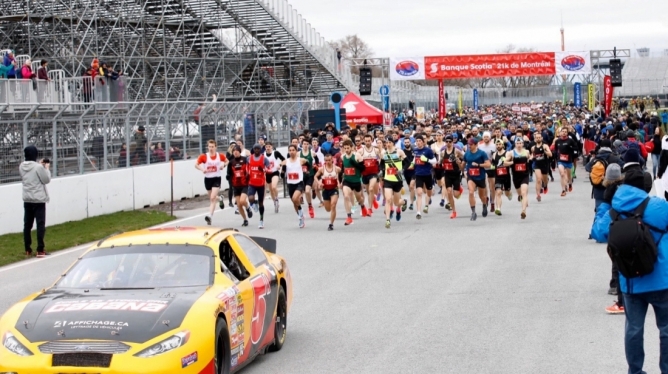 Photo Courtesy: Photo: Inge Johnson, Canada Running Series
Montreal, April 28, 2019 - With the presence of national cross-country team member Yves Sikubwabo at the starting line for the 17th edition of the Banque Scotia 21k de Montréal race, we thought the defending champion Tristan Woodfine would face a high-level opponent. It seems Woodfine did not feel like sharing the spotlight. For a second year in a row he dominated the half-marathon on islands of Parc Jean-Drapeau, crossing the finish line alone in 1:05:27 - far ahead of Toronto's Rejean Chiasson - second in 1:08:00. Montreal's Pierre-Lou Billerot completed the podium on his home turf in 1:08:19.

On the women's side, the presence of Rachel Hannah (2015 Pan Am Games bronze medalist) and Sasha Gollish (returning Banque Scotia 21k de Montréal 2018) foreshadowed a duel between the two elite runners from Ontario... but young Anne- Marie Comeau came out strong after 10 kilometers, finishing at 1:14:07, (a new personal record) securing a first place finish for the Quebec local.

Based on their strong finishes, Woodfine and Comeau seem to have identical race plans. Woodfine, of Cobden, Ont., has gained a lot of confidence since his 2:15:19 performance at the Houston Marathon last January. The ambient temperature of 3 Celsius seemed to hold off the leaders at the 5km mark (15: 52) and Woodfine did not wait much longer to break up the field. Between 8-9 km, he pulled away and was not challenged, leaving Sikubwabo struggling along with the rest of the pack.

Woodfine had built an 80-second lead over Sikubwabo by the 15th kilometer and ran solo until the finish. Sikubwabo, struggling with calf pain, dropped out shortly before the 17th kilometer.

The lonely race did not slow Woodfine's effort. He set a course personal record by 16 seconds from his 2018 time. "I felt pretty good and I accelerated progressively between 8th and 9th to see how the others would react," said the winner immediately after the race. "It was not too difficult afterwards. "
Woodfine, 26, has not seemed to receive the notoriety he deserves after his excellent Houston race, but he's not concerned about it. "The Houston marathon and the miles I ran during the preparation helped me a lot in terms of confidence. I feel that I am in a going in the right direction. There is still work to be done to reach a higher level. "

Woodfine is a sharp contrast to some athletes who might complain about a lack of recognition. "I have a lot of support around me; my family, my coach and my sports therapist are great," he says. Aside from the free care of a chiropractor, Woodfine does not enjoy the financial benefits of a sponsor.

Unlike last year when the Banque Scotia 21k de Montréal was part of the buildup towards the Ottawa Marathon, this year's Montreal race is part of a long-term plan leading up to the Scotiabank Waterfront marathon in Toronto, on the road to olympic qualification. ''This is an important year and I keep in mind the goal of an Olympic standard.''

No doubt, Anne-Marie Comeau is for real Anne-Marie Comeau, who had been cautious in her first half-marathon here in 2018 (in which she finished second) was more daring this time around. Our Olympian at the Pyongchang 2018 Winter Games (in cross-country skiing) took the lead shortly after the 10k mark. Keeping up with her pace from the start, she gradually broke up with Hannah and Gollish to cross the 15th kilometer mark (52:30) with a 36-second lead over Hannah. "I felt great. I did not accelerate but I started a little faster than usual. After my first half marathon last year, I felt more comfortable. I wanted to run under 1h15 min, so I'm pretty happy today to be in 1h14." Comeau, who is only 22 years old, is has a bright and promising future in long distances. In preparation for her first full marathon in Ottawa this May, she was as fresh as one can be after today's effort. Promising, isn't it?

Satisfied with her effort, Rachel Hannah finished second in 1:15:15. The 32 year old Guelph athlete was reasonably happy with the result. "The timing for this race was ideal in my program. I felt pretty good. The goal today was to run a half at a slightly faster pace than a marathon pace, which is perfect in preparing for the marathon. My last race here dates from five years ago and I like the course and the encouragement we receive. "

Hannah did all she could to keep pace with Comeau but had to let go as the Saint- Féréol-les-Neiges racer was in full control. Toronto's Sasha Gollish had warned us. "I do not feel very good," she said a few minutes before the start. "I defended my doctoral thesis this week and I arrived here quite exhausted," she explained after her 3rd place finish (1:17:44). "I'm not surprised with this result and I gave it all I had." 

Overall, there was a great effort on this speedy and flat course by all the athletes. This year's Banque Scotia running weekend was a record-setting success. More than 7300 participants entered the 21K, 10K and 5K races, and a record total of $1.5 million was raised by the participants in the Scotia Charity Challenge to benefit another record- breaking 80 local charities.
User

Comments
Currently, there are no comments.