The Terminal Mile Cup + Hamilton PB Meet
Posted 6 months ago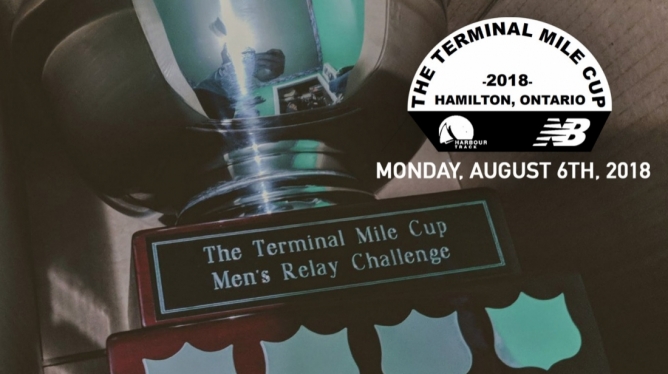 On Monday, August 6th at the Hamilton PB Twilight Meet, some of the country's best will be taking to the line in teams of 4 to run in a distance medley relay race for a chance to win the innagural Terminal Mile Cup. Along with the chance to get their names on the trophy, New Balance has raised the stakes with the "New Balance Canada Open Challenge," providing each winning team of 4 (fastest open male team and fastest open female team) with a pair of shoes for each contributing member.
We are grateful to the team at New Balance Canada for all the support they give to Canadian athletes, and are honoured to have them be a part of this race this year, and hopefully for many years to come.
Other News/Media
Previewing The Terminal Mile Cup With Nick Falk And Corey Bellemore
The Terminal Mile Cup Welcomes "The New Balance Canada Open Challenge"
Meet Schedule
6:30pm 100m women heat 1
6:33pm 100m women heat 2
6:36pm 100m women heat 3
6:39pm 100m men heat 1
6:42pm 100m men heat 2
6:45pm 100m men heat 3
6:48pm 100m men heat 4
7:00pm 400m women heat 1
7:04pm 400m men heat 1
7:08pm 400m men heat 2
7:20pm 100m women round 2 ht 1
7:23pm 100m women round 2 ht 2
7:26pm 100m men round 2 heat 1
7:29pm 100m men round 2 heat 2
7:32pm 100m men round 2 heat 3
7:35pm 100m men round 2 heat 4
7:45pm 800m women heat 1
7:50pm 800m men heat 1
7:55pm 800m men heat 2
8:00pm 800m men heat 3
8:12pm 200m women heat 1
8:15pm 200m women heat 2
8:18pm 200m women heat 3
8:21pm 200m men heat 1
8:24pm 200m men heat 2
8:27pm 200m men heat 3
8:30pm 200m men heat 4
8:34pm 3k men heat 1
8:50pm 3k women heat 1
9:05pm 1500m women heat 1
9:12pm 1500m men heat 1
9:19pm 1500m men heat 2
9:30pm 800m men fastest heat (1:51-1:56.00)
9:34pm 800m women fastest heat (2:02-2:07.61)
9:40pm Distance medley relay women
9:55pm Distance medley relay men
User

Comments