U Sports Track & Field Championship Live Stream, Live Results & Prediction Contest!
Posted 11 months ago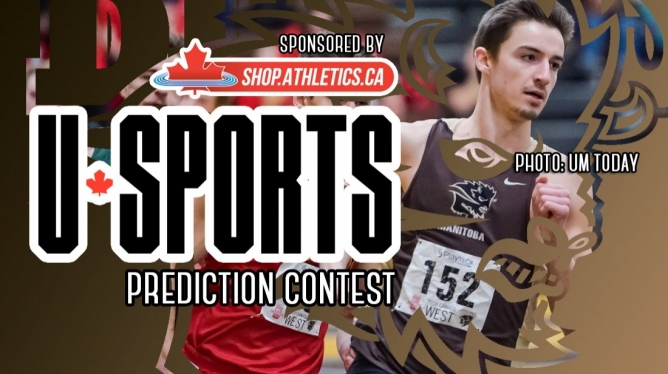 Photo courtesy UM Today
2019 U SPORTS TRACK & FIELD CHAMPIONSHIPS
Winnipeg, Manitoba - March 7-9, 2019
IMPORTANT LINKS
LIVE STREAM | MEET SCHEDULE | ENTRIES | RANKINGS | PREVIOUS RESULTS | PREDICTION CONTEST
LIVE RESULTS (Courtesy Athletics Manitoba)
PREDICTION CONTEST
THE CONTEST IS NOW CLOSED. THANKS TO EVERYONE WHO ENTERED!
Your 20% discount code to the
Athletics Canada Shop is:
USPORTS
* 20% off entire order, One use per customer, Active from March 1 to March 31 (11:59 p.m. ET)
User

Comments
Anonymous

---

Posts: 56055

Scheddy said 11 months ago

Are schedule times central or eastern?

Quote comment

Anonymous

---

Posts: 56055

Anonymous said 11 months ago

Quoting: Scheddy
"Are schedule times central or eastern?"

central

Quote comment

Anonymous

---

Posts: 56055

Anonymous said 11 months ago

Will there be a free livestream like XC Champs ?

Message from Moderator:

I highly recommend whoever provided that XC stream does not do it again for the tnf champs. There are broadcasting rights and you could be held liable for doing something like this. If people want to watch the live stream purchase a subscription here:

https://usports.live

* The live stream (or any funds generated from it) are in no way associated with Trackie. The stream/services are provided by U Sports and SportsCanada.tv.

If you have issues/questions please contact moderator@trackie.com.

Quote comment

Anonymous

---

Posts: 56055

Anonymous said 11 months ago

But if someone were to post a link to a booklegged livestream trackie wouldn't take it down right?

All I'm saying is $10 for 1 day is WAY too expensive for this level of competition.

Message from Moderator:

Yes we would have to remove any links that are not the official live stream. If the price is too high then try to get a group of friends together to split costs. Or purchase the 14.99 3 month plan.

If you have issues/questions please contact moderator@trackie.com.

Quote comment

Anonymous

---

Posts: 56055

Anonymous said 11 months ago

I'm happy to pay for the service but U Sports has to deliver. It's the day of the event and all the links are directing me to archived soccer (2018 U SPORTS Women's Soccer). It's hard to share the link and encourage people to subscribe when you can't be sure of the quality of the service.

Quote comment

Anonymous

---

Posts: 56055

Anonymous said 11 months ago

Not impressed. After a very poor quality XC stream I still decided to pay for the TnF live stream and it's not even on air while the first competitions are going on...

Quote comment

Anonymous

---

Posts: 56055

Anonymous said 11 months ago

Quoting: Anonymous
"I'm happy to pay for the service but U Sports has to deliver. It's the day of the event and all the links are directing me to archived soccer (2018 U SPORTS Women's Soccer). It's hard to share the link and encourage people to subscribe when you can't be sure of the quality of the service."

Completely agree. Having to subscribe and pay what I consider a fairly hefty price means that we should be ensured a certain quality of stream. A good place to start with that is having commentators who actually KNOW the sport and athletes competing. The announcing for the women's pent 60mH was awful. They were announcing the names of the women's 60m prelims, not pent hurdles, and clearly do not have a background with hurdles (commenting things like "She seems to have clipped a hurdle, back at the first jump there"....and saying the women were set and waiting for the starting gun before they were even in their blocks).

It's disappointing that former USports/CIS athletes who are still involved with and informed about USports track and field can't be given the opportunity to announce at the championships. I'd expect a much better quality from them. I know many people have requested this in the past as well.

*If the current commentator does, in fact, have a track and field background then I'm not sure what happened there but clearly things were not organized at the very least.

Quote comment

Anonymous

---

Posts: 56055

Steph said 11 months ago

Is it possible to have the results updated? The hep/pent started over an hour ago....

Quote comment

User since:
Jul 1st, 2008

---

Posts: 125

A.Brown said 11 months ago

Despite living in Winnipeg, I apparently don't know the answer to this. Is the "James Daly Fieldhouse" actually updated/changed from Max Bell or is it just a new name?

I was looking at the start-list for the 1000m and noticed the facility record 2:22.8 was apparently set in 2015 but Tommy Lecours' Championship record (2:22.0) in 2012 was also set in Winnipeg. You'd think they'd be one and the same.

Quote comment

Anonymous

---

Posts: 56055

Anonymous said 11 months ago

How come I have signed in and paid for the live stream on Usports channel but I but can't see anything?

Quote comment

User since:
Sep 12th, 2014

---

Posts: 833

NC Blogger said 11 months ago

I would be willing to pay - IF - the quality was there. The OUA and Atlantic Conferences were both able to put together a decent live stream for free, why not USport?

Please let me know if the quality is worth the cost....

Quote comment

Anonymous

---

Posts: 56055

trackalum123 said 11 months ago

So far incredibly unimpressed - the 60's are set to begin in 5 minutes yet the stream is off air?

Quote comment

Anonymous

---

Posts: 56055

Anonymous said 11 months ago

The video quality looks good and I'm glad there is some coverage. Hopefully they can work in the timing clock overlay graphic as things proceed. Any chance the video feeds could just be left live for Field and Track English / French so we can sense what's happening at the event? I don't understand the segmented schedule at this stage as it doesn't allow you to play the prior event and unfortunately it doesn't look like you can backup the live feed to catch what you missed.

Quote comment

Anonymous

---

Posts: 56055

Anonymous said 11 months ago

How does Usports have someone announcing the stream that doesn't even know how to pronounce the names of the top athletes in the country (Olivia Romaniw being called Row-maw-nee)... Or even worse, not know who is even in an event?!
Waiting for the men's 600m the announcer said we should all keep an eye out for the top three guys in the event: Jack Berkshire, Stephen Evans, and Philip Osei.... Philip Osei is not in the men's 600m.
Incredibly unimpressed with the complete lack of knowledge being demonstrated throughout the entire broadcast today.

Quote comment

User since:
Jun 8th, 2015

---

Posts: 1425
Anonymous

---

Posts: 56055

Liveresults said 11 months ago

These are the best live results ever. Nothing live about them.

Quote comment

Anonymous

---

Posts: 56055

Anonymous said 11 months ago

@trackie, could you explain the scoring process for the contest? thanks!

Message from Moderator:

We calculate the points by:

- 10 points for correctly picking 1st

- 5 points for correctly picking 2nd

- 5 points for correctly picking 3rd

- 2 point for correctly picking top-3 placing (ex. predicted 3rd but placed 2nd)

Person with highest points wins. If there is a tie, the person who entered the contest first wins.

If you have issues/questions please contact moderator@trackie.com.

Quote comment

Anonymous

---

Posts: 56055

Duncan said 11 months ago

Your Pentathlon results aren't updated.

Quote comment

Anonymous

---

Posts: 56055

Anonymous said 11 months ago

its a weird operating system. you need to chose what event you want to watch, but if you dont pick the right one that they think they are currently broadcasting it will just say the stream is over. For all the people wondering how OUA and AUS can put on a free stream while USPORTS can not, it is less a matter of can't and more a matter of won't. In their eyes they have a money making opportunity with broadcasting rights and privileges and those are good enough reasons to offer the screaming deal of 14.99 for a 3 month subscription for a 3 day event.

Quote comment

User since:
Nov 10th, 2017

---

Posts: 25

Quoting: A.Brown
"Despite living in Winnipeg, I apparently don't know the answer to this. Is the "James Daly Fieldhouse" actually updated/changed from Max Bell or is it just a new name?

I was looking at the start-list for the 1000m and noticed the facility record 2:22.8 was apparently set in 2015 but Tommy Lecours' Championship record (2:22.0) in 2012 was also set in Winnipeg. You'd think they'd be one and the same."

They renamed it (~2015??) and updated the surface a couple years later.

Quote comment

Anonymous

---

Posts: 56055

Anonymous said 11 months ago

Quoting: BoredWithoutBeer
"They renamed it (~2015??) and updated the surface a couple years later."

So they reset the records for the field house in the process? That seems wrong.

Quote comment

Anonymous

---

Posts: 56055

Anonymous said 11 months ago

Quoting: Duncan
"Your Pentathlon results aren't updated."

Please note: The Pent High Jump and Pent summary are not in the Day one live results.

Quote comment

Anonymous

---

Posts: 56055

Nick Kosmenko said 11 months ago

Quoting: A.Brown
"Despite living in Winnipeg, I apparently don't know the answer to this. Is the "James Daly Fieldhouse" actually updated/changed from Max Bell or is it just a new name?

The building (fieldhouse, hockey rink, offices, etc.) is still called "Max Bell Centre". The fieldhouse itself is the "James Daly Fieldhouse".

Quote comment

Anonymous

---

Posts: 56055

Anonymous said 11 months ago

We want Cyr On the English stream!!!!

Quote comment

Anonymous

---

Posts: 56055

Anonymous said 11 months ago

Quoting: Anonymous
"We want Cyr On the English stream!!!!"

You did it!

Quote comment

User since:
Sep 12th, 2014

---

Posts: 833

NC Blogger said 11 months ago

Alexander Bimm anchoring the 4x800?? He looks a lot different on TV.

Quote comment

Anonymous

---

Posts: 56055
Anonymous

---

Posts: 56055

Conrad said 11 months ago

Hey, sorry folks if I got a couple names wrong. Some alternates didn't appear on the sheets. My bad. Thankfully I will not be commentating for the rest of the meet. Godspeed.

Quote comment

Anonymous

---

Posts: 56055

Knuckles said 11 months ago

10 bucks !!! what level of competition are you ,,, enjoy the stream ,, or go get a job get a life stop buying bottled water and data ,, designer socks

Quote comment

Anonymous

---

Posts: 56055

Get Cyr said 11 months ago

Watched the full thing yesterday. Just switched to whichever stream he was on (french or english). Seriously, if U SPORTS is making us pay for this stream they need to have Cyr on at all times and get Kent to join him

Quote comment

Anonymous

---

Posts: 56055

LadyLee said 11 months ago

How do we edit our predictions once we have submitted ? It seems to say that we can do this ?

Quote comment

Anonymous

---

Posts: 56055

Anon said 11 months ago

I wouldn't mind paying for the live feed if it actually covered the events it's supposed to. On a field stream they stopped showing pole vault to show relays and the setting up of track events for so long that we missed several key jumps, as well as the end of the men's pole vault. I don't want to pay for this if you're going to show us track events on a field stream...

Quote comment

Anonymous

---

Posts: 56055

Anonymous said 11 months ago

Why are the results so far behind??? The men's 1500m is up but the 4x200 and women's 1500m are not.

Quote comment

Anonymous

---

Posts: 56055

Anonymous said 11 months ago

Quoting: Conrad
"Hey, sorry folks if I got a couple names wrong. Some alternates didn't appear on the sheets. My bad. Thankfully I will not be commentating for the rest of the meet. Godspeed."

Hey you did a fantastic job on Friday... What's getting to people is the fact that the price was so high to have "some random" person to it.. It's on USports for not being organized enough to do your job correctly.. Hell I'd even say you'd be worth a $5 a day fee with the stream.. Keep at it!

Quote comment

Anonymous

---

Posts: 56055

Anonymous said 11 months ago

Hi, will you post the women's HJ and the Mens TJ results please. Thanks

Quote comment

Anonymous

---

Posts: 56055

Anonymous said 11 months ago

where are the results for the Prediction Contest?

Quote comment

User since:
Jul 26th, 2002

---

Posts: 2223

Trackie said 11 months ago

Quoting: Anonymous
"where are the results for the Prediction Contest?"

We have now updated the prediction contest results above.

Quote comment

User since:
Sep 1st, 2018

---

Posts: 21

BlogSquad said 11 months ago

I'd like to dedicate my podium finish to Nighthawk, who completed the 15/3k double and secured valuable points for a cause. Third time is the charm

Quote comment

Anonymous

---

Posts: 56055

Anonymous said 11 months ago

Trackie, when will the prediction contest prizes be distributed?

Message from Moderator:

We have sent the winners details to Athletics Canada. They will contact you shortly if not already to let you know about the prizes.

If you have issues/questions please contact moderator@trackie.com.

Quote comment