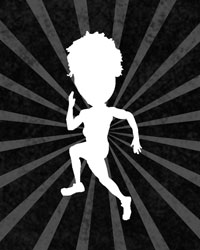 User since:
Feb 28th, 2017
---
Posts: 8
jerryo said 1 week ago
Indoor Sprinting stats in Canada
So I got bored and did some analysis of sprinting esque events here and Canada to see where our talent is by province. Obviosuly Ontario leads the pack but the results after is what is surprising.. individual events I went as far as 2016 and relays 2012
60mM(<6.50): Alberta was second Quebec 3rd
60mW(<7.50): Quebec 2nd and Alberta 3rd
60mHW(<8.40): Sask/Alb tied for 2nd and Quebec 3rd
60mHM(<8.20): Sask 2nd and BC 3rd
300mM(<34): Sask 2nd and BC 3rd
300mW(<39): Quebec 2nd and Sask 3rd
4x200M (<1:28) Sask 1st, Ontario 2nd and Quebec 3rd
4x200W(<1:41) Sask/Man 1st, Alb 2nd
4x400M(<3:19) Sask/Ont 1st, Que/Mb 2nd
4x400W(<3:45) Ont 1st, Sask 2nd, Alb 3red

For individuals a performance only counted once if they ran under a time every year they only counted the first time and not again. And relays it was 1 performance a year. Not sure if relays are counting differently on AC but obviously the west cares alot about relays. I'm going to try and do break downs on other events and see how it shakes out :)

Thoughts?
Quote comment
Anonymous

---

Posts: 55882

Anonymous said 1 week ago

You must have been really bored

Quote comment

Anonymous

---

Posts: 55882

Anonymous said 1 week ago

Great start.
Almost 40 percent of our country lives in Ontario and close to 35 percent in PQ. It would be insightful to normalize your counts on a per capita basis using the population of each province.

And it would be really interesting to further correct for different provincial age profiles (Atlantic provinces are older on average that western Canada for instance) by counting only populations in the 18-30 year demographic. StatsCan has this level of detail.

Quote comment

Anonymous

---

Posts: 55882

Anonymous said 1 week ago

Correction to above post - PQ has about 23 percent of Canada's population, not 35%.

Quote comment

Anonymous

---

Posts: 55882

Anonymous said 1 week ago

Someone needs to bring-up the "flat-track" conversions to the OUA and U-Sports ADMIN...the longer sprints are getting ridiculous.

Both the 300m and 600m CLEARLY are advantageous to compete at either the Butterdome or U of Windsor indoor facilities.

Almost everyone's top times are conversions from those two tracks.

Clearly, there needs to be a conversion to ensure equality with teams unable to gain access to the "banked" meets...however, what appears to have been overlooked is the individual variances between flat-indoor tracks; some are faster, some are slower...all depends on the ovals parameters.

U of Windsor and the Butterdome tracks are MUCH, MUCH faster flat tracks than most. As someone who has competed on both, several times, I can say my performances on those tracks almost equal any banked track performances.

Coaches: if you're looking to launch your athlete up the rankings, book your tickets out West or get on a bus to Windsor... seems unfair, but I guess that's what we're doing now?

Quote comment

Anonymous

---

Posts: 55882

Anonymous said 1 week ago

Or just travel to any one of the 300M tracks close to the boarder, or the banks. Additionally, the 60 Dash seems to be a lot stronger then anything.

6.50
7.50

are both pretty strong standards

Quote comment

Anonymous

---

Posts: 55882

Anonymous said 1 week ago

True. Teams have been travelling to fast tracks for the past 4 decades or more.
Roxborough 7.31 in the 60m - no banked track needed.
Fire extinguisher needed to put out the flames she leaves on the track though.

Quote comment

Anonymous

---

Posts: 55882

Spud said 1 week ago

Buddy guy, you're missing the point -- what is being claimed above is that flat-track conversions are MUCH FASTER (lopsided) compared to a banked track.

You will get a faster converted time on a gentler curved flat-track (like the Butterdome and U of Windsor) then on a banked track...albeit not true for all tracks, but there are some especially quick flat tracks that give athletes a bit too much of an advantage compared to those unable to travel to those parts of the country.

Not sure what the answer is to this issue, but you heard it here first -- this will be a prominent complaint with U-Sports coaches in the next few years!

Quote comment

Anonymous

---

Posts: 55882

Anonymous said 1 week ago

Quoting: Spud
"Buddy guy, you're missing the point -- what is being claimed above is that flat-track conversions are MUCH FASTER (lopsided) compared to a banked track.

You will get a faster converted time on a gentler curved flat-track (like the Butterdome and U of Windsor) then on a banked track...albeit not true for all tracks, but there are some especially quick flat tracks that give athletes a bit too much of an advantage compared to those unable to travel to those parts of the country.

Not sure what the answer is to this issue, but you heard it here first -- this will be a prominent complaint with U-Sports coaches in the next few years!"

A few months ago I would have agreed with your last point, but now that we've gotten our first look at the track in Saint John I would say that every school in Canada now has easy access to a super fast flat track. The Saint John track is as good as Windsor or Edmonton and I bet as early as next year it becomes the destination for everyone east of the OUA. Probably killing the McGill Team Challenge in the process.

Quote comment