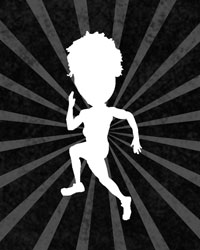 User since:
Dec 11th, 2014
---
Posts: 281
powerboy said 2 weeks ago
Monster workout By US High Schooler
Just saw an incredible video of the leading US high school boy, aiming at sub 8:00 at Milrose.

1600,800,1600,800 with 3 min rest; 4:10,2:07, 4:15, 2:07. Looks to me like sub 8:00 for sure. I'm not criticizing the workout, but it seems a bit intense for early season. On the other hand, it is a reality check/reminder to us all of what people can do.
It will be interesting to see what he runs at Milrose.
Quote comment
Anonymous

---

Posts: 55882

Anonymous said 2 weeks ago

Sounds like he wants to peak for the Milrose Games so it's not early in the season for him.

Quote comment

Anonymous

---

Posts: 55882

Saed Griffith said 2 weeks ago

Nico Young. Remember the name. The kid is the future of American Distance running.

Quote comment

User since:
Sep 12th, 2014

---

Posts: 833

NC Blogger said 2 weeks ago

If dude is trying to run sub 8:00 for 3,000m, the 2:07 800's align with 3k effort. The second mile is about right as well (likely just got a little carried away on the first one - who hasn't run the first interval / rep of a workout too fast).

4,800m of volume at 3k effort does not seem too overtaxing, regardless of the time of season, as I bet this kid is doing plenty of mileage to boot.

There is a workout online in which he did 7x1k w/ 3min on dirt / grass with hills / turns avg 2:48/k. Not quite as quick, but given the terrain / footwear, pretty impressive, and much more volume.

Perhaps it was a test effort to see if he was ready for the attempt?

This post was edited by NC Blogger 2 weeks ago .

Quote comment

Anonymous

---

Posts: 55882

Anonymous said 2 weeks ago

Would love to hear about Greg Anderson's workouts before his 800 3 km. What sort of training ws he doing? Lots of mileage?

Quote comment

User since:
Mar 27th, 2015

---

Posts: 64

Kempertoo said 1 week ago

He ran 8.40 for 3200m at Arcadia last year (which is about 802-804) so breaking 8.00 is definitely not a stretch. What year is he born? Many of the top US guys are a year older than high schoolers in Canada.

Quote comment

User since:
Oct 11th, 2013

---

Posts: 764

MJD said 1 week ago

Quoting: Kempertoo
"He ran 8.40 for 3200m at Arcadia last year (which is about 802-804) so breaking 8.00 is definitely not a stretch. What year is he born? Many of the top US guys are a year older than high schoolers in Canada."

In actual fact, until we dropped grade 13, it was the other way around as far as high schoolers went. Now the top guys are the same age. Nico is 17.

Quote comment

User since:
Dec 11th, 2014

---

Posts: 281

powerboy said 1 week ago

Nico Young did run 7:56. I think he should focus on 1600/mile this year.He should have a good chance to break 4.

Quote comment

User since:
Sep 12th, 2014

---

Posts: 833

NC Blogger said 1 week ago

Quoting: powerboy
"Nico Young did run 7:56. I think he should focus on 1600/mile this year.He should have a good chance to break 4."

I think he made it pretty clear in his interview his focus would be on the 3200. He said he wouldn't mind breaking 4, but that was not his focus.

Quote comment

Anonymous

---

Posts: 55882

Anonymous said 1 week ago

Quoting: MJD
"In actual fact, until we dropped grade 13, it was the other way around as far as high schoolers went. Now the top guys are the same age. Nico is 17."

This is actually a fallacy. Many states have late birthday rules and not surprisingly the best US high schoolers (boys) tend to be a year older. We found this out on a recruiting visit when several of the good US kids (3.49, sub 820) were born the year before. Brody Hasty is a good example. Even starting college many of the other scholarship athletes (boys) were a year older.

Maybe Nico is the exception if he is in fact 17.

Quote comment