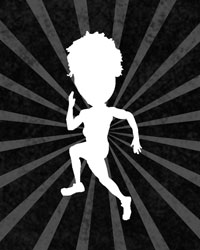 User since:
Dec 11th, 2014
---
Posts: 274
New 10k road world record by 20 year old!
How about a bit of good, old fashioned discussion about running! Rhonex Kipruto, age 20, runs 26:24. Negative splits;13:16, 13:08 !!

I find this fascinating in that there simply doesn't seem to be enough time to build such an aerobic base at age 20. Brings into question our beloved long term development plan. Perhaps this guy is the next mega-star-26:10 on the track.

I find Jacob Ingbritson's progress also staggering. Not his 1500m speed as much as his 5k speed., although his 1500m speed is pretty shocking.

Any opinions on whether these guys are simply outliers, or perhaps simply early maturers who will not be faster in 5 more years? ( I do think the 1:43 18/19 year olds will not necessarily ever run faster) Any other explanations?

Think of Mo Ahmed. He has made spectacular progress to sub 27, but it has taken the traditional 8 years with tons of work.

But it does leave me thinking that perhaps we think too small. Perhaps we should be looking for our 21 year olds to be running 3:36, 13:30, not 3:45, 14:00.
Quote comment
User since:
Dec 21st, 2019

---

Posts: 8
User since:
Sep 25th, 2013

---

Posts: 2610

Oldster said 5 days ago

Quoting: NathanielCarter
"Do you think that Kipruto is actually 20?"

There is this and the fact that a 20 year old Kenyan has been a "pro" for probably 2-3 years.

They have had allegedly very young stars (17-18 year olds going low or sub-13) who did not progress at nearly the typical rate (hell, even Gebreselasie improved 45 secs over 5k from junior to peak, and he was likely not 19 when he ran junior) or at all.

But even if Kenyans

do

reach world class times in the longer distances at earlier ages, we would have difficulty replicating their development model-- if, that is, we assumed that NA kids would continue to take their educations seriously. Someone like Mo Ahmed took longer to reach the top because he was a typical Canadian high school kid, then a college student for 4 years. In other words, he was not a professional at age 17, with all his eggs in the running basket. We have neither the means nor the cultural acceptance-- to say nothing of the incentive scale-- necessary to start putting promising 17-18 year olds straight into professional settings (this isn't hockey we're talking about, after all). And I'm sure if they had the choice between a great and largely free public education system (and a more developed and accessible domestic university system) and earlier success in distance running, Kenyans themselves would trade their long term athlete development model for ours, all things considered.

Quote comment

User since:
Dec 21st, 2019

---

Posts: 8
Anonymous

---

Posts: 54627

Suomynona said 5 days ago

Apparently he did this in Not Those Shoes. Could have been 25:30!!

Quote comment

User since:
Dec 28th, 2019

---

Posts: 14

Justrun said 5 days ago

Quoting: Suomynona
"Apparently he did this in Not Those Shoes. Could have been 25:30!!"

yeah he is sponsored by Adidas therefore he had to wear their shoes.

Quote comment

Anonymous

---

Posts: 54627

Anonymous said 5 days ago

Quoting: Justrun
"yeah he is sponsored by Adidas therefore he had to wear their shoes."

I guess the discussion can be terminated tat the new Nike shoes will change road racing.

If you think it's the shoes that make you faster you are also one of those people that thinks the $800 driver will lower your golf scores.

Quote comment

Anonymous

---

Posts: 54627

Andrew Jones said 5 days ago

But it does leave me thinking that perhaps we think too small. Perhaps we should be looking for our 21 year olds to be running 3:36, 13:30, not 3:45, 14:00.

Any opinions on whether these guys are simply outliers, or perhaps simply early maturers who will not be faster in 5 more years?

Should "traditional LTAD models" be reconsidered? I think we should always be revising the approach to sport development, or be ready to revise it as science informs us and society inevitably changes.

More specifically, and outliers like Jacob Ingebrigtsen and various and sundry young East African high achievers aside, I wonder if we should, at least in distances from 10000m and down, compress or shift the traditional LTAD span/brackets leftward, in the direction of youth.

In other words, is it efficacious in the mid-D and D events on the track (hopefully the 10000m will survive the chopping block!) to start earlier with more "serious" or "adult/Senior level" training? For reasons like these:

>in the events from 800m to 10000m the crucial determinant of aerobic development could be started earlier than has been typically suggested-- the younger athlete has not yet encountered the specter of chronic injury, and the body tissues are fresh and ready for specific development - tabula erasa
>especially in the 800m and 1500m, the raw speed of the athlete will peak earlier than later in the athlete's career
>from a mental/psychological POV, the young athlete is again a blank slate, and if coached effectively will have a high degree of interest, investment, and motivation
>starting earlier than has been the norm, and finishing a career, say, in the athlete's mid- to late-20s may postpone life considerations such as career and starting a family/creating dependencies -- this allows the athlete a window of dedication that is less encumbered by outside responsibilities and pressures
>and does it matter at what age an athlete peaks? A new average earlier age of PB will likely mean nothing to the athlete (outside of perhaps less places visited by the internationalist) and would likely not affect long-term sport funding adversely

Of course an early implementation of serious training can only be achieved in concert with really good coaching and advice. The parsing of such an approach should be planned carefully and with great attention to the feedback (and all kinds of responses) the athlete is providing.

Quote comment

Anonymous

---

Posts: 54627

Andrew Jones said 5 days ago

Quoting: Justrun
"yeah he is sponsored by Adidas therefore he had to wear their shoes."

Perhaps adidas has now answered back with their own carbon-enhanced shoe (for pros) that does not overlap the Nike patent?

Quote comment

User since:
Dec 11th, 2014

---

Posts: 274

powerboy said 5 days ago

That is what in was getting at Andrew. Another variable is the psychological. Isn't easier to get a kid to focus for 5 years, rather than 10? In other words, a great 17 year old prospect that a coach can say,"in 5 years you will be top 10' versus saying it will take 10 years.

Quote comment

Anonymous

---

Posts: 54627

Andrew Jones said 5 days ago

Quoting: powerboy
"That is what in was getting at Andrew. Another variable is the psychological. Isn't easier to get a kid to focus for 5 years, rather than 10? In other words, a great 17 year old prospect that a coach can say,"in 5 years you will be top 10' versus saying it will take 10 years."

I think that's a strong point Mike -- goodness knows our sport has enough issues with participation numbers/athlete uptake, and a crowded competitive landscape.

Quote comment

Anonymous

---

Posts: 54627

Anonymous said 5 days ago

Quoting: Andrew Jones
"But it does leave me thinking that perhaps we think too small. Perhaps we should be looking for our 21 year olds to be running 3:36, 13:30, not 3:45, 14:00.

Any opinions on whether these guys are simply outliers, or perhaps simply early maturers who will not be faster in 5 more years?

Should "traditional LTAD models" be reconsidered? I think we should always be revising the approach to sport development, or be ready to revise it as science informs us and society inevitably changes.

More specifically, and outliers like Jacob Ingebrigtsen and various and sundry young East African high achievers aside, I wonder if we should, at least in distances from 10000m and down, compress or shift the traditional LTAD span/brackets leftward, in the direction of youth.

In other words, is it efficacious in the mid-D and D events on the track (hopefully the 10000m will survive the chopping block!) to start earlier with more "serious" or "adult/Senior level" training? For reasons like these:

>in the events from 800m to 10000m the crucial determinant of aerobic development could be started earlier than has been typically suggested-- the younger athlete has not yet encountered the specter of chronic injury, and the body tissues are fresh and ready for specific development - tabula erasa
>especially in the 800m and 1500m, the raw speed of the athlete will peak earlier than later in the athlete's career
>from a mental/psychological POV, the young athlete is again a blank slate, and if coached effectively will have a high degree of interest, investment, and motivation
>starting earlier than has been the norm, and finishing a career, say, in the athlete's mid- to late-20s may postpone life considerations such as career and starting a family/creating dependencies -- this allows the athlete a window of dedication that is less encumbered by outside responsibilities and pressures
>and does it matter at what age an athlete peaks? A new average earlier age of PB will likely mean nothing to the athlete (outside of perhaps less places visited by the internationalist) and would likely not affect long-term sport funding adversely

Of course an early implementation of serious training can only be achieved in concert with really good coaching and advice. The parsing of such an approach should be planned carefully and with great attention to the feedback (and all kinds of responses) the athlete is providing."

It's an interesting theory but it has it's limits because he cost in term of injuriesad burnout is huge . Next thing you have to remember in Kenya the talent pool is massive compared to Canada. A little perspective....In Canada we are fortunate if we have more than 2-3 men who meet the Olympic Marathon qualifying time. I saw a interview with David Rudisha (I wish I could find it now) but he claimed that over 100 men in Kenya could meet the qualifying time if hey were given the opportunity. Is this factual? Who knows but the point was that there are hundreds of great runners at all distances yet we have very few.

Quote comment

Anonymous

---

Posts: 54627

Andrew Jones said 5 days ago

Quoting: Anonymous
"It's an interesting theory but it has it's limits because he cost in term of injuriesad burnout is huge . Next thing you have to remember in Kenya the talent pool is massive compared to Canada. A little perspective....In Canada we are fortunate if we have more than 2-3 men who meet the Olympic Marathon qualifying time. I saw a interview with David Rudisha (I wish I could find it now) but he claimed that over 100 men in Kenya could meet the qualifying time if hey were given the opportunity. Is this factual? Who knows but the point was that there are hundreds of great runners at all distances yet we have very few."

As Mike/Powerboy intoned, perhaps it is possible that we could increase our talent pool if athletes undertook serious training earlier with a (perhaps more palatable) view to peaking at age ~25?

Within this Injuries/illness/burnout should always be monitored and learned from by good coaches. Careful progressions and the very gradual increasing of loads should be inherent when dealing with growing and changing bodies.

Quote comment

User since:
Jan 4th, 2015

---

Posts: 98

runfan said 5 days ago

Good points by all. There are many very good runners in Kenya and we don't hear about a lot of them. Our Canadian talent and coaching is great. For this latest record by a Kenyan imagine three back to back sub 8 minute 3Ks. Also the split at 800m if given would be hilarious - 2:06 +/- How is that even possible. Seems like he takes off at the gun and never slows down.

Quote comment