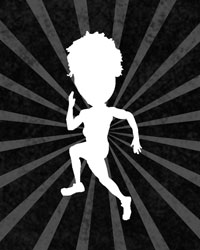 User since:
Apr 3rd, 2018
---
Posts: 36
Runner Moms
I will try to word this in the most respectful way possible because I mean no offence. Why is it that when a top athlete also happens to be a mother that seems to be their defining characteristic?

We have athletes who are strong, fast, durable and intense but for some reason they themselves, and the companies that the represent always seem to portray them as an athlete on the comeback or as a figure of how many kids they have.

Ex, its been 5 years and 2 kids since my last marathon
or
i am 15 months postpartum...
Quote comment
Anonymous

---

Posts: 48476

Anonymous said 9 months ago

Do you have kids?
Its because its extremely difficult to balance kids, and continue to be a very competitive runner. Virtually super power strength is required ... or a nanny.

Quote comment

Anonymous

---

Posts: 48476

Big baby said 9 months ago

Have you any children?

Quote comment

Anonymous

---

Posts: 48476

Anonymous said 9 months ago

Quoting: Anonymous
"Do you have kids?
Its because its extremely difficult to balance kids, and continue to be a very competitive runner. Virtually super power strength is required ... or a nanny."

is it? if your kids are in school you have 8 hours a day to yourself

Quote comment

Anonymous

---

Posts: 48476

Woahnow said 9 months ago

Quoting: Anonymous
"is it? if your kids are in school you have 8 hours a day to yourself"

Kids are not in school 8 hours a day. And NO mothers do not have very much time to themselves. Half have paid employment during said school day, those who are at home have numerous responsibilities because the other spouse/parent is working.

Quote comment

User since:
Jun 8th, 2015

---

Posts: 1251

Buddy said 9 months ago

It all comes down to how selfish mom or dad runner is.
it is a selfish sport and if you are doing true marathon miles, marathon recovery, marathon fuelling then even more so.

I have met some moms who are very good at getting in their miles for their 10th or 11th Boston and very shitty at parenting :(

Quote comment

User since:
Jun 10th, 2017

---

Posts: 23

As my name says... until my kids could stay home alone, I haven't had time to really enjoy training of any kind, or coaching for that matter. Having kids also ruined my back for a few years too! It's hard to have 8+lb kids when you're 115 lbs I guess.
I have found that in road racing, the women's age categories 40+ are more competitive because more women have time to train. But until you have lived it, it's hard to judge...

Quote comment

User since:
Oct 8th, 2013

---

Posts: 854

Meizner said 9 months ago

Some people can do it, some can't. To say that someone is selfish for training and assuming that it detracts from their parenting is to only look at half of the equation. I have seen many terrible parents who never exercise, and great ones who train 15h/ week (and vice versa). Some terrible parents might be better if they exercised more and others less. It takes alot of logistic work and communication to make things happen (not to mention early to be, early workouts, very little leisure time) but it certainly can be done. It's not for the faint of hear though!

Quote comment

Anonymous

---

Posts: 48476

Anonymous said 9 months ago

My understanding of your original question is that you feel that these women are being limited to their experiences as mothers based on references to the fact that they are mothers when we could just refer to them as fast women and recognize them as elite athletes - Correct me if I have misinterpreted what you are saying?

I personally don't see the recognition of the "mother-work" and the associated struggles these athletes face as limiting as I believe it helps people understand their reality.

Recognizing the unique experiences of these women as mothers and elite athletes and the effect both of these roles have on each other is important. Ultimately, I think the misconception that acknowledging the struggles of motherhood implies weakness goes back to the misrepresentation of women who prioritize their career over their families as "bad moms" and those prioritize their families over their careers they are seen as "bad employees." Any parent knows that finding a perfect balance is not realistic, nor should it be expected!

I think many of the challenges working mothers face, whether their labour remains paid or unpaid, often go unacknowledged based on the fact that unpaid labour (i.e. childcare and housework) has been continuously devalued. Because this work is seen as less valuable it is also assumed to be "optional" and then mothers are assumed to be engaging in unpaid work as a "hobby" or "personal activity" which is comparable to "choosing" to work out. I know many mothers who would laugh at that comparison!

Of course these women should also be acknowledged as "strong, fast, durable and intense" and not solely referred to as mothers, but if these women want us to see that they are strong in many areas of their lives and are proud of their achievements as parents and athletes then we should. The adversities many runners face are discussed on a regular basis and not referring to the challenges these mothers face would over look part of their experiences.

Also, I'm sorry, although it is clear that the following statement is obviously unfounded I cannot overlook it without providing facts which disprove it:



Quoting: Anonymous
"is it? if your kids are in school you have 8 hours a day to yourself"

According to Statistics Canada:

"In 2009, 72.9% of women with children under 16 living at home were part of the employed workforce"

See:

https://www.statcan.gc.ca/pub/89-503-x/2010001/article/11387-eng.htm#a4

and

"In 2010, women spent an average of 50.1 hours per week on child care, more than double the average time (24.4 hours) spent by men"

See:

https://www.statcan.gc.ca/pub/89-503-x/2010001/article/11546-eng.htm#a12

So you clearly are not referring to the majority of mothers and it is far from true to think that any parent, whether they are engaged in paid work or not, has hours that are just wasting away - especially mothers based on the "double day" many undertake...

Quote comment

User since:
Apr 3rd, 2018

---

Posts: 36

Ole Musky said 9 months ago

Quoting: Anonymous
"My understanding of your original question is that you feel that these women are being limited to their experiences as mothers based on references to the fact that they are mothers when we could just refer to them as fast women and recognize them as elite athletes - Correct me if I have misinterpreted what you are saying?

I personally don't see the recognition of the "mother-work" and the associated struggles these athletes face as limiting as I believe it helps people understand their reality.

Recognizing the unique experiences of these women as mothers and elite athletes and the effect both of these roles have on each other is important. Ultimately, I think the misconception that acknowledging the struggles of motherhood implies weakness goes back to the misrepresentation of women who prioritize their career over their families as "bad moms" and those prioritize their families over their careers they are seen as "bad employees." Any parent knows that finding a perfect balance is not realistic, nor should it be expected!

I think many of the challenges working mothers face, whether their labour remains paid or unpaid, often go unacknowledged based on the fact that unpaid labour (i.e. childcare and housework) has been continuously devalued. Because this work is seen as less valuable it is also assumed to be "optional" and then mothers are assumed to be engaging in unpaid work as a "hobby" or "personal activity" which is comparable to "choosing" to work out. I know many mothers who would laugh at that comparison!

Of course these women should also be acknowledged as "strong, fast, durable and intense" and not solely referred to as mothers, but if these women want us to see that they are strong in many areas of their lives and are proud of their achievements as parents and athletes then we should. The adversities many runners face are discussed on a regular basis and not referring to the challenges these mothers face would over look part of their experiences.

Also, I'm sorry, although it is clear that the following statement is obviously unfounded I cannot overlook it without providing facts which disprove it:

Quoting: Anonymous
"is it? if your kids are in school you have 8 hours a day to yourself"


According to Statistics Canada: "In 2009, 72.9% of women with children under 16 living at home were part of the employed workforce" See: https://www.statcan.gc.ca/pub/89-503-x/2010001/article/11387-eng.htm#a4 and "In 2010, women spent an average of 50.1 hours per week on child care, more than double the average time (24.4 hours) spent by men" See: https://www.statcan.gc.ca/pub/89-503-x/2010001/article/11546-eng.htm#a12

So you clearly are not referring to the majority of mothers and it is far from true to think that any parent, whether they are engaged in paid work or not, has hours that are just wasting away - especially mothers based on the "double day" many undertake...
Quote comment"

I like this response

Quote comment

Anonymous

---

Posts: 48476

Anonymous said 9 months ago

How interesting that elite men with children never seem to be referred to or defined as 'runner dads', regardless of how involved they may be in parenting.

Quote comment

Anonymous

---

Posts: 48476

Anonymous said 9 months ago

Quoting: Anonymous
"How interesting that elite men with children never seem to be referred to or defined as 'runner dads', regardless of how involved they may be in parenting."

On a certain level I agree with you and understand what you are saying, but no matter how involved - the father has not had major physical changes to his body and hormones due to becoming a parent.

Quote comment

User since:
Jun 8th, 2015

---

Posts: 1251

Buddy said 9 months ago

Good parents / bad parents - very subjective :)

This post was edited by Buddy 9 months ago .

Quote comment

User since:
Jan 25th, 2015

---

Posts: 57

Caymantan said 9 months ago

Parenting is a partnership. My wife ran the world championship standard time for 60 m 14 months after our first child back in the day.

Quote comment