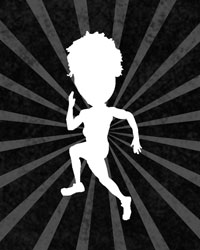 User since:
Apr 3rd, 2018
---
Posts: 36
What is the "easiest" Championship race?
I am putting my guess behind the 1500m. Typically a very tactical race followed by roughly a 300-600m surge at the end.

Typically the 800m is not a tactical race so I think it is out of the question.

This can very much happen in the 5k or even 10k but if it does come down to a sprint finish you at least had to run 4-9km before hand.

Any other opinions?
Quote comment
User since:
Apr 3rd, 2018

---

Posts: 36

Ole Musky said 7 months ago

Now that I think about it, there are often prelims, semis and finals so runners who make the 1500m final are pretty tired. Is it more difficult to run 2-3 rounds of the 1500m than it is to do a 4km tempo and kick?

Quote comment

User since:
Apr 3rd, 2018

---

Posts: 36

Ole Musky said 7 months ago

Or is it one of the sprint events? 400m will seem to be one of the more difficult races because no tactics are in play.

What about the 100m? Any sprinters on here who can speak to the difficulty of 2 x100m all out with a couple hours rest?

Quote comment

User since:
Feb 23rd, 2018

---

Posts: 266

Runningman said 7 months ago

It's definitely the 100m. Run flat out in a straight line for under 11 seconds. How hard is that? They don't even break out a sweat.

Ever watch a sprint group practice? 90% of the time they are standing around talking or stretching.

Quote comment

User since:
Apr 3rd, 2018

---

Posts: 36

Ole Musky said 7 months ago

Quoting: Runningman
"It's definitely the 100m. Run flat out in a straight line for under 11 seconds. How hard is that? They don't even break out a sweat.

Ever watch a sprint group practice? 90% of the time they are standing around talking or stretching."

I agree, I think opening it up to sprints makes this too easy. maybe 400m and up

Quote comment

User since:
Jun 8th, 2015

---

Posts: 1264

Buddy said 7 months ago

do they even run?
what's their warm down?



Quoting: Runningman
"It's definitely the 100m. Run flat out in a straight line for under 11 seconds. How hard is that? They don't even break out a sweat.

Ever watch a sprint group practice? 90% of the time they are standing around talking or stretching."

Quote comment

Anonymous

---

Posts: 48939

Anonymous said 7 months ago

Quoting: Runningman
"It's definitely the 100m. Run flat out in a straight line for under 11 seconds. How hard is that? They don't even break out a sweat.

Ever watch a sprint group practice? 90% of the time they are standing around talking or stretching."

You're definitely a distance runner. All good sprinters spend most of their time in the weight room which distance runners never see. They also know how to have fun. Very different types of training.

Quote comment

Anonymous

---

Posts: 48939

Anonymous said 7 months ago

Race walking hands down.. just wiggle your hips and hope no one catches your feet off the ground

Quote comment

User since:
Apr 3rd, 2018

---

Posts: 36

Ole Musky said 7 months ago

Quoting: Anonymous
"You're definitely a distance runner. All good sprinters spend most of their time in the weight room which distance runners never see. They also know how to have fun. Very different types of training."

To try and keep it slightly on topic. I think most good distance runners do spend time in the weight room. At least all the good ones I know. There are quite obviously different types of training requirements for each specific event.

This was trying to determine the over all strain a championship puts on an athletes body. Basically every race ends up with at least a 100m-200m all out sprint by its participants so I think a race that only covers this distance can not logically be as difficult as a race with upwards of 600m before this sprint finish.

Quote comment

User since:
Apr 1st, 2006

---

Posts: 158

Cummings said 7 months ago

I thought this was a thread made with a high degree of sarcasm initially, like a good Letsrun style joke...It actually seems the OP is serious about making this comparison, I guess that requires at least a semi-serious answer.

This should be obvious but sprinting and distance running share element of the same physiology but have vast differences in the energy systems they utilize. Comparing which one stresses the body to a higher degree at a Championship event is like asking which one is worse: getting punched repeatedly in the face or kicked repeatedly in the groin for your long term health and wellness. The answer they are both bad, just in different ways. I am pointing out that this is a silly comparison to try to make.

All events at a high level are taxing! To speak a bit to energy systems, if I am short sprinter (100-200m, relays, sprint hurdles), I am primarily using muscle glycogen and Creatine Phosphate as an energy system, these systems get wasted in those events and take time to replenish. Now if I am a short sprinter I am also doing prelim, semis, finals, usually in multiple events. Add this all up and that is a huge cost to the body. Not to mention I am priming my neuromuscular junctions multiple times for maximal contractile effort, which wastes my electrolytes and makes me particularly prone to muscle tears. Sprinting is hard dudes, just not hard like a 1500m. Add to this that the psychology of performing at a high level in sprints is totally different as well and you have a very competitive sport unto the norms for optimal performance are quite different than mid-d or long-d events. Everyone wants to sprint too, so to move through the sprinting ranks you have to go through more people. The issue with that is fast twitch fibers are more genetically determined but that is an entirely different discussion. Regardless, to maximize physiology, sprinters work really hard!

Now if I am a long sprinter 400m, 400m hurdles, I would even throw the 800 (sort of) into this category, my primary energy system is anaerobic power. This means you are using lactic acid fermentation as your primary energy system, thus you are building up lactic acid at a high rate because oxygen cannot get to electron transport chains fast enough in your mitochondria to whisk hydrogen ions away to make water vapour as a waste product. Hence why you need another electron acceptor, which is a molecule called acetylaldehyde, which becomes lactic acid once the H+ is accepted. The primary aim of this is to recycle electron carrier molecules to make ATP, which is the energy required for all metabolic needs. Problem is, lactic acid creates excess hydrogen ion in your blood, and once your carbonic acid buffering system is taxed, pH drops and homeostasis is not maintained, hence your performance declines. We train to improve this system and delay going anaerobic (improving oxygen carrying efficiency so going lactic happens at a higher percentage of your VO2). However, we now know that your brain acts a central governor and will slow you down before these systems are taxed. So training for this type of effort is as much mental training as it is physical. Key thing with this duration of event, you are generally moving TOO FAST to use electron transport chains in your mitochondria efficiently, so you have to use your cytoplasm in your cells to make ATP, a very primitive way of making energy. Think of a 45-90 sec shift in hockey...this fermentation process is also how anything fermented is made. ANAEROBIC, meaning in the absence of oxygen.

If I am a mid-d to long-d runner 800-1500 (mid-d), 5000-10000m (long-d). (I would even argue that 5000m to 10000m isn't truly long distance, it is mid-d. Half marathon is on the border of mid-d, and marathons and above are truly long-d events.) You use a combination of energy systems to sustain your metabolism depending on the event and your physiology. 800m is an interesting event, as it requires lots of anaerobic power with a big aerobic engine. You will use CP, anaerobic metabolism, and your mitochondria to produce energy. If your argument is what event stresses the body the most at a championship event. My argument would be from a physiological perspective, probably the 800 because you waste your creatine phosphate in a kick, you are running above your Ventilatory Threshold (point of physiology where you do not build up lactate, it is a percentage of your VO2 max), and you need to have a high aerobic capacity to have to run at a fast pace in the first place. The 800 is that transition event where all of these energy systems need to be primed to perform well, hence why the 800 is generally a natural break in the "types" of mid-d athletes we have (800-1500 athlete, 400-800, 1500 and above). In the 1500m and 3000m it's pretty close physiologically to an 800, but you use more aerobic power (electron transport chains in mitochondria to make ATP) so the pace is a bit slower. Look at fast 800's, rarely are they negative split...

1500-5000-10000m races use more aerobic power, and still a high percentage of lactate threshold, but if you are fueled properly, you are still using glycogen from your liver as the primary molecule for glucose to be broken down into ATP. And if you are trained properly in a half marathon, you won't waste glycogen stores either. The 1500m is obviously more close physiologically to the 800, but the basic energy examples hold true. Once you get above about 90 minutes of exercise, you have the potential to waste your glycogen stores in your liver; and you start using beta-oxidation more as an energy source (fat metabolism to make ATP). Diet, training, and rest can modify this (fat burns in a carbohydrate flame)...BUT these types of activities are now different beasts altogether. Fat is essentially a limitless energy source if your body knows how to access it efficienctly; and elite marathoners, and more obviously, ultra runners know how to maximize it.

With aerobic energy, you get 36 ATP per glucose, with ANaerobic, 2 ATP, Creatine-Phosphate doesn't even use ATP.

For non-sprint events, we train to improve the oxygen efficiency carrying system of the body, so we can extract as much ATP at possible from glucose. Your body makes adjustments to training by adding capillaries, RBC's, and more mitochondria to name a few things. You get 9 kilocalories per gram from fat and only 6 from carbohydrate. Learning how to spare glycogen (the way glucose is stored in the body) and maximize fat metabolism is a key adaptation all long distance athletes generally make, whether conscious or not, when training. Manipulating diet is one of the ways you can get more energy from fat. If you can use aerobic respiration at a higher percentage of you VO2, then theoretically you should be able to run faster.

ALL of this needs to be framed in the context of your own inborn psychology however. Psychological preparation as we are finding is even more important than the physiological reality of adjustments to training. We train to prep the mind just as much as need to prep the body.

So what's the hardest event. I would argue the 800 because of physiology, but in reality every race it's own beast and at a championship level, they are all a bitch to get through.

This post was edited by Cummings 7 months ago .

Quote comment

Anonymous

---

Posts: 48939

Anonymous said 7 months ago

Lets also not forget the amount of force and strain that goes through the skeletal system with the short sprints. Sprinters don't deadlift, squat, and clean as heavy as they do to look good.

Quote comment

Anonymous

---

Posts: 48939

Andrew Jones said 7 months ago

Quoting: Ole Musky
"I am putting my guess behind the 1500m. Typically a very tactical race followed by roughly a 300-600m surge at the end.

Typically the 800m is not a tactical race so I think it is out of the question.

This can very much happen in the 5k or even 10k but if it does come down to a sprint finish you at least had to run 4-9km before hand.

Any other opinions?"

This question comes up time to time on track boards and I think the question is just too nebulous and dependent on individual interpretation.

Put another way, one may reason that "ease" in sport may have something to do with a lack of opposing force(s). Now, does that involve:

The absence of pain? And what kind of pain is the most difficult to experience?

The absence of effort or, more accurately, the absence of extreme or protracted effort?

The absence of -- hard-to-achieve -- complex technique?

The absence of tactic and strategy?

The absence of competition depth, or the absence of impediments to winning?

The absence of mental/psychological stress?

Quote comment

User since:
Apr 3rd, 2018

---

Posts: 36

Ole Musky said 7 months ago

Quoting: Cummings
"I thought this was a thread made with a high degree of sarcasm initially, like a good Letsrun style joke...It actually seems the OP is serious about making this comparison, I guess that requires at least a semi-serious answer.

This should be obvious but sprinting and distance running share element of the same physiology but have vast differences in the energy systems they utilize. Comparing which one stresses the body to a higher degree at a Championship event is like asking which one is worse: getting punched repeatedly in the face or kicked repeatedly in the groin for your long term health and wellness. The answer they are both bad, just in different ways. I am pointing out that this is a silly comparison to try to make.

All events at a high level are taxing! To speak a bit to energy systems, if I am short sprinter (100-200m, relays, sprint hurdles), I am primarily using muscle glycogen and Creatine Phosphate as an energy system, these systems get wasted in those events and take time to replenish. Now if I am a short sprinter I am also doing prelim, semis, finals, usually in multiple events. Add this all up and that is a huge cost to the body. Not to mention I am priming my neuromuscular junctions multiple times for maximal contractile effort, which wastes my electrolytes and makes me particularly prone to muscle tears. Sprinting is hard dudes, just not hard like a 1500m. Add to this that the psychology of performing at a high level in sprints is totally different as well and you have a very competitive sport unto the norms for optimal performance are quite different than mid-d or long-d events. Everyone wants to sprint too, so to move through the sprinting ranks you have to go through more people. The issue with that is fast twitch fibers are more genetically determined but that is an entirely different discussion. Regardless, to maximize physiology, sprinters work really hard!

Now if I am a long sprinter 400m, 400m hurdles, I would even throw the 800 (sort of) into this category, my primary energy system is anaerobic power. This means you are using lactic acid fermentation as your primary energy system, thus you are building up lactic acid at a high rate because oxygen cannot get to electron transport chains fast enough in your mitochondria to whisk hydrogen ions away to make water vapour as a waste product. Hence why you need another electron acceptor, which is a molecule called acetylaldehyde, which becomes lactic acid once the H+ is accepted. The primary aim of this is to recycle electron carrier molecules to make ATP, which is the energy required for all metabolic needs. Problem is, lactic acid creates excess hydrogen ion in your blood, and once your carbonic acid buffering system is taxed, pH drops and homeostasis is not maintained, hence your performance declines. We train to improve this system and delay going anaerobic (improving oxygen carrying efficiency so going lactic happens at a higher percentage of your VO2). However, we now know that your brain acts a central governor and will slow you down before these systems are taxed. So training for this type of effort is as much mental training as it is physical. Key thing with this duration of event, you are generally moving TOO FAST to use electron transport chains in your mitochondria efficiently, so you have to use your cytoplasm in your cells to make ATP, a very primitive way of making energy. Think of a 45-90 sec shift in hockey...this fermentation process is also how anything fermented is made. ANAEROBIC, meaning in the absence of oxygen.

If I am a mid-d to long-d runner 800-1500 (mid-d), 5000-10000m (long-d). (I would even argue that 5000m to 10000m isn't truly long distance, it is mid-d. Half marathon is on the border of mid-d, and marathons and above are truly long-d events.) You use a combination of energy systems to sustain your metabolism depending on the event and your physiology. 800m is an interesting event, as it requires lots of anaerobic power with a big aerobic engine. You will use CP, anaerobic metabolism, and your mitochondria to produce energy. If your argument is what event stresses the body the most at a championship event. My argument would be from a physiological perspective, probably the 800 because you waste your creatine phosphate in a kick, you are running above your Ventilatory Threshold (point of physiology where you do not build up lactate, it is a percentage of your VO2 max), and you need to have a high aerobic capacity to have to run at a fast pace in the first place. The 800 is that transition event where all of these energy systems need to be primed to perform well, hence why the 800 is generally a natural break in the "types" of mid-d athletes we have (800-1500 athlete, 400-800, 1500 and above). In the 1500m and 3000m it's pretty close physiologically to an 800, but you use more aerobic power (electron transport chains in mitochondria to make ATP) so the pace is a bit slower. Look at fast 800's, rarely are they negative split...

1500-5000-10000m races use more aerobic power, and still a high percentage of lactate threshold, but if you are fueled properly, you are still using glycogen from your liver as the primary molecule for glucose to be broken down into ATP. And if you are trained properly in a half marathon, you won't waste glycogen stores either. The 1500m is obviously more close physiologically to the 800, but the basic energy examples hold true. Once you get above about 90 minutes of exercise, you have the potential to waste your glycogen stores in your liver; and you start using beta-oxidation more as an energy source (fat metabolism to make ATP). Diet, training, and rest can modify this (fat burns in a carbohydrate flame)...BUT these types of activities are now different beasts altogether. Fat is essentially a limitless energy source if your body knows how to access it efficienctly; and elite marathoners, and more obviously, ultra runners know how to maximize it.

With aerobic energy, you get 36 ATP per glucose, with ANaerobic, 2 ATP, Creatine-Phosphate doesn't even use ATP.

For non-sprint events, we train to improve the oxygen efficiency carrying system of the body, so we can extract as much ATP at possible from glucose. Your body makes adjustments to training by adding capillaries, RBC's, and more mitochondria to name a few things. You get 9 kilocalories per gram from fat and only 6 from carbohydrate. Learning how to spare glycogen (the way glucose is stored in the body) and maximize fat metabolism is a key adaptation all long distance athletes generally make, whether conscious or not, when training. Manipulating diet is one of the ways you can get more energy from fat. If you can use aerobic respiration at a higher percentage of you VO2, then theoretically you should be able to run faster.

ALL of this needs to be framed in the context of your own inborn psychology however. Psychological preparation as we are finding is even more important than the physiological reality of adjustments to training. We train to prep the mind just as much as need to prep the body.

So what's the hardest event. I would argue the 800 because of physiology, but in reality every race it's own beast and at a championship level, they are all a bitch to get through."

I was being serious. So thanks for the good answer

Quote comment

User since:
Apr 1st, 2006

---

Posts: 158

Cummings said 7 months ago

Quoting: Ole Musky
"To try and keep it slightly on topic. I think most good distance runners do spend time in the weight room. At least all the good ones I know. There are quite obviously different types of training requirements for each specific event.

This was trying to determine the over all strain a championship puts on an athletes body. Basically every race ends up with at least a 100m-200m all out sprint by its participants so I think a race that only covers this distance can not logically be as difficult as a race with upwards of 600m before this sprint finish."

I would also agree with you about this. Distance runners underestimate the importance of lifting, and heavy lifting for that matter as well. My career I would argue has been cut short partially because I never took strength training seriously enough. It's only now that I realize that after accumulation of injury.

Quote comment

User since:
Oct 20th, 2013

---

Posts: 27

ExPhys said 7 months ago

Quoting: Cummings
"I thought this was a thread made with a high degree of sarcasm initially, like a good Letsrun style joke...It actually seems the OP is serious about making this comparison, I guess that requires at least a semi-serious answer.

This should be obvious but sprinting and distance running share element of the same physiology but have vast differences in the energy systems they utilize. Comparing which one stresses the body to a higher degree at a Championship event is like asking which one is worse: getting punched repeatedly in the face or kicked repeatedly in the groin for your long term health and wellness. The answer they are both bad, just in different ways. I am pointing out that this is a silly comparison to try to make.

All events at a high level are taxing! To speak a bit to energy systems, if I am short sprinter (100-200m, relays, sprint hurdles), I am primarily using muscle glycogen and Creatine Phosphate as an energy system, these systems get wasted in those events and take time to replenish. Now if I am a short sprinter I am also doing prelim, semis, finals, usually in multiple events. Add this all up and that is a huge cost to the body. Not to mention I am priming my neuromuscular junctions multiple times for maximal contractile effort, which wastes my electrolytes and makes me particularly prone to muscle tears. Sprinting is hard dudes, just not hard like a 1500m. Add to this that the psychology of performing at a high level in sprints is totally different as well and you have a very competitive sport unto the norms for optimal performance are quite different than mid-d or long-d events. Everyone wants to sprint too, so to move through the sprinting ranks you have to go through more people. The issue with that is fast twitch fibers are more genetically determined but that is an entirely different discussion. Regardless, to maximize physiology, sprinters work really hard!

Now if I am a long sprinter 400m, 400m hurdles, I would even throw the 800 (sort of) into this category, my primary energy system is anaerobic power. This means you are using lactic acid fermentation as your primary energy system, thus you are building up lactic acid at a high rate because oxygen cannot get to electron transport chains fast enough in your mitochondria to whisk hydrogen ions away to make water vapour as a waste product. Hence why you need another electron acceptor, which is a molecule called acetylaldehyde, which becomes lactic acid once the H+ is accepted. The primary aim of this is to recycle electron carrier molecules to make ATP, which is the energy required for all metabolic needs. Problem is, lactic acid creates excess hydrogen ion in your blood, and once your carbonic acid buffering system is taxed, pH drops and homeostasis is not maintained, hence your performance declines. We train to improve this system and delay going anaerobic (improving oxygen carrying efficiency so going lactic happens at a higher percentage of your VO2). However, we now know that your brain acts a central governor and will slow you down before these systems are taxed. So training for this type of effort is as much mental training as it is physical. Key thing with this duration of event, you are generally moving TOO FAST to use electron transport chains in your mitochondria efficiently, so you have to use your cytoplasm in your cells to make ATP, a very primitive way of making energy. Think of a 45-90 sec shift in hockey...this fermentation process is also how anything fermented is made. ANAEROBIC, meaning in the absence of oxygen.

If I am a mid-d to long-d runner 800-1500 (mid-d), 5000-10000m (long-d). (I would even argue that 5000m to 10000m isn't truly long distance, it is mid-d. Half marathon is on the border of mid-d, and marathons and above are truly long-d events.) You use a combination of energy systems to sustain your metabolism depending on the event and your physiology. 800m is an interesting event, as it requires lots of anaerobic power with a big aerobic engine. You will use CP, anaerobic metabolism, and your mitochondria to produce energy. If your argument is what event stresses the body the most at a championship event. My argument would be from a physiological perspective, probably the 800 because you waste your creatine phosphate in a kick, you are running above your Ventilatory Threshold (point of physiology where you do not build up lactate, it is a percentage of your VO2 max), and you need to have a high aerobic capacity to have to run at a fast pace in the first place. The 800 is that transition event where all of these energy systems need to be primed to perform well, hence why the 800 is generally a natural break in the "types" of mid-d athletes we have (800-1500 athlete, 400-800, 1500 and above). In the 1500m and 3000m it's pretty close physiologically to an 800, but you use more aerobic power (electron transport chains in mitochondria to make ATP) so the pace is a bit slower. Look at fast 800's, rarely are they negative split...

1500-5000-10000m races use more aerobic power, and still a high percentage of lactate threshold, but if you are fueled properly, you are still using glycogen from your liver as the primary molecule for glucose to be broken down into ATP. And if you are trained properly in a half marathon, you won't waste glycogen stores either. The 1500m is obviously more close physiologically to the 800, but the basic energy examples hold true. Once you get above about 90 minutes of exercise, you have the potential to waste your glycogen stores in your liver; and you start using beta-oxidation more as an energy source (fat metabolism to make ATP). Diet, training, and rest can modify this (fat burns in a carbohydrate flame)...BUT these types of activities are now different beasts altogether. Fat is essentially a limitless energy source if your body knows how to access it efficienctly; and elite marathoners, and more obviously, ultra runners know how to maximize it.

With aerobic energy, you get 36 ATP per glucose, with ANaerobic, 2 ATP, Creatine-Phosphate doesn't even use ATP.

For non-sprint events, we train to improve the oxygen efficiency carrying system of the body, so we can extract as much ATP at possible from glucose. Your body makes adjustments to training by adding capillaries, RBC's, and more mitochondria to name a few things. You get 9 kilocalories per gram from fat and only 6 from carbohydrate. Learning how to spare glycogen (the way glucose is stored in the body) and maximize fat metabolism is a key adaptation all long distance athletes generally make, whether conscious or not, when training. Manipulating diet is one of the ways you can get more energy from fat. If you can use aerobic respiration at a higher percentage of you VO2, then theoretically you should be able to run faster.

ALL of this needs to be framed in the context of your own inborn psychology however. Psychological preparation as we are finding is even more important than the physiological reality of adjustments to training. We train to prep the mind just as much as need to prep the body.

So what's the hardest event. I would argue the 800 because of physiology, but in reality every race it's own beast and at a championship level, they are all a bitch to get through."

While there are some errors in the physiological explanations for energy production above, I would largely tend to agree that the demands of each event are so widely different, that it's hard to label one as physically easier. Big picture - the easiest even to win is likely the one with the least amount of competition. Sprints you need to contend with rounds, and the possibility of false-start DQs, while MD events like 800 and 1500 usually have at least heats and finals with lots of jostling for position.

I would say the "easiest" to win is likely something with a straight final, and as mentioned above, the least depth in the talent pool. Based on performances this year, that would probably be steeple.

Quote comment

User since:
Apr 1st, 2006

---

Posts: 158

Cummings said 7 months ago

Quoting: ExPhys
"While there are some errors in the physiological explanations for energy production above, I would largely tend to agree that the demands of each event are so widely different, that it's hard to label one as physically easier. Big picture - the easiest even to win is likely the one with the least amount of competition. Sprints you need to contend with rounds, and the possibility of false-start DQs, while MD events like 800 and 1500 usually have at least heats and finals with lots of jostling for position.

I would say the "easiest" to win is likely something with a straight final, and as mentioned above, the least depth in the talent pool. Based on performances this year, that would probably be steeple."

Yes, duly noted about the errors. Some of this info is outdated/oversimplified admittedly but it was a good place to start to put to bed attempting to honestly compare levels of difficulty between sprint and distance events; you just simply cannot rationally make an argument either way. I was under a bit of a time crunch when posting previously.

AND I would agree with you about the steeplechase point!

If you have the want/need to clear some of my oversights, please do, it would be informative! However, picking through some of the more detailed physiology is probably a book unto itself.

This post was edited by Cummings 7 months ago .

Quote comment

Anonymous

---

Posts: 48939

Really Am Skuj said 7 months ago

4th guy on the USA 4x100m relay. He rarely even has to run.

Quote comment

Anonymous

---

Posts: 48939

Really Am Skuj said 7 months ago

It would have been even funnier if I said "anchor leg" instead of "4th guy".

Quote comment